Express Entry: What Programs Work Best?
Express Entry is now in its second year of operation. What jobs - and what programs - are doing better than others? Let's take a look.
But remember, this is a moving target. Job categories that are in top demand right now, and for which a large number of invitations to apply (ITA) have been issued, may not remain at the top of the list for long. Just as when you enter university or college and the job market is one way, and it's different when you graduate, so will it be different by the time you receive an ITA. The data is evolving as Express Entry continues to slowly increase the number of invitations it issues to applicants in its pools.
First things first: where are the majority of invited candidates living when they receive their ITA?
| Date Survey Taken | Primary Country of Residence of Invitee |
| --- | --- |
| Mid 2015 | Canada - 85.5% |
| End of 2015 | Canada - 78.1% |
Clearly the overwhelming majority of candidates who are invited to apply through Express Entry are already living – and often working – in Canada. As Express Entry evolves over the following years, this percentage should continue to fall. But these numbers also illustrate the importance of acquiring Canadian work experience in boosting your chances to obtain permanent residence.
What are nationalities of invited candidates under Express Entry?
Country of Citizenship of Express Entry Candidates
India 22.4%
Philippines 12.6%
China 5.9%
United Kingdom 5.8%
Ireland 4.3%
United States of America 3.4%
Nigeria 2.2%
South Korea 2.1%
France 2%
Australia 1.9%
Other 37.4%
If you add the top three countries – India, Philippines, and China – you get 40.9% of invited candidates. That means that East, South East, and South Asia are key partners in Canada's immigration policies. One in four invited candidates came from these 3 countries. You could say that they are the dynamic present of Canadian immigration.
If you add up the next three countries on the list – UK, Ireland, and the USA – you get 13.5% of candidates. These three countries represent the historical sources of many of Canada's earliest migrants – whether United Empire Loyalists from the USA or migrants from Great Britain and Ireland. While they still play an important role, they amount to almost exactly a third of the candidates from the top tier countries: India, Philippines, and China. They represent the past, but are still important contributors to Canada's migration patterns.
The remaining four countries – Nigeria, South Korea, France, and Australia – are spread across four continents around the globe. But in total they add up to 7.2% of candidates, little more than half the numbers from the mid-tier, historical providers of immigrants. While some are historical – France was the first European country to send migrants in any significant numbers to what was then the colony of New France – others represent the present. South Korea has been an important source of migrants to Canada for several generations now. Others, like Nigeria, are more representative of the future of migration to Canada.
Last but not least, over 37% of candidates come from a wide variety of countries and are listed under the other category. These nationalities are clearly the future of Canadian migration and will play an increasing role in our economy. The top tier countries will clearly be important to Canada's future in the same way that the historical source countries still play an important role, but other countries will step up as well.
What jobs are hot?
The top 10 invited occupations as of January, 2016 are as follows:
More News
| Top 10 Occupations by Invitations Issued | Number of Invitations | Percentage |
| --- | --- | --- |
| NOC6311 – Food Service Supervisors | 2,356 | 8% |
| NOC6322 – Cooks | 2,295 | 8% |
| NOC2171 – Information Systems Analysts and Consultants | 1,255 | 5% |
| NOC2173 – Software Engineers | 940 | 3% |
| NOC2174 – Computer Programmers and Interactive Media Developers | 935 | 3% |
| NOC4011 – University Professors and Lecturers | 745 | 3% |
| NOC6211 – Retail Sales Supervisors | 669 | 2% |
| NOC5241 – Graphic Designers and Illustrators | 550 | 2% |
| NOC1111 – Financial Auditors and Accountants | 494 | 2% |
| NOC1112 – Financial and Investment Analysts | 446 |  2% |
| Top 10 total numbers | 10,685 | 38% |
Looking at this table, you can easily see that over a third of the overall number of invitations are taken up by the top 10 jobs. While the specifics of the top 10 occupations will always be a moving target, it shows the importance of researching the Canadian Job Market through Job Bank or private job exchanges, such as Indeed; especially in the province you are considering moving to.
What IRCC immigration programs are more successful within Express Entry?
There are 4 main immigration programs under Express Entry:
Viewed over the latest 15 rounds or draws in Express Entry we get the following: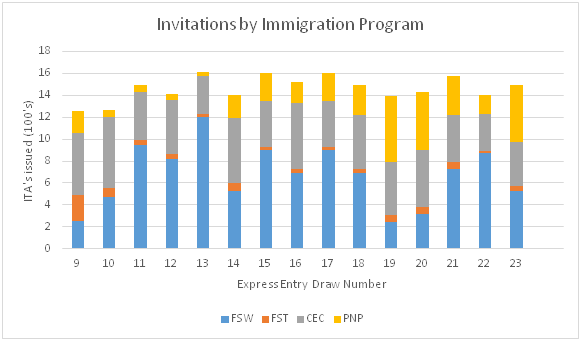 Here again, we can see that Express Entry is a dynamic program with moving targets as regards all of the 4 main programs. 
The FSW program has been all over the map in terms of ITAs, but it remains one of the mainstays for getting an Invitation to Apply.
The FST program has a minor proportion of invitations but vital for some areas and occupations.
The CEC program is one of the steadiest of the 4 programs and is a great way to use Canadian work and study experience.
The PNPs started slowly, but as provinces ramp up their programs and join the Express Entry program, they are increasingly important.
Remember, as we keep repeating: keep investing in yourself. English courses, added work experience, and useful degrees are great ways to boost your Express Entry scores and help you get that valued ITA!