I'm about to drop the S-word here—
"Shopping."
Whether you live in the most built-up neighborhood of Manhattan or the most rurally resplendent area of Montana or Manitoba, chances are you're going to have to leave home and travel to the city eventually in order to get food, drinks, clothes, etc.  In today's world of online orders and deliveries, you might be able to get some or even all of this delivered straight to your doorstop, but even then, you haven't sworn off the S-word, you're still "shopping" online—and besides, what happens if you decide you want to eat out at a fine restaurant one night?  Even if you're not the type for that sort of thing, perhaps your husband, wife, date, or visiting friends might be into that sort of thing.  Or say you're looking for a specialty item that cannot be ordered online, and is only available in stores, and upscale stores at that.
Here in Los Angeles, having a basic knowledge of how and where to shop is as natural as knowing that even discussing such things are liable to start a consumer/anti-consumer holy war.
That being said, Vancouver is a city on the rise, and one which features a slew of great places to shop of its own accord…but that doesn't mean you won't want to cross the border occasionally and see what you can purchase on the US side of things.  LA shoppers will drive for miles sometimes to get the deal they want, and Vancouver-ites in search of the best deal or hottest new clothes, food or merchandise are no different, and are lucky enough to border Washington State, which has plenty of great cross border shopping stops.
Here are just a few of them.
Seattle
Westlake Mall by Joe Mabel / Wikimedia Commons / CC BY-SA 3.0
If you're looking at a list of prominent Pacific Coast cities, chances are you're going to see at least four places pop up just about every time—San Francisco, Vancouver, Seattle, and Portland.  The City by the Bay and Oregon's most famous city are a bit too far of a drive to make work for this kind of daytime shopping excursion, but Seattle's another story. 
Westlake Mall by Joe Mabel / Wikimedia Commons / CC BY-SA 3.0
For years now, Seattle has been a city on the rise, in a variety of different fields.  Many of us know Washington State and Seattle as the home of Starbucks, and if you're looking for luxury coffee, tea, and coffee and tea-related accessories, then Seattle is a great place to check out, with many chains as well as independent stores and boutiques worth trying in its Downtown area.  Of course, you can find your own blend of something perky and wonderful right at home in Vancouver, but still, Seattle has established itself as one of the java capitals of the Northwest, and while a trip to the city just for a cuppa might be a bit much, if you're in the area anyway, it's something to keep in mind.
Westlake Mall by Joe Mabel / Wikimedia Commons / CC BY-SA 3.0
For a couple Seattle-specific shopping centers, look to the Westlake Center Mall and Pacific Place Mall.  Here, you'll find dozens of different big-name brands, as well as an eclectic mix of different unique and original offerings.  The Westlake Center Mall in particular offers everything from Auntie Anne's, Barney's, and Nordstrom's to fine dining and more.  In addition, there are strong Chinese, Japanese, and Korean-American areas which offer both authentic materials from those nations as well as their own unique multicultural mixes.
The Tulalip Tribes of Washington
More News
Tulalip Resort by marbla123 / Wikimedia Commons / CC BY 2.0
Another plus about cross-border shopping in Seattle and other Washington cities is the fact that, like Vancouver, it has a proud history of promoting minority groups and their businesses.  There are many different Native American tribes located in the Seattle area who own businesses and boutiques in the region, offering you the chance to both experience another culture and snag some interesting buys at the same time.
One great example of this is the territory occupied by the Tulalip Tribes of Washington.  A federally-recognized tribe with a rich heritage and culture, the tribe is also located in the Puget Sound region, and maintains a variety of different outlets in the region.  The Tulalip Mall is a great example of such an area, and if you're willing to spend the night, the Tulalip Resort and Casino offers an unique experience, allowing you to—le gasp!—cease from the shopping for a short while and take in some fine dining and entertainment.
Auburn
Auburn [Public Domain]
Most people in the United States hear "Auburn" and think 1. A color or 2. A college football powerhouse.  In fact, it's a lovely, lush green area close enough to Vancouver to allow for daytrips, which is a good thing for shoppers and Canadians looking to experience someplace in Washington State that isn't Seattle or Seattle-lite.  Auburn is its own thing, and offers a "SuperMall" for all your shipping needs.  Inside, you'll find Marshall's, a Burlington Coat Factory—always a good idea, as no matter which side of the border you live on, chances are you're going to want a coat at some point, particularly in the Fall or Winter months—as well as another Nordstrom's and much, much more.
Kirkland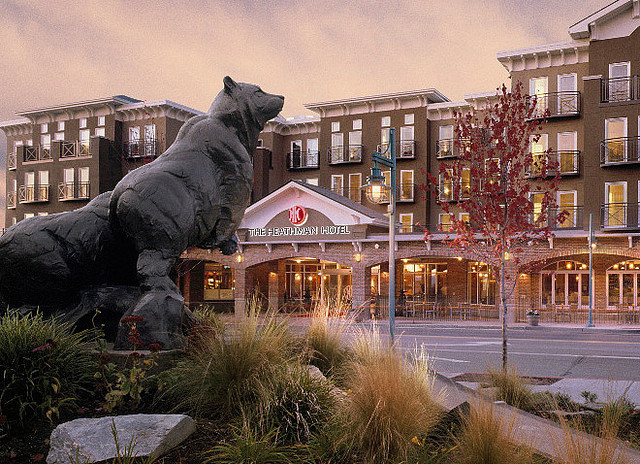 The Heathman Hotel by The Heathman Kirkland / Flickr / CC BY-SA 2.0
A little north of Seattle, Kirkland is a nice choice if you're looking for somewhere a bit smaller than the Emerald City as well as something slightly closer to the Canadian border.  Here, you'll find a great array of restaurants for fine dining, boutiques, art displays, and much more.
There are some nice wine outlets in Kirkland, with a couple stores in particular specializing in champagne, understandable given the region.  Napa gets a lot of credit as arguably the premier American wine region, and with good reason.  That being said, if you're willing to go off the beaten track and look for that a less well-known flavor, then you might well enjoy Washington wines, such as are offered in Kirkland's champagne outlets.  Add to that some wonderful flower and fashion emporiums, and you have a great choice for a cross-border fashion shopping.  Those wine, flowers and fashions aren't just for show in store windows, however.  Kirkland's restaurants are some of the better ones in the Greater Seattle Area, especially if you're in the mood for seafood.
Finally, Kirkland's a center for the arts.  There are a lot of fabulous outdoor sculptures in the area, as well as a full-fledged theatre, art galleries, and much more.  One of the most charming things about Kirkland's art scene is that it's close enough to a metro center such as Seattle to be in touch with recent developments in the world of art while still allowing its artists to shine through and not simply come across as "Seattle-lite."
All in all, no matter where you choose to go, Washington State provides some great options for Vancouver-ites looking for some find cross-border shopping.
Bellingham, WA