While Canada has normally allocated a portion of its immigration quotas to refugees and family reunification, it is clear that the policy of getting the best and brightest to immigrate to Canada is of increasing importance. That means that so-called economic immigrants are a priority for Canada's immigration authorities. And that means Express Entry has basically become the principal means to immigrate to the country, as we predicted during its first year of operation back in 2015.
As revealed in Express Entry's year-end report for 2018, the number of immigrants using the portal has increased by 900% from its inception. That means the numbers went from around 10,000 admissions of permanent residents during the first year in 2015 to over 90,000 admissions during 2018. That means that an increasing percentage of total immigration to Canada is being done through the Express Entry online portal. In other words, if you are interested in immigrating to Canada as a skilled worker (or a skilled tradesperson). Express Entry is where you need to be.
As we explain here, Express Entry is an online portal where skilled workers who qualify can gain a permanent resident visa, if they are selected, and move permanently to Canada to settle and work. There are three federal programs:
So how has Express Entry evolved over the nearly 5 years of its existence? Let's dig down into the numbers and see:
What sort of points (CRS or Comprehensive Ranking System) you need to get an Invitation to Apply (ITA)?
Which of the programs has resulted in the greatest number of admissions?
Which occupations were most in demand in 2018?
Which nationalities had the highest number of admissions?
What CRS points level do I need to be a successful Express Entry applicant?
Way back in 2015, we reported that the initial admissions for Express Entry tended to have quite high CRS points. But these have steadily decreased over the past 4 years and now are at a level that is far more achievable. But don't think for a minute there isn't competition to get selected from an Express Entry pool. It still is very much the case that you should ensure you get the highest possible CRS points score you can, by taking language courses or upgrading your job skills and/or education levels, for example.
Remember, the Comprehensive Ranking System grades you based on your selection factors which are those abilities, skills, training, and education that help ensure that your transition to living and working in Canada will be smooth and successful. Let's take a quick look again at them in decreasing order of importance:
| CRS Selection Factor | Maximum Points with spouse/partner | Maximum Points without spouse/partner | Maximum Points for spouse/partner |
| --- | --- | --- | --- |
| PNP Nomination | 600 | 600 | N/A |
| Arranged Employment | 200 | 200 | N/A |
| Official languages proficiency (Eng./Fr.) | 150 | 160 | 20 |
| Level of education | 140 | 150 | 10 |
| Age | 100 | 110 | N/A |
| Canadian Work Exp. | 70 | 80 | 10 |
| Post-secondary degree + good language skills | 50 | 50 | N/A |
| Post-secondary degree + Canadian work experience | 50 | 50 | N/A |
| Good language skills + foreign work experience | 50 | 50 | N/A |
| Canadian work experience + foreign work experience | 50 | 50 | N/A |
| Certificate of Qualification (Skilled Trades occupations) | 50 | 50 | N/A |
| Post-secondary education in Canada | 30 | 30 | N/A |
| French Language skills | 30 | 30 | N/A |
| Brother or Sister living in Canada as PR or Citizens | 15 | 15 | N/A |
With these numbers in mind – and remember these are the maximum points you can be awarded – let's take a look at what kind of CRS scores candidates at Express Entry actually had in 2018:
| CRS Score Range | Number of Candidates on Jan 3, 2018 | Number of Candidates on Jan 3, 2019 |
| --- | --- | --- |
| 600 – over 1,000 | 203 | 249 |
| 500 – 600 | 107 | 110 |
| 450 – 499 | 1,177 | 1,684 |
| 400 – 449 | 20,404 | 31,181 |
| 350 – 399 | 28,983 | 37,574 |
| 300 – 349 | 17,385 | 21,110 |
| 200 – 299 | 2,442 | 2,798 |
| Less than 200 | 386 | 271 |
| Total Number of Candidates on Jan 3 | 71,087 | 94,977 |
As you can clearly see, the overwhelming majority of CRS scores lie between 300 and 450 points. So, what were the so-called CRS cut-off rates during 2018? Recall that these are the minimum score needed in order to receive an Invitation to Apply for permanent residence in any given round of invitations:
They stayed within a tight range of a low of CRS 439 on December 19, 2018 to a high of CRS 456 on March 14. There were two rounds of invitations for the Skilled Trades program on May 30 at 288 CRS points and Sep 24, 2018 when the CRS cut-off was set at 284. On those two dates only 500 and 400 ITAs respectively were sent out only for Skilled Trades.
So, what do the CRS scores tell us?
That a large percentage of Express Entry candidates were just below the cut-off rate and therefore unable to receive an ITA. As we keep reminding you here at IMMIgroup, upgrading key skills – like language ability or education as well as work experience – is key if you want to break through that CRS cut-off score and get that all-important ITA.
Which Express Entry stream received the most ITAs?
| | |
| --- | --- |
| Canadian Experience Class | 30,571 |
| Provincial/Territorial Nominees | 10,802 |
| Federal Skilled Workers | 47,523 |
| Skilled Trades | 904 |
| Total | 89,800 |
Federal Skilled Workers was the winner, with over half of all ITAs. CEC was a strong second place with about a third of all ITAs. PNPs came in third place with slightly more than 10% of ITAs. Finally, Skilled Trades was in last place with barely 1% of ITAs.
What we can see from this is that Canadian work experience and Canadian education is very helpful if you are an Express Entry candidate (CEC accounted for about 30% of all ITAs), but it is not necessary. Many of the skilled workers who received ITA's had neither Canadian education nor Canadian work experience. What they did have was training and education in in-demand occupations in the Canadian labour market.
As well, provincial/territorial nominees amounted to a little over 10% of ITA recipients which is a significant (and growing amount) but still trails well behind the FSW and CED programmes.
So yes, a job offer or a provincial/territorial nomination helps boost your CRS points total and just about ensures you an ITA. But they are far from the only way to get an Invitation to Apply. You need to evaluate your skills and compare them with the selection factors for the Comprehensive Ranking System (CRS) and see where you can boost your points total. Follow the link to see  our in-depth look at Express Entry in order to find out more.
Let's see what your chances of gaining an ITA if you submitted a profile to Express Entry in 2018.
| Profile Outcome | 2017 | 2018 |
| --- | --- | --- |
| Total profiles submitted | 250,156 | 278,590 |
| Ineligible profiles | 87,747 | 82,931 |
| Ineligible Profile per cent | 35% | 30% |
| Eligible profiles | 162,409 | 195,659 |
| Eligible Profile per cent | 65% | 70% |
Now, in 2018, a little over 90,000 ITAs were sent out. While this gets a little tricky because of the processing times and the fact that ITAs sent out in 2018 included many profiles submitted in 2017, it's fairly clear that around half of all eligible profiles submitted (using an average of the total eligible profiles from 2017 and 2018) managed to get an ITA. Those are awesome odds, no doubt about it. If you could put together an eligible profile at Express Entry in 2017 or 2018, you then had a very good chance of getting an ITA sometime during 2018. In 2015 when we did our first evaluation of Express Entry, the odds of getting an ITA were around 20% or 1 in 5. They are now around 50% or 1 in 2. And that's in large part because more ITAs are being given out to candidates. And the greatest amount, as stated above, went to Federal Skilled Workers candidates.
Which Occupations were most in Demand?
Drilling down into occupational data, we see that tech-driven jobs are dominant as far as ITAs go. Consider the top occupations in terms of ITAs through Express Entry:
Top Ten Occupations to Receive Express Entry ITAs in 2018
NOC
Occupation
Number ITAs
% Total
2173
Software engineers & designers
6,126
7%
2171
Information systems analysts & consultants
5,429
6%
2174
Computer programmers & interactive media devel.
3,450
4%
1111
Financial auditors & accountants
2,483
3%
1241
Administrative assistants
2,335
3%
1123
Professional occupations: Advert. Marketing & PR
2,049
2%
4011
University professors & lecturers
1,942
2%
1112
Financial & investment analysts
1,921
2%
1122
Professional occupations: Business Mgt. & Consulting
1,915
2%
0124
Advertising, Marketing & PR Managers
1,775
2%
Other occupations
60,375
69%
Total
89,800
100%
Looking at this list, we can see that technology, finance, media, and research or academics are the leading edge of the Federal Skilled Workers program and account for almost a third of the ITAs handed out in 2018. That doesn't mean that a skilled trade can't get you an ITA; it's just that the odds are not nearly as good.
What Countries Account for the most ITAs?
What's changed as far as the countries whose citizens receive the most ITAs since we last looked in 2015? Let's look at the numbers for 2018:
| Country of Citizenship | Numbers | Percentage |
| --- | --- | --- |
| 1. India | 39,677 | 43% |
| 2. Nigeria | 6,653 | 7% |
| 3. China | 5,885 | 6% |
| 4. United States of America | 3,580 | 4% |
| 5. Pakistan | 3,525 | 4% |
| 6. United Kingdom | 2,658 | 3% |
| 7. Philippines | 1,485 | 2% |
| 8. Brazil | 1,775 | 2% |
| Other | 24,780 | 29% |
While there have been some changes over the past 4 years, India remains the overwhelming leader as far as country of citizenship for successful Express Entry candidates who receive an ITA. Given India's educational system and shared heritage and long history with Canada, this is hardly a surprise. As far as the changes go, the Philippines has fallen from 2nd place in 2015 down to 7th spot. Similarly, the UK, Ireland, Australia, and South Korea have fallen substantially while China and the USA have risen along with Nigeria whose citizens now account for over 6,500 ITA's which puts them in 2nd spot. As in the case of India, Nigeria's English-language educational system, along with its large population among which there are a growing number of trained, successful professionals, has played a key role.
2015 Version: Immigrate to Canada Easier: Express Entry 6 Months Later
Express Entry was launched at the start of 2015 and IRCC has recently issued a mid-term report on the success of the new program. The news is mostly good:
Express Entry will increasingly be the best (and soon perhaps the only) way to apply to immigrate to Canada under the following economic programs:
As IRCC states: "the majority of admissions in 2015 are likely to come from applications submitted before January 1, 2015, i.e. not through Express Entry." That means that the large backlog of applications must first be worked down in order for the rounds of Express Entry invitations to increase substantially from where they are now (around 1,500 per round although this can vary from round to round).
Also, most of the early invitations have gone to foreign nationals already working in Canada. They already have job offers supported by LMIAs which guarantee them an additional 600 points in the Comprehensive Ranking System, or CRS. This will change in the near future however: "Future rounds from the Express Entry pool will become the main source of applications to meet the annual immigration targets for certain immigration programs."  This means that the rounds of invitations will start becoming larger in the near future, and Express Entry will be the best way to ensure your application is given the best consideration possible by IRCC.
Remember that to be eligible for Express Entry you must meet the criteria of one of the 3 programs listed above (FSW, FST, or CEC) even if you are a provincial nominee. Here is an overview of Express Entry Profiles submitted to the Express Entry pool from January 1, 2015 through July 6, 2015. It does not include rounds 12 and 13 which occurred after July 6, 2015. 
| | | |
| --- | --- | --- |
| Number of Profiles completed (as of July 6, 2015) | 112,701 | 100% |
| Number of Not Eligible profiles  | 48,723 | 43.2% |
| Number of Pending profiles (job bank, PNP validation) | 4,302 | 3.8% |
| Withdrawn Profiles | 6,441 | 5.7% |
| Invitations | 12,017 | 10.7% |
| Number of Active Candidates Remaining in pool | 41,218 | 36.6% |
This means that out of all the profiles submitted to Express Entry, you have a 1 in 10 chance of being invited. While that may sound a little tough in terms of the odds, the picture gets brighter when you only consider eligible applications: the total number of profiles completed minus the number of ineligible profiles.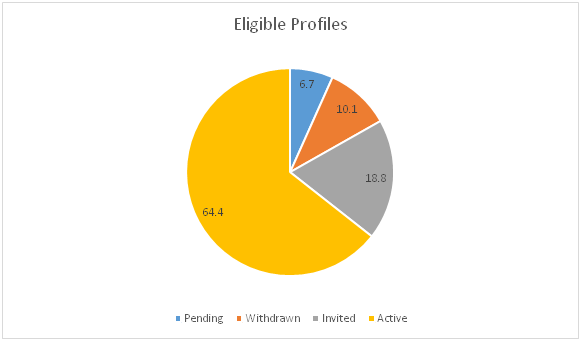 Out of the 63,798 profiles that are eligible:
| | |
| --- | --- |
| Pending Profiles (Job Bank Registration, PNP Validation) | 6.7% |
| Withdrawn Profiles | 10.1% |
| Invitations to apply | 18.8% |
| Active Profiles Remaining | 64.4% |
In other words, if your Express Entry Profile is eligible, then you have an almost 1 in 5 chance of being issued an invitation by IRCC or by a Provincial Nominee Program. That's double your odds of succeeding compared with total profiles. Assuming as well that some of the pending profiles are rejected, then your odds are even better. 
Do you have a permanent, full-time job offer backed by an LMIA? And do you already live and work in Canada on a temporary permit? Then you would be in the overwhelming majority of those invited to apply for permanent residence through Express Entry as shown below. As this backlog of temporary workers wishing to settle in Canada gets worked down, both the countries of residence and the countries of origin will shift. 
Country of Residence of Invited Candidates under Express Entry as of July 6, 2015
Country
Number
Percentage
Canada
11,047
85.5%
India
420
3.2%
U.S.A.
231
1.8%
Philippines
153
1.2%
U.K.
111
0.9%
China
99
0.8%
Nigeria
77
0.6%
France
66
0.5%
UAE
57
0.4%
Australia
43
0.3%
Top 10
12,304
95.2%
When it comes to country of citizenship, India and the Philippines dominate, with the rest spread around the globe.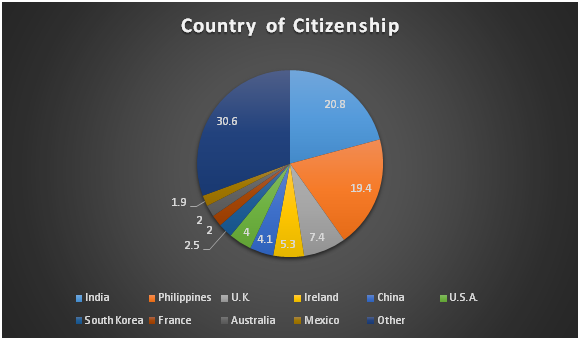 A majority of those candidates invited to apply had a job offer with an LMIA. As this pool of foreign temporary workers is processed by Express Entry, more candidates will come from abroad and without a job offer. This depends on the minimum Comprehensive Ranking System, CRS, scores that Express Entry requires in each round of invitations. In the table below you can see how the CRS scores were distributed among Active remaining members of the Express Entry Pool as of July 6, 2015: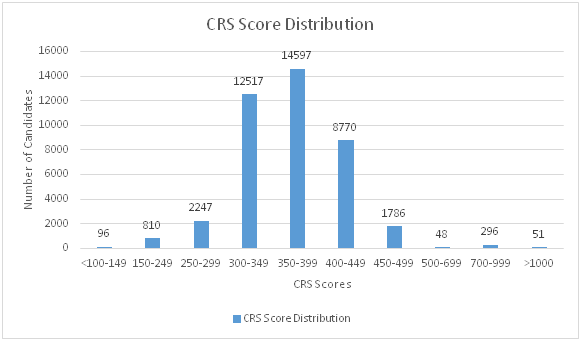 If you compare the above distribution of CRS scores with the CRS Cut-off point for each round of invitations up to July 6, 2015 shown below, you will note that the largest number of scores (between a CRS of 300 up to a CRS of 449) fall below every Cut-off point so far. In other words, 35,884 out of 41,218 active candidates are close but still not at the minimum required level. That works out to 87.1% of active candidates who need to add at around 150 points to their CRS scores to become eligible based on previous Cut-off points of slightly more than 450.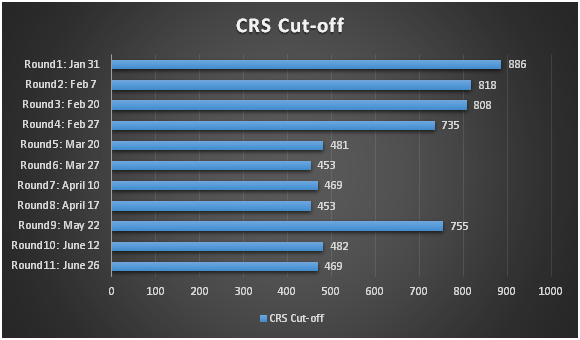 What this table shows is given the falling CRS Cut-off points, active candidates are within shooting distance of the magic number. In the 2 rounds of invitations that have taken place after July 6, 2015 the CRS Cut-off points have been:
Express Entry Rounds
Since July 6, 2015
CRS Cutoff Score
Round 12: July 10, 2015
463
Round 13: July 17, 2015
451
This means that a great majority of active candidates are within slightly more than 150 points of the CRS Cut-off. Improving your CRS score becomes vital seeing that any individual active candidate has a lot of competition with similar CRS scores. As we have mentioned in other articles, the following are steps that every candidate with an Express Entry profile should consider in order to boost their CRS scores:
Re-take the Language Test;
Add to your post-secondary Educational Credentials by completing programs related to your chosen occupation;
Acquire additional Work Experience relevant to your chosen occupation and any additional degree, diploma or certificate that you acquire.
The number of invitations issued have in general been slowly increasing with each round, but for now the numbers have been small in each round (less than 2,000). This will change as Express Entry evolves over the coming months and years. Here is a summary of the CRS Scores of those who were invited in each round: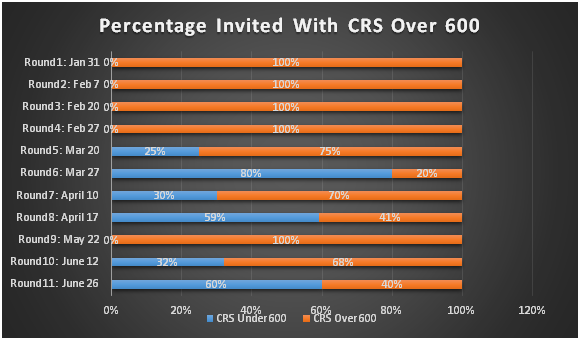 What this graphic shows is that in the first 4 rounds an applicant had to have a job offer or a provincial nomination in order to have enough points to be invited. As the rounds have progressed, you no longer necessarily need a CRS score over 600 to be invited. That means that while it is always best to have a job offer with an LMIA, it is becoming less necessary as Express Entry evolves. But again, it is always a good idea to be constantly seeking ways to improve your Express Entry Profile by increasing your CRS scores.
Finally, which of the 3 immigration programs are attracting the most invitations from Express Entry? The following chart shows the proportion of invitations categorized by immigration program. Keep in mind that for any given round of invitations the amounts that go to any individual program vary greatly from previous rounds: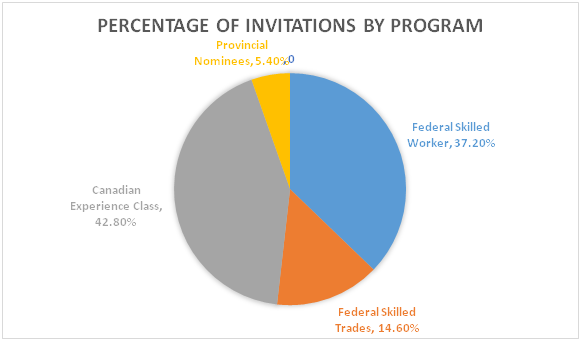 80% of Invitations have gone to FSW and CEC program applicants, while the Provincial Nominee programs have attracted slightly more than 5% of invitations. As provinces add Express Entry programs, as we have mentioned in previous articles, these numbers will change. But they do indicate that in the first few months of Express Entry, Canadian Experience Class and Federal Skilled Workers have done the best at providing qualified candidates for Canada's Labour market.
Book an Immigration Consultation