Get Any Immigration Question Answered in Immigroup's Forum
Struggling to find the answers to your Canadian immigration or travel document questions online? Immigroup is trying hard to make as much information about Canadian immigration and travel documentation available online as we can, but we don't know all your questions. So we are pleased to announce the launching of our forum, where our experts and our community of users will endeavour to answer ANY question you have regarding not only any of the services Immigroup provides, but ANY immigration or travel question you may have.  All for free. To get started, just click the button below:
Get your questions answered now!
How to Sign Up
Joining Immigroup's forum is simple; once you have agreed to the terms you can use your email to sign up or you can use any popular social network:

If you want to sign up with a different social network, please let us know. We would be happy to accommodate you.
How to Use the Forum
The forum is relatively straightforward to use, but if you don't find it easy to use, we welcome your feedback. Please let us know if you ever have any issues.
Categories
Because of the wide range of topics our forum covers, there are many different "boards." Boards are themed areas where can post your questions about a particular topic. The boards are divided into major categories:
Don't Know Where to Begin?
If you are unsure where to post your question, which is understandable since immigration law is so confusing,  we a handy board for you to find directions. We also have a board where you can request a board for your topic if your topic is missing from our forum. We are open to all questions you might have regarding immigration and travel documentation.
Canadian Immigration
The primary focus of Immigroup and our forum is Canadian immigration. Immigroup staff our experts in a wide variety of areas. We are also working with the Canadian immigration services community to ensure you get the best answers to your questions.
Crossing Borders
Travel is getting increasingly complicated and regulated. These boards cover the various documents one might need to travel to Canada, or as a Canadian, American or permanent resident of either country.
Marriage Between a Canadian and a Foreigner
Immigroup's speciality is spousal sponsorships. The forum has boards dedicated to the particular hurdles of particular countries. If your country isn't listed (or your spouse's country isn't listed), let us know.
Denials, Appeals and Litigation
Immigroup does not itself work on litigation, but we are working with other industry professionals to make sure you get the best advice. This category is in development.
Posting
To post in the forum, just pick the board that concerns your question. 
First check to make sure your question hasn't already been asked by looking at the relevant board. You can always search the topics for your topic, by pressing CTRL-F. (Of course, the forum also has a search function that searches the entire forum.)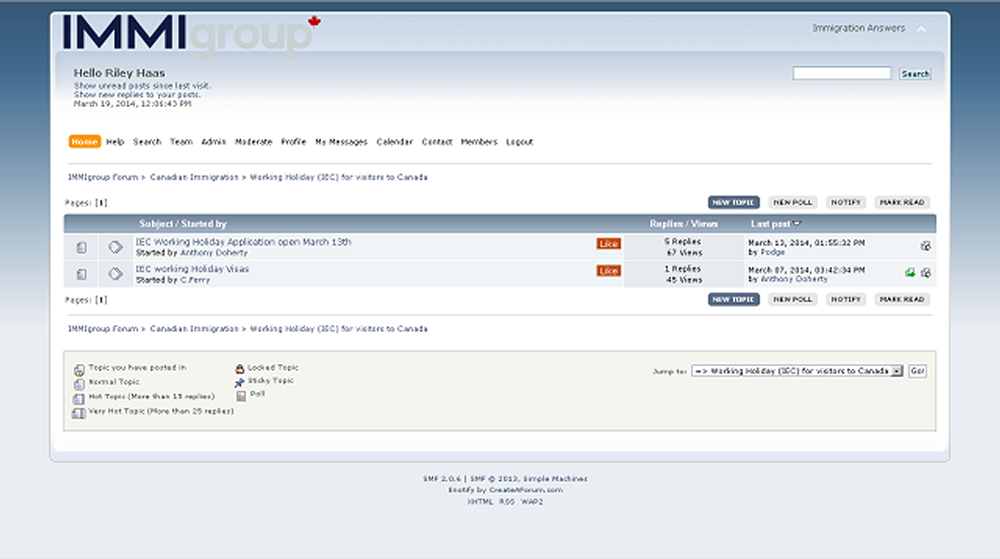 If your question hasn't been addressed, select "New Topic" and compose your post. The forum has a text editor with a spell-checker and you can save your draft whenever you want.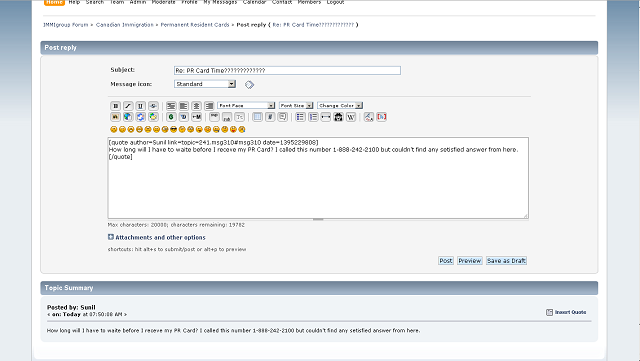 Become an Expert
Immigroup's forum is a community for immigration professionals as well as immigrants. If you are interested in becoming a certified expert contributor to our forum, please contact us.