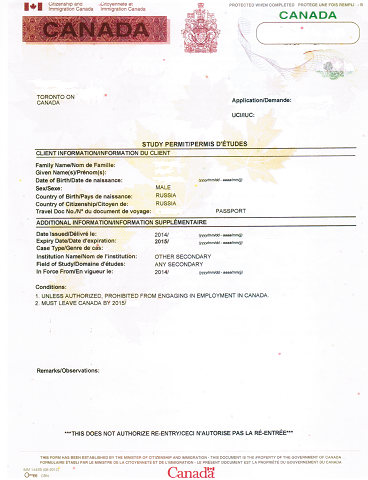 You are talented, educated, and ambitious and you want to take the next step and migrate to Canada to study at a university or college. You have applied online or through your local Visa Application Centre (VAC). You have gone out of your way to assemble the necessary documentation, all of it notarized and translated; a veritable stack of official-looking documents that you attach to your application form or ceremoniously hand over at the VAC or visa office. And you get rejected.  How can this be?! Welcome to the fastidious world of official applications. Here's a survey of common mistakes on a student visa and how you might avoid making them in the first place:
Arrange your documentation exactly according to Citizenship Immigration and Canada (CIC) guidelines. Any single piece of documentation that is wrong will result in your visa application being rejected. It is also important not to overdo the paperwork which makes the life of an immigration official who is reviewing your case that much more difficult. Give CIC exactly what they ask for, nothing more and nothing less.
Do not over-explain your case. Keep it straightforward and simple. Give CIC the information they need and, again, do not overdo it.
For students applying from India and China, the Student Partners Program, or SPP, is an administrative framework that is run by the Association of Canadian Community Colleges, or ASCC, and the Canadian visa offices in India and China. It is meant to streamline the application process, but you need to meet certain requirements and your eligibility will be determined by the college you are applying to. SPP is not a requirement for student visa applications, it is, rather, an option, so do not put your application under the SPP category if you have not applied under this program and have not been approved. As well, do not mix requirements from distinct student visa categories as this will likely result in your application being denied. The categories are:

SPP: which is for approved community colleges and involves lower processing times and has added requirements, like an IELTS test result of 5.5 or higher.
University: which requires an acceptance letter from a Canadian University.
General: which is for College applicants who are not under the SPP program and involves longer processing time and more extensive documentation.

A picture really is worth a thousand words, because if your photograph is not to specification, then your student visa application will not be processed. Make sure you follow the instructions exactly on your application as regards the requirements for the photograph.
When paying the required fees, make sure you understand the amount in both Canadian dollars and your local currency. These amounts can be subject to change, especially if your local currency's exchange rate is volatile. Paying the wrong amount will cause your application to be delayed at best.
For a student visa application, make sure you find out whether you can apply online. Since December 2012 the requirements are simple: access to the internet, a scanner or camera and a credit card. If you have all of these you can apply online. But it is best to consider a Visa Application Centre or VAC. They provide added services and make sure your application is complete. The VAC is not the same thing as the Canadian Consulate or Embassy in your home country. Make sure you know where your nearest VAC is and do not send your application to the embassy or consulate by mistake (if submitting to the VAC is mandatory, as it is in many countries).
Do not apply late! As soon as you are accepted at the Canadian College or University of your choice, send off your application because otherwise you may not get your student visa in time for the start of classes. It goes without saying that one should apply as early as possible to the College or University of choice in Canada to ensure your acceptance, should you succeed, comes as early as possible. Do not delay!
As part of your application you may need a medical exam and a police certificate that proves you do not have a criminal record. Make sure you have these before applying for your student visa. Make sure, however, that both are fairly recent. You may have to take a medical exam in Canada as well, depending on what country you are applying from. Do not miss taking the exam once in Canada.
When you arrive in Canada at your port of entry, you will be required to present documentation to the immigration officials, including the following:

Your official Letter of Introduction which must be presented to immigration officials. This is not your study permit.
You may also need a Temporary Resident Visa, or TRV, if you are from a designated country. This will be in your passport and you must enter Canada before the expiry date in your TRV.
Upon presentation of your documentation, immigration officials will give you your Study Permit, which is the official document giving you permission to study in Canada as a foreign student and a non-resident of Canada. Politely make sure there are no errors – like a misspelled name or a passport number that is wrong – on this Study Permit. If there are, you will have to apply to have the Study Permit changed.

Finally, make sure all the information on any documentation is clearly legible. If immigration officials cannot easily read all the documents, or cannot easily read the application form itself, they will not accept your application. Make their job as easy as possible and you increase the odds of your student visa being accepted.