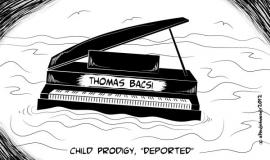 On the morning of July 6, Thomas Bacsi sat in his room. His bags sat on the floor – empty. The young musician refused to pack, hoping beyond hope that his family would receive good news.
Four years ago, Thomas's father, Istvan, and sister arrived in Toronto filled with hope. When offered a job in construction, Istvan's new boss claimed that he could provide legal status for their entire family. By the time it became obvious that this was a false promise, Thomas and his mother, Andrea, had also moved to Toronto. Following the advice of a so-called "expert," the Bacsis applied for refugee status, claiming to be Romas, who are often mistreated in Hungary.
Two years later, it became clear to the family that this was not way to earn legitimate status in Canada. But during this time, Thomas became a student in the Young Artists' Academy of the Royal Conservatory of Music, a highly selective program that only accepts very gifted students. Thomas completed high school at a Catholic high school while attending RCM sessions two days a week. Diane Werner Simon, Bacsi's teacher for the last three years, stated that Thomas is on of the most gifted young musicians in Canada. In a letter to government officials, his teacher wrote, "Canada has benefited immensely from gifted immigrants." She also insisted that Bacsi is exactly the kind of person that should represent Canada on stages around the world.
The family was denied refugee status two years ago, but they have applied for permanent residence status in Canada on humanitarian grounds as a last-ditch effort. Clarisa Waldman, the family's lawyer, argued that the Bacsis should be allowed to remain in Canada because they have shown all that would make them valuable and productive members of Canadian society – strong signs of talent, hard work, and determination. Waldman tried everything she could to keep the Bacsis in Canada, but, unfortunately, there was nothing she could do. The family's application for permanent residency is still being reviewed, but it is unlikely to pass after deportation, Waldman said.
After hearing about the deportation, Royal Conservatory of Music CEO Peter Simon wrote, "I am saddened to learn that Tamas will not be able to stay in Canada to continue his training. I do hope that after some time he will be allowed the privilege of returning to Canada as a student and make the most of his great potential."
The Bacsis' lawyer was far less hopeful, saying that it is nearly impossible to get a student visa after being deported. With no time to say good-bye to his friends, Thomas rushed around his house, stuffing as many of the memories from his four years in the place he calls home into his suitcase as he could. Thomas's dream had always been to become a great pianist, but now the shared dream of him and his family is to return to Canada – the home that they've been torn away from.
This article was commissioned by George Laczko.