There are places on this planet where renting a car and doing all the driving yourself is not the best idea. Why take risks you can avoid by using public transport or, in some cases, just by keeping to the main cities and not venturing inland on the roads? Yes, some of these places are beautiful and you might be tempted to venture out behind the steering wheel. Some of these countries also have some of the cheapest gasoline prices on the planet. We decided to see how, or whether, gas prices affect road safety in a rather unscientific poll. Does cheap subsidized gasoline encourage crazed drivers to hit the road with more frequency? Maybe, but there's more to it than that: like traffic laws, and driver habits, and the state of the roads in any country. So, even if you were an ambulance driver in Toronto, or made a living driving semi's through the Rockies in mid-winter, you might want to consider taking a pass on driving in the following countries; 10 places you definitely do not want to drive in:
Kenya
Road to Lewa by Kevin Walsh / Wikimedia Commons / CC BY 2.0
With its stunning national parks and snow-capped Mount Kenya, you may very well want to explore the diverse landscapes in this fascinating country. And wow, did you know that there are 4 separate government departments in charge of roads in Kenya? The very informative Kenya Roads Board gives you lots of data in well-organized charts: 14% of the nation's roads are paved, 43% are gravel, and 43% are dirt or earth. Roads are classified in rather British style with international trunk roads, national trunk roads, primary roads, and secondary roads, as well as minor roads and special purposes roads. Then you have the Kenya National Highways Authority with its elegant website touting impressive plans for expanding the highway system with lots of nice pics. There's the Kenya Rural Roads Authority with its no-nonsense website with pics of solid 2-laners being built by efficient looking crews. And wait, you have the Kenya Urban Roads Authority with crisp announcements that the Outering Road will start construction in October 2014 and other such news. Unfortunately, Kenya suffers 28.2 deaths in Road Accidents per 100,000 people. Compared to Canada's rate of 7.8, it's a little worrying to say the least. Gas costs US$1.16 per litre so not too cheap. Someday, Kenya's roads will be better and safer. Not quite yet.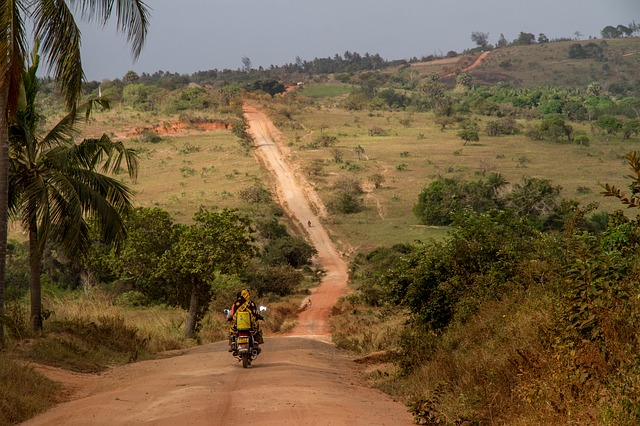 Road in Kenya [Public Domain]
Lebanon
Dbayeh Highway by Serge Melki / Wikimedia Commons / CC BY 2.0
Unlike Kenya, Lebanon has paved about 85% of its roads. Unlike Kenya, Lebanon has endured civil war and extremist factions as well as war with its neighbours. That means security concerns and a population used to warlike conditions, including when behind the wheel, and this makes driving in the country a rather risky proposition. They have 28.6 deaths in Road Accidents per 100,000. The price of gas is US$1.20 per litre, so cheap gas is not a factor. Driving should be safer in Lebanon. Lebanon should be a peaceful, prosperous trading nation. The Maple Leafs should win a Stanley Cup. 
Lebanese Mountain Road by Peripitus / Wikimedia Commons / CC BY-SA 3.0
Guyana
Demerara Harbour Bridge by FrWaters / Wikimedia Commons / CC BY-SA 3.0
Let's just say Guyana is trying to pave some of its roads and even has a few short stretches of 4 lane highways along the coast. It's got a way to go and with 80,000 vehicles on 4,000 km of roads, most unpaved, things can get tricky, especially with about 14 km of those roads "rehabilitated." With 29.0 deaths per 100,000, they have some paving and rehabilitating to do. Gas prices are US$1.09 per litre, not too cheap and not too expensive.
Mabura Road [Public Domain]
Mongolia
Towing a bus through a river by Steven Burt / Wikimedia Commons / CC BY-SA 2.0
The grassy steppes that gave the world rampaging hordes of skilled horsemen is now being paved, slowly. Out of 50,000 km of roads about 5,000 km are paved. 2,000 km of further paving is planned, but that's still less than 15% of all roads. And yes, they sure do have winter. Have your snow tires ready and be alert: there are 31.6 deaths per 100,000 while gas is reasonable at US$1.10 so is not likely a factor.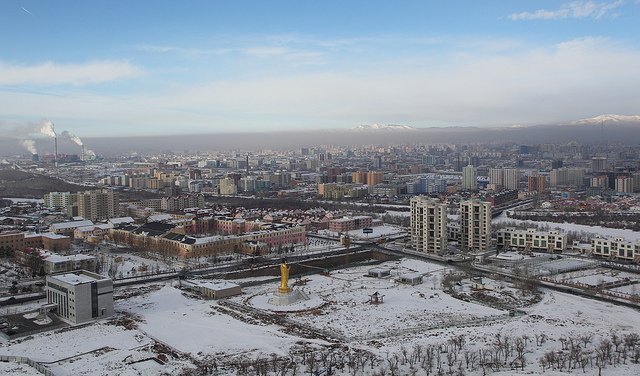 Ulaabaatar by Einar Fredriksen / Flickr / CC BY-SA 2.0
Jordan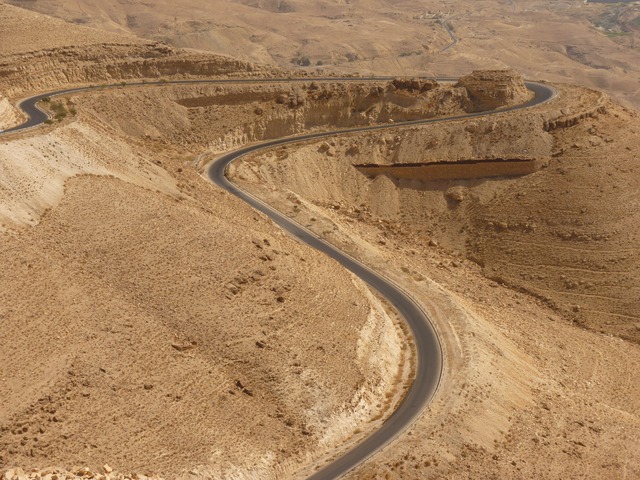 Road in Jordan [Public Domain]
Jordan has a high percentage of paved roads but driving is "erratic" and 4-wheel drives are recommended. It suffers 32.9 deaths per 100,000 and gas prices are US$1.30 per litre so cheap gas is not a problem. Best not to drive if possible.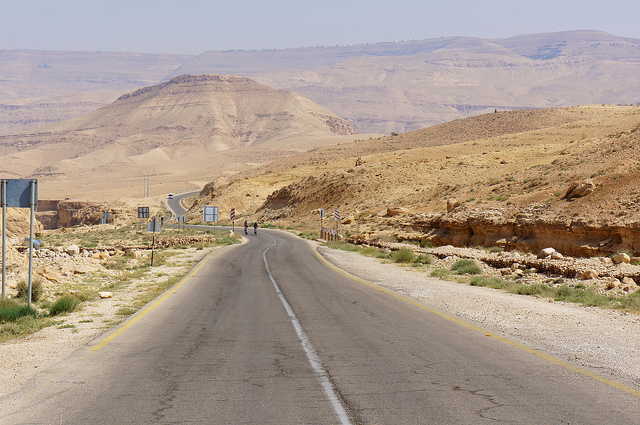 Road in Jordan by Mario Micklisch / Flickr / CC BY 2.0
The Dominican Republic
Road in the Dominican by Niedzwwiadek78 at the Polish Wikipedia / Wikimedia Commons / CC BY-SA 3.0
The government has invested heavily in paving major roads but local roads are often unpaved. Microbus owners resist stricter transit laws, while motorcycles and pedestrians account for about 80% of road deaths. Drivers often turn 2 lanes into 3 by driving right down the middle. Deaths are 34.8 per 100,000 and gas is at US$1.62 so cheap gas for everyone is definitely not a factor. Needless to say, the driving habits need reforming. Until then, best not to drive in the Dominican Republic.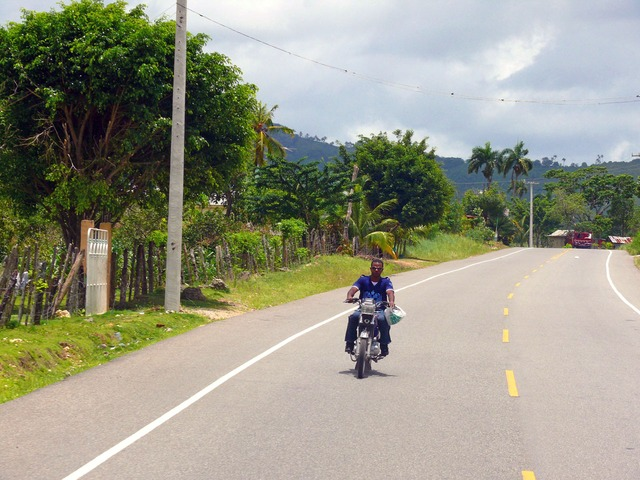 Motorbike in the Dominican [Public Domain]
Venezuela
Gran Sabana by Paolo Costa Baldi / Wikimedia Commons / CC BY-SA 3.0
Since the start of this century, road maintenance and construction has slowed to a near stop in Venezuela. That means decaying infrastructure that is reaching the breaking point. The Venezuelan Engineers Association estimates that between 70% and 90% of roads are seriously damaged and lacking any maintenance. About 1/3 of roads are paved. Clearly the money gained from oil is being spent elsewhere. And yes, gas prices are insanely cheap. Deaths from road accidents are at 35.8 per 100,000 and gas is at USD$0.015 per litre. For now, try your luck driving in some other South American country. 
Carretera Pico El Augila by Isaac Bonyuet / Wikimedia Commons / CC BY-SA 2.0
Angola
Road to Capanda Dam by Eribeto / Wikimedia Commons / CC BY-SA 3.0
It's hard to build out your road infrastructure when you have suffered decades of civil conflict. Livestock running loose on roadways with overloaded vehicles driving on a road system with only 10% of roads paved means a dangerous cocktail for anyone driving in Angola. Deaths are at 36.2 per 100,000 while gas is cheap at US$0.62 in the oil-producing nation. Keep your driving to a minimum if possible. Angola will need years to become a safe country to drive in.
Street in Angola by jlrsousa / Wikimedia Commons / CC BY-SA 2.0
Belize
Ambergris Caye by Asteiner / Wikimedia Commons / CC BY-SA 3.0
Great beaches and Mayan ruins do not make safe driving. Only 575 of their 3,000+ km of roads are paved. The rest are gravel or earth. Traffic is light but deaths per 100,000 run at 36.9. That's very high. Gas prices are US$1.40 per litre so are not a factor. 4-wheel drives are recommended and if you can fly to get where you're going, all the better.
Hummingbird Highway by Squidjie / Wikimedia Commons / CC BY 2.0
Iran
Karaj Road, Tehran [Public Domain]
Like Venezuela, they have lots of oil. Like Jordan, their roads are in reasonable to good shape, with an expanding highway system and 73% of their 173,000 km of roads being paved. So a death rate of 43.8 per 100,000 is at least in part due to "erratic" drivers. Gas prices are subsidized and thus low at US$0.39 per litre, our 2nd lowest after Venezuela. That means lots of crazy drivers (mostly male one would assume), with their tanks filled with cheap gasoline. Not good.
Karaj Road by Pastorals2007 / Wikimedia Commons / CC BY-SA 3.0
What is the Worst Country to Drive in?