When the calendar flips from August to September, that can only mean one thing—
Yes, the beginning of Christmas advertisements, sales, and decorations!
Or at least that's how it's beginning to seem.
December 25th is coming to engulf more and more of the last quarter of the year, but for all the holiday sales and premature ho—ho-ho-ing that's sure to have you seeing red (and green) by the end of the month, New Year's Eve remains the special domain of late December, when we make our New Year's plans and resolutions, and early January, when we remember the former and oh-so-quickly forget the latter.  After all, what's not to like about New Year's Eve?  You have all the winter snowfall of Christmas—or, if you live in a Sunbelt area, the standard 24 degrees—and festive feeling with the added bonus of fireworks shows, midnight bashes, an excuse to enjoy some liquor and not come across as the boozy one at a Christmas party, and an electric, party-like atmosphere that marks the end of one 365 day trip around the sun and the beginning of a new one.
What's more, like a fine wine, New Year's Eve only gets better with age:
Under 10?  Hooray, you get to stay up late (if you can).
Over 16?  Wow, you actually get to drive to where you want to go for a change (just as long as you respond to your anxious parents' texts beforehand and fill up the tank afterwards).
Over 18?  Here you go, time to ring in the New Year with a fresh kiss and a new chance at romance (or at least that's what you think).
Over 19?  Finally, now's your chance to drink your way to the New Year, and possibly a new liver.
Over 30?  At last, here is your chance for a night away from the kids and the hassle of work (unless, of course, it's an office party you're going to…with your kids in tow).
But no matter how or when you celebrate the holiday, New Year's Eve is a good one—but where's the best place to ring in the New Year?  Here are a few choice picks for you to be when the clock strikes midnight on 2014.
New York
Times Square on New Year's by Replytojain / Wikimedia Commons / CC BY-SA 3.0
A classic, and with good reason.  New York City is a great place to spend any day of the year, but between the Ball Drop, New Year's Rocking Eve, and the many, many, many different bars, restaurants, clubs, and hangouts where you can ring in the New Year.  There's nothing more that need be said about the locale itself, really.  Times Square on New Year's Eve is like Fenway Park in Boston on Opening Day for Major League Baseball, or Paris' Louvre Museum—in that one instance, for this one occasion, it's the place.
Get a visa to visit the United States for New Year's
London
London Fireworks by Clarence Ji / Wikimedia Commons / CC BY 2.0
Then again, it's not as if there aren't other, equal alternatives in Europe.  Where better to see the clock strike twelve than in front of one of the most famous clocks in the world?  London is home to Big Ben, and its powerful tolls ring out with every hour, including the final one of the year.  Furthermore, London is just a great city for most any occasion, as it truly is one of the most important, individual, and irreplaceable cities in the world.  You can do all the usual sight-seeing while in London town for New Year's Eve, but to really get into the spirit, you might well want to go bar, or rather, pub diving. 
What's more, London has transformed itself over the last 60 years into an incredibly diverse city, meaning that whether you want to celebrate in front of Big Ben or a Jamaican, Indian, Arabic or other immigrant locale, London offers a potent mixture of tradition and modernity any day of the year, and that goes double for New Year's.
Los Angeles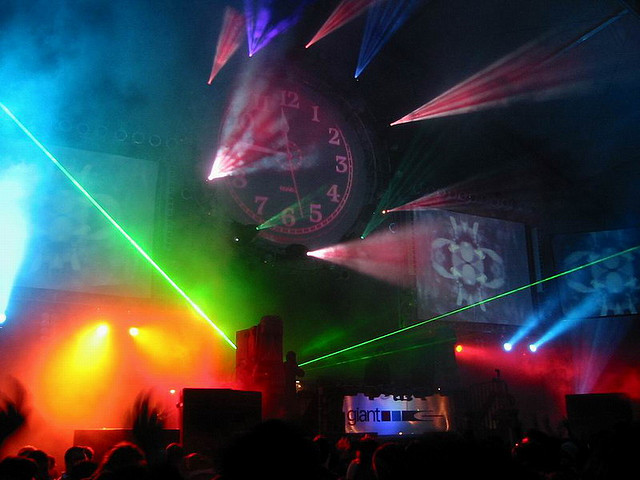 New Year's Eve 2002 Los Angeles by Wolftrouble / Flickr / CC BY-SA 2.0
Los Angeles is entertainment central, meaning that, once again, you have a wide variety of options here.  In the mood for something traditional?  Then there are all manner of different organized parties to join.  How about bar diving?  From the college bars downtown to Latin American-themed bars, there's a lot to choose from.
Then again, part of the charm of Los Angeles is the fact that it truly is the Land of the Stars, and the cruising lifestyle which a city built on and for the freeway system engenders (on those rare occasions when there's no traffic, that is).  New York and London are bound to be packed on New Year's, and while LA is definitely going to be packed population-wise, and traffic abominable, the whole city has more of a moving, flowing vibe on that day, and you might indeed decide that the warm California weather and free-wheeling style is precisely the way you want to spend the final few hours of 2014.  What's more, that warm weather and the bright lights of the city make LA the perfect place to go if you're looking to hit the town with a partner…
Valentine's Day may get all the love in terms of being a day for couples and romance, but there are few days that can match the raw emotion of New Year's and few places which can match the amorous intersection of LA and New Year's Eve.
Get a visa to visit the United States for New Year's
Toronto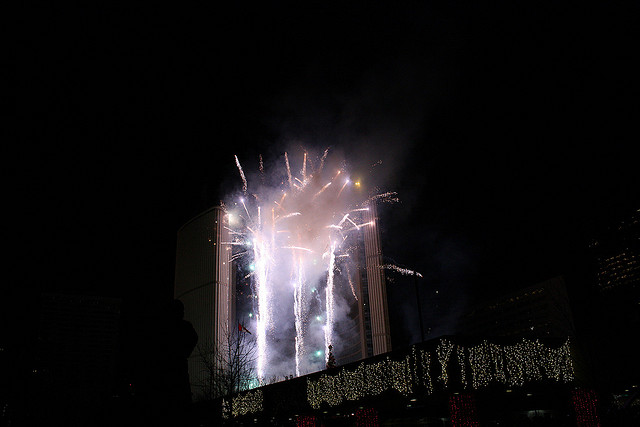 Nathan Phillips Square Fireworks by RebelXL / Flickr / CC BY 2.0
Toronto is a great go-to cities for Canadians who don't wish to travel south of the border or off to distant lands snow bird-style for the holidays.  One of the best ways to celebrate the holiday here is to either spend it in either "Old Toronto," or else the many diverse neighborhoods of the city.  "Chinatown" usually brings to mind images of San Francisco, Los Angeles, or even Vancouver, but you'll find one in Toronto as well, and it's lit up and certainly a sight to see come December 31st.
Edinburgh
Edinburgh Fireworks by Robbie Shade / Wikimedia Commons / CC BY 2.0
"Auld Lang Syne" is a staple of New Year's Eve parties across the English-speaking world.  You may not know the title, and you may not be able to recall a line of poetry from its author, the pride and joy of Scotland, Robert Burns—which, if that's the case, do yourself a favor and check out some of his work right now—but chances are you have, at some point in your life, sung, chanted or heard:
"Should old acquaintance be forgot,
and never brought to mind?
Should old acquaintance be forgot,
and old lang syne?"
It's a staple of New Year's Eve parties, it's undeniably Scottish—and you can bet there's nothing quite like hearing it ring out across the glowing, windswept streets of Edinburgh.
Scotland is enjoying a new period of prosperity and national pride.  It's flirtation with the idea of independence caused the UK to hold its collective breath for a good while, but now her unity is assured and Scotland's identity on the world stage established, and tourism is sure to be on the rise.  With great expectations abounding in Scotland due to oil in the area, hopes for wealth and respect are slowly coming to fruition.
Edinburgh is, of course, home to a great many bars, and the cool weather has the same enchanting affect for couples as LA, albeit in a climate that couldn't be more different from the sun-kissed concrete of Sunset Blvd.  Think about it, for a moment—
You and your partner, in a foreign country, in a land experiencing new wealth and confidence, a land that can boast such names as William Wallace, Adam Smith, David Hume, Robert Burns, and, yes, the current Doctor, Peter Capaldi…it's New Year's Eve…it's cold outside…
Surely you and your partner can find a way to "stay warm" together as you tick down the final seconds of the year until the climax? 
Sydney
Sydney Fireworks by Adam J.W.C. / Wikimedia Commons / CC BY 3.0
World War One is commonly seen as the first instance in which Australia truly made its presence felt on the world stage, and the continent, island and nation has only continued its trajectory upwards since them.  After hosting the Olympic Games in 2000, the country has emerged as a truly world nation.  The Sydney Opera House is one of the most famous opera houses in the world, and it's at the epicenter of one of the largest New Year's Eve parties and firework shows on Earth. 
Another bonus?  Due to being in the Southern Hemisphere, you'll be able to enjoy warm weather in December.
Add to that the fact that Australia, due to its placement on the globe, is one of the first places on Earth to celebrate New Year's Eve, and you have the makings of a great place to ring in the New Year.
Hong Kong
Hong Kong Fireworks [Public Domain]
A lot of the places on this list have a beautiful view of some body of ocean, be it New York city and the Hudson River, Sydney and the South Pacific Sea, Edinburgh and the North Sea, and of course, Hong Kong and Victoria Harbour. 
Hong Kong is one of the most unique and interesting melting pots in the world, and given the current socio-political situation brewing between itself and mainland China, it's a place you may want to visit sooner rather than later.  From the beautiful sight of the fireworks off of the aforementioned Victoria Harbour to the scene downtown which is has the feel of an Asiatic Times Square to the fact the place represents an intersection of English, Spanish, and Chinese culture, this is a great place for a combo Eastern/Western New Year's bash.
Get a Visa to China for New Years
Berlin
Brandenburg Gate by Ricky7524 / Wikimedia Commons / CC BY-SA 3.0
This year marked the glorious 25th anniversary of the Berlin Wall coming down, and one of the world's greatest cities being reunited after decades of division and oppression.  Berlin is a center of culture, but at the same times, one of the most raucous cities come Oktoberfest time.
It is this mixture of prestige and a party atmosphere that makes Berlin more like champagne than beer come New Year's Eve—potent, exuberant, and so overflowing with excitement that you could swear it's ready to pop.  From the Party Mile to the Brandenburg Gate to—if you're sober and brave enough to try— the New Year's Run, Berlin has a fine festive atmosphere, and this is an especially great year to visit and ring in the New Year there.  After all, New Year's Eve is as much about remembering the past years as it is looking forward to the future, and in both looking back to the miraculous events of a quarter century ago and Germany's bright economic future, this New Year's Eve in Berlin represents a festive retrospective which is at once potent and poignant.
Niagara Falls
Lights under Nigara Falls [Public Domain]
This is an option for nature lovers.
It's Niagara Falls.
Niagara Falls on New Year's Eve.
Hear the roar of the world's mightiest waterfall, and take a sight which is not just one of the most unique and beautiful in all of Canada but, indeed, all the world.  Like the greater waterfall herself, words simply cannot do the majesty justice.
Get a visa to visit the United States for New Year's
Tokyo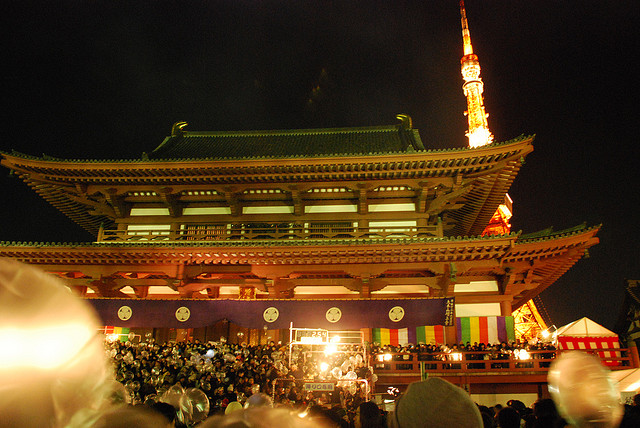 New Year in Tokyo by Wilhelm Joys Andersen / Fickr / BY-SA 2.0
We round our out list with a pick that's sure to enchant lovers of anime, manga, and Japanese culture in general.  Of course, Japan in general and Tokyo in particular is far more than the sum of those stereotypical parts—indeed, part of Tokyo's charm is its ability to blend East with West and produce something which is entirely new and different.  Downtown Tokyo is one of the most packed consumer centers in the world, meaning that you'll be treated to one of the largest assortment of different and unique items for New Year's Eve shopping.  Add to that the fact that Japan, as an island nation, provides a lovely view of the Pacific Ocean and, of course, an impressive fireworks show which might rival those to be seen in New York or Sydney.