Check out our previous article on this subject The Top 10 Immigration Friendly Countries, from 2013.
We're lucky enough to live in an age where immigration is rather commonplace.  There are a variety of reasons today to leave your home and start anew, and then, of course, there's that old American adage—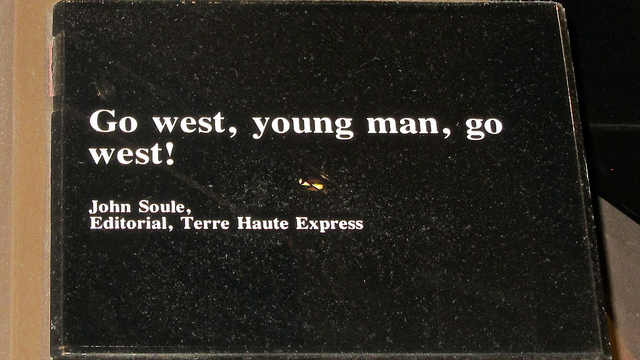 by Peter Lawther / Flickr / CC BY 4.0
"Go West, young man."
Now, anyone with even the slightest inkling about what's going on in economic world will tell you that China and India are economic behemoths, and that the 21st century is shaping up to be largely shaped by their socio-economic influence.  That being said, many nations in the West have begun to rebound since the Great Recession, and Canada and certain European nations in particular are starting to see small booms in certain sectors, making this an opportune time to, indeed, "Go West, young man" (or woman) and immigrate to a Western nation.
Many of the nations on this list are part of the European Union, and as such enjoy the special privileges and immigration-related rights which pertain to what is known as the Schengen Area.  This is a special area in the European Union and, indeed, the world, where borders are open, and border security negligible.  You could, in theory, walk from Madrid to Amsterdam without having to put up with the kind of intensive immigration and border security which are tourists and immigrants to the United States alike will know all too well.
Therefore, without further ado, here are the Top 10 Western countries it's easiest to immigrate into, and why you might wish to make the trip.
Canada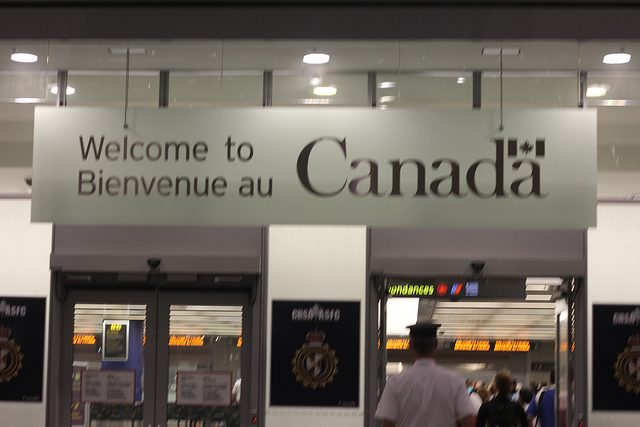 See how you qualify to immigrate to Canada
Naturally, Canada is going to make this list.  The US-Canadian border is the largest unguarded border in the world, making it all the easier to emigrate from Minnesota to Manitoba, and from the US to Canada.  You're still going to want all the usual accoutrements, including a proper passport and all the necessary papers and documents, but the process is generally streamlined and easy to follow, making the Canadian immigration system and Canada itself desirable immigration locations for those looking to enter the West with ease.
Learn more about immigrating to Canada
Belgium
Ghent by Michael Schmalenstroer / Wikimedia Commons / CC BY-SA 3.0
Nearly all the other nations on this list besides Canada are, to one extent or another, a member state of the European Union or are strong socio-economic partners with an EU-affiliated nation.  Belgium is an EU nation, meaning that if you live in, say, Stockholm and find the climate too cold, or in Marseilles and can't stand the heat, Belgium awaits, hassle-free, especially if you're an EU citizen.
Spain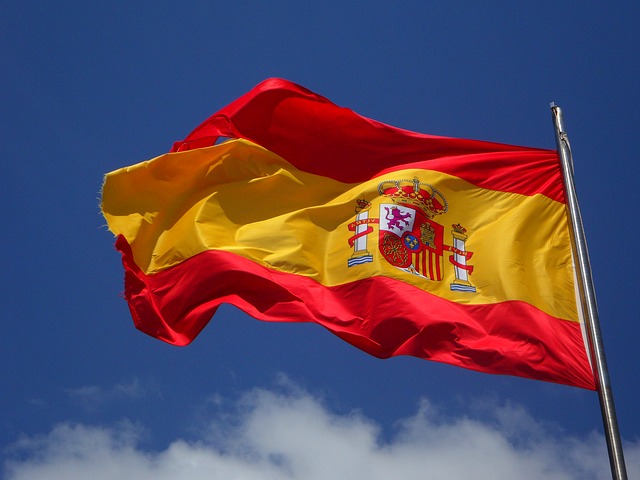 Spanish Flag [Public Domain]
The upside?
Being an EU member and desperate for a shot in the arm economically, Spain is pretty accepting when it comes to immigration (at least in theory.)  Potential political and social tensions aside, it's a beautiful country.
The downside?
That aforementioned economy—even if you do get into Spain, with rampant unemployment, good luck finding a job that will support you in manner or degree to which you are presently accustomed.
Italy
Colosseum by David Liff / Wikimedia Commons / CC BY-SA 2.5
While the Italian economy is still largely in flux, its immigration system works well enough if you're an EU citizen.
Besides the fact that, from Verdi and Vivaldi to Dante and Dali, Milan, Rome, Venice, Florence and back again, Italy is one of the true cultural treasures of the world, the varied Mediterranean climate is a plus here as well.  There are plenty of warm and cool areas in Italy alike, so you're sure to find a place with the right climate for you. 
More News
Denmark
Frederiksberg Palace [Public Domain]
There's nothing rotten in the state of Denmark when it comes to that all-important issue of immigration.
One minor issue of potential concern stems from a now-infamous incident wherein a Danish newspaper printed satirical cartoons of the prophet Muhammad and received threats.  Whatever your stance on the newspaper, its cartoons, or the larger socio-political and religious questions at play here, surely one thing we can all agree on is that the right to freedom of speech and expression is both sacrosanct and likewise more than worth protecting.  Danish banks and support for freedom support have remained consistently high, and the immigration process isn't too tedious, making this an easy choice.
Luxembourg
Belgian-Luxembourg Border [Public Domain]
Little Luxembourg is yet another small EU country that makes it on the list of Western nations to which it's comparatively easy to immigrate.  Consider this to be the "Kuwait of the West," insofar as it's an exceedingly small nation primarily defined by its titular main city.  You needn't worry about heavy border patrols or excessive security when moving to Luxembourg—as a member of the aforementioned Schengen Area, it enjoys EU immigration status, meaning that if you're an EU citizen you can, by and large, come and go as you please.  This is also partially due to its size—with less than a hundred thousand inhabitants in its largest city, Luxembourg City, Luxembourg proper has a definite "small town feel" to it, as odd as it may sound, for a European nation with thousands of years' worth of history within its borders.  What's more, because of Luxembourg's central position on the European continent, it's not only an easy place to move, but a potentially-underrated choice in terms of a location from which to start your travels on the Continent.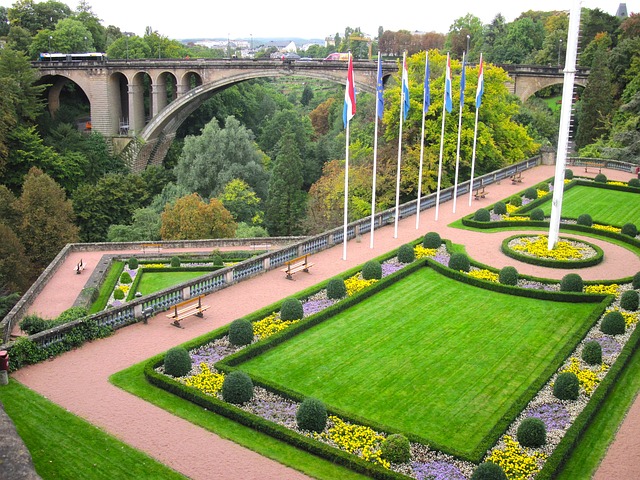 Luxembourg [Public Domain]
The Netherlands
Lighthouse by Fijnlijn / Wikimedia Commons / CC BY-SA 3.0
If you've ever wanted to make the move to Amsterdam, there's never been a better time.  As with the other nations here listed amongst the EU set, the Netherlands are remarkably easy to immigrate into if you're an EU citizen.  Even if you're not, the Netherlands' system is still far superior to that of other nations.
Switzerland
Swiss Alps by Devil Dancer / Wikimedia Commons / CC BY-SA 3.0
Ah, the Swiss Alps.  Scenic, beautiful, and the site of so much history and literary brilliance.  It's in the Swiss Alps that D.H. Lawrence's impeccable novel Women in Love roars towards its epic, shocking, and contemplative conclusion, and it's likewise here that you yourself can experience the full beauty of the Swiss countryside, as either a tourist or an immigrant.  With its centralized location, right in the middle of the European Continent, Switzerland, like Luxembourg, is a fantastic place to immigrate.
Now, Switzerland has always had a reputation for neutrality, and that holds true today—even though it's right in the middle of Europe and certainly a prominent and prosperous European nation, Switzerland is not, in fact, an EU member.  In addition, as of February 2014, there was a quota system proposed, which may or may not jive well with the EU in terms of EU-Swiss relations.  That being said, it does maintain good relations with the EU, meaning that, for the moment at least, it's still an easy nation for immigration in the West, though you may want to act sooner rather than later.
Norway and Sweden
Village in Norway by Yorian / Wikimedia Commons / CC BY-SA 2.5
Both of these Scandinavian nations regularly rank in the topmost echelon when it comes to such matters as democratic transparency, overall happiness, income, education, and so much more.  Add one more token of praise to that embarrassment of riches—both Norway and Sweden are famed internationally for their laxer stance on a variety of issues such as narcotic consumption and civil rights, and this translates into a place that's easy to enter as an immigrate.
Bohus Castle by Christan Bickel / Wikimedia Commons / CC BY-SA 2.0 DE
One final, important distinction between the two countries should be made, however—while Sweden is an EU member, Norway is not, meaning that you cannot simply move to Norway as an EU citizen the way you could with Sweden as per the immigration privileges fellow EU members and states enjoy.  That being said, whether you choose Oslo or Stockholm as your final destination, both nations represent great immigration choices for those looking for a hassle-free way into the West.
Get your British passport as your first step to immigrating to Europe