TOP (or BOTTOM) 10 WORST AIRPORTS IN THE WORLD
What makes an airport bad? Frequent flight delays, long lines, dirty bathrooms, uncomfortable seats, bad fast food, crying children, AK-47s? There's been a real boom in sensational online lists covering which of the world's airports are the worst in one way or another, ranging from the dull and methodical to the wacky and impressionistic. Our list synthesizes the most recent ratings, giving special weight to enhanced security and long, invasive and inefficient customs and immigration processing.
10. Indira Gandhi Airport, New Delhi, India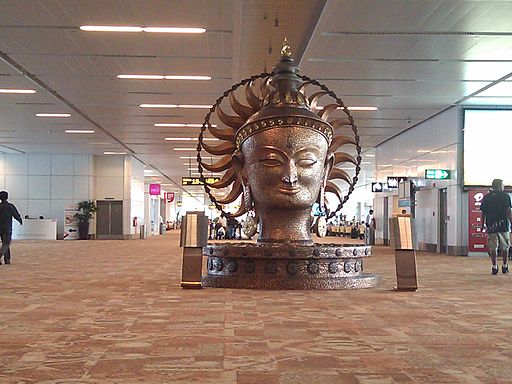 New Delhi's airport was built to serve less than half of the traffic it currently receives, and consequently it's crowded, dirty, and loud. Only 60% of flights to and from Indira Gandhi are on time, according to an Indian Airports website report, and the terminal is full of mosquitoes and birds, according to travel site Relax Asia. Officials claim that the problem is the rapid increase in domestic air traffic, with officials noting that expansion and construction will make things slower and less efficient in New Delhi and at Chhatrapati Shivaji Airport in Mumbai, India's other busy-but-underperforming airport.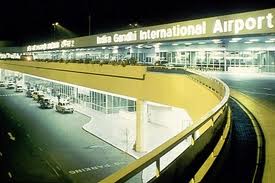 Departures Drop-off - Indira Gandhi Airport  
IGI hosts nearly 36 million passengers per year  
9. LAX, Los Angeles, California
Jet Age Airport by InSapphoWeTrust / Wikimedia Commons / CC BY-SA 2.0
Ah, pity poor LAX, the once-futuristic hub of west coast American travel, made decrepit and unpleasant by age, just like we all will  one day be made decrepit and unpleasant by age. LAX, with its quaint, cartoonish UFO tower and long customs lines and air of promise unfulfilled, is way past its bestbefore date. LAX endures some of the highest passenger traffic in the United States in an old, undersized facility, and its terminals sprawl in an inefficient ring that's underserved by shuttles. CNN claims that the airport's parking ticket cops are eager and merciless, and in a city defined by its reliance on driving, that's bad news. Plus, the staff are notoriously rude, with numerous complaints about their lack of helpfulness floating around the internet. We love LA!  
By Writer.00015 / Wikimedia Commons / CC BY-SA 3.0
Amman's major international airport has been called out by Frommer's for its repellently dirty washrooms: come on, Jordan. Get it together. You are one of the richest and most influential Arab states. Clean the dirty bathrooms in your airport. We want to pretend we're in Indiana Jones and the Last Crusade at Petra, but we don't want to risk toxic shock en route. Don't make us choose, Jordan.  
Toncontin's terminal in Honduras' largest city is passable and its immigration procedures are less maddening and corrupt than those in other developing countries, but it makes this list for the death-defying approach to its runway, which had to be lengthened after a fatal overshot in 2008.
A Copa Airlines Boeing [Public Domain]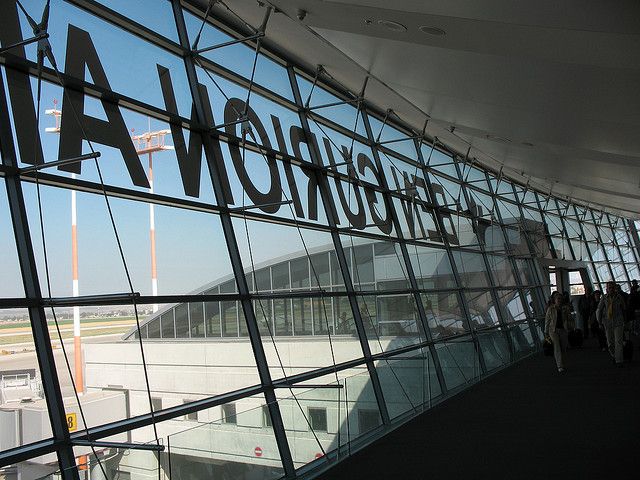 Ben Gurion by James Emery / Flickr / CC BY 2.0
Ben Gurion is a beautiful modern airport crippled by its Inferno-like rings of security: there's a checkpoint on the way in to the parking lot, another at the entrance of the building, and two others inside the building. Israelis accept the tight security, according to a Toronto Star report, and most visitors grant the country some slack, considering the history of anti-Israeli sentiment and terrorism and the constant, continuing threat of attack. But not everyone is so forgiving. Skytrax's airport rating site is flooded with complaints about the long delays, rude and apparently idle security staff, and interminable waits. Freedom isn't free, disgruntled traveller, especially not when so many of your neighbours want you out of the neighbourhood.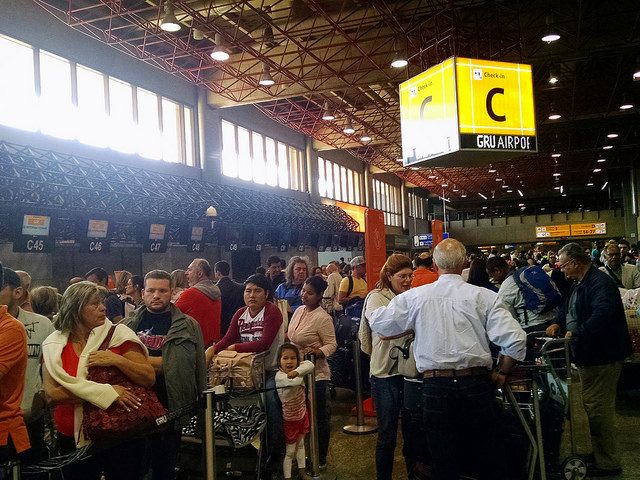 Crowd at Guarhulos by Stefan Krasowski / Flickr / CC BY 2.0
One of the busiest airports in Latin America (it's neck and neck with Mexico City for the top spot), Guarhulos in São Paulo is second to none when it comes to poor hygiene, inadequate services, paltry food options, and delays at customs. Guarhulos, like many of the other large, overtaxed airports on this list, was built for far fewer travelers than it has been receiving since the recent rapid growth of Brazil's economy.   CNN notes the "round-the-clock rush hour" atmosphere at Guarhulos, adding that passenger traffic has doubled in under a decade.  Delays hit bottom in 2008, according to Forbes, when Brazilian airports ranked worst in the world for timeliness. You might be waiting endlessly at Guarhulos, but at least you aren't at the Brasilia airport, where barely one-quarter of all flights arrive or depart on time.  
JFK by Joe Mabel / Wikimedia Commons / CC BY-SA 2.0
Frommer's named this terminal of New York's generally efficient and easily-accessed JFK airport the worst in the world, and number 3's crumbling interior and endless upkeep drag the entire airport onto this list with it. The New York Observer ran a story in January of 2012 that highlighted the way infrastructure improvements at the airports that serve the Big Apple have lagged behind the great airports in the world's rising business capitals (like Abu Dhabi, for example). JFK's terminal 3 is crowded, poorly ventilated, and criss-crossed by clear drainage tubes filled with noxious sludge (see photo for tubes and plastic diaper squares). Booking a flight into or out of JFK? Try JetBlue's sparkling new Terminal 5. Or maybe try the train.    
Heathrow's Terminal 5 by Warren Rohner / Wikimedia Commons / CC BY-SA 2.0
Heathrow is massive, confusing, crowded, expensive and inhumane. Hopefully all of the investment underway to prepare for the 2012 Olympics will pay off (the way it has in the airport's well-regarded fifth terminal). Right now, like at JFK, if you're stuck in the wrong terminal (which would be any of the rest of them), prepare to endure the classic worst-that-the-third-busiest airport in the world has to offer. Airside is better than landside, according to Skytrax, and there are plenty of diversions if you can fight your way through the crowds to "enjoy" them. Keep calm and carry on flying out of Luton or Gatwick.    
Charles de Gaulle by Remi Jordan / Wikimedia Commons / CC BY3.0
Now that the authorities at Paris' biggest airport have figured out how to sequester the homeless into a single terminal (terminal 3, if you must know), Charles-de-Gaulle airport in Paris is a little better, but the terminals are still large, grimy, function-only boxes, and the delays and staff are bad enough for CNN to call it the "most hated airport in the world." Traveling between terminals is interminable and confusing, and customs lines reach up to hours-long waits. How strange: the French are indifferent to visitors' opinions of them.      

Old Terminal by Crath / Wikimedia Commons / CC BY-SA 3.0
The expert complainers agree: Ninoy Aquino airport in Manila is the worst in the world, for many of the by-now familiar reasons (waits, crowds, dirty terminals), but the problem that pushes it over the edge is the collapse of part of the ceiling in 2011. The chorus of disapproval got so loud that the Philippine government committed to a US$25 million facelift. Hopefully the cash can help scrub the plaster dust and debris off of the airport's reputation.      
Terminal 3 by Carabaopower / Wikimedia Commons / CC BY 3.0
Some aesthetic improvements have been made, but they hide structural problems [Public Domain]
Bonus: Pearson Airport, Toronto, Canada's worst airport.
How about Canada? How do our airports stack up? According to the Toronto Star, our airports aren't too bad, with the chief offender being the busiest and therefore most aggravating airport, Toronto's Pearson. Pearson's new terminals are in great shape with plenty of airport amenities (albeit with a typically dull Canadian spin on food and design), but waits can stretch up to an hour at international customs and delays (especially weather delays) can create seething crowds of tired but polite people tweeting irritably.  
And then of course there's Prague's Franz Kafka Airport
Prague's Franz Kafka International Named World's Most Alienating Airport
All photos courtesy of Wikimedia Commons, Flick and Fotopedia
This article was commissed by George Laczko