This list rounds up the best Canadian immigration articles from January, February and March of 2017.
Read the December edition of this article.
Canada Visa's CIC News looks at the most recent Express Entry draws, November to January, and guesses that 2017 will be a big year. Turns out, they were right: the draws have been bigger than ever. That means it's easier than it used to be to get an Invitation to Apply (ITA) for Express Entry. The short version is that it may be easier to immigrate as a qualified "economic" immigration in 2017 than ever before.
The article gives details about the trend in CRS scores and ITAs with some details as to why this is happening. In February, they followed it up with another article on the subject, this one on the then-record setting February 8th Draw.
CIC News discusses the most popular Provinicial Nomination Programs (PNPs) of 2017, including those of
BC
Manitoba
Ontario
Saskatchewan
PEI
Alberta.
The article highlights the growing trend in using these nominations to improve CRS scores as well as the types of streams available to immigrants. This is essential reading if you are looking to immigrate to Canada in 2017.
CIC News also produced a more detailed article on the western Canadian PNPs later in March, which is also worth reading if you are either trying to improve your CRS score or you will get points for experience in these provinces.
By far the most interesting article this winter was CIC News' article on the growing trend of temporary workers becoming permanent.
In the late 1990s, less than 10% of temporary foreign workers (those here on work permits) became permanent residents. That was bad for a number of reasons. When temporary foreign workers leave
they take their work experience with them, out of Canada
Canadian employers have to find new employees
any experience and knowledge they have is contributing to a different economy.
Such a low percentage of foreign workers becoming permanent residents suggests that many, if not most of these workers, were here for seasonal work, for tourism while working, or for jobs that wouldn't lead anywhere. Though Canada's economy needs foreign workers, due to a low birth rate for decades, it's in the interest of Canada as a whole to entice these workers to stay. Fortunately, things have changed:
Between 2000 and 2004, 13% of temporary foreign workers became permanent residents
Between 2005 and 2009, 21% of temporary foreign workers became permanent residents, more than double the number of the late 1990s.
CIC News believes the trend to be an increasing number or stabilizing, in the last few years. This is good news, as we should want people paid and traid in Canada to stay here permanently.
Permanent Residents by Province Infographic - March 2017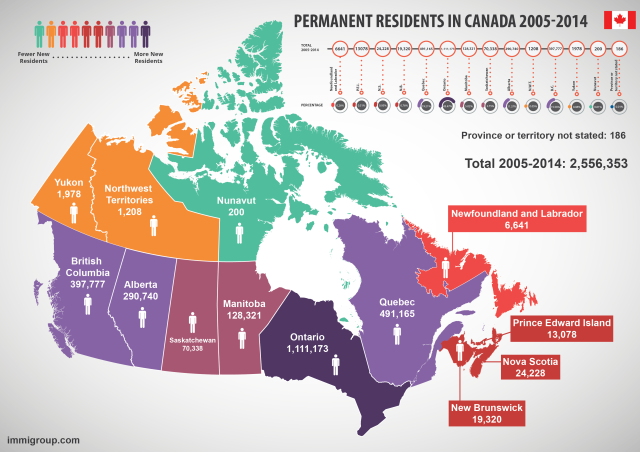 We here at Immigroup produced two infographics about recent permanent residents in Canada and where they've settled. Click on either picture to see it in detail.