Congratulations! You've been offered a job and you've got your permanent resident visa that's your gateway to Canada. Unfortunately, your job is in either Vancouver or Toronto, hardly surprising given the economic importance of both cities' local economies. That means that your biggest challenge is no longer finding a job and getting that all-important visa.
It's now finding a place to live.
And finding a home in Vancouver or Toronto is not easy, which is all the more reason you need a well-thought-out plan that provides you with clear steps to follow in order to find accommodation in Canada's most expensive cities. Where to start?
Step 1. Get a Credit Rating
Well before you even board your flight to Canada, you should start planning how to establish a credit rating in Canada.
Why?
Because that's what financial institutions look at in order to pre-approve your mortgage. A pre-approved mortgage is basically how much the bank will lend you to buy your new home. In other words, unless you're wealthy enough to pay cash, your pre-approval establishes how much you can spend buying a house or apartment. The better your credit rating, the higher your pre-approved mortgage. The higher your pre-approved mortgage, the more you can spend getting a bigger and better place to live. Even if you're only renting, a good credit rating is a great way to help convince a Canadian landlord that you will be a responsible tenant.
For advice on how to establish a credit rating in Canada, see our blog on this here.
The more information the bank has on how you have dealt with prior financial obligations, the easier it will be for them to establish your ability to pay the down payment (at least 5% but up to 20% of the purchase price of the home) and meet your mortgage payments.
Step 2. Find a Rental while you build your Credit Score
First, you'll have to stay in temporary lodgings while finding a place to rent where you can live until you can qualify for a mortgage and then purchase a home. You can stay at a mid-priced hotel or find a hostel at a number of sites, including here. Or you can you use sites like Airbnb, for example.
Next step is to find an apartment to rent, usually for at least 1 year until you qualify for a mortgage. There are a number of types of dwellings available including:
An entire house
A duplex which is normally a multi-story house divided into 2 dwelling units
A triplex which is normally a multi-story house divided into 3 dwelling units
A room in a house with shared bathroom and living facilities
A bachelor apartment with a single, combined living and sleeping room
1 to 4 (usually) bedroom apartments.
To rent an apartment, you will need to find a landlord that will accept you without you having any references from previous landlords in Canada, which may involve additional searching for a landlord who will accept those without previous Canadian rental references.
Canadian landlords – in addition to references – will also usually require the following:
A letter from your current employer that indicates your income. Remember in Canada (as well as the USA) incomes are generally given on an annual basis - how much you make every year - rather than a monthly basis as the case in some other countries.
Several (if possible) months worth of bank statements that prove you have sufficient money to cover your first few months of rent (should you lose your job for example).
If you can, provide references as these are generally required. But, as stated above, as a recent arrival seeking your first rental in Canada, this is usually difficult if not impossible to provide to any prospective landlord.
Step 3. Get that Pre-approved Mortgage
Remember, that despite whatever steps you take, and depending on where you obtain your mortgage, you may have to rent for at least 1 year to build up enough of a credit rating in Canada to enable you to get a mortgage. While Canada's financial institutions do have programs tailored to new Canadians, be prepared to have to rent for a period before purchasing a home on credit.
Genworth Canada, for example, has what they call a New to Canada program for mortgages for new Canadians. There are certain requirements, of course, including:
Minimum 3 months full-time employment in Canada;
International Credit Score (Equifax has an international credit report for businesses, but it is unclear if they can obtain personal credit reports from abroad);
As an alternative to an international credit score you can provide proof of at least 12 months of timely payments on things like:

Rental payments
Utility bills
Phone, internet, and/or cable bills
Car loan payments;

Letter of reference from a recognized financial institution OR 6 months of bank statements from your primary bank account.
As you can see, these requirements show that even for a special immigrant-centred mortgage program you will almost certainly need a period of time living and working in Canada in order to qualify for a mortgage, generally 1 year or more.
Regardless, you should check with whatever financial institution you will be or are using in Canada to see what kind of mortgage (and other) programs they have tailored to immigrants. Find out what the requirements are before even moving to Canada and then go about fulfilling them as quickly as you reasonably can.
Step 4. Know How to House/Apartment Hunt in Vancouver and Toronto
Let's face it: Vancouver and, increasingly, Toronto, are among the world's more expensive cities in terms of house prices. You will have to deal with what we call sticker-shock when seeing the prices of even modest homes in family-friendly neighbourhoods in either city. If you're looking for a separate or semi-detached home, in many areas anything under CAD$1 million is a bargain.
That's the bad news.
The not-so-bad news is there are somewhat more affordable options further from either city's core.
The good news is the fact that the Canadian financial system is one of the most stable and efficient systems you'll find anywhere. Once you have a rental and you get that all-important pre-approved mortgage (as we point out above), you now have a budget and can look for a home that you'll likely spend a couple of decades paying down. That's a good thing, by the way.
If you're used to paying the full price outright for a house in your home country, get over it. (Unless you own a thriving business and already have the funds available, of course.) With both partners in a couple earning reasonable salaries, a mortgage is a way for you to get that home now, rather than wait years.
And that's another reason you often need at least a year to build up your credit and get that pre-approval: you will need at least 5% of the purchase price as a down payment, so you have to start saving for that as well as soon as you arrive in Canada. If you have the foresight to bring additional savings from abroad into the country for that purpose, that immediately puts you a step ahead. Maybe it's time to call Uncle Gupta in Mumbai and ask for a favour before even coming to Canada.
Step 5. Get a Real Estate Agent to Help You
So, it's time to take a look at some of the not-so-incredibly-expensive and somewhat more affordable areas in Vancouver and Toronto. But to do that you really need a real estate agent, especially seeing you're new to Canada and this will be your first home purchase in your new country. Find someone you can work with and with whom you the confidence that they will look after your interests and find a reasonably-priced home for you.
Here are some questions to ask any prospective real estate agent you're considering working with:
How long have you been in business?
How many listings (properties) do you have that we can look at?
Who in their office will take care of our search for a home? Is it theme registered broker or a junior employee?
What commissions do you charge?
Given the goals you have, how will they help you find the home you want?
Once you've decided on a real estate agent, you can start looking for homes within your budget. There are several things to consider:
You will have to spend a lot of time – months often – to find a home that suits you.
Use your pre-approved mortgage amount as an absolute maximum. A newly-purchased home inevitably brings some unpleasant surprises that require fixing. And, in Canada, the buyers pay the land transfer tax. Plan to spend more money fixing your home than you had imagined necessary.
If the agent suggests requiring an inspection before completing your offer, you should agree. Having a qualified inspector review your home will help alert you to any problems that need fixing and may be a warning sign not to buy a property.
Step 6. Pick a Less Expensive Area in Vancouver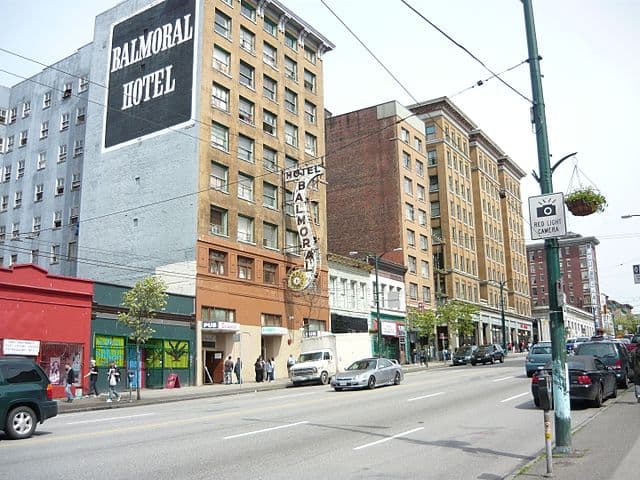 by Canadian2006 / Wikimedia Commons / CC BY-SA 3.0
In the East, basically. West Vancouver (closer to the seafront in other words) is one of the more expensive areas in the world to buy a house. Average house prices are over CAD$2 million, with the exception of the University neighbourhood where they are surprisingly close to $1 million. Here are a few of the less outrageously-priced neighbourhoods:
Hastings neighbourhood in Vancouver East
Victoria VE in Vancouver East.
Collingwood VE in Vancouver East.
Renfrew VE in Vancouver East
Renfrew Heights in Vancouver East
Hastings East in Vancouver East.
These are neighbourhoods with house prices averaging around $1.5 million. Find that expensive? The better neighbourhoods in Vancouver West run from under $3 million to over $5 million. You may have to consider buying a condo which will bring you down somewhere in the mid to high six figures. Of course, those are for moderately-priced condos located away from prime areas. If want to pay well over $1 million for a condo, Vancouver has plenty of that as well. 
Greater Vancouver had an average price of around $800 per square foot in 2019 while Vancouver itself had a price over $1,000 per square foot. So, for a 1,100 square foot (102 square metres) 2-bedroom condo, you'll end up paying:
$880,000 on average in Greater Vancouver
$1,100,000 on average in the City of Vancouver.
Remember, you can do several things to lower those house prices:
Find a slightly smaller condo – you can live with 800 to 900 square feet. You may very well have done so with a family in your home country.
Look for places a little further from the city centre than you were planning. This will depend on where your job is of course and what kind of work your spouse will be doing as well.
As well, you can look to improve your credit score as soon as you are living, working, and renting in Canada. By doing straightforward things like paying your bills on time, keeping your credit card spending around 25% to 35% below your maximum allowable and avoiding taking out too many loans, you can maintain a healthy credit score which may result in a lower down payment when you take out your mortgage.
The difference between a down payment closer to 5% of the total price compared to 20% of the total price means tens of thousands of dollars you don't need to come up with when signing your mortgage contract. And it can mean a lower mortgage rate as well.
Aside from making sure you understand all the closing costs involved in a mortgage, you may also qualify for the BC First Time Home Buyer's Program which provides an exemption to paying the property transfer tax (PTT). There are a number of conditions to qualify including being a Canadian citizen or permanent resident and never having had an interest in a principal residence anywhere in the world. As well, it applies to properties under $500,000. Go here for more information.
Step 7: Or Pick a Less Expensive Area of Toronto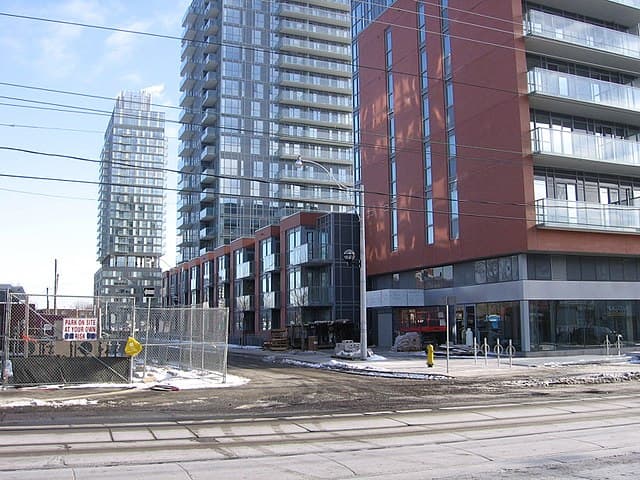 by Stephen Allen / Wikimedia Commons / CC BY-SA 3.0
Toronto used to take a somewhat perverse pride in saying that they weren't quite as expensive a city as Vancouver. That's no longer true and now GTA has the dubious distinction of being ranked one of the world's most expensive cities.
As well, it is estimated that the city alone has well over 100 distinct neighbourhoods with all kinds of options in terms of lifestyle and diversity.
Bottom line: you have to be patient, determined, and a little lucky to get a relatively affordable home in Toronto.
Here are a few neighbourhoods you might consider:
Regent Park: east of Cabbagetown and south of Gerrard Street, this neighbourhood had a bit of rough reputation centred on some of its public housing a few decades ago but, like everything in Toronto, it has been overhauled, transformed, and rebuilt. Yes, you can pay over $1 million in this area too, but there's a slightly cheaper range of homes as well, especially condos.
Greenwood-Coxwell: in the East End of old Toronto, it's a great location near the Don Valley highway for when you need to get the heck out of TO, a short drive or, rather, a reasonable bike ride from The Beaches, and just north of Leslieville. The Little India zone of restaurants and shops is right there and you're on the Danforth/Bloor subway line. Again, there are plenty of homes over $1 million, but if you're willing to live in a smaller home (say tucked beside a laneway), then you can find a few relative bargains.
The Junction: this is a unique mix of post-industrial converted warehouses and comfy brick homes on quite side streets, along with a lively area of shops, restaurants, and bars around the intersection of Bloor West and Dundas. It's also where 4 railway lines intersect: hence the name. Want a cute 2 story, red-brick Victorian row house? $1 million plus please. Want a new condo in a wonderfully diverse and cool neighbourhood? You might nab something under $700,000.
Leslieville: east of the Don Valley, south of Greenwood-Coxwell, before you hit The Beaches, you'll find this addition to Toronto's gentrified neighbourhoods. The gentrification here happened much later than in most of the city's neighbourhoods, in the 2000s and it retains more of close community feel than other places. Prices, given this is Toronto, are reasonable, with multi-bedroom homes closer to $1 million than to $1.5 million and up. And condos can be had for around $600 thousand and up, depending on the size.  
Step 8: How to Close the Deal
Along with your real estate agent, make sure you're aware of any and all closing costs that you will face when signing the deal before moving into your new home. These costs involve legal and administrative fees and can include:
Home inspection fee
Deposit on your down payment
Mortgage default insurance may be considered a closing cost (if your down payment is well under 20% of the purchase price, for example)
Land Transfer Tax
Legal fees for preparation & recording of legal documents
Title insurance against possible disputes over property ownership (often required by financial institutions who provide mortgage financing)
PST (provincial sales tax) on CMHC insurance: the Canada Mortgage & Housing Insurance Corporation insurance is financed within your monthly mortgage payments, but the provincial tax is not and has to be paid at closing time.
There's a lot to keep in mind when buying a home, especially in a city like Vancouver or Toronto. You need to start planning before you even arrive in Canada, and then be persistent, patient, and on top of the all the details involved. Seek a trustworthy real estate agent and take the time necessary before making this key life-decision.