10. The Temporary Foreign Worker Program Scandal Spreads
Tim Hortons by Nate Nyedi [Public Domain]
After assuring Canadians that any abuses with the TFW program were being cracked down on in 2013, Minister Kenney found himself with a scandal on his hands by April of 2014. A study by the CD Howe Institute, a conservative think tank, showed that Canadian companies, especially ones in the fast food industry, were using temporary foreign workers to displace Canadian workers. Two whistleblowers at Tim Horton's also alerted the public to the scandal. Anger and criticism of the entire TFW came from both all sorts of sources. Labor economists as well as union representatives lashed out at the unfair treatment allegedly handed out to Canadian workers. As a result, the restaurant industry was temporarily suspended from the program. By June, Ministers Kenney and Alexander had to announce an overhaul of the TFW program, splitting it into a TFW program where employers are subject to stricter scrutiny and have to prove that a Canadian is not available to do the work, and an International Mobility Program for higher skilled workers. This allowed the restaurant industry access again to the program. 
9. Dubious Refugee who Avoided Deportation Murders Benefactor
Man stabbing a woman [Public Domain]
Iqbal Singh had his refugee claims denied by the Immigration Refugee Board soon after arriving in Canada in 2003. The farmer from a village in the Punjab did manage to file appeal after appeal and avoid deportation for years. He was also charged with drunk driving in 2005, but managed to convince a lower court judge to overturn the conviction but, by the time he was finally convicted in 2008, the CBSA filed a request with the Indian government for the necessary documents to allow Singh to be removed from Canada. India was very slow in responding and the CSBA did not press its case.
Anita Summan, on the other hand, became a Canadian citizen in 1998, and it took her 10 years waiting in India while her husband worked in Canada and was eventually able to sponsor his family to join him. She was tragically widowed in 2004 and left with her husband's small trucking company. Iqbal Singh ended up working for her, and even lived in a basement apartment in the Hal's home for a short while. And then it seems Anita, to help Iqbal remain in the country, arranged a fake marriage with him. They were not able to convince authorities, however, who had suspicions from the start. By March of 2011, Singh was told by the CSBA that he would soon be contacted regarding his removal arrangements.
Tragically, India never got around to issuing the paperwork and the volatile Iqbal Singh, who already had a restraining order slapped on him after previously assaulting Anita, entered their Brampton home in January of 2014 and repeatedly stabbed Anita and a visiting friend. Anita died in hospital and the friend survived after falling into a coma. Iqbal was arrested within 48 hours. Everyone was left asking what could have been done to prevent such a horrifying tragedy. 
8. Should Canada Ban Julien Blanc?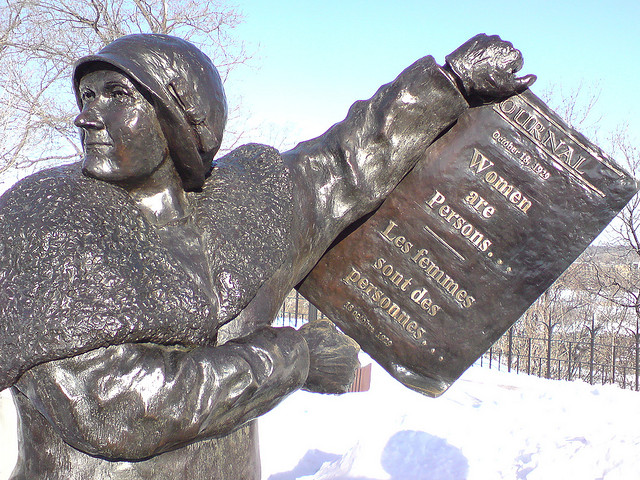 by Karl Baron / Flickr / CC BY 2.0
The Swiss-born and California-based pick-up guru for the lonely male and general misogynist runs Real Social Dynamics, or RSD, and gives awkward young guys advice on how to conquer, all too literally, women. Emotional manipulation and physical force seem to be two of his favorite techniques. This is the guy who apparently bragged about, and reportedly had images of, him choking various women in Tokyo, for example. Many of his tweets, now private or removed as most of his videos on YouTube have also been, are clearly boasting of abusive behavior. Whether it's obnoxious marketing to get the losers into his $2,000 boot camps or his other services which can cost almost $500 a pop or something more sinister, he is clearly advocating violence against women.
That's earned him a social media campaign against himself and RSD that has accumulated tens, if not hundreds, of thousands of signatures in Canada, Australia, Japan, and the UK. Several countries have already banned him from visiting, including Brazil and South Korea. Will Chris Alexander do the same on behalf of Canada? Because his speech, in the legal sense, is against all women and not women of any ethnicity or culture or other social group, some in the legal community say Canada's Charter of Rights protects Julien Blanc because women as a whole are not an identifiable group within the hate crime section of the Charter. Time to change that section maybe? Or should Chris Alexander say Julien Blanc is scum but we can't deny him entry to Canada? Either way, the social media campaign has worked so far. He's cancelled his boot camps in Canada that were due to be held in 2015. 
7. Canadians Conflicted Over Immigration
Nearly 7 million Canadians are born abroad nowadays, and those 6.8 million represent over 20% of the nation's population. Only Australia, among similarly developed nations, has a higher percentage at about 26%. How does your average Canadian, whatever that means these days, feel about immigration?
According to a recent CBC Survey taken in 2014, 75% of Canadians feel Canada is a welcoming place for all ethnicities but only 55% feel they are important to building a stable economic future for Canada. In other words, when it comes to competing with immigrants for jobs, Canadians are not nearly as generous in their attitudes. With the outrage over the Temporary Foreign Workers Program scandal, a significant portion of Canadians worry about losing their jobs to immigrants. 30% of those surveyed agreed with the statement that "immigrants take jobs from Canadians." How comfortable Canadians are with cultural diversity varies across the country. For example, in the Maritimes, 86% said they would be comfortable if someone from a distinct ethnic background married their best friend, while that number drops to 72% in the Prairies. And when the issue of pride in Canada's cultural mosaic was polled, 72% of respondents in BC were proud of the cultural diversity, while only 57% in Quebec were proud. 
6. CBSA Officials Seek Public Help to Identify Man They Wish to Deport
CBSA and Vancouver Police by Legal Observers / Wikimedia Commons / CC BY-SA 2.0
We don't know much about who Ali Adongo really is, aside from the fact that he's 5-foot-5 and is seen in 3 photographs released by the CBSA to assist the public in providing possible leads as to his real identity. He has used several aliases: 
Kasheef Ali,
Muhammed Ali,
Muhammed Kashif Adongo,
Anthony McCum,
Peter Osei.  
What is clear is that he has been in Canada illegally perhaps from the mid '80s, although the exact date is uncertain, and that the CBSA needs to know where he's originally from in order to prepare documentation to enable his deportation. At least he doesn't seem to be claiming amnesia.
Grandfather and Scooter [Public Domain]
After a 2 year moratorium on bringing in parents and grandparents of immigrants, enacted in 2012, Minister Kenney announced in January of 2014 that the moratorium was being lifted but a strict limit of 5,000 new applicants was being placed. The backlog of applications of parents and grandparents of immigrants waiting to join their children in Canada had been reduced over the 2 year period from 2012 to 2014, but the government wanted to avoid another backlog and multiyear wait times. So the strict limit on new applications as well as a total level of 20,000 grandparent and parent admissions were seen as necessary by the authorities. But those weren't the only new restrictions set in place.
To sponsor your parents or grandparents you must have, as of 2014, an income at least 30% above the Low Income Cut Off (LICO) level. That's 30% higher than the previous minimum which was at the LICO level.
You must provide 3 previous years of notices of tax assessment from Canada Revenue Agency. It used to be only 1 year.
The length of the sponsorship undertaking has been increased to 20 years, up from 10 years. This is meant to combat grandparents and parents who had been going on welfare after their sponsorship period is over.
A dependent child is now classified as 18 years old or younger. It had previously been up to 22 years old, or a full-time student.
In other words, sponsoring your parents or grandparents is a much more demanding undertaking nowadays, especially financially. And that's assuming they are accepted by CIC for sponsorship.
4. University Degrees Not Helping Recent Immigrants Get Jobs
Keyboard [Public Domain]
According to a Stats Can report via Global News, if you arrived in Canada as an immigrant with a University Degree within the last 5 years, the unemployment rate you face is 14%. That compares to a little over 3% for University grads who were born in Canada. That means as a recent immigrant, you are almost 5 times as likely to be unemployed as a university graduate born in Canada. In Ontario the unemployment rate among university-educated recent immigrants is even higher than the national average at 14.7%, while in Quebec it's just a touch better at 12.4%. Alberta is better with a rate of just under 7% for recent university-educated immigrants.
But a further problem is those immigrants who have found work have often found it in fields unrelated to and often below their experience and qualifications. According to some, Canadian businesses place little value on work experience abroad and accreditation for degrees, such as in medicine, is a problem as well. If you arrive in Canada with a degree and perhaps a professional title, you will have to network and use services that will help you build your skills, and upgrade your qualifications, to try and convince employers to hire you. It's not an easy task, but one you will be well advised to plan on doing to become successful in your new home.
3. Canada Resumes Deportations to Haiti and Zimbabwe
Carrefour, Haiti by PWRDF / Wikimedia Commons / CC BY 2.0
Canada will soon start resuming deportations to Haiti and Zimbabwe according to Immigration Minister Chris Alexander and Public Safety Minister Steven Blaney, who made the announcement early in December of 2014. That means that those from the 2 countries who are in Canada without legal status will face removal proceedings within the next 6 months or so. That leaves over 3,000 Haitians and around 300 Zimbabweans vulnerable to deportation.
Refugee advocates are very critical of the change in government policy and say conditions in either country have not improved nearly enough to justify the government's resumption of deportations. The Canadian government, in fact, has a travel advisory for Haiti, advising visitors to exercise a high degree of caution, mainly due to high crime rates in some areas. In Zimbabwe's case the advisory also recommends a high degree of caution due to "the unpredictable security situation."
Whether either nation is politically unstable enough to warrant refugee claims in countries like Canada is up for debate. But neither nation presents a very encouraging situation for returning nationals who have attempted to claim refugee status in Canada, or elsewhere.
This means that the only countries left on the removal moratorium list are:
Afghanistan
Democratic Republic of Congo
Iraq
That means that if you are a refugee claimant from any other country around the world, you have a fairly high barrier to climb to convince immigration authorities that your claim is legitimate. The Conservative government has made it clear that the issue of so-called bogus refugees is one they have singled out for attention. While there is no doubt that some refugee claims are in fact a guise used in order to gain permanent residence in Canada mainly for economic reasons, as allegedly in the case of Roma from Hungary, or Mexican refugee claimants, the decision to limit the removals moratorium to the above-listed 3 countries has caused controversy among the immigrant community in Canada and it's advocates.
Israel, for example, is now on the list of Designated Countries of Origin, which the Canadian government defines as countries that do not normally produce refugees but do respect human rights. While this does not include Gaza and the West Bank, it has proved controversial for Palestinians residing in Israel who wish to claim refugee status in Canada. Clearly, the government has strictly limited the definition of what exactly constitutes a refugee in Canada.
2. BC Holds Refugees in Underground Dungeon
Vancouver International Airport by Eviatar Bach / Wikimedia Commons / CC BY-SA 3.0
Did you know that CBSA officials have the right to detain both permanent residents and foreign nationals who have, in their judgement, violated the Immigration and Refugee Protection Act? And they only need a warrant to arrest permanent residents. That means that foreign nationals can be arrested by a CBSA official without a warrant. As a foreign national you may be arrested with a warrant as well. And all warrants go into the Canadian Police Information Centre's database.
If detained, you now have an arrest record, even if your only crime is arriving at a port of entry as a refugee without the benefit of legal status. All the CBSA official needs is reasonable grounds to believe that the refugee, or person in general, falls into one of the following categories:
The refugee is unlikely to appear for an immigration proceeding.
The refugee is a danger to the public.
The refugee is unable to convince the official of their identity.
The refugee is deemed part of an irregular arrival.
So what happens when you are detained for one of the above reasons? At Vancouver airport there is a specialholding cell for detainees with 24 beds, located several floors below ground level. Detainees are isolated in the holding cell, deep underground, and unable to contact family or legal representatives at that location. To do so, they are brought to a CBSA holding centre in downtown Vancouver. Of course, if the facility, with its 24 beds, is full, detainees are held at provincial jails. In fact, immigration lawyer Phillip Rankin has suggested that you aretreated better as a criminal in Canada than if you are a refugee. With the general perception among Canadians, according to Rankin, that refugees are bogus and criminals, it is perhaps not surprising that such treatment is what many asylum seekers can expect when they arrive at a Canadian port of entry.
As Amnesty International's Canadian site states:
Amnesty International is concerned that the debate around asylum seekers and refugees in Canada is being framed by myths and misconceptions. Government ministers frequently refer to asylum seekers and refugees as "bogus" and attempt to shape public attitudes with language which suggests that refugees are criminals or otherwise "breaking the rules."
Whether one agrees with this assessment, it is clear that Canada has been facing increased criticism over its handling of refugees. Keeping them confined in an underground facility that resembles a dungeon at Vancouver Airport, surely does not help change that perception.
1. Deepan Budlakoti: Born in Ottawa and Stateless
What do you do when Canada invalidates your passport and wants to deport you? Despite the fact that you were born in Ottawa? And what do you do if your parent's country, India in this case, refuses to accept you? Deepan Budlakoti's is a unique and controversial case. The son of servants of the Indian High Commissioner to Ottawa, he was born in the nation's capital in October of 1989, the same year his parents terminated their employment as cooks and gardeners in the employ of the High Commissioner and took up private employment in Canada.
This is a crucial point, because children born to diplomatic staff, whether trade commissioners or gardeners, are not considered to have been born in Canada under current regulations. Diplomatic staff are a world apart with their own set of rules and privileges and one of the rules in Canada means children of staff born in Canada are considered foreign nationals. So the question is, were Deepan's parents recognized by Canadian authorities as no longer in the employ of the Indian High Commissioner on October 17, 1989 when Deepan was born? Despite the fact that the former High Commissioner has written a letter stating the Budlakotis left employment with the High Commission in June of 1989, Canada did not officially recognize their termination of employment until January of 1990. So by that strict interpretation, Deepan in fact is Indian and not Canadian. And here comes the second part of this tangled situation. To be recognized as an Indian citizen born abroad – to diplomatic staff in this case – Deepan's parents would have had to have registered him within a year of his birth. They did not, believing at the time that Deepan was a Canadian, seeing as they had left the employ of the High Commission some 4 months before his birth.
When did all this become important? The 3rd part of Deepan's story, is that his life went off the rails as a young teenager and he left his family home and became a ward of the state. He returned home in 2006, became gainfully employed, but in 2009 in another controversial incident, he was arrested on drugs and weapons charges. His supporters claim the weapon's charge was entrapment, and that he was not involved in the drugs transaction that resulted in his arrest. Nevertheless, he was arrested and convicted by the courts, and while serving jail time his unusual past surfaced and jail officials contacted immigration authorities who decided that Deepan was not Canadian. He was ordered deported, but for the reasons stated above, India refused to acknowledge him as an Indian citizen, and therefore refused to accept him for deportation.
Today Deepan remains in a legal limbo, stateless and living under strict curfew with his parents in their Ottawa home, having served his jail time. According to Minister Alexander, if Deepan had wanted to avoid deportation he should have obeyed the law. Critics say that is beside the point; Deepan is either Canadian or is not, and if he is Canadian he has done his jail time and should not be doubly punished. As well, Ontario has withdrawn his OHIP coverage given his statelessness. It seems that Deepan has been singled out by Canadian authorities as an example of Canada's tough new attitude on immigration and he is being used to send a message that immigrants or refugees who break the law will be deported as swiftly as possible. Unfortunately, they seem to have chosen a complex case that will wend its way through the courts until Deepan is either given back his citizenship or India accepts him as a deportee, or a third country accepts him as a refugee, something he never expected would happen. If not, he will remain in limbo, the young man in a regulatory bubble who cannot even receive health care in the country he was born in.