TOP 8 BORDER CONTROL & IMMIGRATION HORROR STORIES
1. THE CHARGE? TRAVELING WHILE MUSLIM.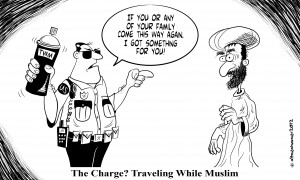 Muslim-Canadians are still getting racially profiled at the American border. Take the recent case of Mohamed Benaouda and his family, reported by the Montreal Gazette in February 2012. A shopping trip to Plattsburgh turned into a six hour ordeal, complete with isolation, interrogation, and the verbal threat of similar treatment if the family tries to visit the United States again. Benauouda committed the shocking crime of attending the same Montreal mosques as two other men: Abousfian Abdelrazik, a Sudanese-Canadian whose case became widely known when he was wrongfully detained on (and ultimately cleared of) suspicions of terrorism, and Abderraouf Jdey, a Tunisian national who is wanted by the FBI on suspicion of being an Al-Qaeda-trained terrorist. Benaouda knew these men in passing, enough to acknowledge with a friendly greeting, but they weren't friends of his. Abdelrazik wasn't even a real terrorist suspect, and Benaouda certainly wasn't taking time out from watching hockey and raising his seven children to hatch plots with Jdey, whose real last name he never knew.
Just like African-Americans (and African-Canadians) have learned to expect unwelcome extra attention – there is the common joke about being charged with DWB, or "Driving While Black" – Canadian Muslims and Muslims from the rest of the world traveling to the United States are still learning the sad lesson that they'll be hassled when TWM, or "Traveling While Muslim."  
2. AT LEAST HE WASN'T TASERED TO DEATH, AM I RIGHT?
It's not just terror suspect long-shots getting this shabby treatment, however. According to the Winnipeg Free Press, in the spring of 2011 Polish welder and small business owner Henryk Brzezinski survived a run-in with the uniformed thugs at a Canadian airport. Which is sadly more than can be said for Polish immigrant Robert Dziekanski, who was killed when tasered by police at Vancouver's airport in 2007 for aggressively venting his frustration with overzealous immigration officials.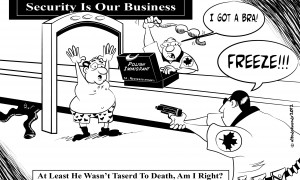 During a stopover in Toronto on his way to visit relatives in Winnipeg, Brzezinski was detained for ten days when customs officials found women's clothing and toys in his luggage. Wrongly assuming the gifts were for a woman Brzezinski was going to try to illegally immigrate to marry rather than visit his sister-in-law and nieces and nephews, immigration officials handcuffed him at the airport and detained him, confiscating his passport, cellphone, and notes containing contact information for his relatives. Under custody of the Canadian Border Services Agency, Brzezinski's detention was kept a vague secret from his worried family. After ten days (and after posting a $5000 bond), Brzezinski was released. His passport was not returned to him until five months after the detention, trapping him in Canada. What a warm welcome and what a great vacation!  
3. WHOSE PEN IS SO MIGHTY NOW?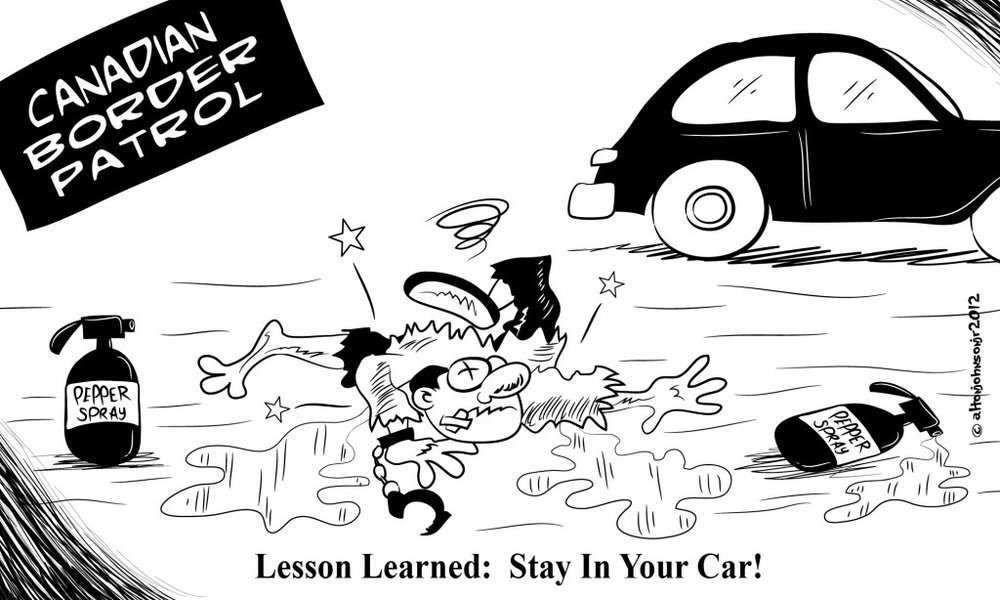 You'd think that a successful science fiction writer wouldn't have much trouble crossing the border of Canada and the US, but you'd be wrong. According to Boing Boing, in 2009, Peter Watts, author of the Rifters trilogy, made the mistake of getting out of his car while US border agents were searching it. Did I say he made a "mistake"? Make that a "huge mistake." He was swarmed, beaten, pepper-sprayed, handcuffed, detained, interrogated, and eventually released on the Canadian side of the Blue Water Bridge in Sarnia during a snow storm. His car was impounded and he was charged with assaulting an officer. He ended up with a suspended sentence and a fine, but he's now prohibited from entering the US for five years. The lesson? Stay in your car! Your fantastic imagination and legion of nerd fans cannot protect you. Prize-winning Canadian writer Rohinton Mistry wasn't beaten while entering the US, but he was so outraged by the extra searches and interrogation that he underwent in the years after 2001 that he cancelled American promotional tours altogether. His sensitive portrayal of immigrant life in Canada had somehow escaped the notice of the airport guards who kept mistaking his non-Muslim, non-Arab self for an Al-Qaeda terrorist.  
4. ON SECOND THOUGHT, I'LL TAKE THE PEPPER SPRAY.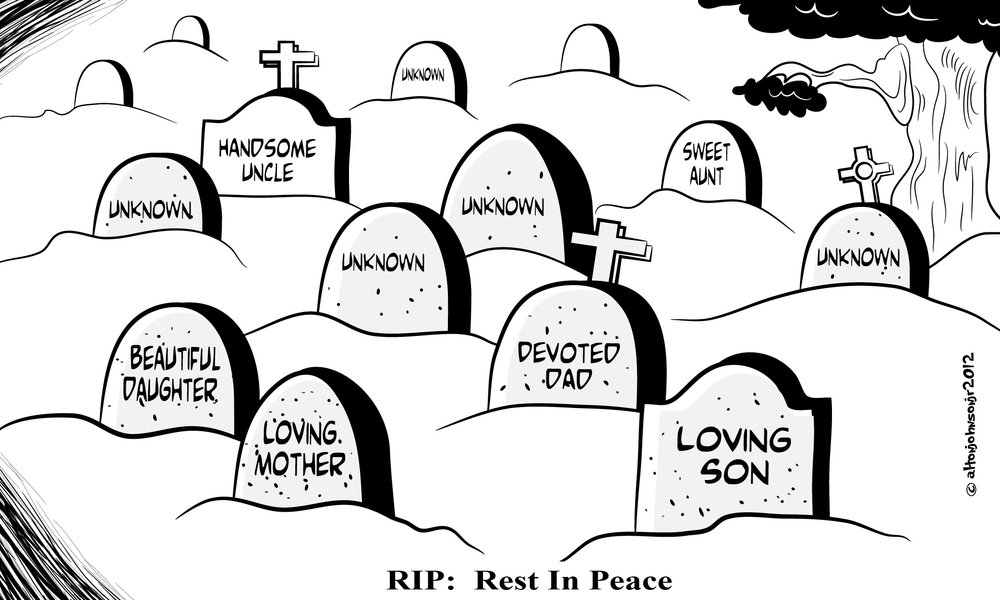 This entire list could fill with the sad and terrible stories of those killed, injured or abused while trying to immigrate to the United States from Mexico and Central and South America, but this case from 2010 is among the most horrifying imaginable: according to MSNBC, 72 immigrants were killed en masse by members of a drug gang in the North-Eastern Mexican state of Tamaulipas. One survivor reported that the cartel offered the migrants thousands of dollars each for jobs as assassins and drug mules, murdering them with machine guns when they refused. Cold comfort for Peter Watts or Henryk Brzezinski, that their ordeal didn't leave them in a pile of dozens of bodies in a Mexican warehouse.  
5. DAMN ILLEGAL IMMIGRANTS. I MEAN, DAMN AMERICAN CITIZENS WHO HAPPEN TO BE LATIN.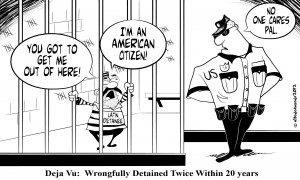 American citizens are often victims of their country's overzealous and powerful immigration agents. Take the case of Antonio Montejano, reported in a late 2011 New York Times article, wrongfully detained twice in the last twenty years. When he was mistakenly arrested for shoplifting last year (after a dispute with one of his children over a purchase ended up with the item accidentally falling into a shopping bag), his fingerprints matched a database of individuals who had been held for immigration offences in the past. Immigration agents issued a "detainer" - a writ issued to keep someone in jail longer than they would normally be held - and kept Montejano in jail for four days, even after he had been cleared of the initial shoplifting offence by a criminal judge, releasing him only when American Civil Liberties Union lawyers adequately proved his citizenship.
Why did Montejano's fingerprints trigger a match in the database? Because he had been wrongfully deported to Mexico in 1996 and immigration records had never been changed to reflect his innocence.  
6. A CLASSIC IMMIGRATION HORROR STORY.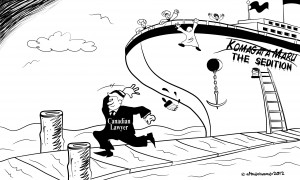 How about this vintage or classic Canadian immigration horror story: in 1914, after British Columbian labour unions successfully advocated restrictions on Chinese and South Asian immigrants, an Indian labour contractor named Gurdit Singh Sarhali decided to challenge the amended Canadian Immigration Act and bring a load of mostly Sikh workers to Vancouver. The ship he used to transport the almost 400 workers was a converted Japanese coal steamer called the Komagata Maru. When the ship made it to BC, Canadian officials denied it docking rights and it sat in Vancouver harbour for months while lawyers for both sides argued about the workers' rights as British subjects and passport-holders. The Canadian navy eventually escorted the ship away from Canada, and many of the passengers eventually died in a massacre at Budge Budge, India, after being killed when confronting British colonial administrators who had charged them with sedition.  
7. CLOSE ONLY COUNTS WITH HORSESHOES, HAND GRENADES, AND DETAINING FOREIGN STUDENTS.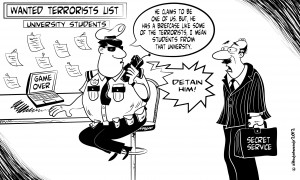 Studying in an American university near the Canadian border has turned into something of an adventure in evading overzealous border patrols for some foreign students. The border between Canada and the US has become overstaffed with American agents on the strength of fears of terrorist attacks and illegal immigration – neither of which have ever been linked in a significant way to the relatively porous border. Never let it be said that a lack of evidence has ever blocked a political decision, however. With so many guards around with so little to do, it is not surprising that universities in upstate New York and Maine are reporting trouble for international students at bus stations and on trains, frequently up to 100 miles from the actual border. According to a Chronicle of Higher Education report, "temporary permanent checkpoints" (a true classic of government doublespeak – these things are better known to civilians as "roadblocks") have been set up across northern states to try to snare illegal immigrants. Sometimes this effort works, reports the Hamilton Spectator, noting that the extra guards are turning up illegal immigrants from Mexico who have moved to the northern part of the US in search of employment.
"Caught in Transit: The Rochester Border Patrol Station" from The NewsHouse on Vimeo.
But sometimes it doesn't. Sometimes university and college students with all of the proper documentation and valid student visas are nabbed and held, like the graduate student from the University of Rochester who was detained for six hours after authorities boarded an intercity bus and pulled him off because they didn't understand his documents, which were perfectly valid. Or the SUNY Potsdam student who was held for three weeks for being unable to produce original documentation after being told that copies were better and that it wasn't safe to travel with originals. Great work, guys. Keep those elite scientists and musicians off America's highways.  
8. SACRED ARTIFACTS? YEAH WELL MAYBE OUR WALKIE TALKIES ARE SACRED HYUH HYUH.
Native Canadians and Americans are granted permission to traverse the international boundary that their people do not acknowledge, right? Everyone knows that the colonial imposition of a border cannot and should not restrict the free movement of indigenous people who were here long before any English, French or Americans started squabbling over whose territory ends where, and long, LONG before any aviator-sunglass-wearing official in a Kevlar vest started deciding who passed when and where. Right? Well, yes and no. Yes native North Americans theoretically have free right of passage and don't need passports, but no, the Canadian and US governments do not fully acknowledge old treaties guaranteeing their rights, so they aren't always granted their rights by border guards on either side. The Montana daily paper the Missoulian reports that Salish, Kootenai and Blackfeet tribes on the cross-border plains and western mountains are seeing complaints from their members that border guards fail to acknowledge their privileges and consistently lack sensitivity to their cultural traditions. The big problem is the mishandling of sacred objects. Many natives complain that unnecessary searches have been conducted on sacred feathers, ceremonial sweetgrass, or medicine bundles (see photo), sacks with religious significance that unpacking and investigating can desecrate. Most border guards are trained to be brusque and invasive, but tribal leaders are advocating special training for those who deal frequently with Native travelers. It's their land, officer. You're just power-tripping on it.