Global Warming is Causing the Increase in Migration
Projected Impact of Ice Melting in the Western Hemisphere by Kevin Gill / Wikimedia Commons / CC BY-SA 3.0
Will Canada Have to Make Room for Refugees?
As the world debates the effects of climate change, it is clear that changes in the earth's climate can potentially have devastating effects. They may not happen everywhere, nor to the extent that some scientists are predicting. But if the doomsday scenarios are even half-right, Canada will have to plan on how to deal with waves of refugees seeking shelter from the global storm. Or local storms and regional droughts and other area-specific effects, to be more exact. Some say those changes are already here and are affecting lives around the world. So what should the policy people at Citizenship and Immigration Canada (CIC) and the officials at the Canadian Border Services Agency (CBSA) be worrying about right now? Here is a Doomsday Climate Change Scenario that would profoundly impact immigration to Canada.
Swept Away in the Flood
The story of Noah and the flood is one of a vengeful God seeking to eradicate the human race from the face of the planet earth. Humans had become corrupt and full of violence and God regretted having created them. So he planned a great flood with lots and lots of rain. There is more than a little Old Testament vindictiveness in current doomsday scientists' denouncements of our pollution-spewing industrial and post-industrial world. The thing is, they may be right and they base their predictions on scientific modelling, rather than prophetic warnings. Even if they sound similar at times. An OECD (Organization of Economic Co-operation & Development) study signalled out those large coastal cities most at risk to rising sea levels and flooding, all as a result of a couple of degrees Celsius increase in global temperatures:
Guangzhou, China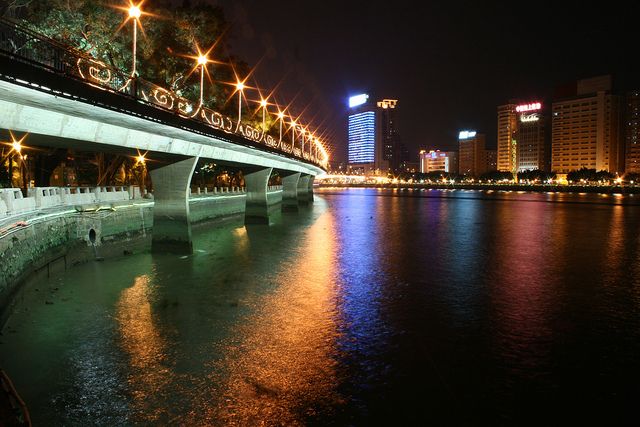 Shamian Island, Guangzhou by Rubber Bullets / Flickr / CC BY 2.0
Located 120 km up the Pearl River from Hong Kong, this once humid agricultural centre is now a sprawling behemoth of 14 million people. Building on its centuries-old tradition as a port and trading center it is now the major hub of China's main manufacturing and commercial region, the Pearl River Delta. And it boasts a skyline that puts Toronto to shame. With mountains behind the city and the Pearl River Delta fanning out into the South China Sea, you can imagine what rising sea levels and increased rainfall would do to Guangzhou. We're talking the world's major manufacturing center, clustered in a humid sub-tropical zone with lots of rain. And a mountain range behind it preventing any easy escape. Imagine millions and millions of Guangzhou residents seeking dry land anywhere they can find it, in Canada or Australia for example. This won't happen overnight, but may very well play out over the next few decades. Even if, for example, a mere 250,000 try to migrate to Canada every year, that would double our immigration numbers. And 250,000 is less than 2% of Guangzhou's current population.
Guangzhou's skyline by jo.sau / Wikimedia Commons / CC BY 2.0
New Orleans, USA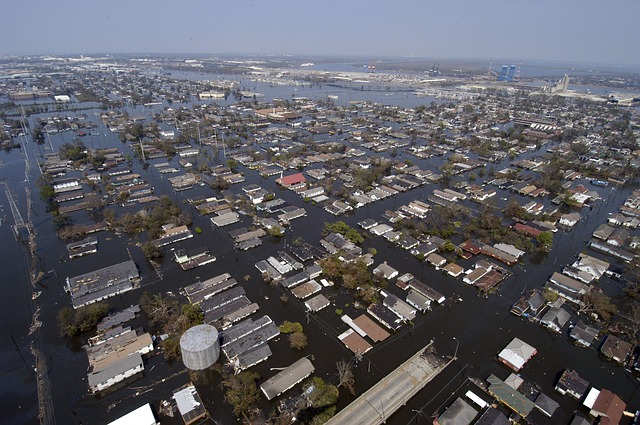 New Orleans after Katrina [Public Domain]
Need we say any more? As Stephen Hallegate of the World Bank states, "Coastal defences reduce the risk of floods today, but they also attract population and assets in protected areas and thus put them at risk in case of the defence fails." No kidding. As a snarky writer wrote in Slate "New Orleans wants to be a lake." Where will the next New Orleans be? Unless you have the U.S. Treasury ready to spend billions and billions of dollars, and the U.S. Army Corps of Engineers ready to rebuild your coastal defences, you're out of luck and your city-by-the-sea is now a disaster zone. And that means thousands if not hundreds of thousands of refugees seeking a safe and dry country to rebuild their lives in.
Guayaquil, Ecuador
by Nester Lacle / Wikimedia Commons / BY SA 2.0
On the southwest coast of Ecuador, this port city of 2.7 million sits in a humid tropical savannah zone, with heavy rainfall from January through April and frequent flooding. El Niño, the Pacific Ocean's warming of surface temperatures and subsequent cooling (La Niña) affect climate and rainfall globally, especially in South America. If Global warming does indeed cause more frequent El Niño events, then Guayaquil can look forward to ever-increasing flooding. That means those prized Ecuadorian bananas will suddenly be in short supply, and refugees leaving Ecuador will be in over supply.
Ho Chi Minh City, Vietnam
by Diego Delso / Wikimedia Commons / CC BY-SA 3.0
The former Saigon already has a population of 9 million and is a port city located in the Mekong Delta. A tropical wet and dry climate means extremely heavy rainfall in the southern months and with it, flooding. Vietnam plans to expand the area to a population of 20 million by the next decade, in an attempt to imitate Guangzhou's economic success. That means potentially millions of refugees, should serious flooding occur. 
Abidjan, Ivory Coast
by Wegmann / Wikimedia Commons / CC BY-SA 3.0
The major port city of Ivory Coast is a city of 4.4 million on the shore of a large lagoon connected by a canal to the Atlantic Ocean. Like Ho Chi Minh City, it has a wet and dry Tropical Climate with very heavy rains in May and June. It is a major industrial center and a shipping point for lumber exports. Refugees from the city would increase dramatically in response to major flooding, as a result of climate change. While Europe would likely be their first choice of destination, Canada would almost certainly have to play a role in helping them re-settle.
Pudong District, Shanghai, China
by Pierre Selim / Wikimedia Commons / CC BY 3.0
This enormous financial centre built on the banks of the Huangpu River is barely above sea level and located in the Yangtze delta where storm surges are increasing according to recent studies. Throw in added rainfall and these surges are estimated to do increasing damage. If you think China already owns most of Vancouver right now, just wait until half of the Pudong district move their offices across the Pacific. And there are over 24 million inhabitants in Greater Shanghai. 
Mumbai, India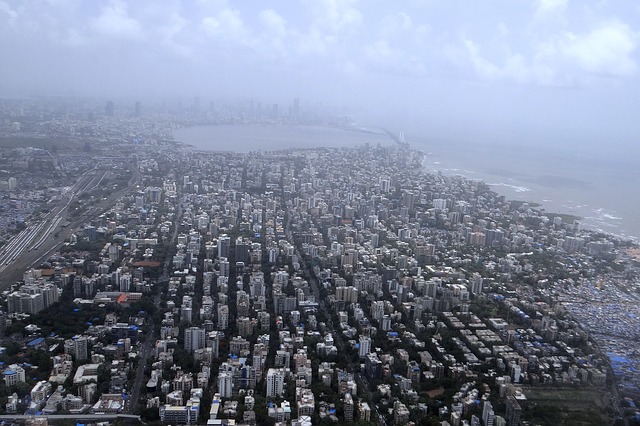 This city is big: India's largest number of billionaires live here; the total metropolitan population is over 20 million, and apparently Mumbai has the highest GDP of any city in South Asia, West Asia, or Central Asia. And we haven't mentioned Bollywood yet. And it has the south west monsoon: which means very little rain most of the year, until the months of June through September when the rainfall is, well, Biblical. What would happen if the city that produces 70% of India's maritime trade, 25% of the nation's industrial output, and over 6% of India's entire GDP, was overcome by flooding? If the monsoon season lasted half the year or even longer? The good news might be that Toronto might eventually have a financial centre that would rival Wall Street, as all those corporations look for dry land for their new head offices. The bad news is how to handle millions and millions of desperate refugees whose lives would have been literally washed away.
Buenos Aires
Puerto Madero, Buenos Aires by Dwaszuk / Wikimedia Commons / CC BY-SA 4.0
Frequent heavy rains in this sub-tropical city located on the River Plate estuary, as well as storm surges and tides, could combine to create a perfect storm if seal levels rise sufficiently in the coming years. Recent studies show that south-easterly winds combined with tides drive the water up into the estuary and cause water levels in the River Plate to rise. It can reach over 3 metres above normal sea levels. All the while, enormous quantities of water from the Parana and Uruguay rivers are being pushed down into the estuary. Flooding has gotten worse recently and the while the rich build on higher ground, the poor ghettos are in lower lying areas, and many of the 15 million in Greater Buenos Aires are poor. Guess who'll be the first to apply for refugee status in Europe and in countries like Canada as rainfall and flooding worsens? 
What will the world look like if the polar caps melt?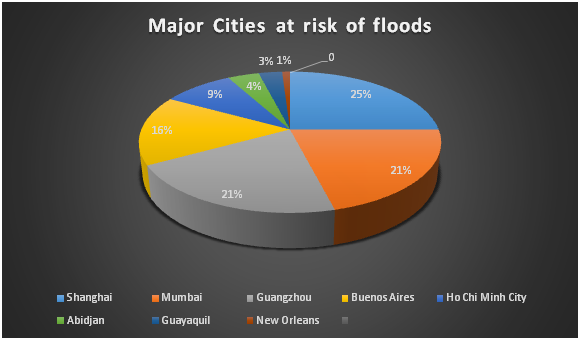 The 8 cities represent a total population of 93.6 million inhabitants. If global sea levels increase and all 8 cities disappear below newly formed bays and inlets, that means 93,6 million potential refugees. That's 44 million refugees from Shanghai and Guangzhou alone. And that's not including Hong Kong, which although built on hilly terrain may suffer partial flooding as well, should sea levels rise far enough. The largest four cities of our 8 drowning cities list – Shanghai, Mumbai, Guangzhou, and Buenos Aires – account for 83% of the 93.6 million potential refugees. From the South China Sea to the Indian Ocean to the South Atlantic, rising waters could force nearly 100 million inhabitants to seek new lands where they can escape the rising flood waters. Could Canada cope with such a flood of desperate refugees? Think of this way. If only half of the inhabitants of these cities chose to leave their home country – an optimistic assumption – and of those 47 million, a mere 5% headed for Canada, that would mean 2.35 million refugees trying to gain access to Canada. That's almost 8% of Canada's total population. Or a decade worth of legal total immigration to Canada. Prime Minister Harper's resistance to the Kyoto Agreement's binding targets with regard to greenhouse gas emissions is perhaps understandable, seeing that China and India do very little to clean up their own emissions. But in the longer run, all three governments might consider the consequences of massive flooding in their most important cities – in the case of China and India – or the possibility of being overwhelmed by refugees – in the case of Canada. It's a calculation everyone should make, whether they fully agree with the science of climate change, or not.