In 1991, a report showed that physicians were increasing at a faster rate than the general population in Canada. Accordingly, to control costs in what is a publically funded and provincially administered Medicare system, the supply of doctors in Canada was restricted. The nineties were indeed nasty if you were on a waiting list for a doctor in rural Canada, for example, but it also got a lot tougher to get into Medical Schools right across the country. It was decided there were too many doctors in Canada and the growth of physicians had to be controlled tightly.
Nowadays, in terms of physicians per 100,000 of population, Canada ranks with Mexico, behind Western Europe and the USA. We do not seem to be over-doctored, but a preference among graduates for living in cities rather than in rural areas, and immigrants with medical degrees who are attempting to be certified by Canadian Medical Bodies, means there is some delay in placing grads in training programs. This may contribute to perceptions of Canada being over-doctored.
There is another factor as well. Many Canadians students, tired of receiving rejection notices from Canadian Schools of Medicine, are deciding to study abroad to earn their Medical Degree. So where are these grads going and what countries are joining that list of destinations for Canadian students who wish to study medicine abroad? Some of the most popular destinations might surprise you. And a word of caution; it is not cheap to study medicine abroad.
The Canadian Resident Matching Services, CARMS, which matches med school grads with residency positions available, has estimated in a report that there are 3,500 Canadians studying medicine abroad in 80 schools in about 30 countries. That compares with about 10,500 Canadians training in Canada. That means that about a third as many Canadians are studying abroad as compared to those who are able to study at home. Let's see what some of the top destinations are:
The United States of America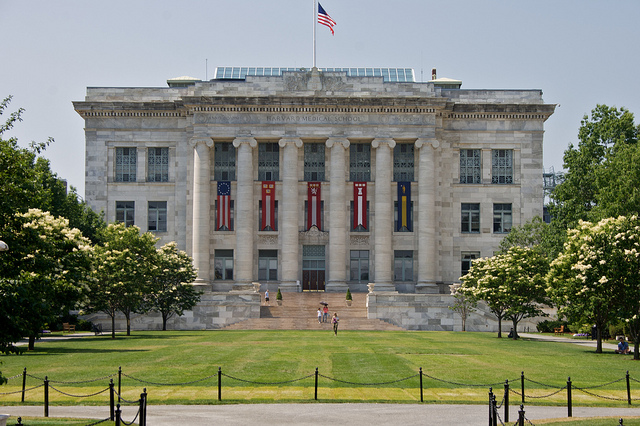 Harvard Medical School by Nathan Forget / Flickr / CC BY 2.0
As a site dedicated to international students studying medicine in the USA states, it is very difficult for international students to gain admission, with the exception of Canadians. Heading south to go to med school is hardly new for Canadian students who couldn't quite get into med school at home, or who chose to attend a certain school south of the border, but the catch as always is, either you have rich parents or you wind up with hundreds of thousands of dollars of debt afterwards. If you can get a job in the USA, of course, that debt usually gets paid off in short order.
Poland
University of Warsaw by Panek / Wikimedia Commons / CC BY 3.0
Yes, that's right. According to the CARMS report, Canadian med students choose Poland because you can enter med school directly from high school. Only about 20% of those studying in Poland had applied to a Canadian medical school, according to their report. The Medical University of Warsaw , for example, offers two English language degrees: a 4 year med school program for those with a BA or BSc or equivalent, and a 6 year program for those with a high school or equivalent degree. A medical degree from Poland is apparently recognized in the USA, Canada, The EU, and most other countries. Annual tuition costs are about €3,000 or CAD$4,200 at current rates. Monthly living expenses are estimated at about 4,000 zlotys or CAD$1,300. Student visas are required. All in all, a pretty good value proposition. 
Australia
Faculty of Health Sciences by bertknot / Flickr / CC BY-SA 2.0
Most Canadian med students who chose Australia to complete their medical degree have tried several times to gain acceptance to a Canadian institution, according to the CARMS report. Australia has world renowned faculties of medicine, but it is not cheap. The University of Sydney's med school, for example, ends up costing you about AUD$275,000 for its 4 year degree, for which you need an undergrad degree, similar to Canada. So the cost is basically the same as the USA. And there's those plane trips back home. And we haven't even mentioned (at least not in this article), what rents are like in a world class city like Sydney.  
Ireland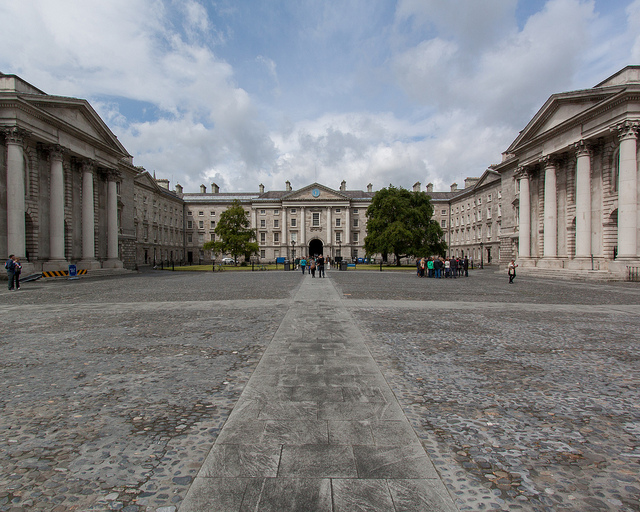 Trinity College, Dublin by Tim Sackton / Flickr / CC BY-SA 2.0
Another very popular destination for Canadian med students: the Atlantic Bridge Program is Ireland's program for attracting foreign students to study in the Emerald Isle. And it sure seems to be working. It is estimated that about 100 Canadian med students are enrolled at University College Dublin, University College Cork, Trinity College Dublin, and the Royal College of Surgeons in Ireland. That's more than the freshman class at many of Canada's med schools. Tuition is expensive, about CAD$30,000 a year, and living expenses in Ireland are not nearly as cheap as Warsaw, for example, but those studying in Ireland feel they gain a slight advantage when applying for scarce IMG (International Medical Graduates) slots back home in Canada. Officials are loath to say that out loud, but it may just be true. 
Grenada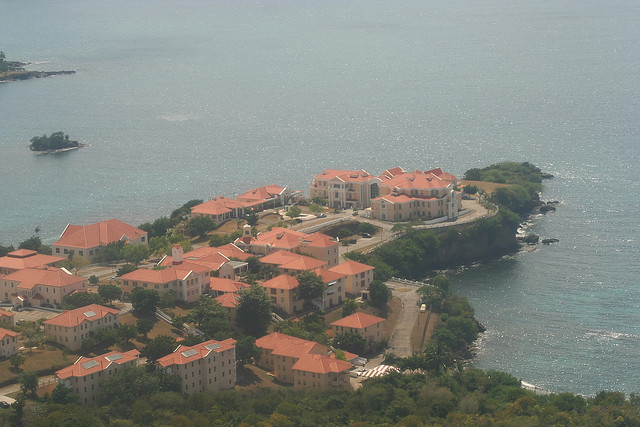 St. George's University by Ian Mackenzie / Flickr / CC BY 2.0
Yes sir, St. George's University in the tiny Caribbean island got it right, unlike some of its island neighbours. They recruit foreign staff from North American faculties and are filled with ambitious young men and women who really, really want to be doctors and are willing to travel a long way from around the globe to achieve their dream. And pay at least CAD$200,000 in total tuition fees. St. George's pass rate for the United States Medical Licensing Exam was 88%, just behind the 92% rate for med students who were educated in the USA or Canada. Maybe you really do get your money's worth in Grenada.
Having acquired your medical degree, when you return home to Canada you are now an International Medical Graduate, or IMG, and you now need to get your choice of residency at a hospital in Canada. Good luck. Unfortunately, the choice picks go to Canadian educated med school grads, even when there are shortages apparently. 88% of Canadian med school graduates a few years ago got the residency of their first choice. 21 % of IMGs got a residency, period. The good news is that this may change, assuming Canada's looming shortage of doctors does finally materialize. All IMGs want, it seems, is a little more respect for their effort and the skills they possess. But in the end, having obtained degrees from excellent overseas med schools, a job will definitely be waiting for them. Just maybe not at home in Canada. And if at home in Canada, maybe not exactly where they were hoping for.