WHAT CRIMES OCCUR MOST OFTEN IN DIFFERENT PARTS OF CANADA?
Whether you're planning to move to a different part of Canada or live in another country and are planning a visit, crime is always a consideration.  It isn't the only consideration, of course—otherwise no one would ever visit LA or New York—but nevertheless, for as much as we like our vacations to be adventurous, we don't want that to be so for the wrong reasons. 
On the whole, Canada has far less crime the United States, but there are exceptions to this rule.  There's also the question of what kind of crimes are more common where.  If you're visiting a province with a high property crime rate, that may be one thing, not having standing property there yourself, but a high sexual or violent crime rate is going to give one slightly more pause, and with good reason.
As such, here is a broad overview of what crimes occur most often in different parts of Canada, as well as suggestions as to some of the cleaner and safer cities in those same regions as well.
BC and Western Canada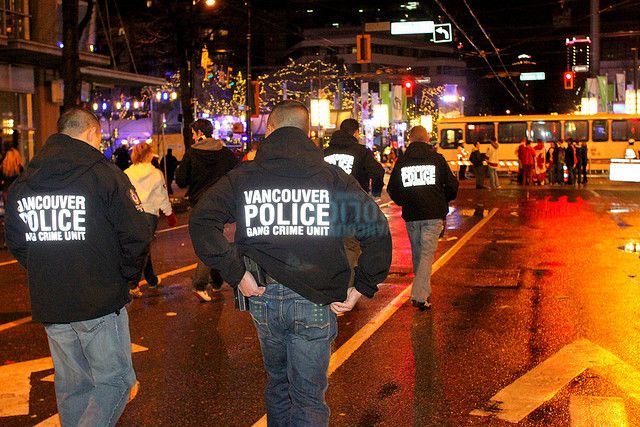 by RyAwesome / Flickr / CC BY-SA 2.0
In terms of overall crime, without adjusting for population and per-capita rates, cities in Western Canada own slots 3 through 5 in terms of the total amount of crimes committed, with Kelowna, Vancouver, and Edmonton respectively landing there.  The number of total crimes per year committed in these cities?  7,680 in Kelowna, 6,897 in Vancouver, and 6,743 in Edmonton.  For big cities like those, especially Edmonton and Vancouver, that isn't actually all that bad at all.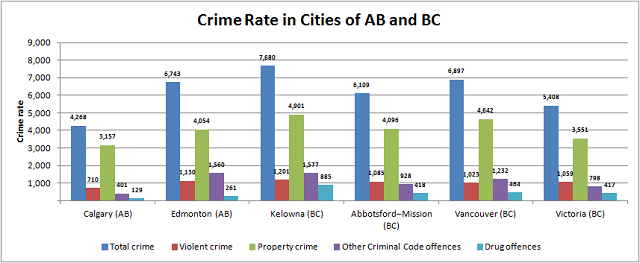 For comparison's sake, Seattle's total crime rate for the past year ranked in the 4000s.  On the flip side of that, however, Seattle is also one of the "whitest" cities in America, with as much as 90%+ of its citizenry reporting as such.  With the notable exception of its burgeoning Asian-American population, there are certainly more diverse cities than Seattle, and both Vancouver and Edmonton could potentially rank as such in time, as both have seen an influx of immigrants in recent years.  What's more, a good deal of the crime in Kelowna is drug-related rather than sexual or otherwise predatory in nature.  Likewise, Kelowna in particular has been working hard in recent years to curb this problem.
Regina—again, without adjusting for population density or per-capita indexed ratings—tops the list for total crime in Canada with over 8,000 reported crimes.  Right behind it on that list?  Saskatoon with just under 8,000 reported crimes. 
The silver lining?  A good deal of those crimes are non-violent in nature, with Regina and Saskatoon topping that list as well—and with Kelowna, Vancouver, and Edmonton right behind them once more.  As such, while these are technically the "Top 5 Most Crime-Filled Cities in Canada," at least the majority of the crimes being committed in these areas are not, by any stretch, violent or sex-based crimes.  Again, many of these crimes come down to charges such as robbery or drug-related charges—still not something to put in the travel brochures for these cities, but certainly better than having an auspiciously-high violent crime rate.

Winnipeg is another story—or, rather, a certain notorious subsection of it is, anyway.  The pride and joy of Manitoba tops the crime index for violent crime with a 119.9 rating, and is roughly 400 crimes below the unadjusted leader in that respect (Thunder Bay.)  What's more shocking, however, is the fact that the vast majority of Winnipeg's total area isn't just safe, it's positively squeaky-clean relatively-speaking. 
More News
However, there is a section in North-Central Winnipeg that includes a dozen or two neighborhoods, and the violent crime there actually more prevalent than Compton, California.  For those not in the know, Compton is, in reputation and record, one of the roughest areas not just in California, but the United States as a whole.  It's underfunded, underprivileged, racked with inequities, and if you say to a fellow Californian "I survived the mean streets of Compton," you mean it.  You survived.
And North-Central Winnipeg is, by the numbers, even worse.
The silver lining here, of course, is that the majority of Winnipeg is, as stated, is very safe, and so we can only hope this area of the city sees improvement soon as well.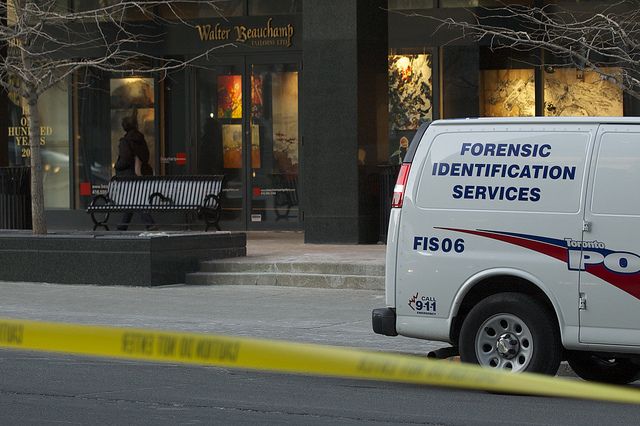 by Ryan Tir / Flickr / CC BY 2.0
Both Ontario and Quebec are impressive success stories here.  Of the Top 30+ Cities listed in the crime indexes from StatsCan on which these ratings are based, Toronto is at the very bottom in terms of total crimes committed (just over 2,900 crimes) with Quebec City enjoying a place just above that (3,200) and Ottawa rounding out the bottom five (just over 3,600 crimes.)

In addition to making these places attractive to immigrants, this fact has fantastic travel implications for those cities, especially Toronto.  Even rival Montreal (just over 4,000 crimes) beats out our previous example of a large and relatively-safe city, Seattle.  The difference?  While Seattle is, like San Francisco and most of the Pacific Northwest, enjoying a huge boom right now, that's come with the region becoming even more expensive. (How is that even possible?)  By contrast, Toronto and Ottawa in particular are much cheaper, and can make for great alternate travel destinations for Yanks looking for a different kind of vacation in a new location with a lower cost—and a lower crime rate.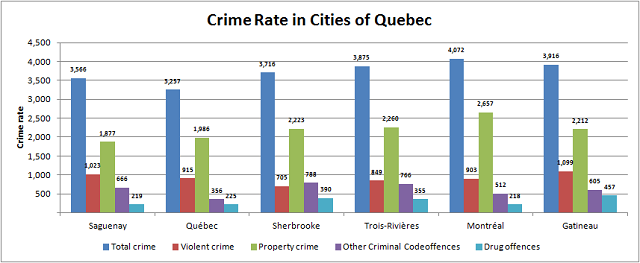 The Maritimes
Likewise, the Canadian East Coast fares pretty well in terms of overall crime.  None of its cities rank in the Top 5 here, and the region is historically one of the safer areas in Canada. That being said, St. John's in particular has seen a spike in violent and sex-based crime.  www.macleans.ca reported in 2010 that St. John's was, at that point, the city with the worst per-capita sexual assault record in Canada.  What's alarming, as stated, is the nature of the spike in St. John's crime—a 2013 report by www.theindependent.ca addressed the concerns over an alleged spike in crime, arguing that crime indexes and ratios proved otherwise.  Even so, that report still acceded to the fact that violent crime has seen a slight rise.  In fairness, however, St. John's been working hard to curb that alarming trend, and other types of crime have taken a hit in the area in recent years.