Why is My Student Visa Taking So Long?
Getting a study permit is much quicker than sponsoring a spouse to Canada, for example. But processing times vary greatly at visa offices around the world. In early 2014, the Harper government announced Canada's International Education Strategy: Harnessing Our Knowledge Advantage to Drive Innovation and Prosperity. This plan is part of Canada's International Education Strategy dedicated to branding Canada as a world class education destination.
While some may argue Canada's universities and colleges are sometimes not-quite-world-class, it is clear that the government is prioritizing certain areas in education and certain countries as well. For example, as part of the same education strategy, the Globalink program is meant to encourage student mobility between Canada and:
Brazil
China
India
Mexico
Turkey¹
Vietnam
¹ At the Globalink site, Turkey is not on the list of countries available for research collaboration and student exchanges.
The plan is focused on research and training programs that will aid innovation and support growth in key areas of Canada's economy. Not only that, the goals of the education strategy include:
Create 86,500 new jobs in the educational sector by 2022;
Increase international student spending to over $16.1 billion by 2022;
Provide a $10 billion annual boost to Canada's economy by 2022.
In other words, the education strategy announced almost 2 years ago is all about the money. It seems they want international students to start spending way more on tuition in Canada, the way they do in the USA. While specialized research programs and degrees might justify this, the discriminatory fees faced by international students seems part of a deliberate strategy to put more cash in the pockets of schools and governments in Canada.
Does this mean that some international students are more welcome than others? One way of seeing if this might be true is to study the student visa processing times at visa offices in distinct countries and regions of the world. Do they line up with the countries listed above? And if not, why are there such differences?
Who's coming to School?
According to the Canadian Bureau of International Education the top 5 source countries for international students in Canada are:
China
India
Korea (South)
Saudi Arabia
France
They also indicate that the source of international students in Canada by region is as follows: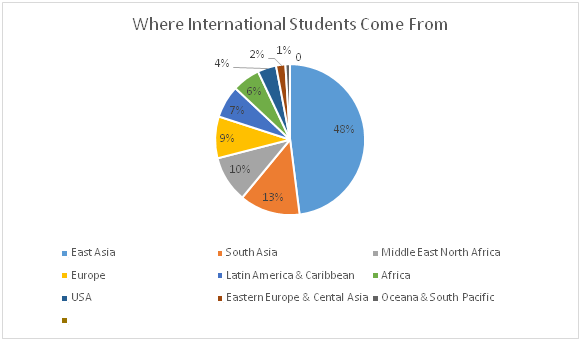 Placing China, India, and Vietnam as priority countries for student and research exchanges makes sense given that 48% of international students come from East Asia. Including Brazil and Mexico as priority countries seems more about trade between Canada and a NAFTA fellow member, and between Canada and an important investor and trade partner of Canada in South America. Because in terms of foreign students, Latin America and the Caribbean only account for 7% of the total. While Turkey was included in the original announcement in early 2014, they are not on Globalink's current list of research and student exchange countries. It is understandable Canada wants to include a country from the region given that students from North Africa and the Middle East are third at 10% of international students.  And it's understandable that they may not think the country is altogether safe at the moment.
Who Gets a Student Visa Fast?
Given where students are coming from, and given the government's stated priorities in establishing exchange programs for international students and research programs, do the wait times at the visa offices match Canada's stated intentions? And do we prioritize students from top regions by offering them lower waiting times? Let's find out:
% Visa Offices With Wait Times 5 weeks or less
Visa Offices With Wait Times 5 weeks or less
Wait Time in WEEKS for Study Permit Visa Processing
Africa and Middle East
31.25%
(5 out of 16 visa offices)
Amman, Jordan
4
Dakar, Senegal 
5
Rabat, Morocco
5
Riyadh, Saudi Arabia
4
Tel Aviv, Israel
5
Asia Pacific
35.71%
(5 out of 14 visa offices)
Bangalore, India
4
Chandigarh, India
3
Hong Kong, China
4
Jakarta, Indonesia
4
New Delhi, India
3
Europe
87.5%
(7 out of 8 visa offices)
Kyiv, Ukraine
5
London, UK
5
Moscow, Russia
5
Paris, France
3
Rome, Italy
3
Vienna, Austria
5
Warsaw, Poland
3
Americas
64.29%
(9 out of 14 visa offices)
Bogota, Colombia
4
 
Buenos Aires, Argentina
5
 
Havana, Cuba
3
 
Lima, Peru
4
 
Mexico City, Mexico
4
 
Port-au-Prince, Haiti
5
 
Port of Spain, Trinidad and Tobago
4
 
Santiago, Chile
2
 
Sao Paulo, Brazil
5
From this table and other longer waiting times listed at CIC's website, it is clear that: 
Asia, especially China and Vietnam, could improve their wait times for student visas. Shanghai and Beijing are at 6 weeks, and clearly have a lot of applications to process, but compared to New Delhi they could reduce wait times by at least a week or two. Ho Chi Minh, Vietnam, is at 9 weeks and has even more work to do in reducing wait times, seeing it's a priority country for student exchanges and research exchanges.
Brazil and Mexico have fairly short waiting times, but so do many other Caribbean and Latin American countries. And the shortest waiting times to process student visa applications at the office in Santiago, Chile at a mere 2 weeks.
Wait times in Ankara, Turkey are 9 weeks and fall behind Cairo, Egypt and Beirut, Lebanon who are both at 6 weeks. Turkey is also behind Nairobi, Kenya and Accra, Ghana which both have wait times of 8 weeks. Whether Globalink eventually develops an exchange program with Turkey remains to be seen.
Who Has to Wait?
Some visa offices have waiting times of 9 weeks or more. These go-slow offices are distributed as follows:
Region 
Visa Office with Wait Times 9 weeks or longer
Wait Time in Weeks to process student visa
Africa and Middle East
Ankara, Turkey
9
Lagos, Nigeria
41
Pretoria, South Africa
15
Tunis, Tunisia
11
Asia Pacific
Bangkok, Thailand
10
Ho Chi Minh City, Vietnam
9
Islamabad, Pakistan
12
Singapore
9
Americas
New York, USA
11
Visa offices in Europe are quite efficient at processing study permits and the Americas also rank well. New York City is a bit of an anomaly, even compared to Los Angeles which has a processing time of 6 weeks. Whether it has to do with the fact that the USA is a major competitor in the global market for international students, or that the visa office in New York has other priorities is unclear.
The question is: who's to blame here? CIC for giving low priority to study permit processing, or the visa offices themselves for being less efficient at processing student visas? With the continual updates and changes to immigration policy coming from Minister Alexander and his staff at CIC, it may be that visa offices do not prioritize student visas as much as they should. Perhaps that's understandable seeing they have to process immigration applications under a number of different programs, with the rules constantly changing. If the government is serious about prioritizing their education strategy, lower wait times in places like Pakistan, Thailand, Turkey, and Vietnam would be a good indication that they are executing on their new education strategy. After all, Canada is competing with the USA, Europe, Australia, and New Zealand for global students looking for value for their money when shopping for an education in English, or French. Keeping talented international students who have been accepted at a designated Canadian school waiting for months for their study permit, is not the best way to attract them, and their savings, to Canada.
Learn about Immigrating to Canada after studying here