An in-depth step-by-step article showing you how to fill out the Canadian marriage license application and answering the most frequently asked questions
Are you wondering about a foreign national getting married in Canada?
Or whether you can get married in Canada on a visitor visa?  (Assuming you are not Canadian.)
Maybe you're wondering whether you can get married to a foreigner in Canada and how to get married to that person, whether they are a foreign national visiting Canada, or an immigrant temporarily in the country on a study or work permit.
Relax, the news is mostly good. But you should be aware that there are certain things that marriage to a Canadian does not get you. First, the good news.
Getting married in Canada is relatively easy and in general, it's none of IRCC's business. Neither of you even has to be a resident of Canada, as long as you are both physically present at the wedding ceremony (whether civil or religious).
However, IRCC will get involved in assessing the validity of your marriage, if and when you apply to sponsor your newly married spouse – assuming one of the partners in the marriage is either a citizen or permanent resident of Canada.
So, let us guide you through the marriage process in Canada with just a caution about IRCC if and when you take the next step and apply to sponsor your newly wedded spouse. Here's what IRCC says about marriages of convenience:
It's a crime for a foreign national to marry a Canadian citizen or permanent resident only to gain entry to Canada.
So be aware that IRCC will be on the lookout for quickie marriages that end soon in a very convenient divorce. Now, having said that, proving intent is very much another matter.
And, in practice, the Canadian government has been easing up on the restrictions on sponsored spouses in Canada. In April 2017 they dropped the requirement that a sponsored spouse who had been in a relationship with the sponsoring spouse for less than 2 years and who had no children with that sponsoring spouse, was required to live with the spouse for 2 years in Canada or lose their permanent resident status. That has been dropped. As the Canadian government stated there are 2 main reasons for dropping what was called conditional permanent residence:
Most marriages are genuine.
The government is committed to gender equality and fighting gender violence.
So, don't worry too much about IRCC snooping around the reasons for your getting married. Just go ahead and understand the process and take the necessary steps as we explain below.
Here's what we'll cover in this tutorial on how to marry a foreigner in Canada:
Some key definitions to keep in mind
What rights you gain and DON'T gain from merely marrying a Canadian citizen or permanent resident
Who can get married in Canada
Do the requirements to get married vary from province to province?
Can temporary residents in Canada get married? We'll go through all the combinations:

Temporary resident marrying a Canadian citizen
Temporary resident marrying a permanent resident
Temporary residents marrying each other
Does it matter if you have a visitor, work, or study visa?

How to get married when both of you are already in Canada – whether you're both temporary residents or one of you is a citizen or permanent resident. This will include:

What you need.
Where to get married.
What the steps are especially including:
The difference between a Marriage License and a Marriage Certificate and when and where to get each.
How to explain the purpose of your visit when you arrive in Canada.
Marriage in Canada Key Definitions
What is a Marriage License
This is what you must get in order to get married. You obtain it before getting married and generally pay a fee. For example, in BC only one member of the couple is required to purchase a marriage license at a cost of $100. We'll get into the steps of this a little further on.
What is a Marriage Certificate
This is NOT a Record of Solemnization of Marriage. It is an official record of your marriage that you apply for after you are married. For example, in Ontario you can apply in person, online, or by fax as we explain further below.
What rights do I have if I marry a Canadian Citizen?
The answer is: you do NOT gain the right to become a Canadian citizen merely by marrying.
You have to apply for citizenship like anyone else – which means you still have to take the required steps, beginning with becoming a Permanent Resident. That usually means getting sponsored by your Canadian spouse – which is a lengthy process in and of itself as we explain here – in order to get permanent resident status. Then after having completed the necessary time in Canada, you can apply for citizenship.
In other words, marrying a Canadian gets you NO special treatment in the process any foreign national has to undertake to obtain citizenship. It certainly can give you a pathway to permanent residence but as we said above, being sponsored by your spouse is a detailed process, one where success cannot necessarily be guaranteed.
The unavoidable conclusion is that getting married as a quick ticket into Canada is a strategy that will backfire on you. Canada's immigration authorities – whether IRCC or CBSA – will often sniff that out and you'll find yourself with an unsuccessful sponsorship application and maybe even a rejection on a visitor visa, as we explain below.
Scenario 1: Met and engaged abroad want to Marry in Canada
This can be a little trickier.
The deciding factors are similar of course. If your foreign spouse is from a First-World country and has stable ties in their home country and a successful career, then getting a visitor visa to travel to Canada to get married has a pretty good chance of succeeding, especially if they've visited Canada previously or have travelled elsewhere and always complied with their visa requirements.
It might not seem fair, but First-World travellers will often have an easier time to get that visa to go and get married in Canada.
This doesn't mean, however, that foreign partners from other countries will always face difficulties getting that visitor's visa.
For example, imagine a successful software developer from India with a consulting company who travels frequently to Europe and North America on business and has a substantial economic and personal ties in their home country. They become engaged to a Canadian citizen and decide to get married in Canada. Because of their ties to India and their record as a traveller, they should be able to get that visitor's visa.
An important point here is what to say to immigration officials at your POE (Port of Entry – generally the airport in Canada you arrive at). There's no need to go into a lengthy explanation of your situation. Just answer their questions briefly and correctly. If CBSA officials decide they want more information, they'll ask you.
Remember, CBSA officials have the final say on whether to let you in to Canada, even if you've obtained a visitor's visa before arriving at your Port of Entry. As they say here at the travel.gc.ca website:
There are many factors that come into play when Canada Border Services Agency (CBSA) is determining if you are permitted to enter Canada. It is important to note that the final determination is made by a border services officer at the port of entry. They base their decision on the information presented to them at the time of entry into Canada.
Scenario 2: Both Members of the Couple are already in Canada where they will Marry
Canadian law allows someone on a temporary visa (visitor/study/work) to get married in Canada. It even allows both partners to be foreign nationals visiting Canada. Yes, two foreigners on a visitor's visa can get married in Canada.
However, each province sets the specific details for marriage as marriages are handled provincially. As well, municipalities are important seeing as in some provinces – like Ontario – you will get your marriage license from the municipality.
Let's go through the process step by step in BC, Alberta, and Ontario.
Before you continue reading ask yourself why we are telling you how to do something yourself. Why would we invest 4,500 words in a step-by-step article?
Why? Because our actions speak louder than a sales pitch. We are Immigroup and if you need immigration and document support, we the ones that will look after you for life. We treat our content with great care, and we will do the same for you.
Getting Married in Ontario
As you'll notice the basic requirements and steps are fairly similar to those in BC and Alberta. Let's start with eligibility.
Getting Married in Ontario Step 1: Who can get married
You must be at least 16 years old and if you are under 18 years of age (but 16 or 17) then you need your parent's or guardian's consent. Consent forms are available where you get your marriage licence. 
Go here to ensure that your officiant (the person who performs the marriage ceremony) is registered and authorized in Ontario to do weddings. For civil marriages the following occupations are authorized in Ontario:

A municipal clerk
A judge
An Ontario justice of the peace
An Ontario case management master.
Getting Married in Ontario Step 2: Get your marriage license or Church Banns 
You either need a marriage license or a church banns to get married in Ontario. Please note that if someone has been previously married, they cannot obtain a church banns and must get a marriage license instead. 
Your marriage license will have to be signed by both members of the couple, the witnesses, and the person officiating the ceremony. 
Your marriage license is obtained at your local municipal office where you will be getting married. You will need 2 pieces of ID, such as:

Government-issued birth certificate
Valid passport
Record of immigrant landing
Canadian Citizenship Card
Valid Driver's license
Government-issued photo ID from abroad.
As in BC and Alberta, your marriage license is valid for 3 months from the date of issue. However, because of COVID restrictions, expiry dates have been extended temporarily.
If either partner has had a name change or a change in marital status since their unused marriage license was issued, AND your unused marriage license has expired then you can apply for a replacement license.

Go to municipality where you originally purchased your marriage license
Bring your unused marriage license if you still have it
Bring your required ID and any other supporting documents needed
There is NO provincial fee for a replacement marriage license. 
There may be municipal fees.
Example: Getting a Marriage License in Toronto
Unfortunately, because of the province-wide emergency declared in January of 2021, in the city of Toronto, marriage licenses can only be obtained by appointment for the time being. Go here for an online guide to filling out the form. 
Go here to book your appointment. You can only book one appointment per couple. Do NOT book multiple appointments in the hope of jumping the queue. Remember to print your Appointment Permit.
There are 8 steps to book an appointment for a marriage in Toronto
Step 1: Enter place and date of marriage as well as language for the license.
Step 2: Enter applicant's information (one of the couple)
Step 3: Enter joint applicant's information (the other one of the couple)
Step 4: Review the application
Step 5: Submit the application
Step 6: Download and print the completed application form 
Step 7: Record the application number – you will need it when getting your marriage certificate.
Step 8: Both members of the couple must sign and date the application 
At your appointment you will need:
Completed application form with original (not scanned) signatures and dates
Appointment Permit
2 valid Government-issued pieces of ID
Divorce documentation, if applicable
If an interpreter is required, you must hire or provide someone to interpret for you
Only 1 of the couple should be at the appointment and should take all security precautions like wearing a mask, etc. 
For Toronto, the municipal office issuing the marriage licenses is in the North York Civic Centre at 5100 Yonge Street. (Don't get off at the Eglington Station – keep going to North York Centre or Sheppard/Yonge subway stops).
The cost of a marriage license in Toronto is CAD$145. Be aware that the cost varies by municipality in Ontario.
Getting Married in Ontario Step 3: Order your Marriage Certificate
You can order your marriage certificate online if the marriage is registered in Ontario. You will also need the following to order online:
First and last names of both parties to the marriage.
Dates of birth of both parties to the marriage.
Date of marriage.
Name of city, reserve, or town where marriage took place.
Go here
Scroll down to the bottom where you see the following and click on the Next> button to begin.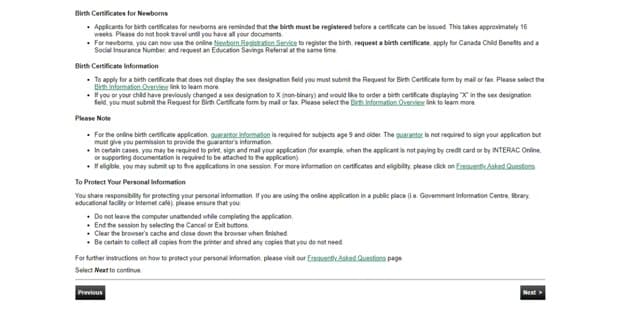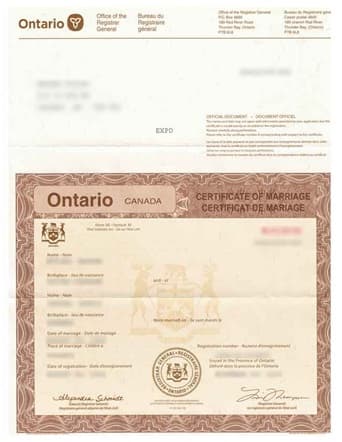 Your fees are paid online using the following methods:
Visa, Visa Debit
Mastercard, Debit Mastercard
Interac Online
The fees are as follows:
| Marriage Certificate service | Processing & Delivery | Cost |
| --- | --- | --- |
| Regular Service – Online | 15 business days + delivery by Canada Post (No service guarantees) | $15 |
| Premium Service – Online | 5 business days including delivery by courier (No service guarantees) | $45 |
| Emergency Service – In person at 47 Sheppard Ave. East, Toronto | 5 business days including delivery by courier (Valid reason for urgency will be required) | $45 |
Getting Married in British Columbia
Getting Married in BC Step 1: Get your marriage license:
You have to obtain your marriage license before you get married. (Your marriage certificate is obtained after your marriage ceremony.) Your marriage license is valid for 90 days, so your wedding date has to be within 3 months of the date you obtain your license.
You apply at BC's Vital Statistics Agency. You can contact them by Email at https://www.health.gov.bc.ca/exforms/vs/general-inquiries.html
Only one member of the couple has to apply in person with primary IDs for both members of the couple, such as the following:

Birth Certificate
IMM immigration status document (visitor/study/work visa for example)
Permanent Resident card
Citizenship card or certificate
Passport may be accepted in some circumstances
Driver's licenses may be accepted in some circumstances

The fee is CAD$100. However, if COVID restrictions cause a postponement of your wedding, you can request a refund directly from Vital Statistics using the contact information directly above (it's best to phone them first).
Getting Married in BC Step 2: You must next register your marriage after you have completed the ceremony.
you need 2 witnesses to attend your wedding ceremony. 
As well, you need an officiant – and who it is will depend on whether your ceremony is civil which is much quicker, or religious – and the officiant is who officiates your marriage declaring you a legally married couple in accordance with Canadian law. 
Then after the wedding ceremony the following people must sign the Registration:

The couple getting married
The officiant
The 2 witnesses.

Next, the officiant will submit the signed Registration to the Vital Statistics Agency in BC within 48 hours of the wedding. At which point your marriage becomes legally registered with the BC government.
Finally, the Vital Statistics Agency can issue a Marriage Certificate (see the next step)
Remember, if for some reason your Marriage Certificate is lost and you don't yet have a replacement, you can ask for a Certified Copy of your Marriage Registration. However, these copies are generally used for courtroom/legal purposes. They do not function as legal personal ID. 
You can apply for a Marriage Certificate in BC in 4 ways:
https://ecos.vs.gov.bc.ca/
here for more information. You will need to provide the same information that you provide when filling out the Marriage Certificate Application form (see below).
Phone Vital Statistics: 250-952-2681 (local Victoria, BC number) or 1 888 876-1633 (toll-free in BC)
Here's an example of an application for a Marriage Certificate:
Vital Statistics will mail your Marriage Certificate to the mailing address you provide when you apply for a marriage license, as shown in the image above. It generally takes around 3 weeks from the date you register the wedding for the certificate to arrive.
Getting Married in Alberta
The basic requirements are fairly similar from province to province as you'll see as we work our way across the main provinces in Canada. 
In Alberta, as in BC, you have to first get a marriage license before getting married and obtaining your marriage certificate. 
Getting Married in Alberta Step 1: Eligibility
there are no restrictions to foreign nationals getting married in Canada. Specifically, there are residency or citizenship restrictions to getting married in Wild Rose country.  (That's a nickname for Alberta by the way)
The marriage license is valid (as in BC) for 3 months from the day it's issued. As well, you can get married as soon as you receive your license – that is, on the very same day.

PLEASE NOTE: An Alberta Marriage License is only valid for marriages in Alberta. This may seem painfully obvious, but whatever province/territory you are in, it is from that and only that provincial/territorial government that you must receive your marriage license. Why? Because marriage is considered a vital statistics issue and is dealt with by those authorities in each province/territory in Canada. Vital Statistics tracked by provincial/territorial entities in Canada. Moral of the story? Please don't show up in Kapuskasing with a Manitoba Marriage License. It won't be accepted.
Unlike BC, both members of the couple have to apply at the Registry Agent Office. Go here for more information. As well:

You will have to swear an affidavit.
You cannot be under the influence of alcohol or controlled substances (Alberta is not Las Vegas).
You cannot be related to each other as Grandparent, Parent, Child, Sibling, or Grandchild. PLEASE NOTE: This type of prohibition for immediate family members is true across Canada. 
If you are 18 or older you can get married without conditions.
If you are between 16 or 17 years old, you must have your parent's or guardian's approval.
You must have valid personal identification that:

Must be the original document and not a copy
Must still be valid (have not expired)
Must have been issued by a provincial/territorial government or the federal government of Canada OR by a state, provincial, or national government (for example, California, or India)
Must contain: your photo; your first and last name; a unique identification number.
You must be:

Divorced (proof of divorce needed), OR
Widowed (death certificate needed), OR
Never Married (no proof needed – Canada does not have national Registrar that records marital status, unlike many other countries), OR
If your marriage was annulled, your condition will legally revert to whatever condition of the above three applied to you before you got married. For example, if you got divorced in India, and later had a marriage annulled in the UK, then your status after the annulment goes through would be divorced.  
PLEASE NOTE: This condition applied across Canada. You cannot be married to more than one person.
Getting Married in Alberta Step 2: What you need to bring
Make sure you have acceptable ID as explained above – you can contact your registry agent through the link above to ensure your documents are adequate. 
You should also ensure you have any other required documents – like death certificates, or divorce certificates or court documents proving divorce.
Getting Married in Alberta Step 3: Who has to go
Both members of the couple then should go to the registry agent with their ID and supporting documents (if needed) and a Marriage License will be produced while you wait.  
The document you will be issued is a 2-part document:

The top part is your Registration of Marriage
The bottom part is your Marriage License – (it's this part that you give to the person performing your wedding) 
The cost is CAD$40. 
Please remember to review your Marriage License right there in the Registry Agent's Office.

The errors can be corrected by the registry agent if spotted before the wedding ceremony. 
If spotted after the wedding ceremony, then your document (registration and license) will have to be corrected by amendment. This takes time and it's a setback you should avoid by just carefully checking the Registration/License document as soon as you get it.
Marrying in Alberta Step 4: Take your Marriage License to the Wedding Ceremony 
Remember, the ceremony can be the same day as you get your license, as stated above. 
Present the marriage license to the person performing the wedding ceremony.
Marrying in Alberta Step 5: Apply for your Marriage Certificate
Go here and scroll down to near the end of the webpage to where it says How to Apply. Click here for requests for application forms from within Alberta.  
Take your completed form along with valid ID to the Registry Agent. Do not send your application form to Vital Statistics Alberta. It will not be accepted. Vital Statistics in Alberta usually takes only 3 business days to process your request for a Certificate which is normally mailed to the address you gave in the application form. However, you can also have the certificate sent to your registry agent if they have call box service and as long as you make the arrangement previously with them. 
Here are the contact phone numbers for Service Alberta in case you need them:
780-427-7013 (local Edmonton area only)
310-0000-427-7013 (toll free in Alberta only)
Marrying in Canada:
Here is the list to all other provinces in Canada, just apply the above steps that we've outlined for you above in the 3 principal English-speaking provinces in Canada. Remember the steps are going to be similar with but some differences, especially in Quebec 
How would you like to make $25 to $75? We just need a scanned example of your Marriage License and/or Certificate. We will remove all personal information and you will get paid for helping improve this how-to article.  Simply scan and email us a copy of any needed certificate listed below. We will email you back with all personal info removed. You give us the thumbs up and we send you $25 to $75 by email money transfer or PayPal (your pick). Here is an example when all personal info is removed.
$75 marriage license from any place in Canada (this is not a Marriage Certificate)
$25 Marriage Certificates from any location except Ontario, Manitoba. 
Once You're Married, What's next?
Congratulations! You've jumped through the hoops, got your license, done the wedding ceremony, and ordered and received your marriage certificate for a marriage performed and now legally registered in Canada.
Now …
The issue of where to spend the next years of your lives together will be something you've both thought of from when it became apparent that your relationship was a serious and lasting one. What should you do next?
A sponsorship application where the Canadian citizen or permanent resident sponsors the foreign national for a permanent resident visa is clearly the next step for most couples.
But spousal sponsorship – as we stated at the beginning – is a detailed and lengthy process. If you get it wrong by rushing it and sending an application full of mistakes which also is lacking sufficient supporting documents, you're going to have to choose another place to live with your spouse, because your sponsorship application will almost certainly fail.
So again, congratulations on your marriage. But please, make sure you take the time and effort and get your spousal sponsorship application right. 
Immigroup has been dealing with spousal sponsorship application since 2004, our firm will help you with the entire process from beginning to end or we can just review it before you file your application. A paid review should be the absolute basics you should do before filing your application. Check out our sponsorship service landing page by clicking here.
Scenario 3: Marrying Abroad: So that means I shouldn't bother getting a Visitor Visa after I marry a Canadian?
Short answer: it depends.
It depends on the specifics of your wedding, your personal and economic situation in your home country, your home country, and your relationship with your newlywed Canadian wife.
To make this point clear, let's consider a couple of theoretical, contrasting scenarios:
You're an Irish national who has an engineering degree and over 5 years experience in the utilities sector and you own a property in Dublin. You have just married a Canadian from Alberta who works in finance in Calgary and owns a 2-bedroom home in the suburbs, and you have a couple of potential job offers in Canada. Aside from being fluent in English, you studied and did several exchange programs in France and are quite fluent in French. You met your wife on a trip to France and have lived with her in Ireland for over a year before getting married in Cork in a late summer wedding by the sea where the rain held off for a magical 36 minutes while you recited your vows.  
You're an unemployed Argentinian national who has worked in construction and in the hospitality business in the USA. However, you were deported from the USA for visa overstay and had to return to Argentina. Your wife is a Uruguayan national who retained her PR status in Canada after divorcing her Canadian husband 6 months ago all the while maintaining an online relationship with you which ended in a quickie wedding in Florida just before you got deported.
Who do you think has a better chance of getting their visitor visa to Canada accepted if they apply soon after getting married?
Who do you think has a better chance of getting their spousal sponsorship accepted?
Understand that most cases lie somewhere between these two rather extreme scenarios. The devil is indeed in the details. There are several scenarios when considering if and when to apply for that tourist visa.
Scenario Four - Married abroad and Spouse wants to visit Canada
If you're thinking of having your newlywed spouse visit you in Canada – that's assuming you were married overseas and not in Canada – then here are some of the factors you should consider:
How strong are your ties to your home country?

Do you have a home there?
Do you have a business there?
Do you have family support and connections there?
Do you have a good job there?
In other words, immigration officials want to know if yours is a true wedding that arose from a couple who plan to spend their lives together rather than someone looking for a convenient way to immigrate to Canada. The more stable your ties to your home country, the more likely you are to get that visitor visa.

Have you visited a First-World country – especially Canada – on a tourist or other visa?

What was the reason for your visit?
Did you return promptly to your home country or wherever you travelled from after your visit/temporary residence?

Do you already have a visa to visit or study or work in Canada?

Did you get the visa before or after your relationship began?
If you worked or studied in Canada, did you leave after your work or study permit expired?

Have they or will they apply for permanent residence in Canada?

Any immigration official who is reviewing a visitor visa for a foreign national newlywed will ask themselves whether their goal is immigrate to Canada. They will ask themselves if the foreign newlywed will leave Canada after their visitor visa expires or try to get extensions or a study or work permit as an excuse to stay in Canada until they can get a PR visa.
A good strategy is to apply for that PR visa right away and then wait for a first-stage approval of your PR visa before then applying for a visitor visa.
Is something missing in our article? Let us know at [email protected], just include the URL or title.
ADDITIONAL RESOURCES:
Must Read Articles on Spousal Sponsorship
The Basics of Sponsoring a Spouse to Canada
Articles Related to Sponsoring Your Spouse to Canada
Information for Specific Nationalities