What to Know when Sponsoring a Spouse with a Dependent Child
Sponsoring dependent children in a Family Class Sponsorship application to Canada? Here are answers to common questions:
Who qualifies as a "Dependent Child"?
A blood-related child or adopted child under 22 years old that is unmarried on the date the application for sponsorship is submitted (and still unmarried on the date the child lands in Canada); or
Of any age or marital status and is a continuously enrolled full-time student, who is financially dependent on his or her parents since before the age of 22 (or since becoming a spouse or common-law partner, if this happened before 22); or
Is financially dependent on a parent since before the age of 22 because of a disability.
Does my step-child need a police clearance?
If the child is under the age of 18, a police clearance is not required.
If the child is over the age of 18 Citizenship and Immigration Canada (CIC) requires a criminal record check.
Does my step-child need a medical?
Yes. You must obtain a medical exam from an approved doctor indicated by the Canadian consulate. There are dedicated doctors in every region of the world. CIC provides a list of designated doctors in each country.
To find a designated medical doctor in your country click here.
What is the status of my sponsored child?
If you sponsor dependent children, they become permanent residents at the same time as your spouse (provided application is approved).
If they are not sponsored, but still listed on the application, they are free to be sponsored later, until they are no longer a "dependent," or they are able to try and immigrate later on their own.
*A child must be either part of the sponsorship or not part of the sponsorship, but clearly listed on the application regardless.
*NOTE: If any child is not listed on the application, they may be inadmissible and not allowed to enter Canada in the future. Learn more
What is the status of my biological child?
If you, the sponsor, are a citizen, and your biological child was born after you got your citizenship, then your child is a citizen and does not need to be listed on the application, regardless of where your child currently lives. The child simply requires proof of citizenship to get a Canadian passport.
If you, the sponsor, are a permanent resident, it depends where your child was born. If your child was born in Canada, your child is Canadian and does not need to be sponsored. If your child was born outside of Canada, your child needs to be sponsored either as part of the spousal sponsorship application, which is the normal procedure, or as part of a separate child sponsorship application.
When must accompanying dependents land in Canada?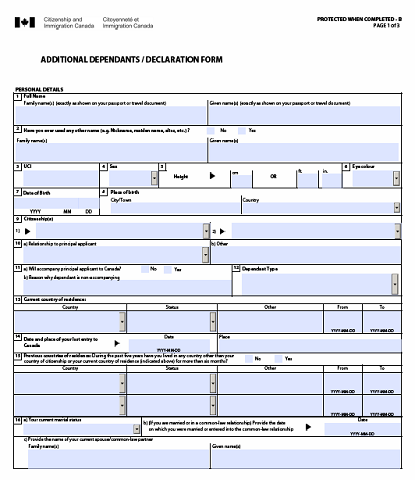 Accompanying dependents cannot land before the principal applicant has landed. The accompanying dependents should land with the principal applicant or after the principal applicant, but in either case prior to the expiry date indicated on their Canadian Immigrant Visas.
How do I enrol my child in school?
In order to enrol your dependant child into school in Canada you need to provide all of the following information to complete the registration process:
Proof of your child's age - A birth certificate or passport.
Proof of address - A copy of a bank statement, telephone or electrical bill or apartment lease with your name and address.
Proof of guardianship - Required if your child is under 18 years of age and is not living with a parent.
Proof of student's immigration status* - ONE of:

Canadian Birth Certificate
Passport with Visa
Permanent Resident Card
Confirmation of Permanent Residence (IMM 5292) or Record of Landing (IMM 1000)

Immunization record - Proof that your child has been immunized.
Have a question that wasn't answered? Just ask
Sponsorship Review & Full Servcie 
Immigroup will review your completed spousal sponsorship application for $550+HST. Immigroup will make sure you have not made any mistakes on your application or in gathering the documentation of your relationship. We will assess your sponsorship letter and give you peace of mind that you are submitting an application with a very good chance of success. Don't lose sleep at night worrying about whether you've done enough. Call us at 1-866-760-2623 for a review.
GO HEAR TO LEARN MORE ABOUT IMMIGROUP'S SPONSORSHIP SERVICE 
Additional Resources: Take your time and read some of the research articles about your Sponsorship topic:
Must Read
Common mistakes that could cause your spousal sponsorship application to be returned
Family sponsorship application document checklist
Spousal Sponsorship Letter – How to ace it
The Basics
When to do overseas vs. inland spousal sponsorship application
Common law partner vs. conjugal partner
Income requirement for Canadian spousal (and other family) sponsorship applications
Sponsoring a spouse with dependent child FAQs
How to prove a common law relationship
Related Content
How to prove single status for marriage abroad
Limits to family sponsorship liability: How much could you owe?
What to do when your spousal sponsorship fails
How to get visa invitation letter for Canada in 5 easy steps
Gathering documents for foreign countries
International marriage and documents you will need
How to download and use Adobe acrobat for CIC forms
Divorce rates of sponsored couples vs. Canadian couples
Where is your foreign spouse really from?
Nationality
Bringing your American Partner to Canada
Bringing your Mexican spouse or partner to Canada
Bringing your Jamaican spouse to Canada
Bringing your Brazilian fiancé to Canada
Bringing your Vietnamese spouse or partner to Canada
Bringing your Filipino spouse to Canada