General Application Form IMM 0008 and IMM 0008DEP Additional Dependants Declaration
This form is filled out by the Principal Applicant who is applying to be sponsored to come to Canada as a permanent resident. In our example, Carmen – the sponsored spouse – will fill out this application form. Further down we'll give a more general explanation for how to fill out form IMM 0008 in the case of sponsored parents or grandparents.
The IMM 0008 form has to:
Be downloaded to your computer
Be filled out electronically (filled out on your computer)
Be validated (after filling it out you have to click on the Validate button at the top or bottom of the page)
Have the 2D Bar Code pages properly printed (which only happens after you validate the form and thus only happens when you fill out the form electronically).
If your application form does not have the Barcode pages, or if they are not machine-readable (in other words if your printer does not work well and the image is blurred or otherwise unclear) your application will be returned to you.
Completing the Application Details in the IMM 0008 for a Sponsored Spouse:
The first section details with exactly what stream you're applying to sponsor. We've selected:
Family Class
Spouse
2 as the total number of family members – the sponsor and the principal applicant. Note that neither Carmen nor Horatio have any children or ex-spouses seeing it's the first marriage for both of them. Otherwise, you may often have to include family members like children from a previous marriage.
English as the language of correspondence and for the interview seeing Carmen's level of English is adequate for both and this shows she will be ready to adapt to Canadian culture.
Finally, we have stated that Kingston ON is where the couple will be living in Canada, seeing that Horatio has a home in Kingston and works for Canadian Cable Company in Kingston.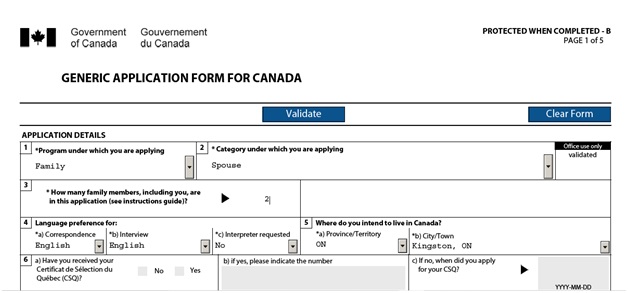 Completing Personal Details in the IMM 0008 for a Sponsored Spouse
We now fill in the Principal Applicant's personal information under Personal Details: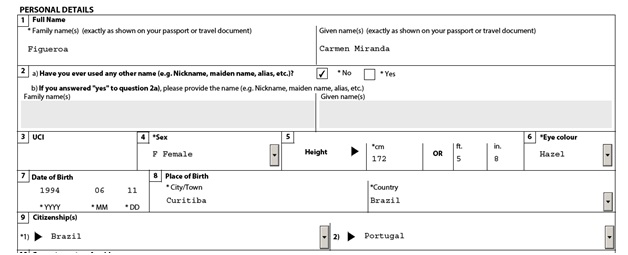 Please note that Carmen already has dual citizenship because her parents immigrated from Portugal to Brazil and passed on their Portuguese citizenship to Carmen and her brother. This may prove to be somewhat of a challenge when it comes time for Carmen to decide whether to apply for Canadian citizenship, assuming she's accepted to come to Canada.
Next Carmen has to fill in her country of residence. Seeing she's a Brazilian citizen, born in Brazil and living in Brazil over the past 5 years, this section is straightforward.
However, if her status in Brazil was uncertain (say she was a citizen of a third country and only had visitor status in Brazil) this could cause requests for further information and an explanation of her status.
As well she doesn't have to list previous countries she's lived in which simplifies filling out the form.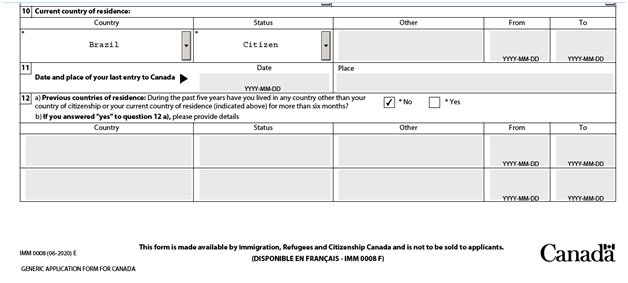 As you can see, because she is married and has not had a previous relationship, she does not have to fill out question 14.

Completing Contact Information in the IMM 0008 for a Sponsored Spouse
We now have to fill in her contact information:
Completing additional information in the IMM 0008 for a Sponsored Spouse
Remember to include your National Identity Document (if your country issues one) as well as your passport when filling in the form.

As neither Carmen nor Horatio have any dependents, the next section does not have to be filled out. Just click on the blue Remove Dependent button and proceed to date and sign the form.
You can also consent to have your information on your province of destination (Ontario in this case) released, or not, as you wish.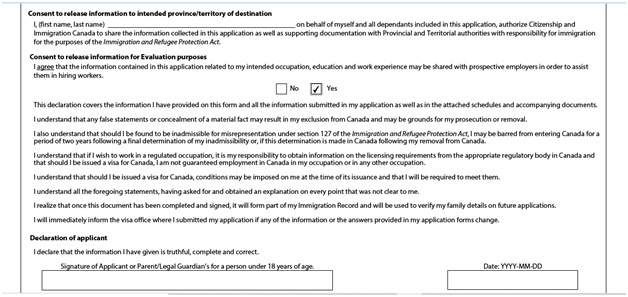 If you've found this article helpful, please leave a review in the comment section below
Are you worried your application will get rejected because of an error? When you hire a specialist from our Immigroup network, you'll get an advocate who is knowledgeable, honest, and reliable. Most of all, you'll get peace of mind!
The IMM 0008DEP is filled out by the Principal Applicant.
This form is for when you, the Principal Applicant, have more than 5 dependants. For up to and including 5 dependents you can use IMM 0008. However, for each additional dependent you must use an IMM 008Dep form. So if you six children, you have to complete one IMM 0008DEP and if you have seven children you have to complete two.
As well, at the end you have a "consent to share information" and a declaration as the principal applicant who has filled out these forms that the information is correct.
Filling out IMM 0008 for Parents or Grandparents
Question 1: from the drop-down menu choose Family
Question 2: from the drop-down menu choose Parents/Grandparents
Question 3: Fill in the total number of family members whether they are coming with the principal to Canada or not. Please remember that IRCC defines family members as:
Spouse or Common-law partner
Your dependants (dependent children)
Your dependants' dependants (dependent children of your dependent children).
Question 4: Language preference will often be important for parents or grandparents whose command of English may not be sufficient for understanding an interviewer for example. You have 3 choices to make as to language preference:
Language of correspondence
Language for the interview (You must be functionally fluent in English or French if you select them. Otherwise, you should choose your native language)
Interpreter requested (if your language for the interview is NEITHER English nor French, click Yes).
Question 5: Select the province/territory and city/town where the principal applicant will be living in Canada. This will generally be the same city/town where the Sponsor is living, but not necessarily.
Question 6: Only answer this question if you are planning to live in Quebec.
Next comes the Personal Information on the Principal Applicant
Question 1: Make sure your name is written identically to how it appears in your passport.
Question 3: If this is the Principal Applicant's first application for IRCC, then leave Question 3 (UCI) blank seeing you won't have one.
Question 5: Either give your height in:
Centimetres OR
Feet and Inches.
Question 7: If you do not know your full birth date then enter "01" in any of YYYY (year), MM (month), or DD (day) for which you are uncertain or do not know.
Question 8: Your place of birth should be as shown in your passport.
Question 11: If you have previously been in Canada, enter the date when you last entered Canada (it should be stamped in your passport).
Question 13: Choose your current marital status from the following list:
Annulled Marriage: your marriage was legally declared invalid or declared invalid by the Catholic Church.
Common-law: you have lived continuously with your partner for at least 1 year. (You have NOT officially married in a civil or religious wedding with registration and a certificate.)
Divorced: you have separated and legally ended your marriage.
Legally separated: still officially married but not living with spouse.
Married: you have been married to your spouse in a legally binding ceremony.
Single: you have never been married and are not in a common-law relationship.
Widowed: your spouse has died and you have not remarried nor entered into a common-law relationship.
 Question 14: If you ticked "Yes", provide the following for previous spouses or previous common-law partners:
Family name
Given names
Type of relationship
Dates of relationship
Date of birth.
The rest of Form IMM 0008 is filled out exactly as with a sponsored spouse as shown above.
Please remember: at the end of the form is the validate button again.
The Validate button should be clicked after you've carefully reviewed all the information on the form and are confident it is truthful and accurate and any missing or mistaken fields should be filled out correctly.
This will generate the barcode pages which you will then print and place on top of this form. So, you should have a well-functioning printer ready to go before you take this final step in completing form IMM 0008.
Finally, sign and date the form after you have printed it. Remember, place the barcode page at the TOP of the form.