IMM 5669 Schedule A Background Declaration
IMM 5669 Schedule A Background Declaration
This form must be filled out by the principal applicant, including when they are younger than 18 years old although in that case the form should be signed by a parent or guardian.
In the case of Parents/Grandparents sponosrship, EACH of the following people must complete their OWN form IMM 5669, so you will usually have several separate form IMM 5669s in your application package:
The principal applicant (your parent or grandparent)
The principal applicant's spouse or common-law partner, whether they are coming to Canada or not (your other parent or grandparent, or your parent's or grandparent's spouse)
Any dependent children of the principal applicant who are aged 18 or older, whether they are coming to Canada with you or not (your siblings, half-siblings or step-siblings).
As well, it is also a form with a Validate button that should be clicked after the form has been completed to ensure there are no missing or incorrect fields.
The first part is basic personal information you have to fill out in other forms as well.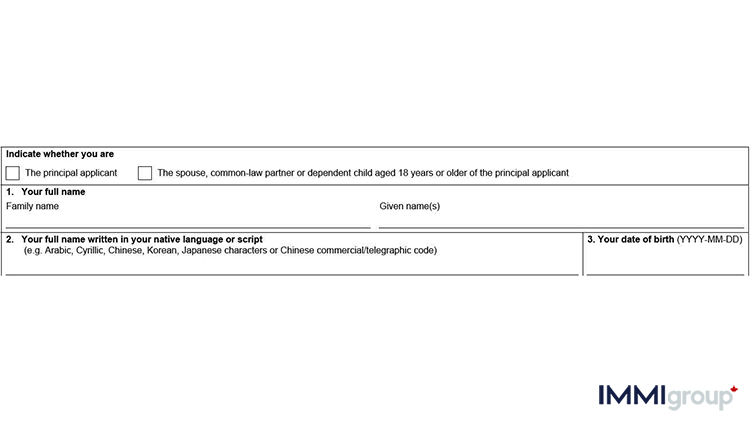 However, it also includes personal information about the principal applicant's parents in sections 4 (father) and 5 (mother). Make sure all the information is consistent across the various forms you have to fill out.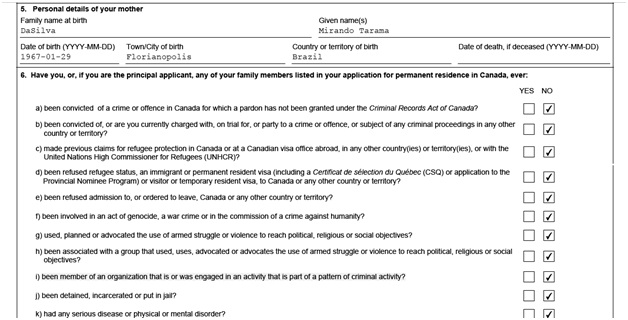 Section 6 lists potential criminal or immigration problems you may have had in the past. If you answer yes on any of these, you will have to provide details (you can add lines to the forms with the + key).

Section 7 is where you list your secondary and post-secondary (if any) details.
Section 8 is where you list what you have done (study, work, unemployed, etc.) since turning 18 years old. Remember to be specific when listing the occupations you have had. DO NOT write words like employed. Give your job title.

Sections 9 lists membership in unions and political organizations while section 10 asks you to list any government jobs you may have held.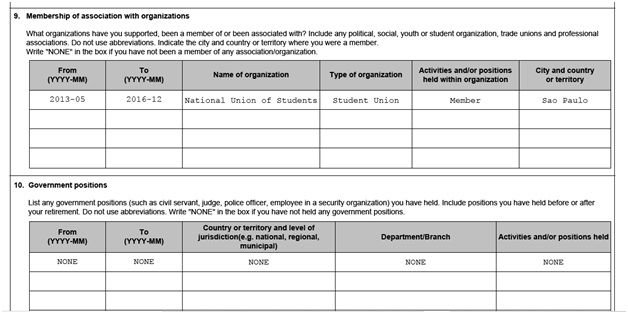 Next, section 11 asks you to list military service while section 12 requires you to list your previous addresses over the last 10 years or since you have turned 18 (if you are younger than 29 years old).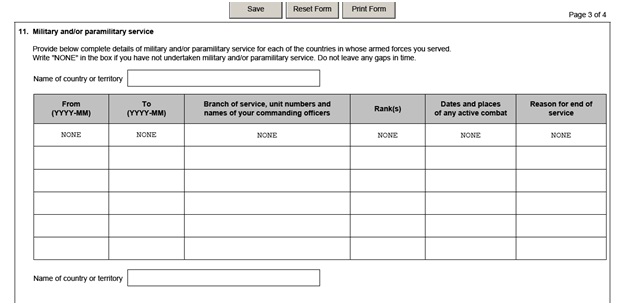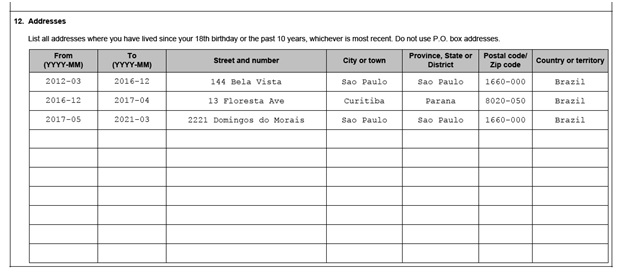 Finally, you press the Validate button and correct any errors (usually indicated by a pop-up) or fill in any missing fields. Once printed you can sign and date the form.
Please make sure – if you are filling the form out online (electronically) you do the following:
Type in the date
Type in your name
Validate and print the form
Then sign the form next to your typed name in the signature box
If you do not follow these instructions, your form will NOT be accepted.
PLEASE NOTE: when you sign the Declaration, please DO NOT sign the Interpreter Declaration nor Solemn Declaration as this must be signed in the presence of an immigration official if they decide to require it.
If you've found this article helpful, please leave a review in the comment section below
If you like what you've read here and want the pros at Immigroup to check your sponsorship application, give us a call:
Questions to ask in deciding whether to "do it yourself" or "hire the pros" at Immigroup:
Do you enjoy reading?
Do you like complex projects?
Do you have a lot of "extra" time?
Are you detailed oriented—and good at catching mistakes?
Can you follow complicated directions?
If you answered "yes" to all or most of those questions, then you're a prime candidate for doing the application process on your own.
If you answered "no" to all or most of those questions . . . if such activities leave you flustered and frustrated and impatient, then you'd be wise to get an expert to at least review your application. Click here to contact us today.