IMM 5771 Document Checklist for Sponsorship of Parents or grandparents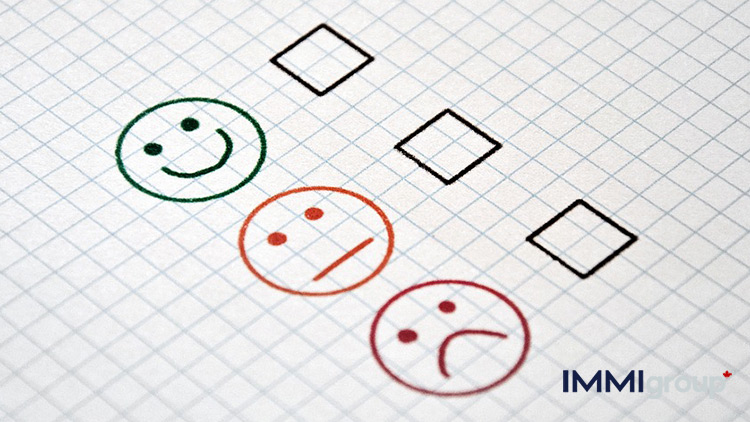 Getting started with Documents and Forms – The Sponsor
Before we start on the forms, you should ensure that you provide photographs according to IRCC specifications. If they are not taken according to these specifications, they will not be accepted.
Provide 2 photographs for the principal applicant and each accompanying dependant.
The photograph must have been taken within the last 6 months before applying
They may be in colour or black and white
They must be taken by a commercial photographer
They must be clear and sharp in focus
The photograph itself must be 50mm x 70mm
The height of the face from the chin to the crown(top) of your head should be 31 to 36mm
Your facial expression must be neutral
There must be uniform lighting – no shadows etc.
The photograph must be taken straight on with shoulders and face centred towards the camera
It must be taken in front of a plain white background with the face clearly distinguishable from the background
The following should be written on the back of 1 of your photographs:

Your name and date of birth
Name and complete address of photography studio
The photographer's studio information may be stamped or handwritten but NOT placed by means of a label.
IMM 5771 Document Checklist for sponsorship of parents or grandparents
Let's start with form IMM 5771 Document Checklist (for sponsorship of parents or grandparents). What do you think the first document listed for the sponsor is? The one you have to place a copy of at the top of your application package.
Let's have a look at form IMM 5771 to see the answer: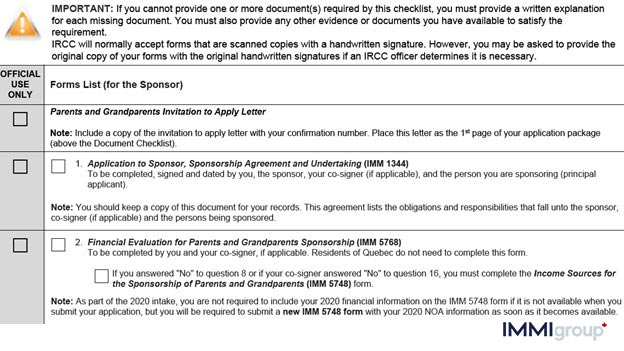 You see the answer? What goes 1st in your application package is a copy of your Invitation to Apply letter. PLEASE NOTE: Your application will not be accepted without a copy of your ITA. Remember, this is a process based on a lottery which assigns who gets an ITA. They need your ITA to ensure that you're on the list of lucky recipients who are authorized to apply for sponsorship of their parents or grandparents.
Here's the rest of the Document Checklist, it includes the following:
Application to Sponsor, Sponsorship Agreement and Undertaking (IMM 1344)
Financial Evaluation for Parents and Grandparents Sponsorship (IMM 5768)
Statutory Declaration of Common-Law Union (IMM 5409), if applicable
Generic Application Form for Canada (IMM 0008)
Additional Dependants/Declaration (IMM 0008DEP)
Schedule A – Background/Declaration (IMM 5669)
Additional Family Information (IMM 5406)
Use of Representative (IMM 5476), if applicable
Processing Fees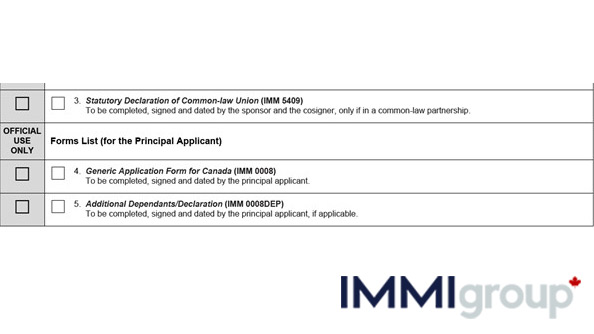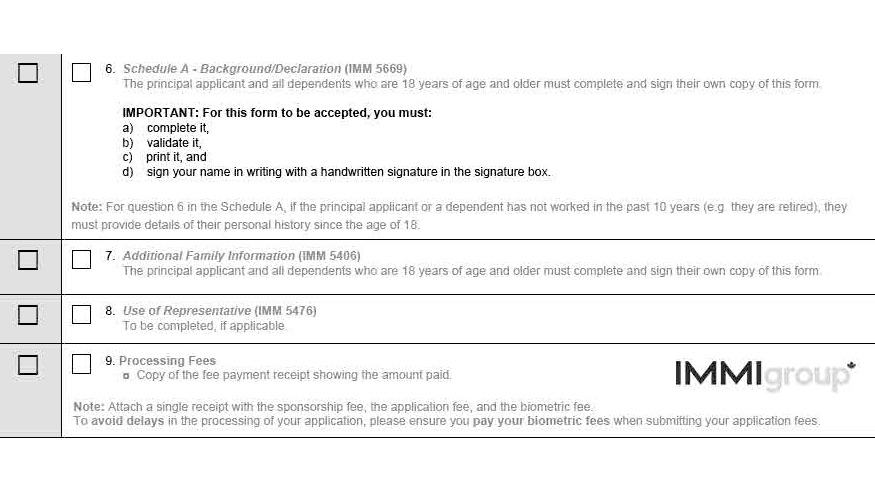 Supporting Documents for Parental Sponsorship:
Proof of status in Canada
Marriage certificate, if applicable
Partner's proof of status, if applicable
Proof of relationship to sponsor
Copy of your passport
Proof of relationship to accompanying spouse
Proof of relationship to accompanying dependent children (if applicable)
Resume
Travel history
Details of military experience, if applicable
Photos (see above for requirements)
Proof of income (only if you did not provide permission to IRCC to contact CRA)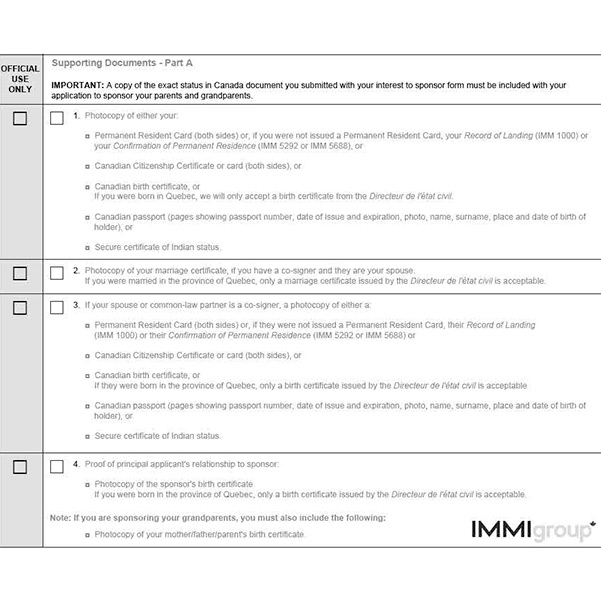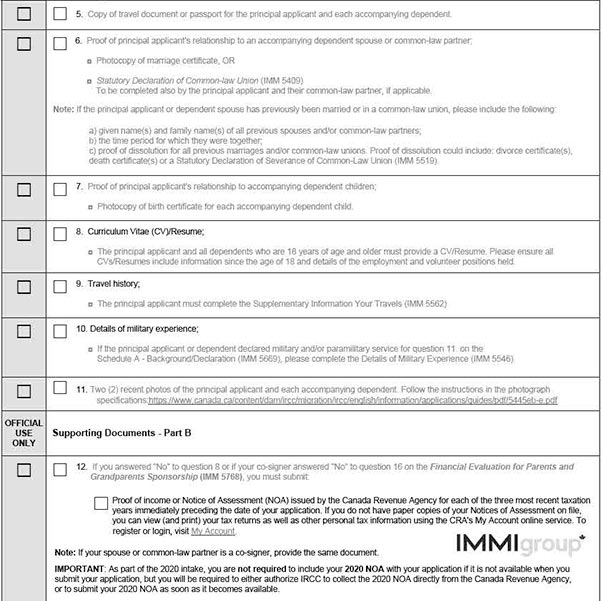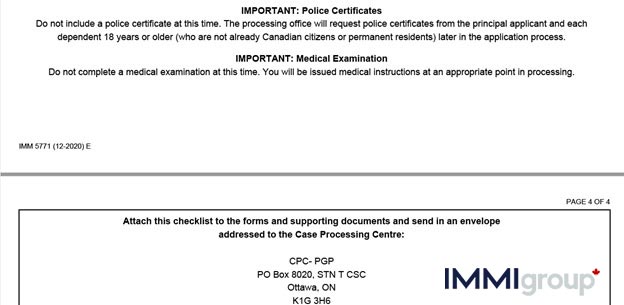 Please note that you should NOT send Police Certificates with your application. If IRCC wants any, they will request one from you or your dependants later in the process after you've submitted your application.
As well, do NOT complete a Medical Exam until you receive instructions from IRCC later on during the application process.