Top 7 Signs You Are Getting a Residence Questionnaire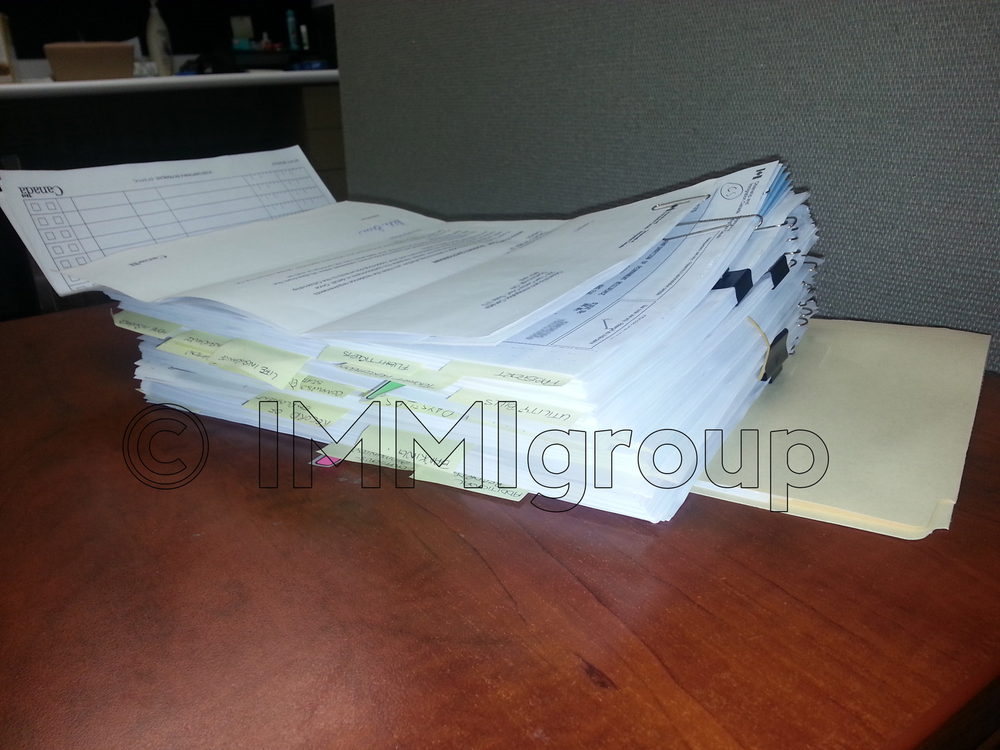 This article covers:
The Top 7 Signs You May Get a Residence Questionnaire
What is an IMM 5511 Questionnaire: Determination of Permanent Resident Status?

More and more frequently, Canadian permanent residents renewing or replacing their PR Cards are receiving the dreaded 'residence questionnaire.' Not to be confused with the Citizenship Application residence questionnaire, the PR Card residence questionnaire is even more serious. Failing to answer it properly or failing to meet the permanent residence requirements could result in the loss of your permanent resident status and eventual deportation from Canada. To make matters worse, there is virtually no information out there about it. Presenting:
The Top 7 Signs You Are Receiving a Permanent Residence Questionnaire – The Residency Determination
About to renew or replace your PR Card? Here are seven indicators you may be receiving the residence questionnaire. Receipt of the questionnaire itself itsn't the end of the world, but know that you must comply with Citizenship and Immigration Canada's rules to keep your permanent resident status. Receipt of the residence questionnaire can be thought of as a first step towards losing status, if you have not met the requirements.
7. You Have More than 1 Valid Passport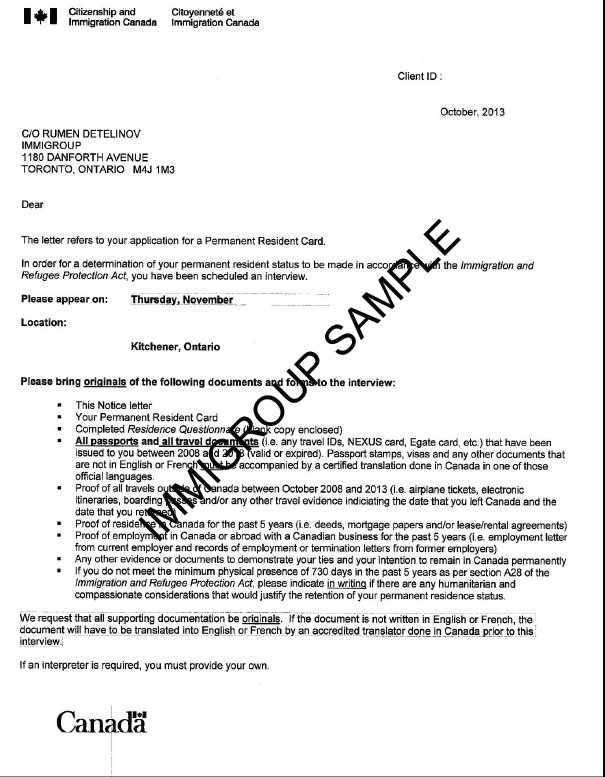 Some countries issue more than one passport at a time, something that would be illegal in Canada. Or sometimes people are citizens of more than one country. Either way, if you have more than one valid passport and you have used more than one passport to enter Immigration, Refugees and Citizenship Canada (IRCC, formerly Canada, Citizenship and Immigration Canada or CIC) will know. As part of determining whether or not you can keep your PR status, IRCC contacts the Canadian Border Services Agency (CBSA) to get what is called a Record of Movement for you. This record indicates every time you have entered Canda. If you have entered Canada on multiple passports since you last got a PR Card, IRCC will know. Though your own country may find it normal to issue multiple valid passports at a time, such behaviour raises serious red flags with both CBSA and IRCC. You can expect a residence questionnaire.
If you are a dual citizen of two countries, you can also expect a residence questionnaire if you have used your different passports to enter Canada. Even if you have never used your other passport to enter Canada, you were required to declare your multiple citizenships when you first became a permanent resident. IRCC may send you the questionnaire anyway, just because you are a dual citizen and carry more than one passport. If you have chosen not to renew your additional passports it is very important to declare this on your PR Card application or IRCC will assume you are withholding information about your additional passports / citizenship.
Don't take offense: CBSA and IRCC are just trying to make sure there is only one of you, there's no identity fraud going on, and you are adhering to the permanent residence requirements. To avoid this problem in the future, always enter Canada with the same passport. Once it expires, make sure you are consistent with using another one. (If you are a citizen of multiple countries and a permanent resident of Canada, you may just be out of luck; you may be subject to residence questionnaires periodically for as long as you are a permanent resident. Of course, you could always solve that by becoming a Canadian citizen, as Canada allows multiple citizenships.
6. You Withdrew Your Canadian Citizenship Application After You Got the Citizenship Residence Questionnaire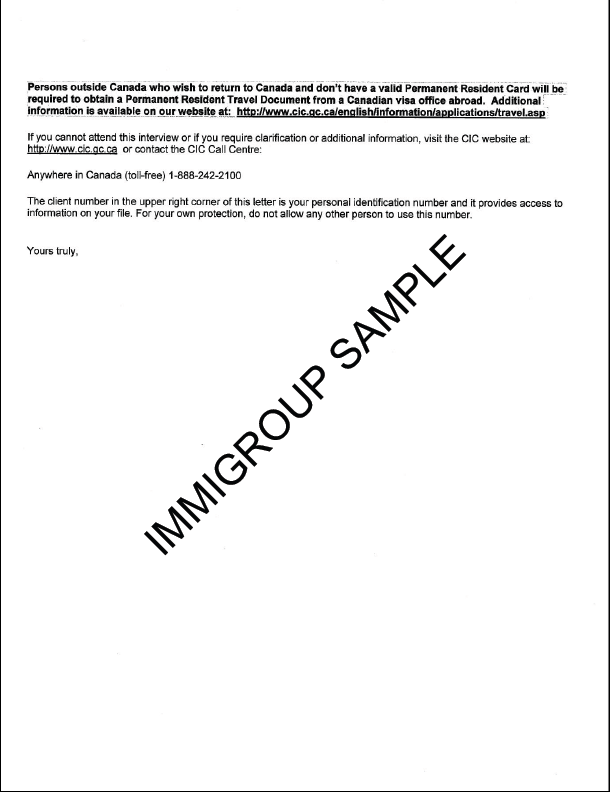 IRCC is issuing citizenship questionnaires with increasing frequency; Immigroup estimates that in the past year the number receiving questionnaires could be as high as 1 in 7 applicants (in our experience). Questionnaires are sent out both randomly and to applicants IRCC suspects have not met the residence requirement necessary for citizenship. If you received a residence questionnaire during your citizenship application process and subsequently withdrew your application or let your application be abandoned, IRCC views this behaviour as suspicious regardless of the reason you may have had for dropping your application for citizenship. Next time you renew your PR Card you may get a residence questionnaire.
How can you avoid this? If you do decide to apply for citizenship in the future and you get the questionnaire, complete it to the best of your ability, or contact a professional for assistance. It's better to complete the questionnaire than withdraw your application.
5. You are Self-Employed and You Have Been Outside of Canada for More than 750 Days Within the Last 5 Years.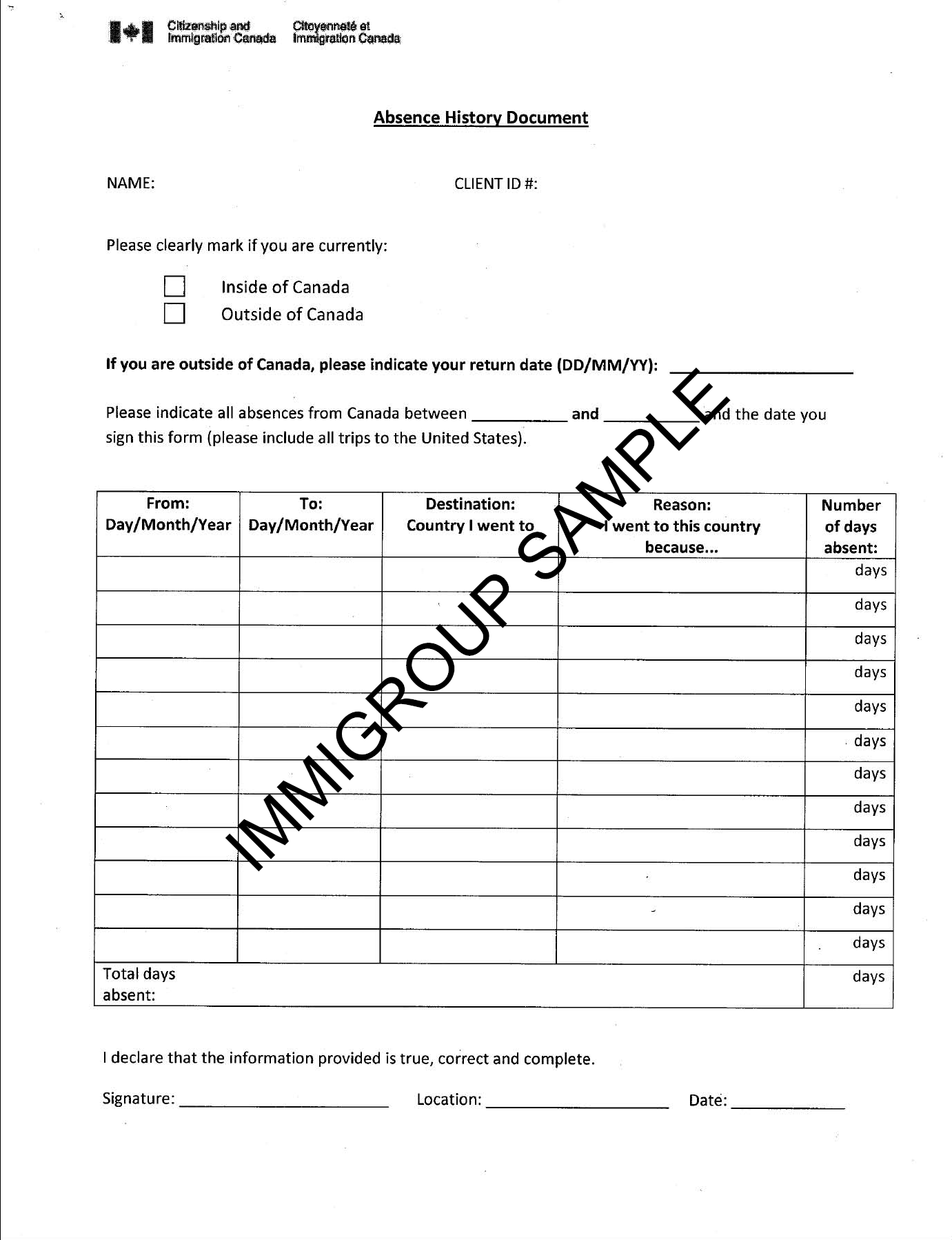 IRCC considers you more likely to travel if you are self-employed. Though 750 days outside of the country in the last five years is far less than the maximum allowed 1095 days, IRCC sends residence questionnaires at its discretion and can send one to anyone, no matter how few days out of the country they may have. Immigroup has noticed a strong correlation between PR Card applicants receiving the residence questionnaire who are self-employed and the 750-day mark. If you fit these two categories, IRCC may assume a miscalculation of your days outside of Canada on your part, as it is difficult sometimes for frequent business travelers to remember every single trip.
How can you avoid the questionnaire? If you are close to 750 days outside of Canada within the last five years and you need to renew your PR Card, spend a little more time in Canada before you renew.
4. You Are Self-Employed and You Are a National of a "High Risk" Country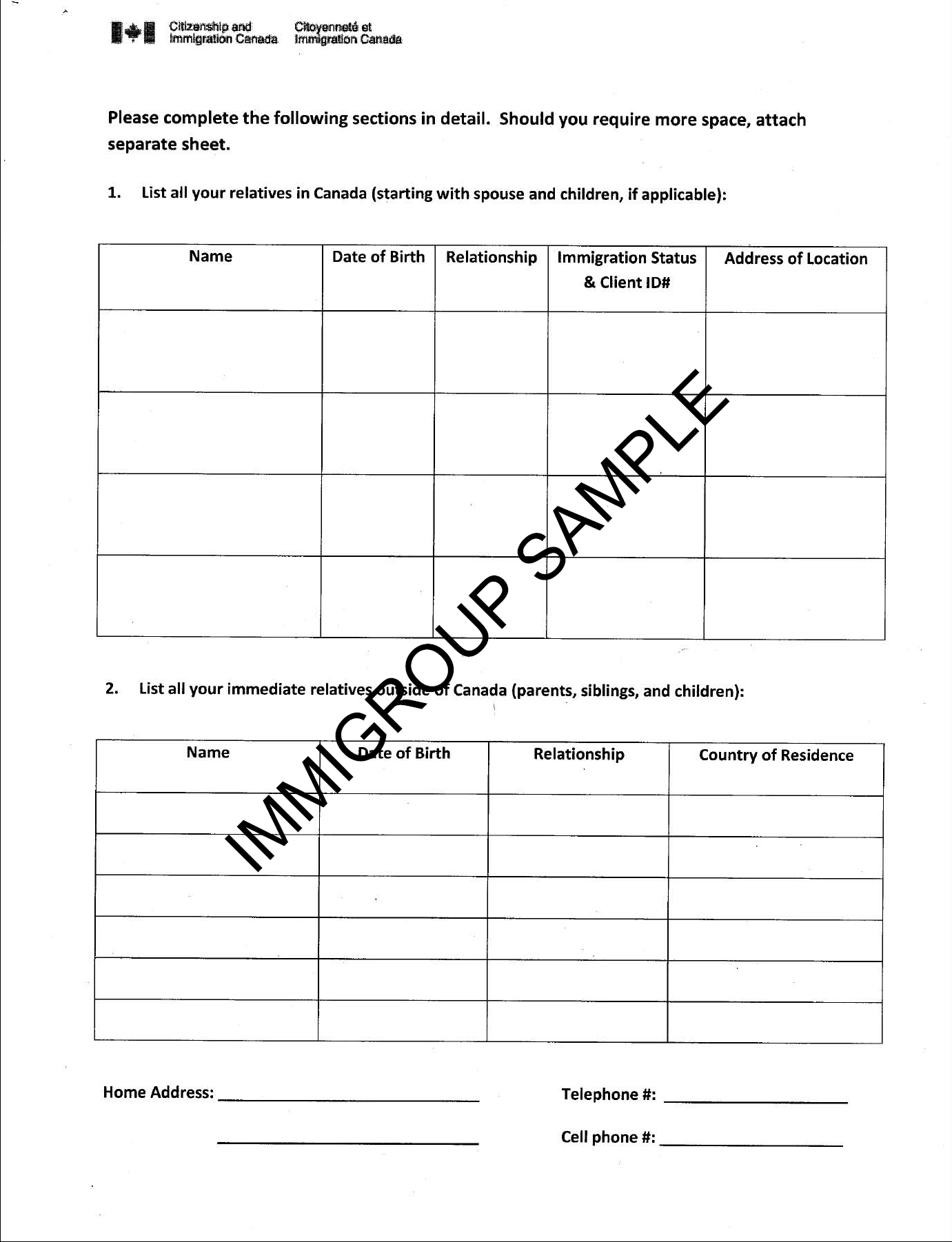 Though the government will never officially admit it, there are different standards for different nationalities. The most obvious evidence of this is IRCC's new regulation regarding fingerprinting for certain visa applicants: since September nationals of certain countries have to provide their fingerprints before coming to Canada. This will be fully implemented by December 2013 but the list of countries may expand in the future. If you are from one of these countries – even if you came here well before the fingerprint requirement – or if you are from a country that is notorious for immigration fraud, or if you are from a country where it is difficult to get original documents – or where the authenticity of official documents is regularly questioned – you are more likely to get a residence questionnaire. But if you are from one of these countries and self-employed, the likelihood is much higher. As noted above, IRCC considers self-employed people to be far more likely to travel regularly, especially if they have business interests abroad.
How can you avoid the questionnaire in this instance? Unfortunately, if you are from one of these "high risk" countries", unless you stay in Canada most of the time, you really cannot avoid it; certain nationals are going to get the questionnaire more frequently than others.
3. You Have Indicated "No" on Question 24 of Your PR Card Application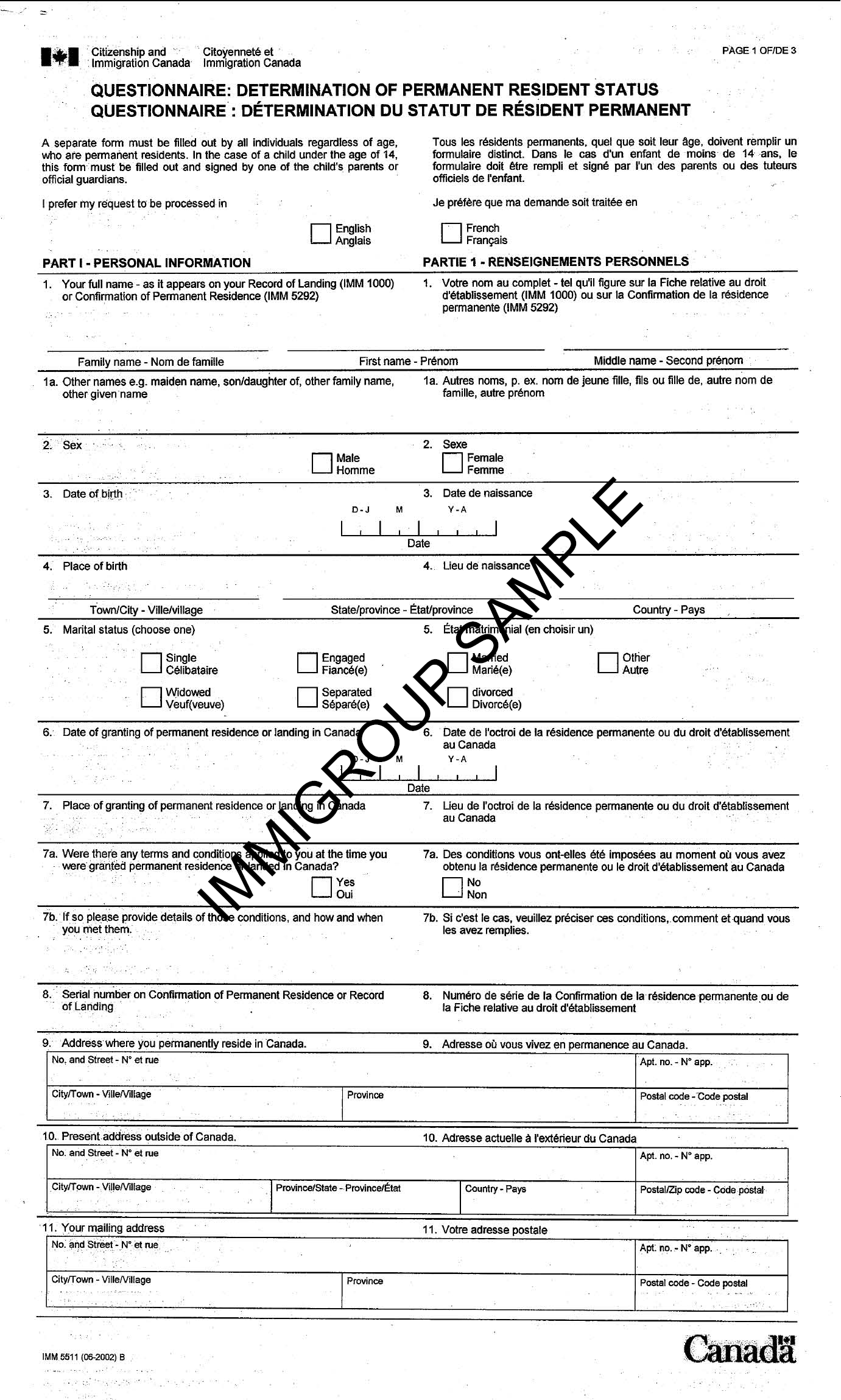 Question 24 on the PR card application reads:
"By selecting "YES" in the box below, and by signing this form, I hereby give my consent to the Canada Border Services Agency (CBSA) to disclose the details of my history of entries into Immigration, Refugees and Citizenship Canada in order to assist IRCC in determining my eligibility for a permanent resident card. I also hereby authorize IRCC to collect the history of my entries into Canada from the CBSA."
If you select 'No', you are denying IRCC permission to contact CBSA regarding your movements into Canada. We understand that you care about your privacy – privacy is being constantly eroded in our society by government and technology – but selecting 'No' is interpreted by IRCC as a clear message that you have something to hide. If IRCC has no access to your Record of Movement, IRCC will usually assume that is because your Record of Movement will show you in violation of the residence requirement. It is unlikely they will assume that you selected 'No' on principle, in protest of increasing privacy violations.
How can you avoid this situation? Always, always select 'Yes' to Question 24 when renewing or replacing a PR Card.
2. There are Noticeable Gaps in Your Personal History When You Renew or Replace Your PR Card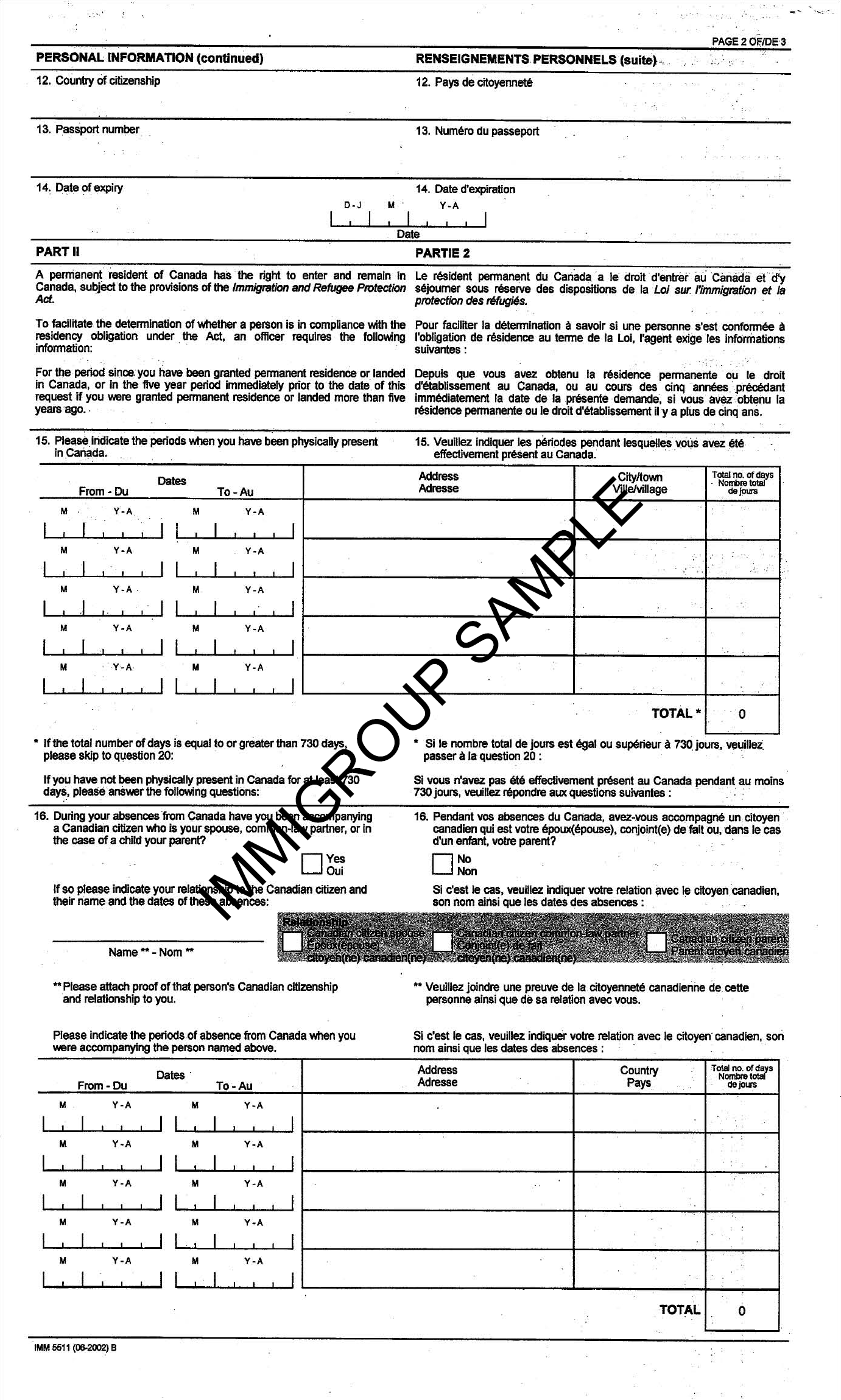 Couldn't remember enough details about one of your apartments to bother including it in the application? Forgot your postal code at a prior address so you left off the address? Stayed with relatives for a while and didn't think you needed to include that address when renewing your PR Card? No matter what reason you may have had for omitting or forgetting to include an address in your PR Card application, if there are one or more noticeable gaps in your address history, you are going to get the questionnaire. When renewing or replacing your PR Card, you have to be careful about your address history; in order to verify that you complied with the residence requirement, IRCC needs to know where you lived at all times during the previous five years. Failure to include all addresses – no matter how insignificant that place was to you – leads IRCC to be suspicious of you.
Typos and mistakes regarding other aspects of your personal history can also cause problems: Say you went for a trip last February, and you wrote a departure date of February 11th, 2012 but accidentally wrote a return date of February 18, 2011. Well, you're a likely candidate for a residence questionnaire because those dates don't add up.
How can you avoid the questionnaire here? Always complete your PR application to the best of your knowledge and proofread your application before you submit it. This way you can avoid the hassle and stress of the questionnaire. If you are really concerned, you can always have a professional review the application before you submit it, to make sure there are no discrepancies in your personal history that may get IRCC to issue a questionnaire.
1. You have spent more than 900 days outside of Canada in the last 5 years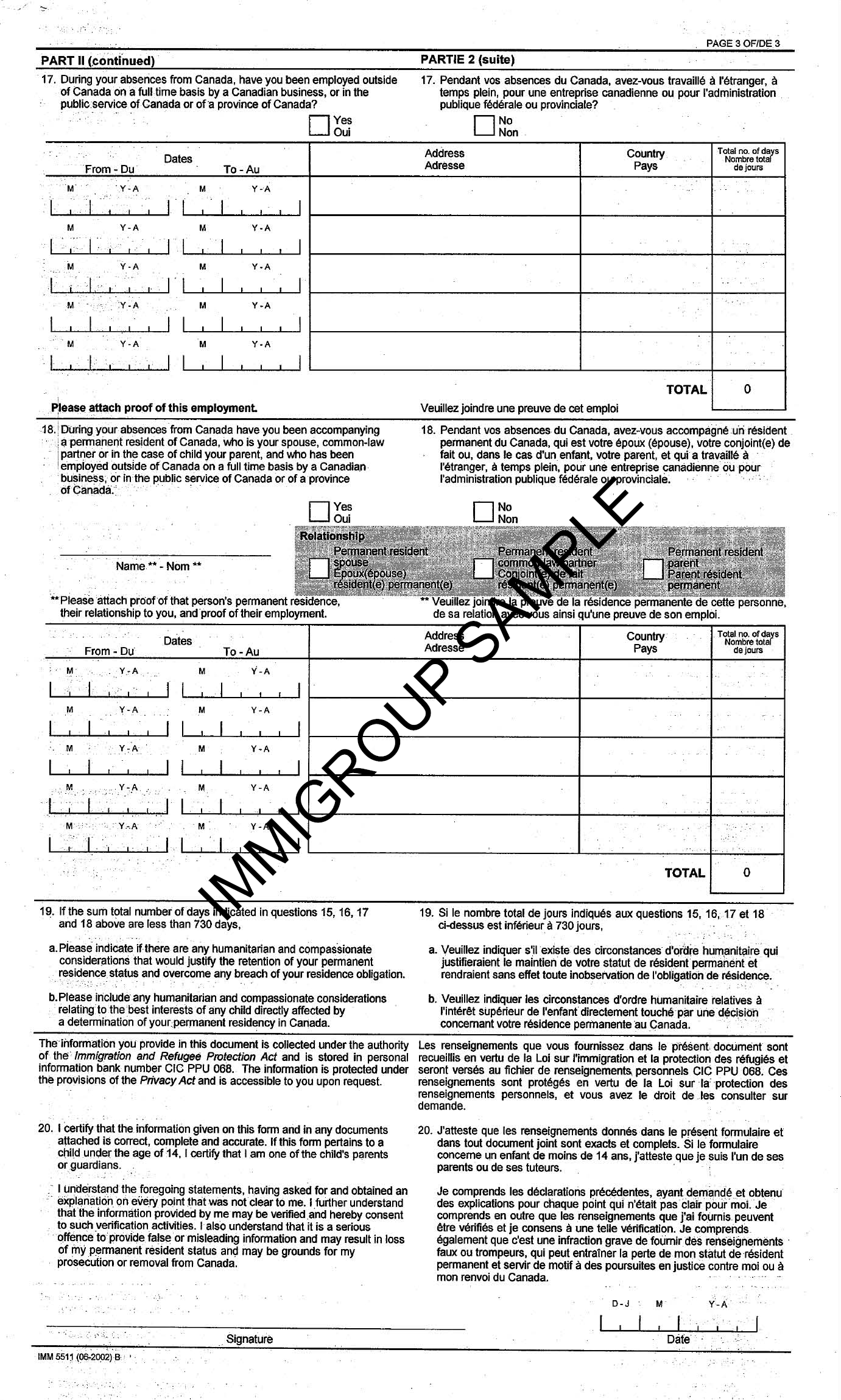 Any permanent resident who has spent more than 1095 days outside of Canada during a given five year period is deemed not to have met the residence requirement; if you are over this number and Citizenship and Immigration discovers this, you will lose your status. However IRCC will even investigate PR Card applicants who have been outside of Canada for far fewer than 1095 days. In Immmigroup's experience, 900 days outside of Canada in the last five years just about guarantees receipt of the questionnaire now that it is being sent out with more frequency.
How can you avoid this? If you are remotely close to the 1095 days outside of Canada, stop traveling internationally. Go for a trip inside Canada or send a colleague to complete that business overseas. If you want to keep your status, and if you want to avoid having to complete the questionnaire and attend an interview, stay in Canada until you have a safe number of days. (Immigroup recommends less than 750 days outside of Canada in any five year period.)
What is the Residence Questionnaire and What Does it Mean?
The questionnaire is sent to permanent residents renewing or replacing their PR Card whom IRCC deems may not meet the residence requirements or may not have been honest on their application. See a sample of the full questionnaire.
It is in two parts:
the 'Absence History Document', a two-page form with questions about your travel outside Canada and your relatives in Canada
and the IMM 5511 Questionnaire: Determination of Permanent Resident Status.
In Immigroup's experience applicants are often sent the Absence of History Document alone as a first step in the process. If you honestly complete this document and it is to IRCC's satisfaction, you may not receive the IMM 5511. Receipt of the IMM 5511, however, often entails an interview with a IRCC official. After that, the process usually is as follows:
If your interview with the IRCC official does not go well, the official may send you to another interview, this time with a Judge.
The Judge is empowered to make decisions regarding your status in Canada. If the judge does not think you are meeting the requirements, then he or she will recommend a deportation hearing.
If the deportation hearing does not go your way, you will have a chance to appeal.
If the appeal does not go your way, you will be asked to leave or even deported.
If you receive the residence questionnaire, you should not worry that you are going to get deported. But you should be aware that it can lead to serious consequences in the future, if you have not complied with permanent resident requirements or if you fail to honestly answer the questionnaire and any questions put to you during the interview.
Unlike the citizenship residence questionnaire, the PR residence questionnaire is mandatory; you cannot just withdraw your application and hope the problem goes away.
Please note that if you are out of the country and you receive the questionnaire and the request to attend an interview, CBSA will be informed of this and will question you upon your entry into Canada. Do not worry about this; it is normal procedure. As long as you can satisfy the IRCC officer at the interview, you have nothing to worry about.
Please also note that if you are out of the country and miss your interview, you run the risk of being denied entry into Canada, as CBSA will have been informed of your failure to attend the interview. If you are outside of Canada and receive the questionnaire – or any request for information from IRCC – you should return immediately.
Learn about signs that indicate your already-submitted PR Card application may warrant a residence questionnaire.
Residence Questionnaire FAQs