US Visa Further Processing – What Does it Mean?
This will be the final article in our series on US Visas, the application process, and the possible outcomes.
We have already covered the denial, so finally let's talk about 'Further Processing'.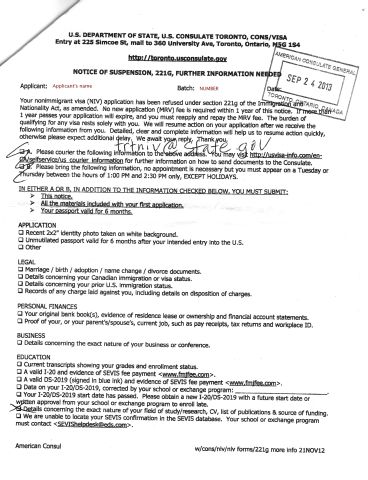 As I have explained before, every US applicant in Canada is informed of the outcome of their visa application before they leave their interview. The only three possible outcomes are:
APPROVAL: Congratulations Sir/Madam, you have been approved for a US Visa. Please check your online status for when your passport will be ready for you to collect at your chosen Loomis Branch. You hop, skip and jump your way out of the consulate smiling at the surly security guard on your way through the gate.
DENIAL: I'm afraid, Sir/Madam, that on this occasion you do not meet the requirements for a US Visa. Here is your denial notice explaining the reasons. You quickly step back from the officer's booth to ensure your face doesn't get injured as the sliding window snaps shut on your dreams. You turn and leave the consulate, taking a quick glance at security on your way out making sure they see your tears.
FURTHER PROCESSING: Sir/Madam we need more time to review your case. On this occasion we are issuing you with a notice for further processing. The notice will explain what additional information we are looking for. Once we have that information we will send you an email in due time with instructions on the next steps you must take. You are instantly confused. You want to ask more questions. Are you denied or approved? What does all this mean? You want to be happy yet you feel unnerved and concerned because you would have liked to book your trip immediately after your interview. As you leave the consulate you look at the security guard in the hope he will have all the answers. He just looks away.
There can be many reasons that the visa officer is asking for further information. Maybe he wants clarification on your job. If you admitted to a criminal charge in the past, he may want to see court documents. He could even want to know more about your reasons for travel. Whatever the reason, you must provide what they are asking for in order to move forward.
Now this is when it can get extremely frustrating. In some respects a denial is easier to live with. Some applicants have waited 6 months before hearing anything from the consulate. There is absolutely nothing you can do except wait………and wait……….and then wait some more. It is possible to send an email enquiring on the status of your application and their decision. If you are very lucky you will get a response telling you exactly what you already know: that your application for a US visa has gone for further processing and you will be informed by email once a decision has been made.
At some point in the future you will have forgotten about your Visa application. It is normally at this point that you will receive an email asking you for your passport to be dropped off at the consulate. This usually means you have been approved and they would like your passport so they can put the visa inside.
This doesn't mean that you should expect everything to be sorted immediately. The final processing can still take a few weeks. Try not to be too despondent – you have come this far and your planned trip to the US is now within reach. You could even be issued a 10 year multiple entry visa!
The important thing is don't give up. And if you're denied, simply apply again!