How to Secure an Expedited or Regular US Visa Appointment in Canada
"As of 2023, it takes 1.5 to 2 years to get a US visa appointment in Canada."
The guidance provided here is globally applicable. While our content primarily centers on Canada, the strategies can be effectively employed anywhere in the world. The tips are relevant for both official websites:
ais.usvisa-info.com
portal.ustraveldocs.com
Tips for Securing a
Regular

US Visa Appointment.

Regularly Check the Official Site: Make it a habit to log in to ais.usvisa-info.com (https://ais.usvisa-info.com) every hour. Typically, after 6 to 12 logins, you might spot an available appointment slot.

Location Matters:  Smaller cities get very few appointments released. If you're based in cities like Halifax or Quebec City, you might find that appointments rarely get released. This is a real problem. If you're facing this challenge:
Persistence Pays: Keep trying, even if it takes a while (read the below tips).
Consider Other Cities: Opt for a different city for your appointment if your current choice isn't yielding results.
Seek Professional Help: Engage services like Immigroup to assist in securing an appointment for you. Click here to learn more.
What are the times for a regular appointment in Canada?
Calgary: over 600 days
Halifax: 750
Montreal: Unknown
Ottawa: over 750 days
Quebec City: 750
Toronto: over 700 days
Vancouver: 300 to 700 days
Note: The times provided above are estimates and subject to change. If you observe any discrepancies, kindly  U.S. Visa Comment on our Forum, and we'll promptly update the webpage.

Tips

for Getting an

Early

US visa appointment using the calendar in Canada.
If you have an urgent, valid reason such as a family death or medical treatment in the US, please click here. 
Utilize Multiple Logins to Boost Your Chances of Securing an Appointment
Enhance your odds by having several individuals access and monitor the system. If you're unable to stay online consistently, enlist the help of family members or friends to periodically review your profile. This strategy heightens the probability of spotting available appointment cancellations.
Optimal Times for Finding Appointments
Best times
5:00 pm to 1:00 am
6:00 am to 8:00 am
Wednesday between 1:00 pm to 4:00 pm
Note: Times may vary. If these slots aren't effective or you find better ones, please comment on our U.S. Visa Community Forum.
Also use Your Mobile Device to Access Your Account
Access your account via a mobile device whenever you have free time. This way, you can check for appointment openings on the go.
Select the Consulate Offering the Soonest Appointment
When deciding between Consulates X and Y, opt for the one with the earliest available slot. Even if you've chosen a consulate on the DS160 form, you can adjust your selection if a more favorable time arises.
Double Your Chances with Two City Choices
Boost your likelihood of securing an early appointment by selecting two cities you're open to attending.
Pair Cities for Better Opportunities
Toronto and Ottawa
Montreal and Ottawa
Vancouver and Calgary
Tip: Before committing, weigh the financial implications. Consider travel costs and potential lost wages. Sometimes, it might be more cost-effective to use services like Immigroup to secure an early appointment.
Opt for Individual Appointments
For better availability, consider booking appointments individually rather than in groups. By listing applicants separately in the account, you enhance your chances of spotting open slots.
Keep in mind: For families or groups, cancelled appointment slots only appear if they match the group size.
The first appointment could be the most important—you get only one chance!
Don't schedule an appointment if you think you'll need an urgent one later. We're still studying this, but it appears that if you book an appointment and then try to reschedule, especially if you've used Immigroup to find an early slot, it becomes more challenging to secure that urgent appointment. Just keep it empty untill you find what you are looking for.
Consider Appointments Beyond Your Home Country
Yes, you can. While visiting another country, you can apply for a US visa. Some countries offer shorter waiting times for appointments.
Note: If you're unsure about what to mention during your appointment, be honest. Simply explain that the wait time in your home country is approximately 2 years for an appointment.
Financial Consideration: If you're eyeing a pleasant vacation, this approach can be worthwhile. Otherwise, it might be more cost-effective to engage Immigroup for an early appointment.
Hire Immigroup to Secure an Early Appointment
Out source your calendar search 
Consider registering on platforms like Upwork, Fiverr, or Freelancer to find someone who can scout for urgent appointments on your behalf.
Caution: This method has its risks. Immigroup advises against it, and users should proceed with discretion. Read the offical terms of service below.
Tips for understanding the official U.S. Visa information and appointment system.
Smart Page Refreshing
To check for available appointments, refresh the page at intervals of 10 seconds or more, ideally for a duration of 2 to 5 minutes. Then, take a short break before starting again. Remember, appointment slots can appear unexpectedly, so persistence and patience are crucial.
Guard Against System Lockouts
Avoid excessive page refreshing, as this can lead to temporary system blocks. If you find yourself locked out, stay calm; the system typically restores access after about 5 hours.
Diversify Your Consulate Checks
To minimize the risk of system blocks, alternate your checks between different consulates. This strategy ensures you maintain consistent access without overwhelming a single consulate's system.
Understanding how appointment slots become available.
Realize that available slots arise not only from cancellations but also from daily allocations that go unclaimed, especially those reserved for specific groups like American citizens and students. Stay alert to these opportunities for short-term appointments.
20-times is your limit of rescheduling. 
The system permits you to reschedule up to 20 times. After reaching this limit, you'll be locked out and will need to restart the entire process, including repaying the government fee.
How to Request an Expedited U.S. Visa Appointment through the Official Government Channel. 
What is an Expedited U.S. Visa Appointment?
An expedited visa is an emergency visa that is granted quickly giving you an early appointment date, due to the applicant's special circumstances that require them to travel as soon as possible.
Unfortunately, the U.S. requires you to use the normal appointment scheduling program to then request an expedited visa appointment. The process is as follows:
Find out what type of visa you need at this US government page.
Next you complete the online application form – the online visa application form is called a DS-160. Go here to this page to complete form D-160
Next, go here and click on Apply near the bottom of the page.
Make sure you have the required documentation, including photo and proof of fee payment
Schedule a normal (not expedited) appointment after choosing which Consular Section you need
Next, follow the prompts for expedited appointments which should be found in a menu on the left-hand side of the page and submit an Expedite Request Form.
The U.S. embassy/consulate will respond within a couple of business days by email.
If the email approves your expedited appointment request, you have to log back in, cancel your normal appointment and then schedule your new appointment on the approved expedited date.

Do this by selecting New Appointment in the menu on the LHS of the page.
Choose your visa type once again and make sure to review your application information to ensure it is correct.

Next at the Payments page, click Continue and the system will recognize your payment made when you booked the first appointment.
Make sure your appointment times correspond with your expedited appointment date and select this date. Click Schedule Appointment.
Print your Appointment Confirmation Page and bring the letter to your interview.
Criteria for Expedited US Visa Appointments
Who Qualifies for an Expedited Visa Appointment?
As they say, your travel must be "imminent" for you to qualify for an expedited appointment. Moreover, the purpose of your travel matters as well. Some situations are not acceptable while others are.
NOT acceptable as a reason to request an expedited visa appointment:
Attending Wedding or Graduation Ceremonies
Assisting Pregnant Relatives
Participating in Annual Business, Academic, or Professional Conferences
Booking so-called "last-minute" tourism services
Due to advance booking of airline tickets, in which case you need to book a regular visa appointment well in advance.
Emergency Situations for Expedited Appointments
Acceptable reasons for expedited appointments are:
Life or death medical emergencies
Urgent Business matters
Student & Exchange Visitor Facilitation
ESTA status denied (you need a copy of the email informing you of this)
Success Rate and Common Pitfalls
It's important to understand that approximately 95% of expedited requests are unsuccessful, primarily due to the overwhelming number of applicants.
Common mistakes include:
Providing a non-specific or weak justification.
Over-relying on emotional appeals.
Omitting essential corroborative documents.
Best Practices for a Successful Expedited Request
To enhance your chances:
Present a compelling reason, such as a family death, severe illness, or urgent medical treatment.
Offer a clear and logically structured rationale.
Furnish concrete evidence and documents that substantiate your claim.
Caution: Ensure the authenticity of all information provided. Misrepresentations can lead to a permanent ban on obtaining a U.S. visa.
Given the stakes, it's crucial to thoroughly  prepare your request. Consider seeking expert guidance, particularly in articulating your reasons and ensuring the adequacy of your supporting documents. Reach out to Immigroup for paid assistance.
Required Documentation for an Expedited Visa Appointments
Remember to have the following documentation ready when applying for an expedited visa appointment:
Your current valid passport
Form DS-160 Confirmation Page
Printed Confirmation & Instructions Page
5 x 5 cm or 2 x 2 inches color photograph – no older than 6 months
Marriage certificate for accompanying spouse
Birth certificates for accompanying children
Copy of Proof of Legal Status in Canada
When applying for an Expedited Visa Appointment, you'll also need documented proof of your urgency or emergency. For example:

For a medical emergency, a letter from a U.S. hospital or doctor,
Students or exchange visitors need either an I-20 or a DS-2019 as proof they would miss the start of their studies if not granted an expedited appointment.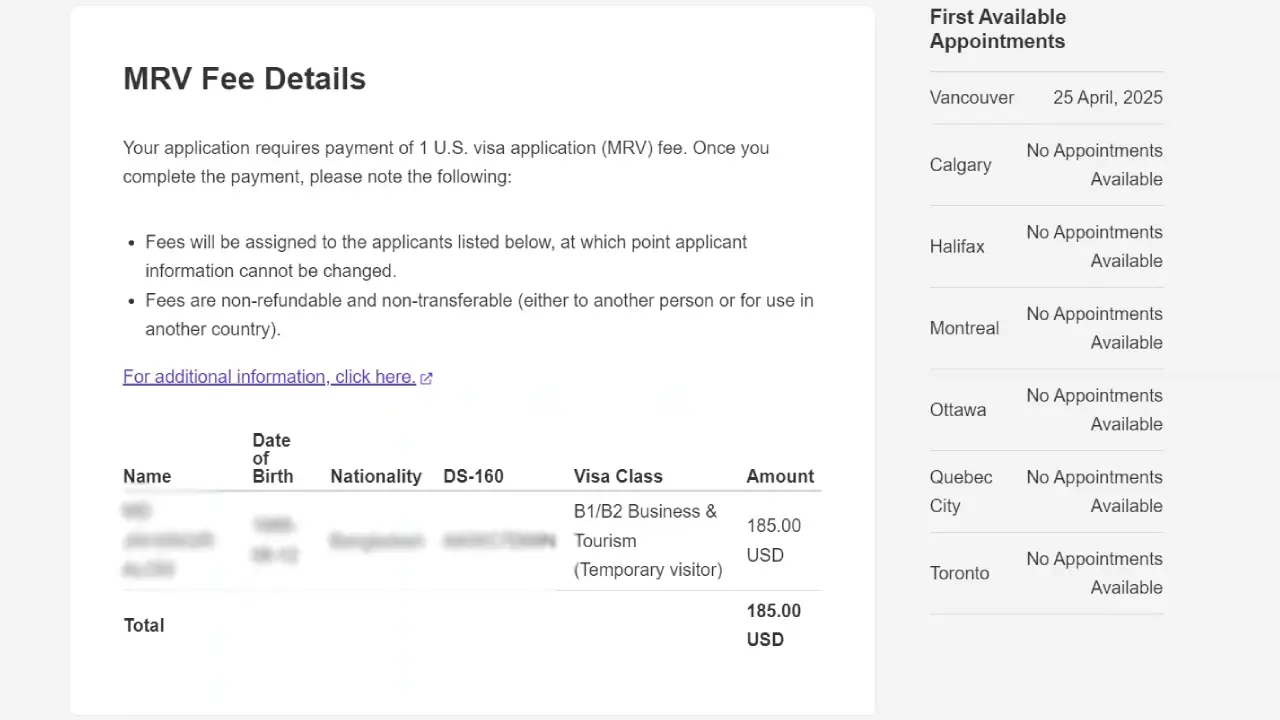 Understanding the Terms of Service for the U.S. Visa Information and Appointment System
It's crucial to be familiar with these terms, as non-compliance can, in severe cases, result in a lifetime ban from obtaining a U.S. visa.
By using this Site, you represent and acknowledge that:
All registration information that you submit will be true, accurate, current and complete;
You will maintain the accuracy of such information, promptly update such information as necessary and within the limits of the established process;
You will not access the Site through automated or non-human means, such as with bots, scripts or otherwise;
You will not use the Site for any illegal or unauthorized purpose;
Your use of the Site will not violate any applicable law or regulation;
You will not use stolen/compromised/unauthorized payment methods to make a payment on the Site;
If you are a third party representing an applicant or applicants, you agree that you are authorized to behave as an agent on their behalf;
You agree to comply with these Terms of Use.
If we determine that your access violates the established Terms of Use, we reserve the right to suspend or terminate your account and report your account to the concerned parties.
More Tips for a Successful Expedited US Visa Appointment.
Hard Truth: Each US Consulate or Embassy has a set number of appointments for each location. The demand for these appointments is greater in bigger cities vs small cities. Think of the US Consulate in Toronto that happens to be responsible for all of southern Ontario, a population of around 10 million people. Now think of Ottawa, with only around 1.5 to 2 million people.
Hard Truth: Diplomatic missions are not consumer-centric entities. They are monopolies that don't have to compete with other enterprises providing the same service. They're the only players in this game, so they set all the rules; we are left trying to work within these boundaries. But the good news is that there is a way to get an edge. This is something reserved for people that are always dealing with their system.
Hard Truth: What I am about to tell you, you will not be posted on any government website. The simple reason, if the government posted information on how to get an early USA visa appointment, too many people would simply try fitting into those requirements.
Hard Truth: Requesting assistance from the US Diplomatic Mission almost rarely works. You can try, and if you do, there's one mistake you should avoid. Don't plead your case on an emotional basis. Instead, use a logical argument.
Now the way the government's calendar works is that each location is given a daily set of appointments; for example, Toronto gets 30 per day, but Ottawa gets only 15 per day.
These appointments are released, and government employees rarely share the times with the general public.
When the appointment is released, they are usually gone within minutes. Yes, I said minutes, if not seconds! That means 99.99% of any given week; this calendar is totally empty.
But there is one other kind of appointment that does get released; these are cancelled appointments. These are very special appointments because people that rebook appointments are usually people that have their appointments coming up in a day or two. This means that if you have an emergency trip and need a US visa fast, it is possible, very hard, but still possible, to get it an urgent appointment.
"Your objective is to find the daily released appointment associated with your city."
Tip: Do the opposite of what everyone is doing when looking for appointments.
Tip: The best time to log in and look for appointments is 5 minutes before the hour or half hour. Now stay on the system for the next 10 minutes.
Example: Login from 6:55 am till 7:05 am.
Tip: The more you log in for these 10-minute intervals, the better your odds become.
If you can log in during the day every hour, or even better, every 30 minutes, your odds increase. If you can do this at night as well, even better, your odds increase even more. Do this as much as possible, and within a week, you will get an appointment.
There is one simple option: Pay someone to do this for you. I find this more suited for the following types of people:
Business (Regular or Urgent Appointments)
Truck Drivers
You tried the method above, and it's too much work.
You must have an expedited appointment as soon as possible!
You are too busy, or you would rather just pay someone to handle this for you.
These companies have staff 24 hours a days and 7 days a week looking for appointments. Immigroup stopped offering this service in 2014 because it's very labour-intensive, but we do have relationships with reputable companies that do offer this today.
If you would like us to put you in contact with this firm, simply fill out the below form, and they will be in touch with you shortly.
Tip: This is a good website that tracks US visa appointment times. Click here.
Preparing for Your Expedited Appointment
The U.S. government asks you to clearly and concisely describe your intentions regarding your visit to the country. The trick is to gather the necessary documentation and/or proof when preparing for your expedited appointment.
Here are some tips on how to do that:
Unfortunately, under American law, any non-immigrant visa applicant is viewed as potentially guilty of wanting to immigrate rather than just visit. You have to show reasons for wanting to return home when your visit ends. For example: you need proof of a home, other property, a job, a business, or family ties in your home country.
Be prepared to talk about your urgent situation and why you need an expedited appointment. See the reasons above that are considered legitimate reasons for needing an expedited appointment.
Keep your answers short and to the point to make a good impression on the immigration officer. Remember that your interview time will only be 2 or 3 minutes with an overworked officer who has tons of interviews to do that day.
Any documentary evidence should be clear and easy-to-read. Do not bring in lengthy written evidence.
It's a fact that not all countries are treated equally. If you are a citizen of a country with economic or security problems, you will have a higher burden of proof to clear.
If you are denied, do NOT argue with the officer. Politely and positively ask them if they can give you a written reason why and also ask them for any suggestions on how to correct whatever reasons led to the refusal.
Frequently Asked Questions about Expedited US Visa Appointments
I tried the advice above, and I still did not get an appointment. The calendar is just empty. What do I do?
In most instances, limited visibility of appointments is due to users being new to the process and having logged in only a few times. To start seeing appointments, you typically need to log in multiple times over several days. If you've logged in consistently for several days, checking 4-6 times daily, and still don't see any appointments, consider visiting our U.S. Visa Appointment Forum Community. There, you can check with community members to see if they're experiencing similar issues.
What are the official reasons you can request an Emergency Appointment?
An emergency or expedited appointment is granted by US embassies and consulates on a case-by-case basis. However, priority is usually given to medical or humanitarian emergencies.
Can I walk into the US diplomatic mission and explain my situation? Would this help?
This might work in a Hollywood film, but don't try this in real life. You'll find out very quickly how tightly controlled a U.S. diplomatic mission is. The plain truth is you need an appointment to be able to explain your situation to someone who can (hopefully) help.
The history of Immigroup's US visa appointment service.
Immigroup offered US visa appointments, urgent or regular, from 2009 to 2014. Back then, you had to pay $3.00 a minute to talk to a call center in Saskatchewan about getting an appointment directly from the government-sanctioned call center, or you had to find an appointment on the calendar.  We had an alternative flat fee and a guaranteed timeframe for your appointment.
We stopped offering this service directly because it's a very labour-intensive service to maintain.
Today we forward this service to other agencies set up globally to handle this type of request.
What other online resources can I use that can help me?
Historic Data on waiting times in Canada. 
Immigroup's Forum Community
Immigroup's Paid US Visa Appointment Service
Looking for professional assistance to secure an appointment? Please fill out the form below, and an agent will promptly get in touch with you.