For immigration or visa questions you can contact me at 416-827-8778 or e-mail
[email protected]
Consider this a call to action for all of you out there who are procrastinating applying for Permanent Residence to Canada.  By now many of you will have heard rumours about the new changes that Citizenship and Immigration Canada will be implementing on January 1st 2015. Well...
In the beginning of the new year the Canadian government will introduce a new system called "Express Entry". This program will merge all of the economic immigration classes into one system (see below).  Applications will all be completed online similar to the "My CIC" accounts used for applying for the IEC working holiday work permit and other temporary residence permits.
The Express Entry system will consist of two steps:
Step 1
When you visit cic.gc.ca you will be directed to register with the Canadian Job bank so that potential employers can assess your qualifications and experience and potentially offer you an ESDC-approved job offer.
When and if you are eligible to apply for one of the economic classes, such as "Canadian Experience Class" (CEC), "Federal Skilled Worker" (FSW) or "Federal Skilled Trades" (FST), you will then submit what will be known as an Expression of Interest.
An Expression of Interest is not a Permanent Residence application; rather it is a notification indicating that you want to apply for Permanent Residence. Think of this as a resume but containing not just all of your educational achievements, credentials, and work history but also your Canadian work experience, language ability and other information that will help determine your ability to integrate into Canadian society.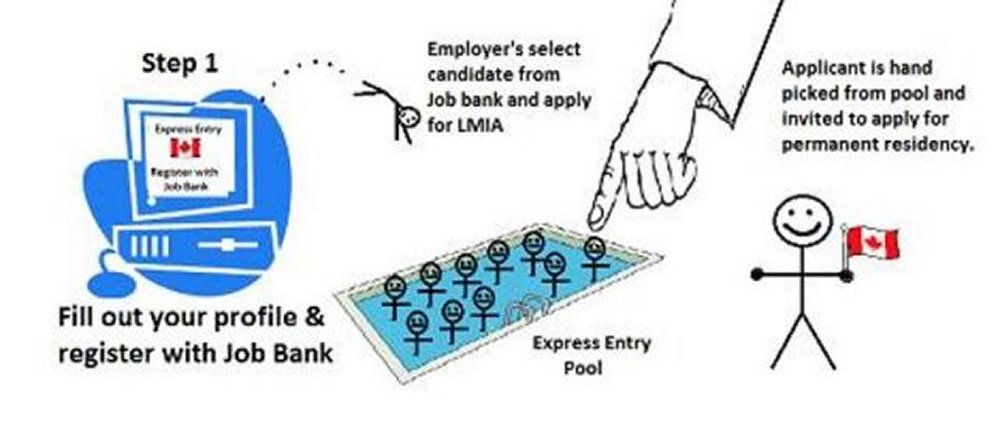 Please note: depending on your experience, occupation, education and eligible category you may not need a job offer in order to be selected.
Step 2
After you have electronically submitted your "Expression of Interest" you will be placed in a pool along with other applicants specific to the category you are eligible to apply under. ESDC-approved job offers, Certificates of Qualification, degrees, experience in skilled occupations and Canadian work experience will all allow applicants to stand out over other applicants.
The government will then hand-pick the candidates that can demonstrate the ability to settle and contribute to Canada's economy and labour needs and then invite them to apply for permanent residence (an "Invitation to Apply"). Applicants who are not chosen within one year will be automatically removed from the pool. The applicants removed from the pool will be able to submit another "Expression of Interest" only once they are removed from the pool.
All of the current economic classes and their criteria will remain (CEC, FSW, FST and PNP) but they will exist within the new "Express Entry" system. Also, the existing caps on each category and the sub-caps on certain occupations will remain the same. This new system will not affect the current family sponsorship procedures and the application process.
More News
The intention of the new system is to give the provinces and employers a greater role in selecting candidates and filling their labour shortages.
One of the many disadvantages of this new system will likely be that applicants who wish to apply for permanent residence will no longer be able to submit a PR application as soon as they are eligible. They will need to go through the additional steps of an Expression of Interest and wait for an Invitation to Apply.
The reason I wrote this article is obviously to inform you of the new changes, but also to encourage any of you who are currently eligible for one of the economic programs to submit an application before 2015 rather than wait and have go through additional steps to immigrate to Canada.
For all of you who are not currently eligible you should know that yes, express entry is a big change, and yes, it does add a new hurdle to the process, but, if you submit a strong "Expression of Interest" demonstrating all of your achievements and credentials, you will be an obvious candidate for an Invitation to Apply.
If you apply for one of the provincial nominee programs and receive a nomination letter you will be invited to apply.
There is more than three months before this new system takes effect which should give you ample time to gather all of your documents, write your English exam (if applicable) and submit your application under the category you are eligible for.
So, start your application today. Good luck!
The content in this article is only based on the infromation CIC has published thus far. More information, explanations and changes to this program are to be expected in the immediate future.
Please visit the CIC website for more information and updates on Express Entry.
Express Entry