Worst Deaths While Travelling: Insecticide Edition
The Killer in Your Hotel Room
There is a silent killer on the loose in paradise. Waiting to creep into your nervous system and wreak havoc with your body, leaving you vomiting and aching with horrible pains, and then collapsing and dying, alone in your hotel room. And surprisingly:
It is NOT the food you ate.
It is NOT the drugs you did not consume.
It is NOT a crazed hotel staff member who is also a psychopathic killer.
It is NOT some mysterious tropical disease about to ravage you.
Even though all of these tragic events can and do happen in tropical resorts, this silent killer is something else. Something that should never happen because science knows that it is dangerous and must be carefully controlled, like a wild beast that needs a steel cage to contain it. 
What we are talking about are pesticides. Yes pesticides, but not just any garden variety of bug killers. These are incredibly toxic chemical compounds that have either been banned for years in your country, or should only be used in carefully controlled conditions by specially trained personnel. Never indoors and never by hotel cleaning staff that invade your room while you're out on the beach or souvenir shopping, and spray your bed as if it was ground zero for some evil, alien pandemic.
Why do hotel cleaning staff engage in such a lethal exercise in stupidity? To get rid of bed bugs or other slightly bothersome insects who might happen to wander into your 4-star or 3-star hotel room and disrupt your stay in paradise. And because pesticide manufacturers, contractors, and hotel management don't know or don't care. So beware before booking a bedroom in balmy beach resorts. Know that hotel room pesticides are real and could harm you and even kill you.
These are some of the people who have died or become very ill, most likely as a result of toxic pesticides used to cleanse their hotel rooms or the hotel's lobby area in certain cases. Paradises like Thailand and the Caribbean can be very dangerous for all sorts of reasons:
Robbery and Assault,
Sexual Assault,
Tropical Diseases or Seafood poisoning,
among other reasons like drug overdoses. But silent toxic killers must be added to this list to ensure you are aware of the risks before you travel. The following people were not lucky enough or informed enough to do the same:
11 Deaths and a Paralzsed Family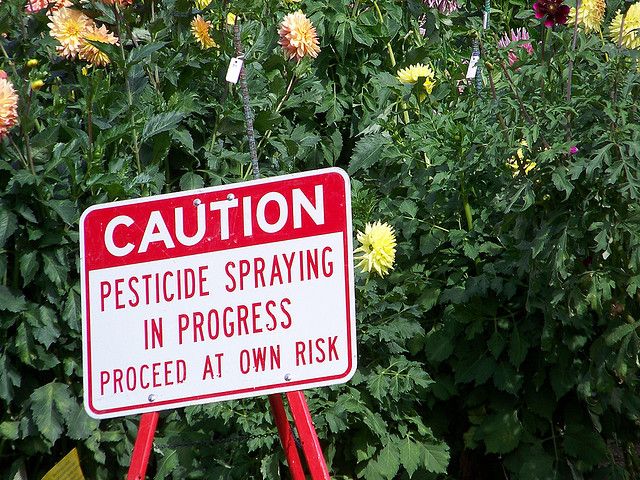 by JetsandZeppelins / Flickr / CC BY 2.0
The Esmonds
Steve Esmond
A 49 year old middle school teacher from Delaware who took his family on vacation to the U.S. Virgin Islands in March, 2015. The condo below the one they were renting was sprayed by workers with a compound containing methyl bromide – which has been banned from indoor use since 1984. It is only allowed in certain agricultural uses, and only by trained operators. As they slept, the noxious chemicals seeped up into their upper story condo and caused them to collapse into seizures and be intubated. They were then flown to Philadelphia for intensive care. Steve, the father, has since been released from hospital, but still suffers from "severe paralysis" and must be strapped in to even sit in a chair.
Sean Esmond
The 16 year old eldest son of the Esmonds, he remains hospitalized and is paralyzed from the neck down. He is conscious and alert but cannot control his body or his limbs which he cannot feel. He is a student at a private school in Greenville, Delaware and was a lacrosse player on the school team.
Ryan Esmond
The 14 year old younger son, and a student at the same private school, is in and out of a coma and has no control of his body or his limbs, which he also cannot feel. 
Dr. Theresa Devine
The 48 year dentist and mother was also hospitalized but, unlike her husband and two sons, she recovered fairly quickly. The company that did the spraying, Terminix, is being investigated and has said they are cooperating fully. They had better. They were either supremely negligent or willfully destroyed the lives of a happy Delaware family whose 8 days of tropical repose were horribly interrupted by an odorless fumigant that should never have been used anywhere near their condo.
The Deadly Downtown Inn
Gate in Chiang Mai [Public Domain]
George Everitt
The 78 year old British pensioner was on a holiday in Thailand with his wife. They were staying at the Downtown Inn in Chiang Mai where 5 other tourists became ill, and like the Everitts, died. It took a New Zealand investigative team from 60 Minutes to discover that the hotel rooms had been sprayed with chlorpyrifos, an insecticide banned in many countries that is highly toxic. Thai authorities continually denied it was anything other than a tragic case of food poisoning, until the evidence forced them to change their tune. Why was the room sprayed? To get rid of beg bugs, apparently. And kill off 7 tourists who wanted a nice vacation in Southeast Asia.
Eileen Everitt
The 73 year old wife of George died along with her husband and 5 other tourists in Chiang Mai, almost certainly as a result of chemical poisoning due to a toxic insecticide used on their beds and rooms to control those pesky bed bugs, which starts with chest pains and vomiting and leads to inflammation of the heart. A horrifying example of overkill.
Sarah Carter
A 23 year old New Zealand backpacker who was also staying at the hotel became ill in February of that year and died. The Thai authorities at first claimed it was food poisoning.
Amanda Eliason
The 24 year old friend of Sarah Carter was a little luckier. She had to undergo heart surgery as a result of her "food poisoning."
Bill Mah
A 59 year old Canadian from Edmonton had been in "perfect health" before visiting Thailand and staying at the Downtown In in Chiang Mai where he was found dead on January 26, 2011. His death was attributed by authorities to "suspected natural causes." 
A hotel in Chiang Mai [Public Domain]
Mariam Soraya Vorster
A 33 year old Californian died on January 11, 2011 after staying at the Downtown Inn. She suffered suspected food poisoning symptoms and was admitted to a private hospital where she spent her last hours of life. 
Waraporn Yingmahasaranont
A 47 year old Thai tourist guide, she died in February of the same year after staying at, you guessed it, the Downtown Inn in Chiang Mai. 
A French woman
A 25 year old woman from France developed somewhat different symptoms and died in January, 2011, after staying at the hotel. The Downtown Inn in Chiang Mai has since been demolished with Thai authorities unable – or unwilling – to give conclusive reports on what happened to grieving family and friends. It has been up to investigative teams from abroad to uncover the pesticide connection.
The Perils of Phi Phi Island
Audrey and Noemi Belanger
The 2 sisters from Quebec, Canada were travelling in Thailand in 2012, and stayed at a hotel on Phi Phi Island. They were found dead in their hotel room, covered in vomit with their fingernails and toenails tinged a strange blue colour. Acute intoxication from "the chemical that belong to the pesticide group" (sic) was the likely cause according to Dr. Pasakron Akarasewi of Thailand's Ministry of Health. Different location in Thailand, same horrifying cause: the use of a dangerous pesticide not meant for indoor use to control bedbugs. In this case the suspect is aluminum phosphide which in Canada is used as a pesticide in silos or a ship's cargo hold. And it is only used by trained operators, not some underpaid and overworked hotel cleaning staff member.
Jill St. Onge
In 2009 the 27 year old American was staying at the Laleena guest house a few hundred metres from the hotel where the Belanger sisters were staying. She experienced similar symptoms and died within 24 hours with vomiting and blue fingernails and toenails – a possible symptom of oxygen deprivation. 
Julie Bergheim
The 22 year old Norwegian was staying in an adjacent room to Jill St. Onge and displayed similar symptoms, dying within a few hours of her fellow tourist. 
Don't Say Phuket: Educate Yourself
John Stapleton's book, Thailand: Deadly Destination, lists well over 100 tourist deaths on one single island in Thailand, the notorious Phuket. Swedes dying in motorcycle crashes, people getting murdered, and drownings are a few of the typical ways to die in Thailand. But as well, there are a number of illnesses or heart attacks – especially among German tourists, on the island paradise. One wonders whether any of these may be connected to the criminally negligent use of pesticides.  
According to the Center for Disease Control, or CDC – the Atlanta-based federal agency that is charged with protecting America's health and safety through control and prevention of disease – there is an epidemic of pesticide-resistant bedbugs. This is not a pandemic. Bedbugs are not vectors for deadly diseases; they are annoying little critters that can give you rashes and sores on your skin. The problem that worries the CDC is inappropriate use of pesticides to control bedbugs and how they can impact on people's health. Their report studied seven U.S. states over the period 2003 – 2010 and found 111 cases of acute illness "associated with insecticides used to control bedbugs."
The CDC and the EPA (Environmental Protection Agency) recommend you use a pest-control operator that practices Integrated Pest Management or IPM. IPM uses information on the life-cycle of bedbugs and other pests, and works with non-chemical and chemical methods, as well as relying on multiple inspections and treatments. It is more time-consuming but far safer for the occupants of a residence, building, or hotel. It is long past the time to state that any tourist paying their hard-earned dollars for a hotel room in paradise has every right to ask the resort what kind of pest control methods they use.