How to become a truck driver in Canada
Read our step-by-step guide to getting a job as a truck driver, either as someone already living in Canada or a foreigner thinking of moving here. What you need to keep in mind is that driving a truck is often a full-time-plus job and is done mostly for the money. It's not usually about the freedom of the road because you're tied to a tight schedule and are always trying to make sure you keep up with your deliveries.
It might be your childhood dream job, but the reality is a little different. Do you have what it takes to be a trucker in Canada? Keep reading to get some answers because one thing is certain: Canada is going to need thousands of new truck drivers over the coming years. For example, The Road Ahead: Addressing Canada's Trucking and Logistics Industry Labour Shortages, a report based on research by the Conference Board of Canada, suggests at least 25,000 vacancies that will need to be filled over the next few years.
First off, let's look at the Pros vs. Cons of this industry:
Pros
Good pay
Get to see most of the country and much of the US
High demand for new drivers over the next decade
Can pick and choose what work you do – although this will take some experience before you can pick and choose your jobs.
Cons
Long hours
Away from home for up to weeks at a time
Difficult driving conditions
Responsibilities of paying for that big rig you own and covering your expenses – if you're an owner-operator
Truck Drivers in Canada – Table of Contents
Tip: Click here for definitions to better understand this guide
How to become a truck driver in Canada?
Basic requirements
You'll need to have finished high school in most cases, and the better companies require you to have taken a driver training course at a vocational school or community college. You'll also need the following commercial driving licenses – depending on what type of truck you'll be driving:
Class 3 License or D License if you're driving straight-body trucks
Class 1 License or A License if you're driving tractor trailers.
If you're going to be transporting hazardous materials or dangerous goods, then you'll need a TDG (Transportation of Dangerous Goods) certification.
If you're going to be operating trucks with airbrakes, then you'll need what is called an Airbrake Endorsement (identified by the code Z)
Tip: the more difficult the licensing, the more money you will earn. Truck drivers overlook this. When you can get obscure credentials or experience, you will not only get paid more but also give yourself a significant advantage when it comes to job security.
Step 1: Go back to school
A truck-driving course generally lasts around 3 months and is taught both at private vocational schools and at community colleges. Scroll down to our FAQ section below for more information. Remember, you generally need to take this type of course before applying for your commercial driving license.
Step 2: Get your commercial license
Do you have a driver's license? If you have a general driver's license – for example: Class 5 & 7 in BC or Class G in Ontario – then you'll need to upgrade to a commercial driver's license that specifically allows you to drive trucks and especially tractor trailer trucks. Each province handles driver's licenses and has different classification systems. The higher the level of the license, the longer it will take, including examinations and experience on the road. This is because provincial licensing systems are graduated, with drivers moving up from one level to the next as they become qualified.
BC: Class 1 is the highest level which allows you to drive any vehicle except a motorcycle. Class 2 also includes most trucks but not ones with air brakes.
Alberta: Class 1 driver's licenses are similar to those in BC while Class 3 licenses allow you to drive smaller trucks (no more than 3 axles).
Saskatchewan: Just about identical to Alberta. You'll need a Class 1 license to drive any kind of truck, while Class 3 lets you drive smaller trucks (not tractor trailers).
Manitoba: Again, like it's two Prairie neighbours, you'll want a Class 1 license for the largest semis – like an 18 wheeler – and a Class 3 for smaller trucks.
Ontario: Here Class A is equivalent to Class 1 out west, while Class D allows you to drive smaller trucks.
Quebec: Licenses are similar to the Western provinces. Class 1 for any kind of truck and Class 3 for smaller trucks.
New Brunswick: Similar to Quebec and the Western Provinces with Class 1 getting you into any kind of rig while Class 3 allows you to drive smaller trucks.
Nova Scotia: Same as New Brunswick, Quebec, and the West. Class 1 for all trucks, Class 3 for slightly smaller trucks.
Newfoundland & Labrador: Same again, with Class 1 and Class 3, but remember to get endorsements on your license to drive certain types of trucks. This may apply in other provinces as well.
Yukon & NWT? Class 1 and Class 3.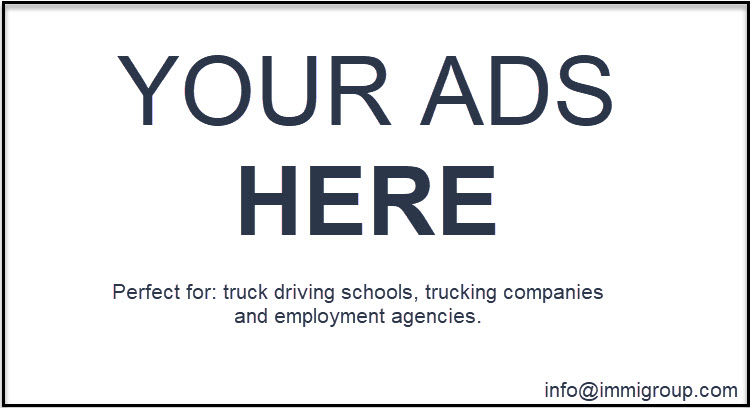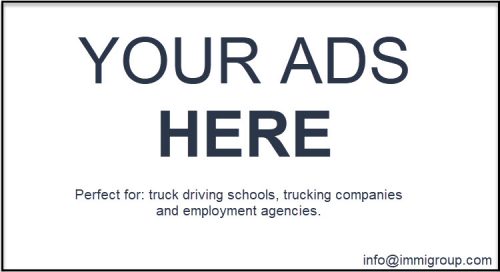 Step 3: Start small
You need to start gaining experience, so you generally have to start driving smaller delivery trucks or even start by driving a tow truck. It may not be your dream trucking job, but it will start to build your resume towards eventually getting into a full-size rig with a truck trailer attached. Some of these jobs won't require a Class 1 or A license, but make sure you have the required license before you start your first trucking job. Unfortunately, a few operators may not even ask to see your license before sending you off to work, but this is rare and to be avoided.
FAQ
How to get a job as a truck driver with no experience?
Start with something like a tow-truck job. They're hiring right now with no experience necessary. You'll basically be driving a glorified pickup truck, but you will have to deal with tricky traffic and weather conditions, not to mention vehicles that can be hard to tow. While you're doing that you should be saving up for your driver training course which you'll need before you can apply for a commercial driving license (Class 1/A in Ontario or Class 3/D in Ontario). You will need a general driving license before you can get your commercial license. So make sure you have your general driving license. If you're from abroad and driving on your foreign license, make sure you get your general driver's license before your international permit runs out.
Expectations as a truck driver in Canada. The reality
You will likely start your career driving something like a tow truck or small delivery truck and work your way towards a Class 1/A license, gaining the experience you need, one job at a time. As you work your way up towards a Class 1/A commercial license, remember to get the training and endorsements for things like airbrakes and hazardous materials in order to be able to drive specialty loads that pay better.
To earn the big bucks, whether working as a driver for a transport company or as an owner-operator subcontracting jobs, you will have to put in all those days and nights on the road. Your truck will become your second home and you'll be driving in all sorts of weather conditions – from heat waves in August to freezing rain and icy roads in winter, to 40 below zero hauling loads to places like Whitehorse in the Yukon.
Automation in the trucking industry, what does the future hold?
They say it's all about increasing safety and making your job as a truck driver easier to do. It's reasonable to ask, however, if there's also the intent to replace drivers with autonomous vehicles. Let's start with that question.
To make autonomous (driverless) vehicles a reality, it will require enormous expenditure on advanced wireless technology like 5G cell networks that will need to cover every major highway and road in the country. Additionally, handing over control of a tractor-trailer rig to an algorithm will eventually happen but right now it's just too risky. However, big changes are happening and will be coming in the future.
What is happening is that some companies like Uber Freight are developing the idea of using a hub-to-hub network of autonomous semitrailers covering the city-to-city routes, working in a hybrid system with traditional truck drivers handling the so-called first and last mile of the payload's journey. Whether this plan (and right now it's just a plan) turns out to be economically feasible, or politically feasible, remains to be seen. It's also a fair question to ask if it will be technologically feasible as well.
In other words, for at least the next generation or so, lots of truck drivers will definitely be needed.
Remember, automation is not exactly the same as autonomous/driverless vehicles. Cars and trucks have been using increasing amounts of automation over the last couple of decades. So, here's a useful scale to think about the level of automation in a truck. It's being used a lot lately and you may have read about it. It goes like this:
Level 0: no automation in the truck with a fully human-operated vehicle. However, it can include things like stability control, blind-spot warnings and braking assistance.
Level 1: includes at least 1 driver-support system; either steering assistance or assistance with accelerating and braking, but not both. So, you might get lane-centering assistance but need to be ready to take control at any time.
Level 2: you guessed it, includes both automatic braking, as well as lane changing and self-parking. This is partial automation with these systems taking over at certain times, but drivers must remain alert in order to handle situations at all times.
Level 3: the automation systems make decisions based on conditions on the road. This includes changing lanes and accelerating around other vehicles, leaving the driver to do other activities. However, drivers need to be ready to intervene if necessary.
Level 4: most systems are automated and are only constrained by severe weather or say crossing a border into another country, state, province, or territory where the regulations might change. They normally operate without human interaction.
Level 5: no weather limits nor any geographic limits. The driver inputs the destination and then engages in other activity. The truck drives itself.
So, referring back to Uber Freight's plan for hub-to-hub hybrid networks, the city-to-city routes would have level 4 or 5 automation (the only levels that are truly driverless), while the first and last mile would likely have level 2 or possibly level 3 automation. Time will tell if this is what the future holds for trucking.
How many truck drivers will be needed in Canada, and what does the future look like
According to Canada Job Bank's 2018 report, the average age of a truck operator was around 42 while the average retirement age was estimated at around 66 years old. Their outlook for demand for truck drivers was neutral to positive with the following regional breakdowns:
Very good prospects for truck drivers:
Good prospects for truck drivers:

Alberta
Saskatchewan
Ontario
Maritimes – except Newfoundland & Labrador and PEI
Yukon & Northwest Territories

Moderate prospects for truck drivers:

BC
Quebec
Newfoundland & Labrador
Nunavut
Trucking HR Canada with research by The Conference Board of Canada has a more optimistic outlook in their 2020 report The Road Ahead: Addressing Canada's Trucking and Logistics Industry Labour Shortages. The report shows over 300,000 drivers currently working in Canada with around 15,000 current vacancies which are expected to rapidly increase to 25,000 vacancies, as an aging workforce of drivers retires in increasing numbers.
Other estimates call for over 50,000 job vacancies within the next couple of years, but these estimates may be just a little too optimistic.
Truck driving interview questions you need to have the answer for
Here are some questions you really should have the answer to if you want to get hired as a truck driver:
Know the many types of trucks – Dry Box Van, Dry Bulk, Refridgerated, Flat Bed, Cabover versus Conventional etc. And know which type of truck you're qualified to drive and have experience with.
When they ask you what endorsements you have, they're NOT asking you if someone's sponsoring you but rather if you're qualified to drive a truck with air brakes, for example.
When they ask you what lanes you've driven, DON'T say the fast lane. They're asking you about dedicated routes on major highways, usually between major urban centers and transport hubs that transport companies use on a regular basis.
Know what paperwork you need to drive in the US – DOT cards for example.
If you've had a DUI, you'd better be able to talk about your Record of Suspension and hopefully your Entry Waiver. See our FAQ on DUIs in our chapter: Truck driver with criminal record.
Signs you are dealing with a bad trucking business.
They target new arrivals with little to no experience, including international students.
They demand you pay them an upfront fee, just to work for them.
They're run from a private home in the suburbs.
They don't give you any training.
They send out completely inexperienced drivers with heavy loads for which they have no experience handling.
They force international students to work over their 20-hour-a-week limit and don't pay them the overtime, knowing full well the student won't want to declare those extra hours to avoid getting in trouble with immigration authorities.
Signs you are dealing with a great trucking business.
They tell you you're too young and you need to get more experience before you can work for them.
They never ask for an upfront fee to get a job.
They emphasize training for their drivers.
Is the trucking industry in Canada regulated?
Although there was some deregulation of the industry in the 1980s, it still requires a fair deal of paperwork to set up a trucking company in Canada. The deregulation in the 80s was apprently opposed by major unions like Teamsters Canada. See our next FAQ just below: Does the trucking industry have a union? As well, check out our FAQ titled: What does it take to own your own Truck Driver Business in Canada? You'll find it in our chapter on owner operators. It'll give you an idea of some of the permits and licenses drivers and owners need in order to do business and to drive commercially in Canada.
Does the trucking industry have a union?
There are a few major unions in Canada: Teamsters Canada, for example, who have around 15,000 members. With over 300,000 truck drivers in Canada that means that a significant percentage of truck drivers are not unionized. As well, there's the industry group the Canadian Trucking Alliance, but this represents transport companies and some owner-operators and is not a union. Back in 2006, Statistics Canada estimated that about 25% of truckers were unionized. Nowadays that's estimated to have fallen to around 20%. You should also know that Teamsters Canada is generally opposed to bringing in foreign truck drivers and advocates instead for higher salaries and better job security to attract Canadians to the industry.
What is the best resource for Truck Drivers in Canada? (Magazines, forum communities, free support etc.)
It depends. Use plenty of resources:
Looking for truck driving jobs
Job Bank Canada
Indeed.ca
Major retailers like Walmart
Develop contacts in your industry
Shippers
Transport Company officials
Mechanics – don't underestimate the importance of a good mechanic for your truck!
Other truck drivers with lots of experience
Online forums
Definitions to help you understand this guide
Hazmat: Hazardous Material – usually require a certification or endorsement to transport
Long-Haul: Transporting goods between cities – Also called Over-the-road or OTR
Short-Haul: Transporting goods within an urban area
Airbrake endorsement: marked by a Z on your Class 1 license showing you're qualified to operate a truck equipped with airbrakes
Lane: a route between cities typically over a highway that transport companies use as a dedicated corridor to move goods back and forth.
Class 1/A in Ontario and the US license: Qualified to drive any type of truck
Class 3/D in Ontario and the Us license: Qualified to drive smaller straight-body trucks but not large tractor trailers
LTL: Less than Truckload – jobs involving smaller loads that don't fill-up your truck but at least bring in some revenue
Truck Title Loans: a loan that uses your truck as collateral. Used by owner-operators, but involves the risk of the finance company taking possession of your truck.
Factoring: companies that collect your bills for you which means you get paid quicker but have to pay a percentage of your revenues to the company that provides factoring services
ELD: Electronic Logging Device on commercial trucks used to keep HOS – Hours of Service see next definition.
Hours of Service (HOS): maximum time a trucker can be on duty without a rest, including driving time.
FMCSA: Federal Motor Carrier Safety Administration – a US Department of Transport (DOT) agency in charge of safety regulations. Canadian standards generally are very similar to those set by FMCSA and the DOT in the US.
DOT: Department of Transport – US government agency in charge of supervising and regulating the transportation industry. Canadian standards and regulations generally are quite similar to those issued by DOT and FMCSA.