Can I Afford to Sponsor my Parents to Canada? – Financial Requirements for Parental Sponsorship
Can I Afford to Sponsor my Parents to Canada? – Financial Requirements
A sponsorship involves what Canadian immigration authorities call an undertaking. This is because you undertake to financially support your parents or grandparents and any dependents they may have (generally it's only the case that parents have dependents as we'll explain further below). That means you the sponsor have to have a certain minimum income level depending on how many members of your family qualify as dependents in addition to those who you are directly sponsoring.
It's a long undertaking as well. You have to undertake to support them financially for 20 years from the date they become permanent residents of Canada.
If your sponsored parents or grandparents (and any dependents in Canada) have to go on social assistance, you the sponsor are liable for that amount and must commit to repaying the money to the government of Canada.
However, the sponsored parents or grandparents (and dependents) also have the responsibility to make every effort to support themselves financially.
This means that you have to provide proof to immigration authorities that your income will be sufficient to support them. While each specific case will be assessed after you apply, IRCC uses the following table as a guide:
| Number of people you'll be responsible for | 2020 tax year | 2019 tax year | 2018 tax year |
| --- | --- | --- | --- |
| 2 people | $32,899 | $41,007 | $40,379 |
| 3 people | $40,445 | $50,414 | $49,641 |
| 4 people | $49,106 | $61,209 | $60,271 |
| 5 people | $55,695 | $69,423 | $68,358 |
| 6 people | $62,814 | $78,296 | $77,095 |
| 7 people | $69,935 | $87,172 | $85,835 |
| For each additional person beyond 7 people | $7,121 | $8,876 | $8,740 |
Income levels are significantly lower for 2020. This is due to the effect of COVID restrictions on the economic position of many Canadians. Normally, the required income levels would be slightly higher than those for 2019. Additionally, for the 2020 tax year, Sponsors can count the following as income (for 2020 only):
Regular Employment Insurance Benefits (rather than just special EI benefits)
Canada Emergency Response Benefits issued under:

The Employment Insurance Act, or
The Canadian Emergency Response Benefit Act

Any other COVID-related temporary benefits as long as they are not part of a provincial or territorial social assistance program.
Assessing Whether or Not You Can Afford to Sponsor Your Parents/Grandparents
In form IMM 5768 Financial Evaluation for Parents and Grandparents Sponsorship, the first set of questions is mostly concerned with calculating how many family members you may have to support as a result of sponsoring your parents and/or grandparents.
Here's what you should see near the beginning of form IMM 5678:
What you place in the box for question 7 is the number which normally determines your required income level. Note that it depends on:
The number of people that you are still responsible for from previous sponsorship undertakings
The number of people you're still responsible for from previous co-signings (see Chapter 3 for more on co-signing a sponsorship)
The number of all the above people your spouse/partner is responsible for if they have co-signed your application
Any other family member not included in those categories who is financially dependent on you.
In other words, if you have been involved in other sponsorships, or co-signings, or have co-signed your spouse/partner's application, the number of people could easily exceed 7 persons and you could be looking at a 6-figure (CAD$100,000 and up) required income.
If you have other sponsorship obligations that are not for parents and grandparents – that is, that have periods of undertaking of much less than 20 years – you may want to consider paying them off any obligations and waiting until those undertakings are over before sponsoring your parents or grandparents.
Of course, this decision is entirely up to you and depends on your income level.
You have to prove your level of income by providing Canada Revenue Agency (CRA) Notice of Assessments (NOA) for each of the 3 previous tax years. That means you have to send a copy of your 3 most recent NOAs as part of your application package. There are 2 ways to do this:
Giving IRCC Consent to Obtain Your Tax Information From CRA
Give IRCC permission to obtain your tax information directly from CRA. You do this by looking for question 8 in form IMM 5768 Financial Evaluation for Parents and Grandparents Sponsorship. This is what you should see: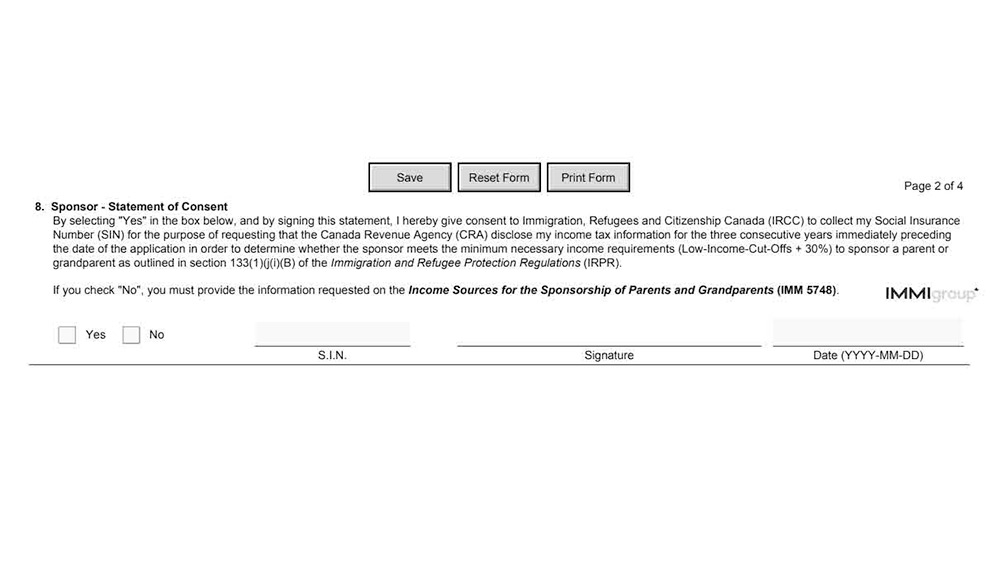 If you want to give IRCC permission to directly obtain your tax information from CRA, then check Yes and write down your Social Insurance Number (S.I.N.) and sign and date this part of the form.
Proving Your Income Without Giving IRCC Permission to Speak to CRA: Form IMM 5478
If you don't want to give IRCC permission then check No and then you must fill out form IMM 5748 Income Sources for the Sponsorship of Parents and Grandparents.
You must also provide paper copies of your NOAs from the last 3 tax years. If you don't have paper copies of your NOAs go to your CRA MyAccount, where you can find online copies which you can then print. Go here for information and an instructional video on registering for or logging in to your CRA MyAccount.
Finally, here's a useful method to calculate your income needs if you are planning to sponsor your parents or your grandparents:
First, calculate the number of people in your family – including those you sponsored previously:

You
Your spouse/partner
Your dependent children
Your dependent children's dependent children
Your spouse's dependent children
Your spouse's dependent children's dependent children
Any person you (and your co-signer if you have one) have sponsored in the past and are still financially responsible for.

Next, calculate the number of people you wish to sponsor:

Every grandparent you want to sponsor this year
Every parent you want to sponsor this year
The spouse (even if separated) or common-law partner of every parent and every grandparent
Their dependent children
The dependent children of their dependent children.

Add the total of each step (total family and total of those you wish to sponsor) and this will be your total amount of persons which you should use in the income table above to calculate your required income.
Please note that immigration authorities will calculate this total for each of the 3 previous tax years, so your calculations will only be an estimate. IRCC has the last word on the total number of people you may directly or indirectly be responsible for and therefore IRCC will have the last word on what your required income should be.
And here's one final point you need to be aware of as far as income requirements go: You are responsible for maintaining your required income level:
From the date IRCC receives your sponsorship application
Until the date ALL your sponsored family members become permanent residents of Canada.
This does NOT mean your sponsorship undertaking ends at that point. You will remain responsible for your parents and grandparents for 20 years.
To find out more about form IMM 5768 see Step 9.
Need help? Contact Immigroup
The immigration process can feel overwhelming. Our team at Immigroup knows how to cut through all that government red tape quickly. Contact us to see how we can help you with your Family Class Sponsorship Application.