When to do Overseas vs. Inland Spousal Sponsorship Application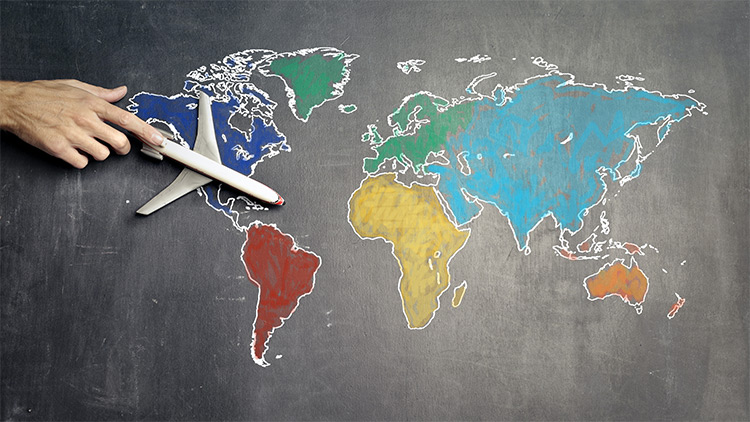 When deciding how to proceed with a spousal sponsorship, keep in mind that there are 2 classes you can sponsor them under.
Family Class – also known as an overseas application, OR
Spouse or Common-law Partner in Canada Class – also known as an inland application.
Which class you choose should depend on your spouse's and your situation.
Here's a quick review to help you sort out the best way to bring your spouse or partner to Canada to live with you. Make sure you visit our complete sponsorship tutorial linked just below, for an in-depth look at all aspects of spousal sponsorship.
So, when you want to sponsor your spouse to Canada, you have two options:
You can marry your spouse in their home country or any other country outside of Canada, then file the spousal sponsorship application at the Canadian visa office in your spouse's home country. This is called overseas spousal sponsorship. This is also known as a Family Class OR
You can bring your spouse to Canada on a visitor visa and then file their sponsorship application within Canada. It also applies if your spouse is in Canada under a temporary work permit or study permit. This is known as a Spouse or Common-law Partner in Canada Class sponsorship and is also called inland spousal sponsorship.
Tip: We have a free Spousal Sponsorship Course you can take, click here.
Both options have pros and cons, so the question is which option fits you best given your own personal circumstances.
In the first place, if you apply through overseas spousal sponsorship and the application is refused, you can appeal the decision and may still be able to bring your spouse to Canada if you win the appeal.
But, if you file through inland spousal sponsorship and the application is refused, you are not allowed to appeal this decision at all.
This is a very important thing to consider if there are issues with your application which increase the chance that the sponsorship will be refused, such as criminal history or medical problems for the person you are sponsoring, or a lack of documentation showing that your relationship is genuine.
Additionally, if you are in a conjugal relationship – you have not yet married and have not been able to live continuously together for at least 1 year due to factors beyond your control – then you have to apply overseas (Family Class). A conjugal partner you wish to sponsor cannot be living in Canada.
Another factor to consider is that the processing time for overseas spousal sponsorship applications is usually shorter than inland spousal sponsorship applications. Here are some examples but please be aware that for the last few years the IRCC has not been disclosing country-specific wait times for applications. The ongoing COVID-based restrictions have delayed processing as well. Use these only as a general guide:
Processing Time for Overseas Spousal Sponsorships
Tip: Update timeline can be found here.
| | | |
| --- | --- | --- |
| Country of Origin | Sponsor Assessment | Sponsorship Processing Time |
| China | 1 month | 14 months |
| Philippines | " | 17 months |
| India | " | 15 months |
| Pakistan | " | 32 months |
| United States | " | 18 months |
| France | " | 12months |
| United Kingdom | " | 12 months |
| Korea | " | 15 months |
| Egypt | " | 20months |
| Colombia | " | 17 months |
Processing Time for Inland Spousal Sponsorships
| | | |
| --- | --- | --- |
| Country of Origin | Sponsor Assessment | Sponsorship Processing Time |
| Any | 1 month | 13 months |
In other words, overseas applications currently in 2021 in the middle of a pandemic are taking anywhere from over 15 months to several years while inland applications generally take about 14 months to process.
Another way to estimate how Sponsorship Applications are proceeding is to consider IRCC's update of processing times released in late March of 2021. Here's what they said about spousal, common-law, and dependent children processing times:
| | | |
| --- | --- | --- |
| Type of Immigration Program | Overseas or Inland | Status of applications |
| Spousal, Common-law, & Dependent Child Sponsorships | Inland | As of late March 2021, IRCC were finalizing most applications received in late September and early October of 2019. |
| Spousal, Common-law, & Dependent Child Sponsorships | Overseas | As of late March 2021, IRCC were finalizing most applications received in late May and early June of 2019. |
From this information, one can deduce that the majority of spousal sponsorship applications are currently taking more than 18 months on average for inland applications and over 22 months for overseas applications. To see how:
From late September 2019 to late March 2021 is 18 months.
From late May 2019 to late March 2021 is 22 months.
As IRCC stated, they are "finalizing" most of these applications. That means there likely is often still some processing to do until a final decision is reached.
This implies that our first table –even though we adjusted all processing times upwards by several months to account for delays due to COVID-19 – is far too optimistic, unfortunately.
The first thing to point out here is that this is a temporary situation, as severe as it seems right now.
The next question to ask, however, is how quickly processing times will return to pre-COVID levels. This is an issue that has even resulted in protests by spouses who have been waiting for years. Now, while those cases represent a small fraction of overall sponsorship applications, they demonstrate, along with the late March 2021 release mentioned above, that IRCC is aware of the problem and hopefully will be trying their best to shorten processing times.
Assuming there isn't another widespread upsurge of COVID cases worldwide, it is reasonable to assume that travel and other restrictions will continue to be lifted over the second half of 2021. Once things return to a fairly normal level, our best estimate of processing times, based on the available data is as follows:
As crowd-sourcing sites like myimmitracker.com show, even into early 2020, it generally took about 2 months between the date a sponsorship application package was received and the date the sponsor was approved. Once COVID restrictions are lifted and backlogs at IRCC are worked out, this time frame (2 months more or less) for sponsor approval should return.
Further, processing times for inland applications should return to their previous range. This has tended to range between as little as 6 months to around 18 months.
We can refine this range a little based on what our consultants at Immigroup have experienced over the years and break down the range into 2 sub-groups:

Inland spousal sponsorships that take from 6 months to 12 months: these cases have historically represented the majority of cases – up to perhaps two thirds of inland sponsorships, a little over 60% of cases.
Inland spousal sponsorships that take from 12 months to 18 months: these cases have usually accounted for about a third of total cases, around 30 to 35% approximately.
In other words, post-COVID, you will still occasionally run the risk of having to wait over a year for your sponsorship application to be processed.

For overseas sponsorships, you should add a couple of months to the process, especially at the long end where cases can sometimes run to 2 or more years.
You're likely asking: what other factors can slow down my spousal sponsorship application, aside from inland vs. Overseas?
The time of year you file your application can actually make a difference. For example, in late August and early September, international students (a key and growing component of Canadian post-secondary student bodies) are arriving in Canada on study permits and sometimes also on work permits which have to all be processed. So this is a busy time of year.
How efficient and well-staffed the diplomatic mission in your sponsored spouse's home country or country of residence is can also affect your processing time. For example, try this tip. Call up the Canadian diplomatic mission in your spouse's home country and see how long it takes for them to respond and/or get back to any email request you also send them. This will be an indication of what kind of process you can expect to face with a full-blown sponsorship application.

There can be a number of reasons why a diplomatic mission is inefficient. They may have a lower budget and less trained personnel to deal with family immigration programs than other missions, or they may simply have other priorities.
They may have a larger number of sponsorship applications and other immigration applications to deal with.
The home country's bureaucracy may take longer to produce additional documents or extra information requested by IRCC officials.

Another cause of delays is security risks which may be considered more of a problem in some countries and result in more rigorous checking of documents and information regarding your sponsored spouse.
And finally, you may just have had the bad luck to have your case reviewed by a poorly performing IRCC official who makes mistakes and/or has doubts and keeps asking for more and more information in order to finally make a decision. But don't assume this is usually the case. It does happen occasionally, however.
Worried about processing times?
Here's a tip to speed it up. Have Immigroup review your application and help you put together a complete and accurate application package that will be approved for processing and processed far quicker than one that requires re-filing due to incomplete or inaccurate supporting documents.
Also, keep in mind that even if your spouse is currently visiting you in Canada, you can still file their sponsorship application overseas at the Canadian visa office in your spouse's home country. This way you can take advantage of the possibility of appeal if necessary. But, if your spouse is selected for an interview as part of their sponsorship application, they will have to return to their home country to meet with an immigration officer at the Canadian visa office.
This brings up the question of when the best time is to apply for a visitor visa for your spouse if you are applying overseas (Family Class) and you want your spouse to visit you in Canada. After you submit your application, you'll first receive an email confirming the application is complete and that processing will begin. Then you'll receive notice that the sponsor has been approved and finally you receive final approval of the spouse. A good idea is to wait until the first-stage approval (the application package is complete and is being processed) before applying for a visitor visa for your spouse. You might even consider waiting until you are approved as a sponsor.
You should note that if you are applying under Family Class (overseas application) and your partner is visiting you in Canada and IRCC requests an interview with your spouse, then they will have to travel back to their home country to do the interview.
If your spouse is from a visa exempt country, one benefit of the inland spousal sponsorship stream is that your spouse can come stay with you in Canada while the application is processing, and then they never have to leave if the application is approved. Also, when the inland sponsorship application is approved in principle, your spouse can apply for an open work permit and then get their SIN number and health card before the final approval is issued for the sponsorship application. (For more information on the difference between open and closed work permits, click here.)
An issue often raised with inland applications (Spouse or Common-law Partner in Canada Class) is whether your spouse must stay in Canada throughout the application process. IRCC does indicate at their website that there is a risk if they leave Canada during the process, then they may sometimes not be allowed back in, seeing they were in Canada on a temporary permit (visitor, work, or study). How true is this?
If your spouse has a valid reason – like travel for work or a family emergency – then they are usually allowed back in as long as their time outside Canada is relatively brief, a couple of weeks generally.
However, if your spouse is on implied status, they will have to reapply for a work permit (if they had one) when they return to Canada.
Please note that if your spouse no longer has legal status, they should try to remain in Canada until their inland sponsorship process has been completed.

PLEASE NOTE: While an inland/Family Class sponsorship application is being processed, your spouse/partner cannot be deported even if they have lost their legal status. That can only happen when the application has been rejected, and the sponsorship application process has been concluded.
However, with an overseas/Spouse-in-Canada Class application, if your spouse is visiting you in Canada (see below) they must have legal status, or they will have to leave Canada.

If your spouse is refused re-entry to Canada, then your inland sponsorship application will also be refused. This means that you'll have to unfortunately start all over again and file an overseas (Family Class) sponsorship application.
Likewise, if your spouse applied for a visitor visa to Canada and was refused, you have no choice but to file the overseas sponsorship application (Family Class).
You should be aware that a refusal of a visitor visa for your spouse/partner means that your overseas sponsorship application runs a greater risk of being refused as well.
Whether your spousal sponsorship application is submitted overseas or inland has no effect on the chances of approval. The application fees and requirements are also the same for both types of sponsorship applications.
What was your sponsorship experience? Why did you choose to file inland or overseas? Please share your experiences with us!