IRCC Processing Times: immigration, passports, and documents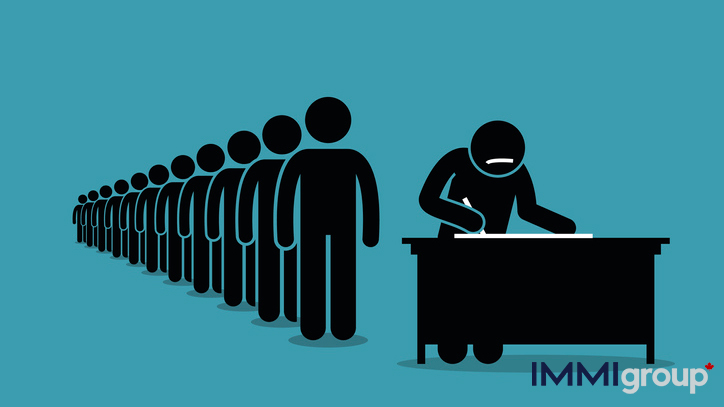 IRCC processing times: Immigroup has gathered together all the information you need to get a reasonable take on how long your application will take. Plus, we've added a helpful tips to make sure your application doesn't end up getting unnecessarily delayed, see the trend if your application is getting better or worse, along with some FAQs, templates and tips. 
Full List of IRCC Processing Waiting Times – UPDATED

August 2023
We'll be updating our IRCC/CIC waiting times list on a monthly basis, so we'll be adding information on how these application timelines are changing over the months and years ahead. Be sure to check back with us to see how these Immigration, Refugees and Citizenship Canada processing times are changing. The indicators are as follows:
↑ application times have increased since our last update (getting worse).
↓ application times have decreased since our last update (getting better).
↔ processing times have stayed the same since our last update (no change).
In other words, don't just look at the number of weeks, look at the trend as shown by our indicators to get a sense of how long your application will take. And it's important to note that these official application times do NOT include the following:
Giving biometrics
Being requested to attend an interview
Mailing or courier delivery times – for paper applications only
Communicating with Immigration, Refugees and Citizenship Canada about additional documentation or other missing information
It goes without saying that these factors can add weeks or months to your waiting times.
Temporary Residence

Visiting, Studying, & Working – Processing Time
Visitor Visa – from INSIDE Canada (Paper or Online Application)

Online
15 days ↑
Paper
29 day 

↔

Visitor Visa – from OUTSIDE Canada
See our tutorial below
Visitor Visa Extension – Visitor Visa Record (Paper or Online Application)

Online


113 days

↓

Paper
125 day

↑

Super Visa – Parents & Grandparents
See our tutorial below
Study Permit – from INSIDE Canada
3 weeks

↑

Study Permit – from OUTSIDE Canada
7 weeks 

↔

Study Permit Extension

Online
84 days 

↓

Paper
137 days 

↓




Work Permit – from INSIDE Canada (initial & extension application (Open Work Permit/Closed Work Permit)

Online
147 days

↑



Paper
16 days

↑

International Experience Canada (Current and Last Season)

Last Season:
112 Weeks

↑

 
Current Season
11 weeks

↑

Electronic Travel Authorization (eTA) – online
5 to 10 minutes ↔
Visitor Visa

from OUTSIDE Canada – KEY COUNTRIES PROCESSING TIME
Bangladesh
49 days

↓

Brazil
55 days

↓

China
57 days

↑

Germany
160 days 

↓

Ghana
177 days 

↓

India
29 days

↓

Iran
68 days 

↓

Kenya
281 days

↑

Malaysia
47 days 

↔

Nigeria
514 days 

↓

Pakistan
46 days 

↓

Philippines
42 days

↓

Saudi Arabia
707 days

↓

South Africa
49 days 

↓

Sri Lanka
35 days

↓

UAE
87 days 

↓

UK
285 days 

↓

Click here for full list of countries
Need help using the system – watch video here
Click here for Study Permit Course
Click here for Visitor Visa (TRV) Course
Click here for Super Visa Course
As we work through the multitude of immigration application processing times below, keep in mind that if your individual country is not in one of our Key Countries Tables, you can follow the steps in the tutorial below to get the waiting times. Just be sure you choose the right type of application from the drop-down menus at the Immigration, Refugees and Citizenship Canada processing time Canada page.
We'll look at Super Visa processing times for key countries next:
Super Visa

KEY COUNTRIES PROCESSING TIME
Bangladesh
314 days

↑

Brazil
121 days 

↓

China
103 days 

↓

Germany
 129 days 

↓

Ghana
700 days

↑

India
52 days

↓

Iran
174 days 

↓

Kenya
304 days

↑

Malaysia
129 days 

↓

Nigeria
180 days 

↓

Pakistan
190 days 

↓

Philippines
193 days 

↓

Saudi Arabia
681 days

↑

South Africa
119 days

↓

Sri Lanka
130 days 

↓

UAE
393 days 

↓

UK
423 days

↑

Click here for full list of countries
Need help using the system – watch video here
Now let's look at Economic Immigration which is what we call any program that gets you permanent residence status as a foreign worker or manager/owner living in Canada. Here are the processing times:
Click here for Super Visa Course
Economic Immigration

  Processing Time
Atlantic Immigration Pilot

Atlantic Immigration Program

32 months ↑

5 months

Canadian Experience Class

Online
4 months

↓

Caregivers

Home Childcare Provider Pilot

24 Months or more
Less than 24 months

Home Support Workers Pilot

24 Months or more
Less than 24 months

Provincial Nominee Programs

Online Via Express Entry

9 months ↓

NOT online via Express Entry – haven't applied yet
18 months 

↓

Self-employed Persons
Federal program
50 months

↑

Quebec Business Class
64 months 

↓

Skilled Workers (Federal)
Online Via Express Entry
6 months

↓

Skilled Trades (Federal)
N/A
Skilled Workers (Quebec)
20 months ↔
Start-up Visa
37 months

↑
Family Sponsorship is our next group of immigration processing times. Take a look at the following table:
Family Sponsorship

  Processing Time
Spousal sponsorship
Spouse or partner inside Canada

In Quebec

Outside Quebec

26 months

11 months 

Spouse or partner outside Canada

Inside Quebec

Outside Quebec

24 months 

14 months 

Sponsoring Dependent Child
Click here to check government stats or
See table below
Sponsoring Parents and/or Grandparents

Inside Quebec

Outside Quebec

45 months

23 months

Sponsoring Adopted Child/Other Relative (currently N/A for any country)
Check Govt. Stats
Click here for Spousal Sponsorship Course
Click here for Parental Sponsorship Course
Let's take a look at IRCC processing times for Sponsoring a Dependent Child for Key Countries. While the government webpage does not yet have available data for many countries, you do have a few countries for which we have data for sponsoring dependents children, including the following countries:
Family Sponsorship – Sponsoring Dependent Child – PROCESSING TIME FOR KEY COUNTRIES
China
21 months

↓

Ghana
N/A
India
16 months

↓

Nigeria
15 months

↑

Pakistan
N/A
Philippines
12 months

↑

Click here for full list of countries
Need help using the system – watch video here
Government-assisted

Refugees

  Processing Time
Iraq
N/A
Jordan
32 months

↔

Lebanon
26 months 

↓

Niger

32 months

Rwanda
36 months

↓

Turkey
6 months 

↓

Privately sponsored Refugees  Processing Time
Jordan

Sponsorship application: 8 months 

↓

Refugee application: 25 months 

↓

Lebanon

Sponsorship application: 8 months

↑

Refugee application: 27 months 

↓

Turkey

Sponsorship application: 16 months

↑

Refugee application:18 months

↓

UAE

Sponsorship application: 17 months 

↓

Refugee application: 48 months

↑

Protected persons & Convention Refugees (in Canada) – Processing time
24 months 

↔

Humanitarian & Compassionate cases – haven't yet applied
20 months

↓

Click here for full list of countries
Need help using the system – watch video here
It's interesting that countries like Haiti, Syria, or Venezuela do not have processing times for government-assisted refugees, but Turkey does. As the data changes and processing times evolve these numbers will change, so please check back with us. Next comes refugees where processing times are often unavailable. However, there a few countries that do result in waiting times. As you can see below, they are usually around 2 years or more, sometimes much more.
In the next table, we'll look at Passport and Citizenship applications.
Passport

Processing Time (Canadian) 
Urgent pick up of passport
End of next business day
Standard pick up of passport
10 business days
Express processing
2 to 9 business days ↔
Regular
In person
10 business days ↔
By mail
20 business days ↔
Travel Document
Emergency
20 business days ↔
Regular
20 business days ↔
Addition of Special Stamp
20 business days ↔
Certified True Copy of a Travel Document
10 business days ↔

Citizenship

Processing Time
Citizenship Grant
19 months

↓

Right of Citizensip

______________________________________________

Citizenship Certificate

For expedited processing timelines, please contact IRCC or you can use a paid Immigroup service.

10 months

↓

Resumption of Citizenship
30 months

↔

Renunciation of Citizenship
14 months

↔

Search of Citizenship Records
15 months

↓
The next table deals with Permanent Resident card processing times as well as processing times for replacing and amending documents and verifying status. Under permanent resident cards the two rows with waiting times are each a response to the question in the second drop-down menu at the government page.
Permanent Resident Cards

  Processing Time
Did you submit a PR card application or solemn declaration?
Yes, I am renewing or replacing my card, or I sent a solemn declaration

For expedited processing timelines, please contact IRCC or you can use a paid Immigroup service.

95 days

↑

 
No, I am waiting for my first card
29 days 

↓




Replacing or amending documents, verifying status

Processing Time

For expedited processing timelines, please contact IRCC or you can use a paid Immigroup service.

Verification of Status
21 Weeks

↔

Replacement of valid Temporary Resident Documents
8 weeks

↑

Amendments of immigration documents
26 weeks

↑

Amendments of valid Temporary Resident Documents
7 weeks

↑
International Passports from Canada
U.S. Passport Renewals from Canada
In person
4- 6 weeks
By mail

8-11 weeks regular
5-7 weeks expedited

British Passport Renewals from Canada
By mail
6-7 weeks
First British Passport (expired over 5 years or by descent)
By mail
14+ weeks
Why is my immigration application taking so long?
This could be for a number of reasons, especially given the backlog of applications as a result of COVID restrictions and reduced IRCC personnel in their processing centres. This should get better over the next weeks and months, but patience is still required.
Let's run through some of the non-COVID reasons your application might be taking longer than expected.
1. Type of Application
Go back and look at the processing times for different types of immigration applications. What do you notice? Yes, that's right. There's a clear difference in processing times depending on the type of application and the complexity involved.
Clearly, if you submit a Spousal Sponsorship application involving up to around a dozen forms and numerous documents for both the Sponsor and the Sponsored Spouse – as well as any dependent children that are being sponsored – then processing all that information is going to take a much longer time – often over a year and even close to 2 years in some cases.
A Visitor Visa for a single adult professional, on the other hand, will be processed within a couple of months – although it might take up to 5 months in some cases.
Within the Economic Class of applications, you have sizable differences in process time.
A skilled worker applying through Express Entry might have their PR visa within 6 months, but a self-employed person looking for a PR visa faces a wait of almost 3 years! Clearly, you have a lot of convincing to do if you want to be allowed into Canada as a self-employed person. An investor who meets the stringent financial requirements that most provincial immigration programs for investors demand would seem to be a no-brainer. However, even there, you can face enormous delays as immigration officials and provincial bureaucrats use a fine comb to sift through every bit of documentation you send them. A Quebec Business Class applicant, for example, can face waiting times of up to 6 years! In other words, they don't really want you to apply.
And of course, refugee as well as humanitarian/compassionate cases start around 2 years (sometimes less but not often) and can take over 3 years in some cases. This is often due to the lack of reliable documentation arising from the type of conflict-laden environments that refugees tend to come from.
Finally, some types of immigration applications have a higher demand, in other words more submissions like applications for Permanent Resident cards so you need to factor that in when trying to see how long you'll have to wait.
2. Incomplete Applications
We all like to feel we're competent, intelligent people who can handle a little paperwork and submit a reasonable application. But all it takes is a few missed fields in an IMM form, or forgetting to submit that medical exam, or submitting a document that hasn't been translated and certified, to end up delaying your application by weeks or months. And it happens much more than you might think.
At Immigroup, we've found that around two-thirds or 67% of all applications initially sent to us are missing documents.  Think about that. 2 out of 3 initial applications are missing information needed to present a complete application. As a result, you end up having a back-and-forth series of emails with IRCC that can sometimes add well over a month PER MISTAKE. In our 20 years of business, that's just been part of the reality of helping people put together a winning submission. To err is definitely human, but it means having to wait weeks, or even months.
3. Response Time from Applicant
As a result, if you do find you have to provide additional information or documentation to IRCC you MUST respond as QUICKLY as possible. Delaying getting that information or document means leaving your whole application process at a standstill. And long delays might even raise suspicions on the part of the immigration officers in charge of your file, leading to requests for further information and documents. That's a rabbit hole you don't want to go down, if humanly possible.
Remember, by not responding quickly to any and all requests from IRCC you're adding even more time to what is already a month or more of delays.
4. Applications Already Received versus Applications Not Yet Received
This is a strange one, but it keeps popping up, so to speak, in the government's  web page. There seems to be a trend where if you have already applied you tend to face longer waiting times than if you haven't yet applied. This could be due to COVID backlogs and how applications that have sat in understaffed processing centres tend to take longer than recently submitted ones that get processed by fully staffed centres.
Though it's often hard to tell what government priorities are at any given time, clearly a major refugee or humanitarian crisis impacts their overall capacity and might slow down applications in some other areas if they need to move personnel around to deal with that crisis. As well, governments change and when a new political party takes power, priorities coming from the ministerial level can and do often change.
However, given the constant changes to rules and restrictions the list of exempt people is getting longer and harder to follow every day as restrictions are lifted at the same time that new ones are added. If you feel like wading into that swamp, go here to see a list of 18 categories of exempt people whose applications are supposedly being prioritized. If you're not on that list, that probably means your application has had to take a back seat to those for exempt people. By the way, here's a friendly warning. In a month that list of exempt people will be out of date.
To find out more about checking your application status, just click on the link in item 2 in the first Frequently Asked Questions (FAQs) below: My application is being delayed. What can I do about it?
5. Ease of Verification of Documents
One of the key things immigration officials do is verify that the information in any document is accurate. How easy that is depends on a few factors. For example, if the document in question was created decades ago, the information needed to verify it might be on microfiche and take a long time to locate to enable verification.
As well, forgeries are a problem in various locations around the world and goverment officials are more likely to require additional information to confirm documents from those countries. Often these countries might have paper-based information storage systems and somewhat sloppy record keeping, making verification of any information a challenging task.
There is an additional problem that can be a bit of a nightmare for both the applicant and immigration officials. Can you guess what it might be? Two applicants (or two people who have the same type of document) with nearly identical personal information. For example, the same last name and the same birthdate, and very similar first names. This has happened in some notorious criminal and spy cases, but even in the somewhat less dramatic area of document verification it can and does occasionally happen.
So, if any of these verification problems occur with an application, immigraiton process time will inevitably be longer.
FAQs
Why is my immigration application is being delayed. What can I do about it?
In the first place you can track your application by logging in, so click here.
As well, you can also read an article called Tips and tricks for checking your IRCC application status.
If you have logged in and you are able to see your status of your application, this is a good sign
If you have logged in and see your status but the government is requesting addition information from you, this will delay your application as we explained above. If other mistakes are found more delay can be expected.
If you have logged in and can't see anything about your application, then you can assume it's sitting in the mailroom at the government location. It's normal for your application to sit in the mailroom for up to 50% of your total processing time. In fact, here's what government says at their website regarding this:
Your status will only show once we start processing your application. There's a delay between the date we receive your application and the date we open and process it.
Please Note: Courier tracking information will not help the government track down your application within Canada. Outside of Canada in the case of a less busy diplomatic mission, courier tracking information can be helpful.
My application has been returned. What should I do?
Read the template response the government sent you carefully. These templates are generic so take your time to research the question on the internet.
If you are still not clear, sign up with Immigroup Forum or Canada Visa form and post your question. You should get a community-based answer – in other words several opinions from people who have been through the application process themselves and which might contain some useful information.
If that does not work, you can request Immigroup to help you with a paid consultation service. Note: If your application is one with a lot of documentation (for example: a Spousal Sponsorship) you can expect more delays with more requests for information from immigration officials. As we mentioned before, that's something you should do your best to avoid.
Can I speed up the processing of my application?
Tip: If you log in and see that your application is still not on the system and your situation has changed, and you need something processed quickly here's a useful hack you should consider trying.
If the application allows urgent processing, you can send a second application with the request of urgency on it. As long as you do your homework and everything is in order, the recently sent application (the one you mark Urgent on the envelope) will get processed faster than the first. As well, don't worry about when official finally open your first application. What will happen is that the government official will see you have already been processed through the urgent application and will then simply refund you for your first application and not process it. Your second, urgent application is the only one that will be processed, saving you time and frustration.
What are the criteria for an urgent application?
The answer depends to a certain extent on the type of application for which you are requesting urgent processing, but let's start with some basics. If you're going to request urgent processing, you need to do the following:
Submit all documentation proving the urgency
Follow government instructions to clearly indicate your application is urgent.
Following these simple steps, you stand a good chance your application can be accepted for faster processing. Now let's look at immigration guidelines for urgent processing for a few types of applications.
Permanent Resident Card – urgent application. You'll need the following:
Proof of travel which means a copy of your ticket and/or itinerary showing your flight is already booked.
Copy of your payment Receipt showing date, amount paid, and payment method
Letter of Explanation detailing the reasons why your request is urgent (for example urgent business or family reasons for travelling)
Proof of urgency which means things like: a copy of a doctor's letter; or a notification of death in the family; or an employer's letter stating the necessity of urgent travel on your part.
Citizenship – Proof of Citizenship, Search of Citizenship Records for Canadians, Resumptions & Applications for Grant of Citizenship – Urgent Processing. You need to show or prove one the following:
Death or Serious Illness in the family
Loss of employment unless have document proving they are a Canadian citizen (for permanent residents who have lived in Canada for at least 1095 days OR for Canadian citizens lacking proof of citizenship)
Delayed application due to Administrative Error
A citizenship application that has had a Successful Appeal to the Federal Court
Your citizenship application needs expedited (fast) processing to avoid harm to yourself (for example, renouncing foreign citizenship and being left in limbo with no citizenship until you finally get your Canadian citizenship)
Applicant needs Canadian citizenship certificate to access benefits like pensions, Social Insurance Numbers, or Healthcare plans.
Work Permits – Urgent Processing. You need to show the following or similar situations:
Foreign medical doctor working in Canada who is relocating to another province and will be thus working for a different employer (the provincial health plan in the province they're moving to)
Foreign worker travelling for – urgent business; or death/serious illness in the family
Foreign worker who has been detained (arrested) and is being released back into the community under the following programs – Alternatives to Detention Community Case Management & Supervision or CCMS which is run by the Canadian Border Services Agency (CBSA).
However, there are other situations where even if your application doesn't usually allow for a request of urgency, you can still make a request. This is called a dual-purpose application. Let's go through two examples: one involving a good case where you should do this, and the other a bad case:
Jenna was born in the United States, but her father lives in Canada. Jenna is planning to start university in Toronto in 5 months, but with a study permit, this type of application takes much longer. She can make the request for urgent processing by submitting the right documents and clearly making her case. Urgent processing requests can prove useful in this type of situation, given the timelines she's facing as an international student.
Philip, on the other hand, would like to file a spousal sponsorship application but does not want to be separated from his spouse for over a year which is how long a Spousal Sponsorship application normally takes to process. A request of urgency would not work in this situation, given that Philip's request is not based on an institutional deadline the way Jenna's is.
Tip: You need to understand that the BEST way to speed up your application is by sending a perfect application. The way you need to look at this is is to realize that on average at least 1/3 of the immigration applications an official is looking at are INCOMPLETE. As a result, a line of communication will need to be opened with the client.
Not only that, at least 1 out of 10 of all application are a total disaster. At the other end of the spectrum, only 15% of applications are perfectly compiled. You need to be in that 15% group, vying for an overworked and understaffed government official's attention. Your application should say: Pick me up! I'm super easy to process. Here's how you do that:
Cross your t's and dot your i's. In other words, no errors, not even something like spelling your name incorrectly which can derail an otherwise complete application.
Have supporting documents which are legible and clear so it's easy to read them and verify them. That means getting an accurate and certified translation if necessary.
Always read the government instruction carefully.
If you application is lengthy or not straightforward because of your complex situation, include a clearly written summary letter. This will give an overview to that overworked government official and make your application easier to verfiy and process.
Always make sure you have duplicated your entire application, including supporting documents. In other words, make copies (certified if possible) of everything for your records and for possible requests later on in the application process.
If you are still unsure or this application is important to you and you need help, Immigroup offers a Review my Application service, Click here to learn more.
How to request an update from a Canadian diplomatic mission/embassy?
This is key. You need to provide your request in a logical easy-to-read format so the official at the embassy/diplomatic mission understands exactly what you're looking for. Here's a template to guide you through that process and help you put together the kind of request that will get results for you:
Here's a sample request letter sent to the Canadian Embassy in Milan:
There's a few things to note about the request letter shown above.
In the first place, the person writing the request clearly identifies themselves at the beginning and at the end of the letter, along with a date.
Next, they give a description of what they are applying for (spousal sponsorship) and what they need updated (in this case, records of her visits to Canada which apparently have been lost by IRCC's computer system).
Finally, they provide their work email and phone numbers for contact purposes (as well as their home email and phone at the beginning of the letter).
You should always date and sign your request letters and organize the information in an easy-to-read way that tells your story – including what you are requesting – in a concise but sufficiently detailed way.
You should notice we've left blank who the letter is written to. You should try and research who at the embassy/consulate might be reading your letter and address it to them, including the full address of the embassy/consulate as well, of course.
Do you still need some more help? Here are some more FREE and Paid options:
FREE: Call Immigraiton, Refugees and Citizenship Canada, call center. You can expect a 40-minute delay before speaking with someone. For people outside of Canada, read this article to help you get through the process of dealing with government call centres.
FREE: Join a free community-based forum, just search for the keywords 'Canadian immigration forum' and post your questions. A good trick is to see if you can get the same answer at least twice. That's the kind of response that you should take note of. Here is an immigration forum you can join.
FREE: Calling or emailing someone in the immigration industry rarely works. Most of the time you will just be asked to pay up front for a consultation. For example, Immigroup gets at least a few hundred questions emailed to us every month or so. We obviously can't answer all those requests for free advice, but we do have a paid service to help you. See below.
FREE: Email Immigraiton, Refugees and Citizenship Canada. This rarely works and if you do get an answer from the government, they are usually templated.
FREE: Email or Fax a Canadian diplomatic mission. This option depends on how well-managed the mission is; on how busy the mission is; and on how you send your request. If your request is professionally written, it will be taken more seriously. See our template above.
FREE: Speak to your local MP. The rule with MP is they will always say yes but they are limited as to what they can do. This option is always worth a try but at Immigroup, we see too many people thinking that because their MP wrote a letter, their situation has been resolved. At best, the MP option works 1 out of 10 times. Please keep that in mind if you do write your MP.
PAID: Get Immigroup to take over your file. Coming soon…
PAID: Get Immigroup to review you application. Click here to learn more
PAID: Get Immigroup do the entire process for you. Click here to find out if we offer this full service for the type of application you need help with.
Deep dive into IRCC's Process time web page:
For those who don't mind diving into government websites, here's our tutorial on how to look up the processing time for any given application.
So, let's see how to use IRCC's application waiting times webpage to get visitor visa and any other application timelines for individual countries:
Click here to check out the government system processing times. You'll see the following:
From the three drop-down menus:
Select: Temporary residence (visiting, studying, working)
Select: Visitor visa (from outside Canada)
We've selected Bangladesh as our country
Click on the grey Get processing time button. This is what you should see next: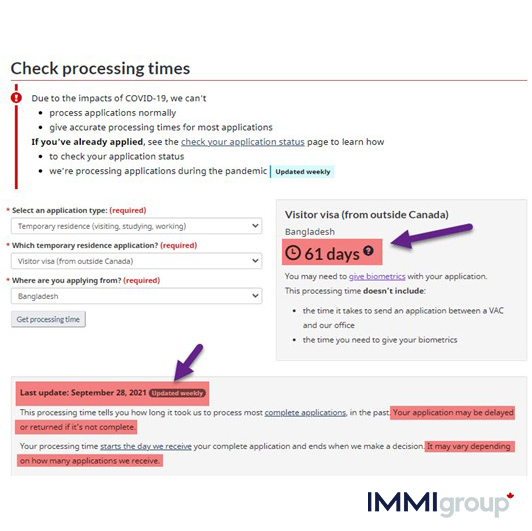 There's a couple of things to note. As we mentioned previously, biometrics and mailing or courier time (the time for a VAC to send your application to a processing centre in Canada) is not included. As well, incomplete applications will ALWAYS result in additional delays.
Finally, note that these times will be updated on a weekly basis, so you should always check back on a regular basis before you submit your application and even after you submit your application to get a realistic sense of what your timeline might be.
So, with this brief tutorial in mind, you can now better understand the Immigration, Refugeees and Citizenship Canada, processing times for Visitor Visas listed above for some key countries for immigration to Canada.
Let's now dive into the details of refugee application processing.
With Refugees, you often get No processing time available (N/A) due to the difficulty in predicting refugee flows which can vary tremendously in terms of when and where refugee applications might originate from. For example, consider Afghanistan. If you follow our tutorial just above and choose refugees in the first drop-down menu at the government webpage, and then choose government-assisted refugees in the second menu and select Afghanistan as the country you'll see the following image: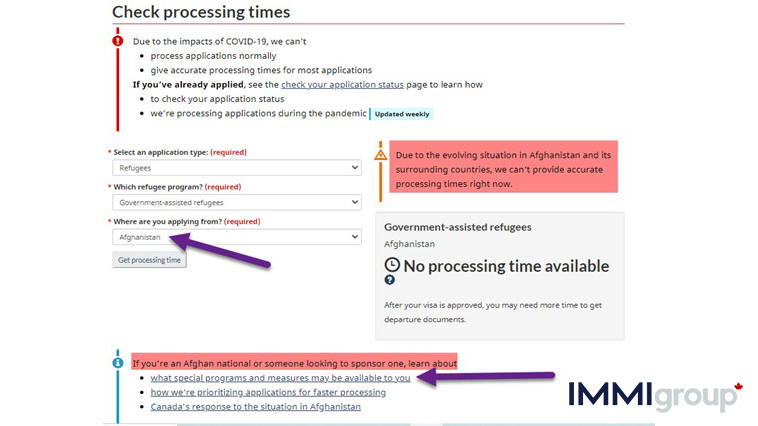 There are a few key take-aways from this page:
You won't get a processing time estimate for government-assisted refugees given the situation in Afghanistan and this also applies to refugees from neighbouring countries like Iran, for example.
However, if you click on the links at the bottom of the page, you'll get more information. For example, clicking on the first link that we point to gets you to this page which has a survey you have to answer: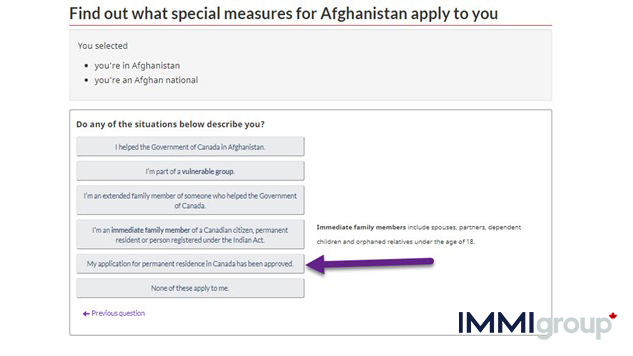 If you choose My application for permanent residence in Canada has been approved, it takes you here: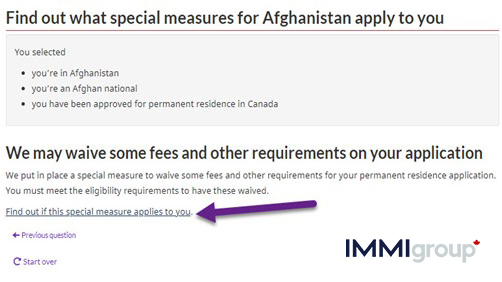 This takes you to a special IRCC page dealing with the situation in Afghanistan and how Canada is providing services to people in Afghanistan or from the country who are trying to get to Canada.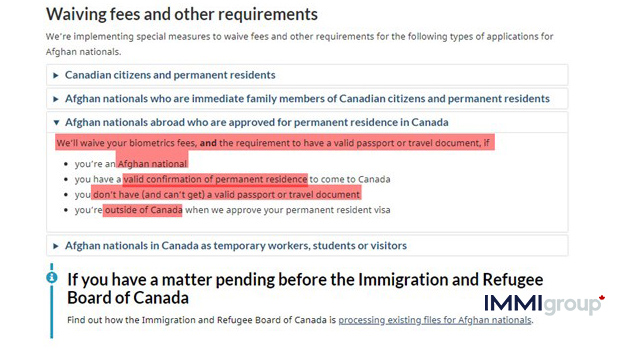 As you can see, Afghan refugees may be eligible to have fees waived, have their Confirmation of Permanent Residence (COPR), and not require a valid passport IF they have already been approved for permanent residence in Canada.
However, waiting times for Afghan nationals are not given.
This is clearly a special circumstance given the conditions in 2021 in Afghanistan. In the case of some other countries, you do have waiting times for a few of them. They tend to be areas in or near zones of conflict and most are in the Middle East. But Afghanistan is good example to show that processing times for Refugees is a long-shot guess in most cases.