Who Needs a NEXUS Card and Why?
Enrolment in the Nexus Trusted Traveller Program is available to citizens and permanent residents of Canada and the US. Having a NEXUS card will enable you to clear customs more quickly as well as offering additional benefits.
NEXUS Card holders can
Use designated self-serve kiosks when exiting certain international airports;
Get pre-cleared by phone for arrival at a marine port of entry;
Use designated security lines at domestic airports;
Use Global Entry kiosks in US airports.
Average processing time for NEXUS Card: 20 business days
Mistakes made by Immigroup per 100 applications: 0%
Mistakes by general public per 100 applications: %
Missing information or incorrectly completed applications are denied. More info
We have a qualified team of border crossing specialists
6 month – card replacement guarantee
Eligibility
You must be a citizen or a permanent resident of either Canada or the US.
You must pass all criminal background checks. Very few applicants with past criminal activity are approved for enrollment in the Nexus program.
The program is open only to permanent residents who have resided in the US or Canada for the past three years. Permanent residents may be eligible to waive this requirement under certain circumstances.
Meeting all of the above requirements does not guarantee you will be issued a Nexus card. You must go to an interview and be approved by both the Canadian Border Services Agency and the US Customs and Border Patrol (CBSA and CBP).
The process of obtaining a NEXUS Card:
Please note that this process takes anywhere between 2-3 months, involves preparing your application, collecting all supporting documentation, obtaining an interview date with the nearest enrollment centre and attending that interview. There are three stages:
Submit your application online or by mail (online recommended) - 1-3 months
Attend your Interview - 1-30 days
Receive your NEXUS Card - 10 calendar days
Step 1: Applying for Your NEXUS Card
There are two ways to apply for your NEXUS Card, by mail and online. We strongly recommend applying online; paper applications can take weeks or months longer and there is no way to check your status.
Step 1.1: Applying by Mail for Your NEXUS Card
We strongly recommend submitting your application online or, if you are unable to use the computer, hiring a private company to handle your NEXUS application. Immigroup will assist you for a fee.
Complete the application in your browser or print it off and complete it.
Print off the application if you haven't already
Sign your NEXUS Card application.
Gather copies of your proofs of citizenship and admissibility to each country
Mail your application to the appropriate address:
Residents of the United States and Canada, except for residents of Quebec and the Maritimes:
NEXUS Program Canadian Processing Centre
6080 McLeod Road
PO Box 126
Niagara Falls ON L2E 6T1
CANADA
Residents of Newfoundland and Labrador, New Brunswick, Nova Scotia, Prince Edward Island and Quebec
NEXUS Program
400 Place d'Youville
Montréal, QC H2Y 2C2
CANADA
If you mail your application to the above address, there are two potential issues:
In Immigroup's experience, mailing in your application instead of submitting it online can add weeks or months to the processing time
There is no way to track your application process.
If you must mail your application, or fax it, we suggest using a private company who will submit it online for you after receiving it by mail or fax.
Or just use the online system:
Step 1.2: Applying Online for Your NEXUS Card
Please Note: The process for applying for your NEXUS Card online has recently changed.
Step 1.2.1: Creating a login.gov Profile
Regardless of citizenship or residence, all applicants for NEXUS Cards now need to create a login.gov profile. To do so, you must do the following. Be sure to have an email address that is accessible and a cell phone.
Go to login.gov
Enter your email address
In your email inbox, open the confirmation email and confirm your email address
Input your cell phone number
Once you have received the access code, enter it
Copy your unique code, preferably to a text editor or word document
Paste the code into the field
You now have access to your login.gov profile.
You need this profile to access the new Trusted Traveler Programs (TTP) website.
Step 1.2.2: Completing Your NEXUS Card Application
The online NEXUS Card application is now submitted through the Trusted Traveler Programs (TTP) website. Once you have your login.gov profile, it is a multiple step process to complete the application:
Step 1.2.2.1:  Go to ttp.cbp.dhs.gov
At the homepage, you will need to select your situation: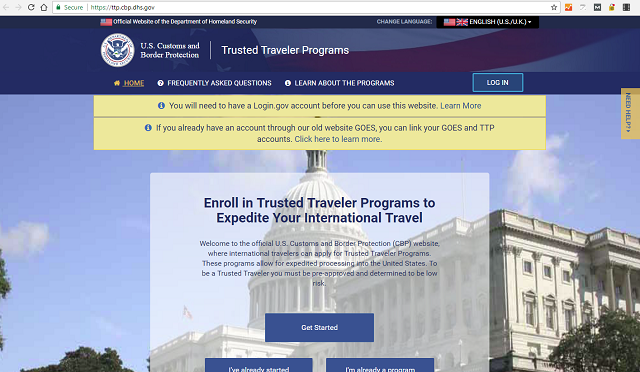 If this is your first NEXUS Card application, choose "Get Started"
If you are coming back to complete your application, choose "I've already started"
Step 1.2.2.2: Give Your Consent:
In order to use the TTP website, you must consent to the sharing of your information with various government agencies of both the Canadian and the US governments.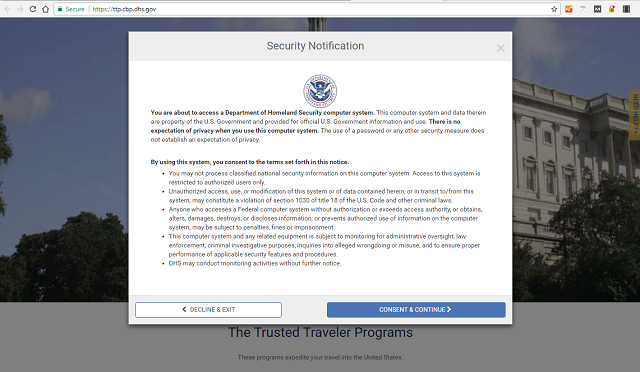 Step 1.2.2.3 Review the Steps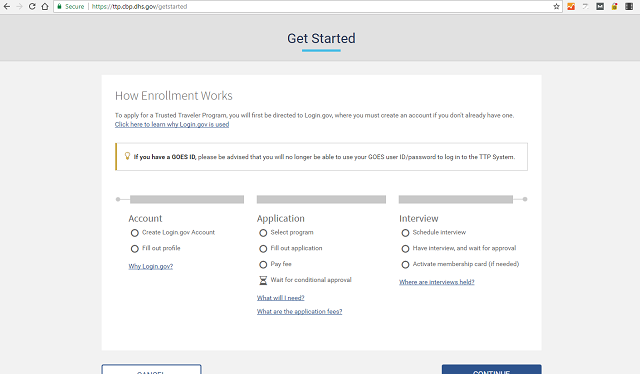 The new TTP system is much better at giving you an idea of the entire process than the old Global Online Enrolment System.
Step 1.2.2.4: Enter Your Personal Information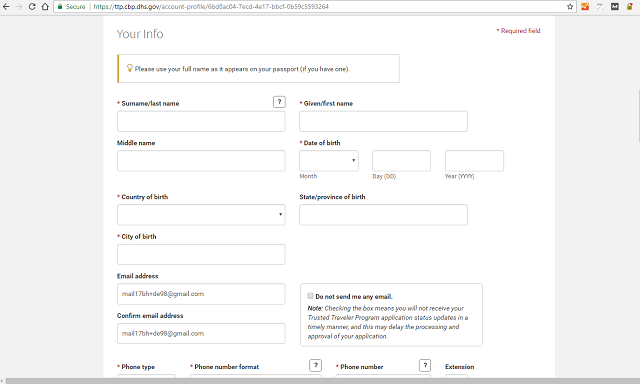 Step 1.2.2.5: Declare Your Previous Application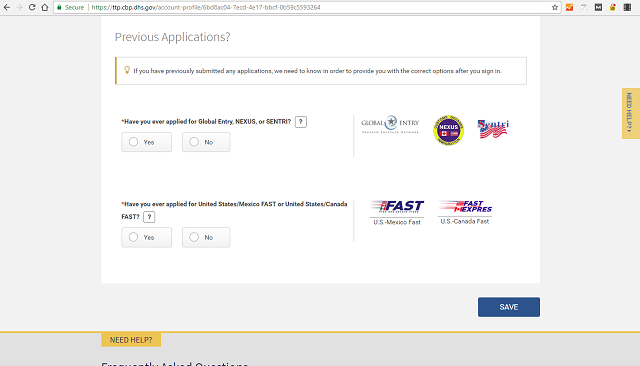 If you were using the Global Online Enrolment System but haven't yet received your NEXUS Card, this is where, you can try to find your previous application here.
Step 1.2.2.6: Confirm Your Information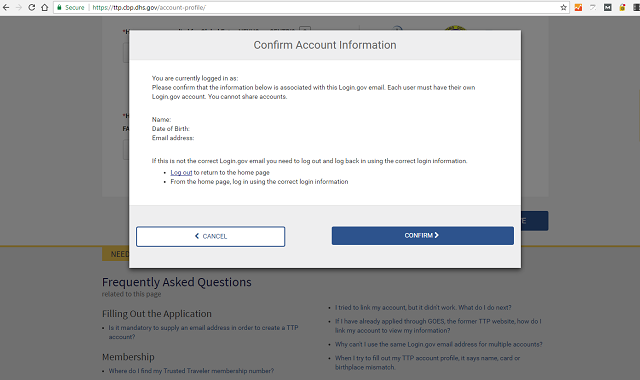 Step 1.2.2.7: Next Steps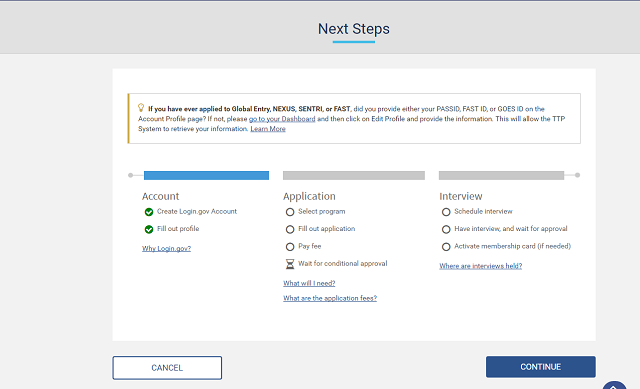 Step 1.2.2.8 Are You a US Citizen
Next, inform the system whether you are a citizen or permanent resident of the United States or neither: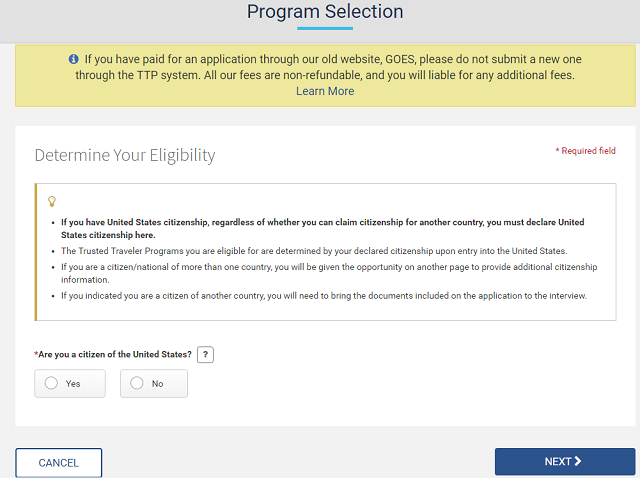 If you say you are not a citizen, the system asks you if you're a permanent resident: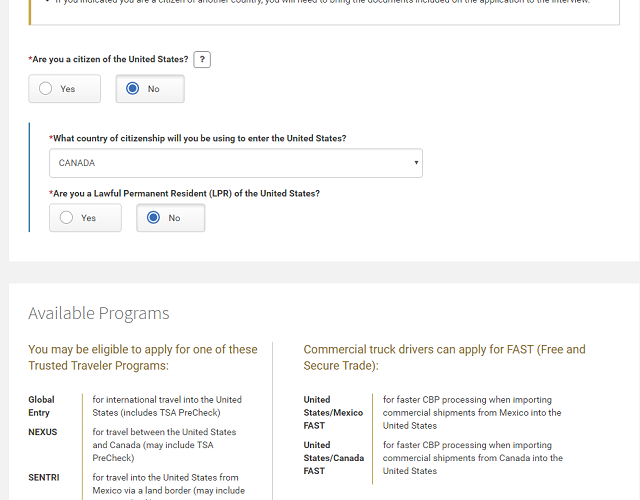 Step 2: Attending Your NEXUS Card Interview
Step 3: Activating Your NEXUS Card
Benefits of NEXUS Card
| NEXUS Program Feature | Benefits |
| --- | --- |
| NEXUS Card | Faster crossing through all Canadian and US ports of entry |
| NEXUS-only lanes at border and NEXUS-only bridge at Niagara Falls | Much faster border crossing times |
| Self-serve customs kiosks at international airports | Ability to proceed through customs much faster |
| Special security lines at domestic airports | Faster clearance through airport security |
| Global Entry kiosks at US airports | Faster clearance through customs and security using your machine readable passport |
| Pre-clearance by phone at marine ports of entry | Faster clearance at ports |
Please note that by enrolling for the NEXUS Trusted Traveler Program, you are giving the US and Canadian government access to your fingerprints and optical biometric information.
Lost / Damaged / Stolen NEXUS Cards
If your NEXUS card has been lost or stolen, you should make a report to a CBSA or CBP NEXUS Enrolment Centre immediately. You can apply for a replacement NEXUS by completing the application process in the same way you applied for the first card – you must complete the full application and attend an in-person interview. There is a USD$25 government fee to replace the card. If you use a representative the cost will be more. 
NEXUS Card Holder Obligations
As a NEXUS Card holder you must
Follow all immigration and customs laws, regulations and rules, as well as any other rules that are enforced by Canadian Border Services and / or U.S. Customs and Border Patrol. This includes:

Abiding by all customs restrictions: You must make sure you are under the duty-free limits.
Abiding by all security restrictions: You must make sure you do not attempt to bring anything across the border or onto a plane that is not allowed.

Use your NEXUS Card for yourself only.
You cannot lend your Card to other people
You cannot bring other people through NEXUS lanes in your car unless they are NEXUS card holders as well
If travelling by car, your vehicle must also be registered with NEXUS to go through the NEXUS lane
You cannot drop people off at the border and pick them up on the other side after they have passed through customs on foot
Understand that your NEXUS Card is actually the property of the governments of Canada and the United States, and not your property. They may confiscate it at any time, for any reason, without prior notice.
Relinquish your NEXUS Card – and any Card belonging to your child under the age of 18 – when you – or your child – cease to be a member of the NEXUS program either because your membership expired or you were asked to return your card
NEXUS Card Appeals
If your application is rejected, you have the following options to appeal:

The first option is to go to the Enrolment Centre nearest you (where your interivew would have been) and request to speak to a supervisor
If you are an American citizen or permanent resident, you have the option to contact the program's Ombudsperson. however because this position only exists within US Customs and Border Patrol, this recourse is only available to American citizens and permanent residents

If your NEXUS card has been confiscated

You should receive a letter stating the reasons for the revocation of NEXUS program membership. You may follow any instructions for appeal included in the letter. Below are general guidelines for appeal procedures. Please note these are subject to change and may differ from case to case.
For Canadians:

Please note there is no formal legislation allowing for appeals to the confiscation of NEXUS Cards. The appeal process is informal and at the discretion of enrollment centre supervisors.
If your NEXUS Card is confiscated by the CBSA (Canadian Border Services Agency) because you violated the rules of the program, you have the right to appeal within 30 days of the confiscation of your card or the receipt of the letter instructing you to relinquish your card: (This is for our reference only: Fh)
If your NEXUS Card is taken away because CBSA seized some of your property for a customs violation, you must file two separate appeals:
You have 90 days to appeal thecustoms seizure (see your receipt)
You must then appeal to have your NEXUS membership reinstated
If your NEXUS card is taken away by US CBP, you may have to follow the appeal process for Americans.

For Americans:

You should appeal to the CBP's Ombudsperson for rejections or confiscations, though you can also contact the Enrollment Center first to see if you can get your NEXUS Card back without appealing to the Ombudsperson. You can also contact CBP to access their records on you if you are unsure as to why your card has been confiscated.Before contacting the Ombudsperson, you should always research the details of your case and evidenceto back up your claim. if you do not know why your card was confiscated, you should first follow the procedure to retrieve CBP records on you before contacting the Ombudsperson.
Helpful Resources:
Related Tools

Related Articles

Government Links

Typical Application
Comments