Study Permit Course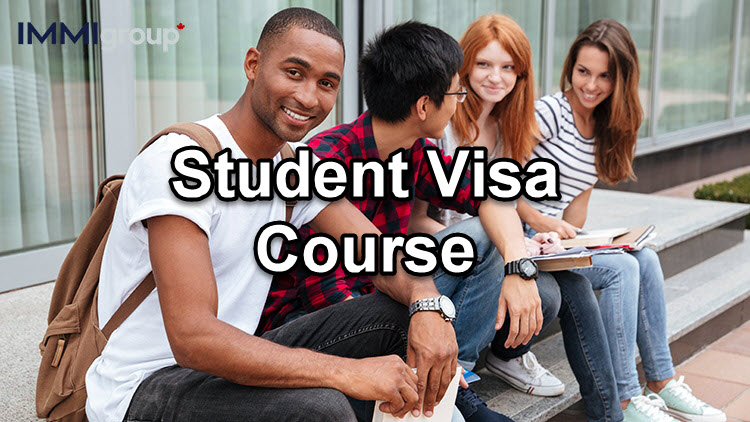 A Do-It-Yourself Study Permit Course
Do it yourself course, in-depth tutorial, call it what you want, this step-by-step sponsorship course will be a god-send for most people that are lucky enough to find it on the web.
You may be tight on cash, or just up for the challenge. Whatever your reason is, by taking this course you are vastly improving the odds of an 'approval', speeding up the processing of your application, and saving thousands of dollars in legal fees.
Are you itching to get that degree, diploma, or certificate from an authorized Canadian University, College or other post-secondary institution? Then you're in good company, because talented students from around the world are doing the same thing as you and taking advantage of Canada's first-rate educational system that's not quite as expensive as the schools in the U.S. or the UK are.
You probably already know that to get into Canada to study at a Canadian post-secondary school, you will need a Study Permit.
However, COVID has turned the world upside down, and as of August 2021, you can, for a limited time, do 100% of your studies online and from outside Canada, as long as you are eligible and fulfill the required conditions.
You can even start your online studies without a study permit, but you'll need to apply for one and be approved for one.
Let's find out how.
If you are not Canadian citizen or permanent resident, you must apply for a study permit to go to school in Canada. This document is issued at the Canadian embassy nearest to the applicant's residence and is placed in the applicant's passport. For example, if you live in Istanbul, Turkey, you will need to apply at the Canadian Embassy in Ankara, Turkey. This visa shows you have met the requirements to be a temporary resident of Canada as a student.
While it used to be the case that courses lasting 6 months or less did not require a study permit, COVID restrictions have meant that international students must apply for a study permit even for courses 6 months or less. Now, this additional requirement may be eased in the months and years to come, but it's always best to go ahead and apply for a study permit, even if you're taking a short-term course. As well, due to COVID restrictions, as of August 2021, you can, for a limited time, do 100% of your studies online and from outside Canada, as long as you are eligible and fulfill the required conditions.
You can even start your online studies without a study permit, but you'll need to apply for one and be approved for one.
Let's find out how.
We'll take you through every step you need to take, every document you'll need to obtain, every condition you need to fulfill, and every mistake you need to avoid. Not only that, but we'll also point you to our articles on the best schools for a variety of degrees like:
The best Medical Schools,
The best Engineering Schools,
The best Schools for International Students,
And yes, the Worst Universities in Canada – the ones to avoid. Or in some cases, even decide to go to, if you feel they are worth the tuition.
We'll guide you through what it costs, where it's cheaper, and where it's really pricey to live. What banks to use, what credit cards work best for a student like you, and what options for scholarships and grants there might be. We'll discuss how much your degree, diploma, or certificate will end up costing you overall. That means going through everything from how to save on your daily groceries (assuming you cook your own meals) to what schools may offer lower tuition fees.
There will be lots of detail, so set aside a little time to work your way through our tutorial. You'll end up with a much clearer picture of what's awaiting you in Canada as an international student.
Study Permit – Paid Support from Immigroup
Chapter 1: KEY TERMS
Let's first review some key terms to keep in mind as you navigate the process of obtaining your study permit.
Authorized leave: where you are allowed to take up to 150 days away from your studies and still be considered an actively studying student. The reasons can be:

Family emergencies
Medical emergencies
Pregnancies
Other types of leaves authorized by your DLI
Your school has closed due to things like a strike
You've changed schools
Your start date has been deferred in which case you have to start next term and obtain a new Letter of Acceptance that states this.

Award: similar to a scholarship, it is like a grant for international (and Canadian) students usually at the post-graduate level, to do research and other projects.
COVID-readiness plan: A plan used by a DLI to show they have the necessary precautions in place to allow students to physically attend classes. If you are taking a program of studies for 6 months or less, you must obtain a study permit from a DLI with a COVID-readiness plan.
Designated Learning Institution: a post-secondary educational institution (university, community college or other official educational institution either public or private) approved by Canadian provincial or territorial authorities to host international students.

As an international student you MUST attend a DLI. If the school is not a DLI you cannot attend it as an international student.
Electronic Travel Authorization (eTA): This functions like a visitor visa. Unless you are a Canadian citizen or permanent resident of Canada, you either need a visitor visa or an eTA to travel to Canada. There are some exemptions and special cases as we explain below.
Conditional Letter of Acceptance: This is when your DLI requires to first take a course or study program as a pre-requisite to being accepted in the study program you originally applied for.
Post-Graduate Work Permit: this is a work permit for recent international graduates of DLIs that allows you to work in Canada for a period of 8 months to up to 3 years, based on the length of your program of study. They are very useful for taking the next step and applying for permanent residence using both your Canadian studies and your Canadian work experience (gained through your PGWP) and applying for PR status through Express Entry.
Student Direct Stream (SDS): This is an accelerated path with speedier processing times for study permits, based on where you live. It began as a program for students from China, India, the Philippines, and Vietnam but has since expanded to include close to 15 countries from Asia, the Americas, and Africa. We explain more a little later below.
Study Permit: a document that permits or allows you to study at a Designated Learning Institution in Canada. It is NOT a visa. You will also need either a Visitor Visa or eTA to enter Canada, but please note that when your study permit is approved, Canadian immigration officials will also send you a visitor visa or eTA along with your study permit. In other words, you don't have to apply for a visitor visa separately.
Transcript: your school's official record of your grades (the marks you obtained in each of your classes) with the school's official seal or stamp on it. They can be on paper or emailed online to you.
Visitor Visa: you need a visitor visa (or an eTA) to enter Canada along with your study permit, but as mentioned in our definition of Study Permit above, you will receive a visitor visa with your approved study permit.
STEP BY STEP
Let's go through the essential steps you need to take in order to obtain your study permit.
What YOU'll need when applying for a study permit
The following are essential if you're planning to put together your own application:
You'll need a scanner or digital camera to make electronic copies of your documents because you're going to have to apply online unless you are eligible for an exemption as we explain further on in this tutorial.
If you do qualify for an exemption to the apply-online rule, then a colour printer is a must to produce clean and easy-to-read documents.
Again, if you're applying online (which most of you WON'T be) then stationary supplies like high-quality paper, sticky notes, and paper clips (NEVER STAPLE YOUR DOCUMENTS ALWAYS USE PAPER CLIPS) are also necessary items.
You'll also need the latest version of Adobe Acrobat on your computer in order to open up and complete your IMM forms online.
Finally, a good photo-capture software is an increasingly necessary application if you're applying online and you want to produce clean, crisp, and easy-to-read images of key documents.
As well, you should keep in mind the following:
Even if you're applying online, it's a good idea to have a copy of everything. Make a copy of each completed IMM form on your pc's hard drive as a reference that you can use if there's any disagreement or misunderstanding with officials at IRCC. Or if they request further information, for example.
If you're applying on paper, always make 2 copies of every document. One for your files, and one to send with your application package.
Create a Word Document titled something like Not Sure of this, or Pending, or something like that. Note down any questions that come up and for which you can't get an answer as you complete your application package. A good rule of thumb is to not spend more than 1 hour looking for any specific piece of information. Put it in your Word doc and then you can come back later and seek advice or help.
Chapter 2: Choosing a designated learning institution
When choosing a Designated Learning Institution, or DLI, you're still choosing a school whose programs of study get you what you need. And that might mean going to Thunder Bay to study aviation or George Brown College to study fashion business management. It's not just about getting a law degree from U of Toronto or going to UBC or McGill. The options are endless really, depending on what you want to study.
Of course, you first have to make sure your school is a DLI
At Immigroup, we've been blogging on the subject of schools for a number of years, so before you decide on a school in Canada to study at, you need to spend a little time reading a few of our articles on the matter.
Chapter 3: GETTING A LETTER OF ACCEPTANCE FROM YOUR DLI
What's the first thing you have to do to ensure you're eligible to come to Canada as an international student? You have to get accepted in a program of study at a Designated Learning Institution or DLI. And that means getting a Letter of Acceptance from your chosen DLI. Just above, we give you links to a number of good blogs that list some Top schools by categories like: best for international students; best medical schools; best law schools for international students, best engineering schools, and best computer schools.
But once you've chosen and applied to one or more DLIs, you need to take a look at Immigroup's blog on Eligibility and Acceptance Letters and how to ensure you get one of the most important supporting documents – Your Letter of Acceptance from your DLI – right. Yes, that's right. You should let your DLI (your school) know what IRCC expects in a Letter of Acceptance. We list the requirements for you in our blog. It would be a shame to get accepted and then have to beg your school to send you a new Letter of Acceptance with additional details that IRCC is demanding – something that would delay your application for your study permit. So, check out our blog on Eligibility and Letters of Acceptance.
Finally, be sure you're not mistaken in thinking you don't need a study permit when in fact you do. Read our blog on Who doesn't need a Study Permit to see that short-term studies now require a study permit due to COVID concerns. Prior to 2021, you could enter Canada on a visitor visa and take a course that was less than 6 months in duration. For now, that exception has been cancelled. So go to our blog to ensure that you qualify for an exception to the study permit requirement. As we mentioned above, if you're in doubt, play it safe and apply for a study permit.
Chapter 4: GET YOUR STUDY PERMIT FAST – Student direct STREAM
As you can see here in our blog on study permit processing times, you can sometimes end up waiting over 10 weeks for your study permit to be processed. In other words, for up to 3 months, you'll be in limbo trying to see if IRCC will authorize you come to Canada to study at your Designated Learning Institute. And remember, you can only apply for a study permit after you've received your letter of acceptance from your school in Canada. What happens – for example – if you get your letter of acceptance in mid-April, send off your application for a study permit by early May, and then find out in the final weeks of July that your application has been denied?
If you haven't applied to other schools in other countries – as well as applied to a university in your home country – then you could end up losing a year of post-secondary studies.
However, there is a way for a growing number of international students to get their study permit applications fast-streamed. It's called Student Direct Stream and it can save you weeks and even months, if you can answer the following question positively:
Are you a legal resident of one of the following countries?
Antigua and Barbuda
Brazil
China
Colombia
Costa Rica
India
Morocco
Pakistan
Peru
Philippines
Senegal
Saint Vincent and the Grenadines
Trinidad and Tobago
Vietnam
Are you considering studying in Canada? If you fulfill the conditions listed below, you may be eligible for Student Direct Stream, which is in fact an accelerated process that lets you jump the queue and get a head start with your application for a Canadian study permit at a Designated Learning Institution (DLI) in Canada. Sound interesting?  Jump over  to our detailed article on SDS to get more information. We also sketch out the basic steps right here. Let's first see if you qualify
Chapter 5 and 6: How to apply – regular channel
Not everyone is eligible for SDS, so let's see how to apply using the regular channels. Before we detail the requirements involved with a Study permit, please keep in mind that when your Study Permit is issued, it will include various conditions or restrictions on what you may do while you are in Canada, including:
How long you can stay in Canada
What you can study
The school and location where you can study
Whether or not you may work in Canada while you are studying
These conditions may also be cancelled by an immigration officer, so it's vital to make sure you follow the conditions listed in your study permit. You don't want to find yourself facing penalties or even deportation orders half-way through your degree. For a deeper look, check out Immigroup's article on study permit conditions.
CANADA STUDY PERMIT BASIC REQUIREMENTS
Negative Requirements:
You must show the officer that you do not intend to immigrate to Canada or stay in Canada permanently. Remember, once you have completed your degree, diploma or certificate, you can apply for a Post-Graduate Work Permit and begin the process of becoming a permanent resident if your PGWP application is successful. But when you initially apply for a Study Permit, you must ensure that immigration officials believe you will return to your home country after your studies are complete.
Positive Requirements: You must also show that you:
Have been accepted to a Canadian school, college, or university
Have money to pay for your stay in Canada including tuition, food, and housing
Will leave Canada when your Study Permit expires
Are law abiding and do not have any criminal record
Are in good health (a medical exam may be required)
You can be asked to provide any documentation pertaining to these and other requirements and to complete a medical examination if necessary.
When you speak with Immigroup regarding a Study Permit to Canada, we will advise you which of these requirements you most need to stress that you meet given your background and circumstances. We will also tell you of any additional requirements that apply to your situation.
IMM 1294 – Application for Study Permit Made Outside Canada
Now let's look at your study permit application form IMM 1294 – Application for Study Permit Made Outside Canada.
The first thing to notice is that form IMM 1294 is almost identical to form IMM 5257 – Application for Visitor Visa (Temporary Resident Visa). So, as we've covered form 5257 in our Visitor Visa Tutorial, we'll focus on only part of form IMM 1294 that's different:
Rather than the Details of Visit to Canada, that section is called Details of Intended Study in Canada. Take a look at this section: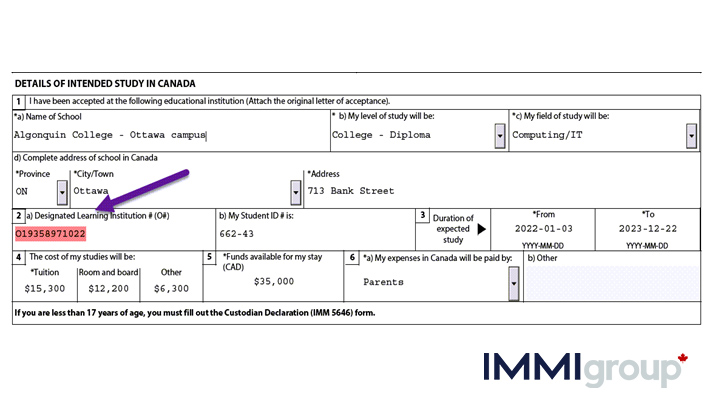 Remember to go here to find your DLI and get your DLI #. It's easiest to just copy and paste it from that page to make sure you get it right. The rest of the form – as we said – is identical to a visitor visa application, so check out our Visitor Visa tutorials as well as our blogs on the rest of the forms at the links below:
IMM 1294 at Study Permit Article 
IMM 5409 In Visitor Visa Tutorial or in Spousal Sponsorship Tutorial 
IMM 5646 Minors Studying in Canada – Custodianship Declaration
Chapter 7: STUDY PERMIT FEEs and other COSTS
Legal Fees
Our fees are on a case-by-case basis, but Immigroup service fees usually range from around $800 for the most basic application to around $1500 for more complicated matters. Top Priority service for clients who need their application processed urgently carries additional costs.
If you do not know where you stand, whether you are eligible to enter Canada, or how to proceed contact us for assistance.
Government Fees
In addition to the legal fees paid to a consultant or lawyer to assist you with this process, the applicant must also pay a fee to the Canadian government for filing their application. Please refer to the fee schedule below.
Study Permit: $125
*Biometrics: $85
*Study Permit applicants from most countries must provide biometric information including fingerprints and photos for background checks. Please click here to see if you need to give biometrics.
Government application fees are subject to change at any time without notice and are not refundable from IRCC regardless of whether the application is approved.
Other Fees
Remember that Medical Exams and Police Certificates and any other document that has a fee are costs you have to pay in addition to the legal and government fees.
Biometric information
You should assume that you have to give biometric information nowadays to get a temporary resident visa (work permit, study permit, visitor visa) for Canada. There are a few limited exceptions, however.
To find out if you need to give biometrics, use the biometrics tool by going here and answering a few questions. If you've given biometrics for a study or work permit or a visitor visa during the last 10 years and the Check Status Tool found here shows your biometrics are still valid then you normally don't have to give biometrics. Please note that if you're applying for a study permit from inside Canada, you currently don't have to give biometrics due to COVID concerns.
Tuition & Living Expenses
You surely understand that international students pay several times the tuition that Canadian citizens and permanent residents pay. However, compared to top-flight schools in  the USA or the UK, tuition is still fairly reasonable in Canada. Is it worth it? That's a question you have to decide for yourself.
Tuition for international students in Canada can run from less than CAD$ 15,000 at some community colleges to over CAD$40,000 at in-demand faculties in Canada's handful of top-ranked universities. Remember we're quoting in Canadian dollars which tend to vary from the low 70-cent level to the 90-cent level measured in US dollars. So, as a rule of thumb, multiply the Canadian dollar tuition rates by 0.8 to get a rough idea of the cost in U.S. dollars.
Living expenses are indeed higher in places like Vancouver and Toronto mostly due to high rents. Fees for living on-campus in a university residence in Vancouver or Toronto tend to be higher as well.
For a closer look at the numbers, our article on Tuition & Living Expenses gives you a straightforward view of your overall expenses as an international student. We don't add things like the cost of buying or leasing a vehicle because we want to keep to the basics, which is what most international (and native-born) post-secondary students have to budget for. We do include health insurance and residential costs (whether renting an apartment off-campus or living in a residence on-campus) and things like cell-phone costs. So, to dive in and see what you have to budget, check out our blog.
Chapter 8: Mistakes to Avoid
Now that you've put together your study permit application, it's time to consider what you may have missed or got wrong. The last thing anyone wants is to have their application package sent back to them due to incomplete or incorrect documentation and forms. While a study permit is not quite as lengthy an application as say a Spousal Sponsorship, it still involves up to half a dozen forms and a number of documents, sometimes including medical exams and even police certificates. So, you need to ask yourself the following questions:
Am I good with detail and did I carefully read all the instructions and include all the information on every form?
Is every supporting document translated and – if necessary – certified by a notary or attorney?
Have I paid the correct fees, and have I included proof of that?
If you have nagging doubts, having a professional review your application might be the right thing to do at this point in your application process. Meanwhile go to our blog and see what some of the common mistakes on a study permit that you should avoid are:
AFTER You've applied …
Chapter 9: ESL Schools – HOW'S YOUR ENGLISH?
The first thing you have to be sure of is whether your language skills are up to the task of studying at a Canadian college or university. This is something you should think about before you even select a school (a Designated Learning Institution as we point out about). Remember, language skills are a key requirement for both post-secondary schools and for permanent immigration to Canada which is often the next step after studying in Canada as an international student. So before diving into the process of selecting a school check out our blog on Top ESL Schools in Canada. It's a handy list and includes a step-by-step process for deciding on an ESL school once you know what city you'll be attending school in.
There's something else that's just as important, any English as a Second Language (ESL) school you select should hopefully have courses that prepare you for either IELTS or TOEFL. Which do you think is more helpful for applying for a study permit to Canada? IELTS seems to have the advantage when it comes to immigrating to Canada, but TOEFL is increasingly accepted around the world. Thinking of taking an online IELTS courses to help you prepare for the exam? You need to visit our blog on the Best Online IELTS Courses. We also have a very handy blog that gives you a nice overview of how IELTS works and how to approach the exam and improve your scores.
Chapter 10: FAQS
DO I NEED A VISA WITH MY STUDY PERMIT?
People from certain countries may require a Temporary Resident Visa to enter Canada on a Study Permit. Most international students will need a visa to enter Canada in addition to their study permit. However, if you do need a visa to enter Canada to study, the officer will issue it to you at the time you enter Canada to study; you do not need to make a separate application for a visa.
Citizens of most countries in the world need a visa to enter Canada. This includes citizens of many countries in Africa, Eastern Europe, Asia, India, Pakistan, China, the Caribbean, and South America. For a Complete list of countries whose citizens require a visa to enter or transit (change planes) in Canada, click here.
Citizens of certain countries are not required to have a visa to enter Canada as a visitor. These countries include the United States, United Kingdom, Australia, many countries in western Europe, Japan, and South Korea. For a complete list of countries whose citizens do not require a visa to enter Canada, just click here.
How about family members?
For the purpose of a Study Permit, family members are defined as:
the applicant's spouse or common-law partner,
your dependent children, and
their dependent children (your grandchildren).
Spouse means either of the two people (opposite or same sex) legally married either inside or outside of Canada.
Common-law Partner means either of the two people (opposite or same sex) living in the same house in a conjugal relationship for at least one year.
Dependent Children means the children of the applicant or their spouse or common-law partner who are

22 years old or younger and single, or
Financially dependent on the parent since before 22 years old and still in school, or
Financially dependent since before 22 years old due to a medical condition
Any family member who wishes to visit Canada must file separate applications for a Visitor Visa (each family member will receive their own visa).
CAN MY KIDS GO TO SCHOOL WHILE I AM IN CANADA ON A STUDY PERMIT?
A Study Permit, Work Permit, or Visitor Visa application must be submitted for each family member who wants to accompany you to Canada. Your accompanying children may attend school in Canada. You must apply for their study permit at the same time as your application. If they intend to join you later, they must obtain a study permit before coming to Canada.
HOW WE CAN HELP YOU STUDY IN CANADA
To discuss your options for a permit to study in Canada, contact us for a consultation. We can determine your eligibility to apply for the visa as well as advise you how you can prove you meet the requirements. Frequently certain supporting documents are used to demonstrate to the immigration officer that you should be granted a study permit.
Immigroup will assist you throughout the entire application process from start to finish, including:
Determining your eligibility to apply;
Determining the likelihood of success for your particular case;
Ensuring your forms are complete and accurately reflect the details of your case for maximum chance of success;
Ensuring you have the necessary and appropriate documents to support your application;
Providing guidance on the best method to submit your application to the government for your circumstances;
Advising the privileges a Study Pemit affords you;
Offering Top Priority service for extremely urgent cases;
Determining the best way to proceed once the outcome of your case is reached (applying for a student work permit, renewing the study permit visa, re-application if necessary, etc.)
Contact us for a consultation to assist you with a study permit application.
Study Permit – Paid Support from Immigroup
Chapter 11: CAN I WORK WHILE GOING TO SCHOOL IN CANADA?
Working on-campus
In order to work at a job on-campus at the school you are attending, you do not need any type of work permit. You can work for the school itself or a private business operating on campus. Please check out our blog on working while studying which includes information on both
Working off-campus
To be able to work off-campus, you have to be a full-time student at any DLI. However, in addition your study program must be one of the following:
An academic program that awards a degree, diploma, or professional certification upon completion of your studies, OR
A vocational training program that prepares you for a specific job in industry, agriculture, or trade, involving technical training, organizational training, and basic skills training, OR
A professional training program that gives training studies to people who are already professionals and in accordance with recognized standards for that industry and occupation.
In other words, you CANNOT work off-campus if you are taking general interest or English/French as-a-second-language courses. As well, your study program:
Must be at least 6 months in length, and
Lead to a diploma, degree, or certificate.
So, to sum up:
A study permit automatically allows you to work off-campus. Previously, you had to apply for an off-campus work permit. The rules governing working off-campus have not changed: you are still limited to working 20 hours a week while your course is in session and you can only work up to 40 hours a week during breaks (summer, Christmas, reading week). You must be enrolled in a degree-, diploma- or certificate-granting program longer than 6 months, and you must attend one of the designated institutions.
Co-Op work permits are only available to students enrolled in co-op programs at designated institutions. Previously co-op permits were available to students participating in co-op programs at any school in Canada. In order to be eligible, the co-op placement must still be integral to your course of study.
You can work between the conclusion of your studies and the issuing of your post-graduate work permit. Previously you could not work while waiting for your post-graduate work permit to be approved. This is called implied status.
Remember to dig into our blog on working while studying.
Chapter 12: CANADA WANTS MORE STUDENTS – STUDY IN CANADA
Congratulations! You've gone through our tutorial and hopefully followed the links and read each of our blogs detailing the steps you have to take to put together a Study Permit application. While you might feel a little overwhelmed – just applying to university in one's home country can be stressful – you need to take a moment and consider something very important. Something that should help you understand how much Canada in fact needs international students like you.
Sometime over the next decade Canada will cross a key demographic threshold. According to the government, net growth in Canada's workforce will be met 100% by immigration. Yes, that's right. When netting out retiring baby boomers and dwindling levels of younger native-born Canadians due to our relatively low birth rate, it will be skilled workers from abroad who will ensure that Canada's economy continues to grow.
In fact, it's been happening for years now. Right now, Canada's economy is as successful as it has been in generations. That's in large part because immigration is bringing much needed skills and experience from around the world to fill the increasing gap between labor market needs and native-born population growth. What will happen sometime over the next ten years is that all of that gap will be filled by new Canadians.
And one of the best ways to fill that gap is through international students. Why?
To be accepted at a Canadian post-secondary institution, international students need to have some of the same skills that are key selection factors in the Express Entry portal:
English and/or French language ability at a reasonably high level;
Good secondary education;
The desire to earn a degree or diploma in areas that are and will be key to Canada's future like engineering, design, tech, or visual arts, as well as many other areas.
Additionally, having spent several years at a Canadian university or college, international students will acquire some additional skills:
Improved language skills from living and studying in Canada;
Connections with professors and potential employers as well as with fellow students which often prove useful in future work careers;
The possibility of part-time work while studying thus giving them Canadian work experience;
A familiarity with Canada's culture and society which helps them develop cross-cultural skills which also are gained by Canadian students who develop ties with international students and even study abroad using exchange programs, for example;
The possibility of full-time work in Canada after having graduated.
Because of the increasing relevance of soft skills like cross-cultural awareness for both Canadian and international students, as well as exchange programs for students in a trade-based economy like Canada's, the government has announced a new multi-year program whose hard cold numbers make it very clear how important international students are to Canada's post-secondary educational system. It's called the International Education Strategy and you really should click on the link below and read up on the facts and figures of people like you and how you keep Canada's universities filled with some of the best and brightest from around the world. People like you.