The Complete Guide to Background Checks & Security Screenings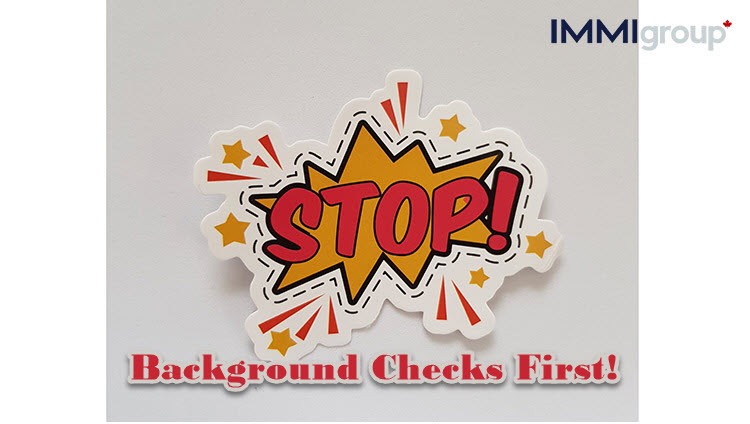 Two words which can cause anxiety in any applicant for temporary or permanent status in Canada are:
Background Check
Will something from your past come back to make life difficult when taking a life-changing decision like applying to move to Canada? What could that be and what can you do about it?
The first step to take is to learn as much as you can about the process of a background check:
What does the background check involve?
What is the background check process like?
Who requests a background check and why?
Who then does a background check?
How long does a background check take and what might a longer wait imply about a background check?
Is a background check a decision on admissibility or is it an assessment used by others in the application process to make the final decision?
If you need answers to these types of questions – in other words, if you have any concerns about facing a possible background check – then keep reading.
We're going to cover the issue in a comprehensive yet easy-to-understand way and lay it all out for you, step by step.
Chapter 1: What is a Background Check?
A background check actually involves three processes:
A criminality check – do you have any criminal activity in your past? This ranges from a DUI to membership in Organized Crime. RCMP or Royal Canadian Mounted Police function in these cases like a federal police force, a little like the FBI, working with other local police forces in Canada and abroad and with intelligence agencies and other agencies as well.
A security screening – are you a possible threat to the safety and health of Canada and Canadians? CBSA, CSIS, and IRCC are the 3 federal agencies that handle screenings (see below).
Information sharing – a crucial part which means various agencies will be in contact and may share information during the background check, including the following agencies:

CBSA (Canadian Border Services Agency) – the front line in immigration in Canada including the officers who interview you at your Port of Entry.
CSIS (Canadian Security Intelligence Service) – Canada's main intelligence agency which gathers and analyzes information from all sorts of sources including similar agencies around the world.
IRCC (Immigration, Refugees and Citizenship Canada) – Canada's immigration authority who are in fact the ones who make the final decision on admissibility as we will explain in greater detail below. IRCC also initiates the process as we'll explain below
Chapter 2: How to Do Your Own Background Check
To get started on understanding the world of background checks, one of the first proactive things you can do is to find out what police forces in Canada have on your file. Would you like to know how to do that?
Keep reading.
Identification Canada
Identification Canada is an online platform that specializes in biometrics, criminal pardons in Canada, entry waivers for the USA, and what are called Police Clearance Certificates. These certificates – also called Police Background Checks or Good Conduct Certificates – let you know what your police record is like and are a useful step to understanding what might cause immigration authorities or other authorities to do a deeper background check on your past activities.
Tip: You don't have to use Identification Canada, we are just using this private company as an example. You can do an online search using the keywords 'background check online' and you will find a lot of competing companies looking for your business.
If you are wondering why these companies are allowed to do background checks, it's because they are vetted and given approval to offer this service by the RCMP (Royal Canadian Mounted Police). So you really don't need to worry about your personal information falling into the wrong hands.
Also the RCMP is really the ones issuing you your results and the company is like a middleman (and no, the RCMP does not have a direct service).
When you are filling out the online application with anyone of these third party websites (example: Identification Canada), you will be redirected to a URL https://www.check-background.info, this URL is owned and managed by the RCMP.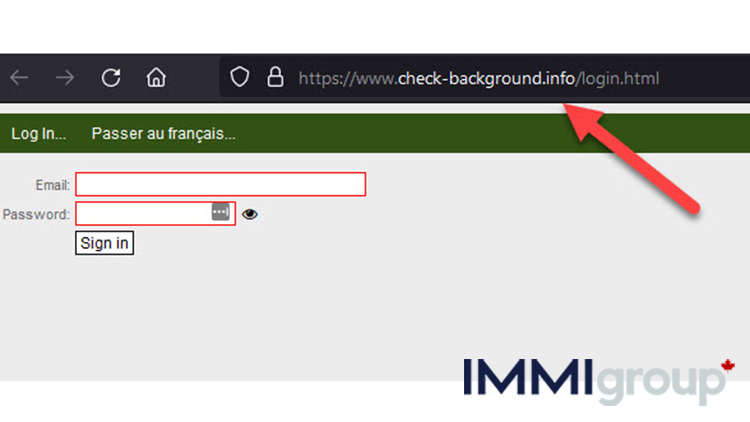 However, because these checks are obtained through digital searches of online databases and do not involve fingerprint checks, they are NOT acceptable for the following:
Canadian immigration purposes
US immigration purposes
Australian citizenship purposes
Italian citizenship purposes
Any other process which requires a fingerprint-based check.
Let's see how to do a Police Background Check at Identification Canada's website.
Online Police Background Check Step 1:
Head to the site's Police Certificate page to start your background check. This is what you should see: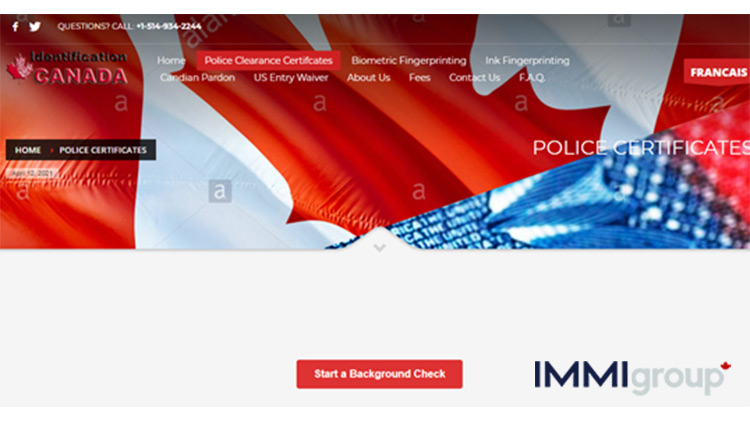 Click on the red Start a Background Check button to begin the process.
Here's what you will see next: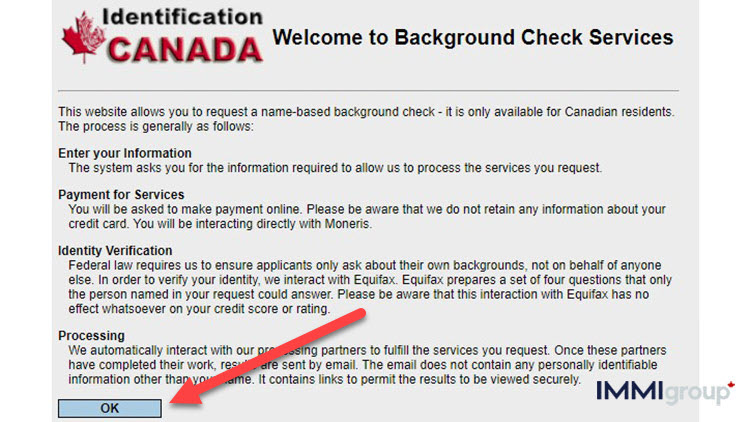 Two key things to notice there:
Identification Canada works with Equifax – one of Canada's major credit information agencies.
You can only do a background check on yourself – NOT on any other person.
Click OK and you will be taken here:
You have now begun to enter basic personal information like name, email address, and phone number. We have chosen the full package of services that comes to $73.95 before taxes.
Click on Start My Background Check to go to the next page:
Here you add more personal information including date of birth, home address and previous last names. Remember to fill in the Home Address by clicking where the red arrow is pointing which opens up the Edit Residential Address window shown to the right of our image.
What we see here is that you must provide all residential addresses from the previous 5 years. If your start date at your current address is less than 5 years old, the system will ask you for previous addresses that have the earliest/start date at least 5 years ago.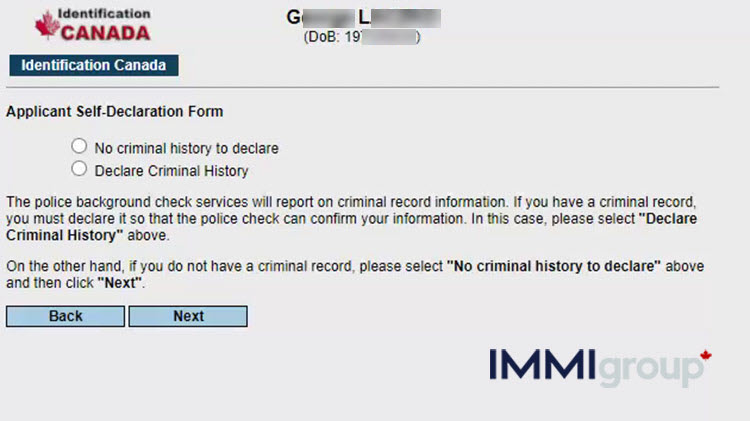 Here you will have two choices,
No criminal history to declare or
Declare Criminal History.
If you have been charged before the age of 18, it's worth reading this PDF.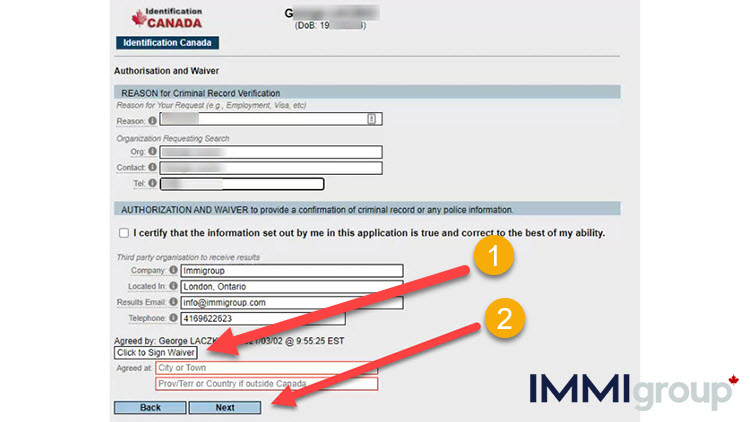 Most people are getting this done because of a job, but what ever the reason you need to place it in this section.
Reason: If 'Employment' please include job title
Organization: The name of the company with which you seek employment, etc.
Contact: The contact person name at the company
Telephone: The contact persons phone number at the company (name above)
After you are complete, select 1 as indicated above.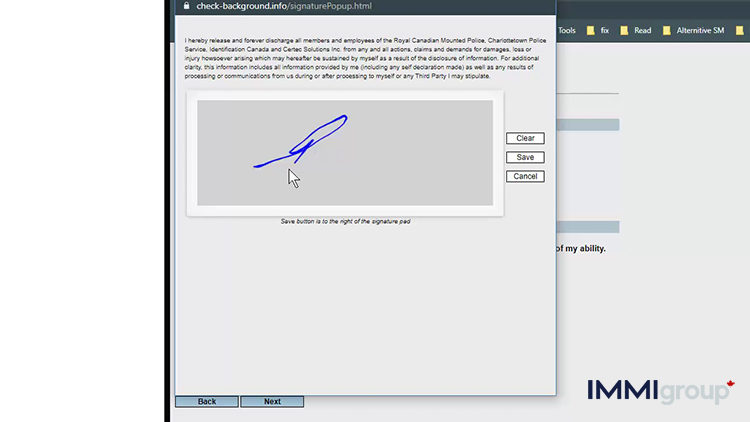 Here you will have to use your mouse to create a signature using the online pad. Click 'Save' when complete.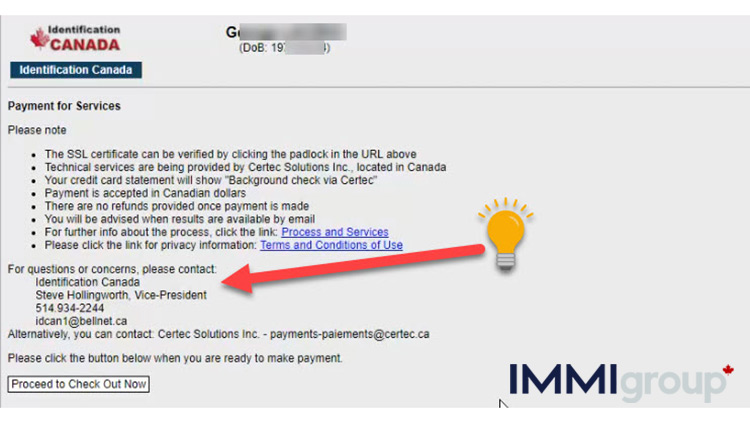 Make sure you save the companies information. It will come in handy if you have any problems with your order. Now click 'Proceed to Check Out Now'.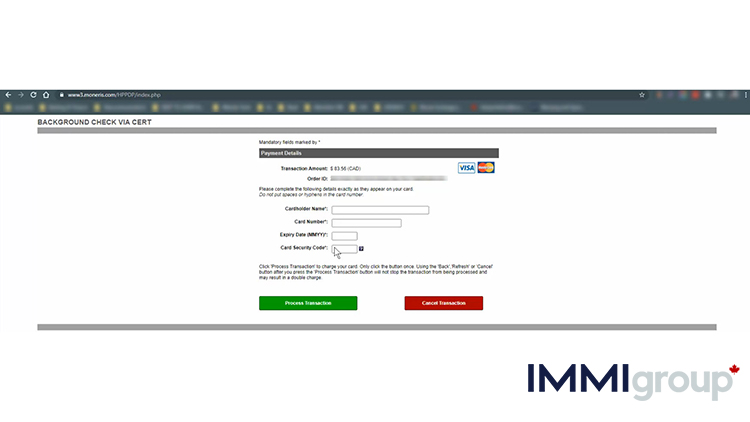 Make your payment here.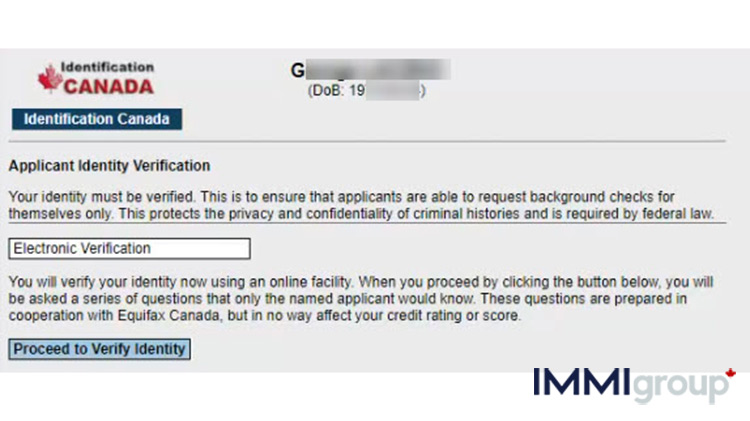 Here, you will be asked a series of questions about your personal data to confirm that you are who you say you are.
Tip: 1 in 5 clients don't pass the security questions. If you don't pass you simply email your company. (The above example shows you the contact information of the company you used.) You will need to scan and email proof of identification and they will manually approve your request.
Here is an example of the type of question they will ask: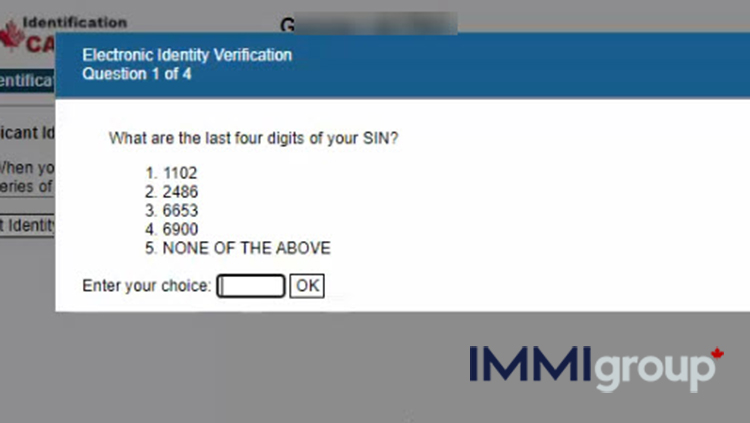 You'll be given multiple choice questions about things like:
The province or territory with which you have your healthcare card
Your phone number
Please be aware that a significant percentage of people who go to the site to get their Police Certificate actually fail the identity verification phase. You should be prepared with the following before you begin the process:
If you own your house, what month and year did you assume ownership of it?
What month and year did you begin to rent if you rent?
Do you remember the date of when you began to rent at least 5 years ago?
You may have to contact previous landlords or review your mortgage agreement, for example.
Take the time and do the work before going to Identification Canada's page and starting the process. It will avoid delays and frustrations.
Assuming your Identify Verification is successful you'll see this type of page: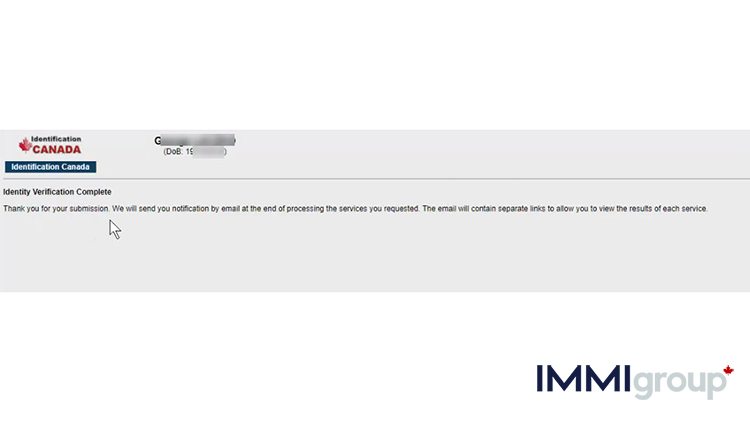 Finally, here are the certificates you'll have at the end of the process:
In a few days or shorty you will receive an email with your report.
Here is an example email you will receive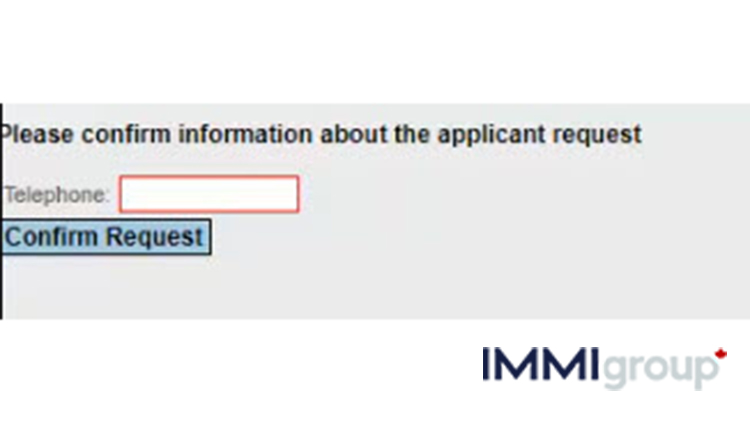 By clicking ether 'Consent Form' or 'View Electronic Certificate of Results', you will be asked to put in your phone number as a security measure.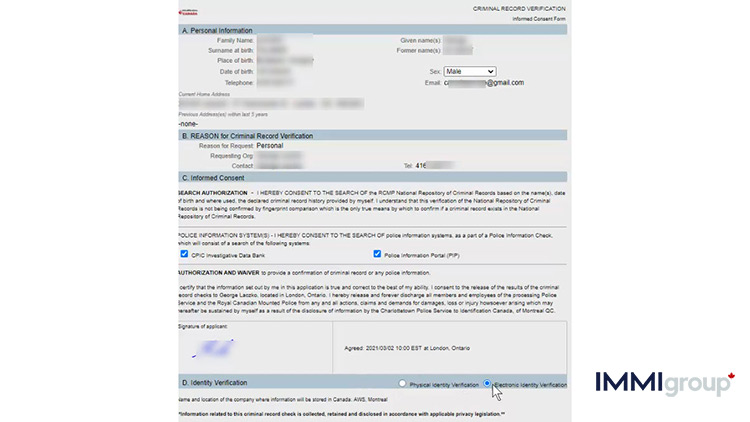 Here is an example of the 'Consent Form'.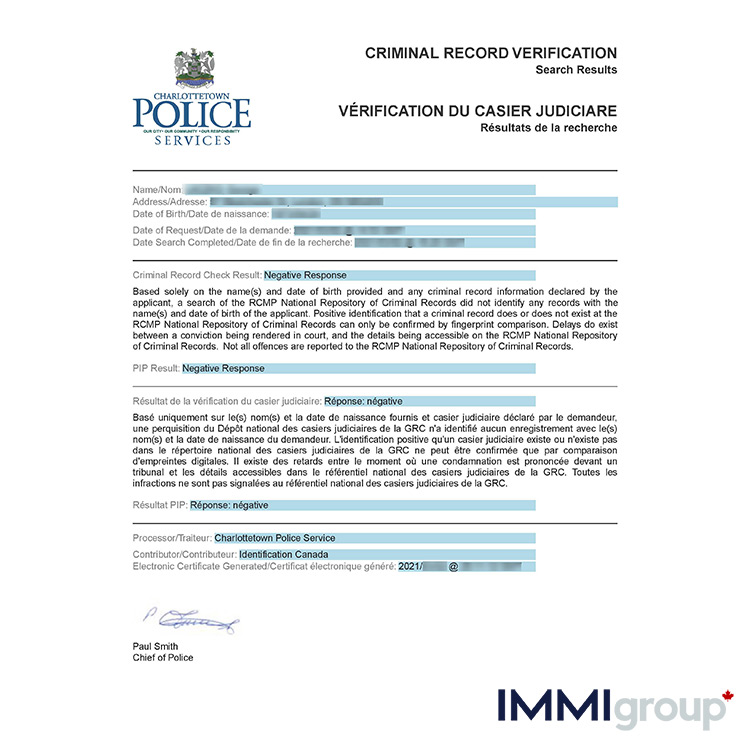 Here is an example of the 'Electronic Certificate of Results'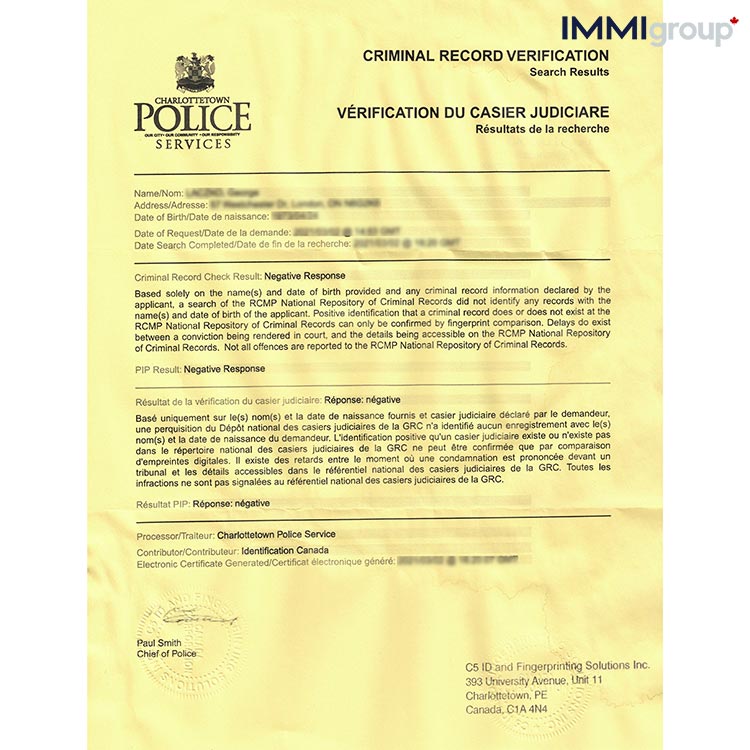 In a couple of weeks you will receive a paper copy by regular mail of your criminal record verification.
Well done! You've finished the first stage of background checks and now have a pretty good understanding of how to obtain your Police Certificate.
Chapter 3: Initiating a Security Screening
Let's now turn to the background checks that IRCC does after the police background check has been done and the focus turns to one's security profile.
Before a security screening is initiated, an IRCC officer will first have to complete the eligibility review on any application for a temporary visa (work and study permits, visitor visas, temporary residence permits) or a permanent residence visa.
If you are NOT eligible for visa, then generally there is no need for a security screening as your application will be returned to you and no visa will be issued.
If you are eligible and pass your eligibility review, then and only then will your security screening begin.
Please note that this generally means you have also passed your criminality check as part of your eligibility review.
In other words, to be eligible to enter Canada on a temporary or permanent visa, you must be admissible.
Admissibility is generally decided by an IRCC official when they process your application for a temporary or permanent visa. While the final decision depends on the specific circumstances, a finding of inadmissibility is generally for the following reasons:
Security reasons:

Espionage
Subversion
Terrorism & violence
Membership in organizations that are involved in those types of activities
Human rights or International rights violations:
War crimes
Crimes against humanity
Involved in governments accused of these and/or subject to international sanctions

Criminal activity – including DUI (driving under the influence of drugs or alcohol)
Organized crime:

Membership in organizations involved in criminal activity including people smuggling or money laundering

Medical reasons/risks:

Medical conditions that endanger public health & safety
Medical conditions that cause excessive demand on health services & social services

Financial reasons:

You are deemed unable or unwilling to support yourself & your family members

Misrepresentation:

Provided IRCC false information or withheld relevant information under IRPA (Immigration & Refugee Protection Act)

Inadmissible Family Members
Failure to comply with any provision of the IRPA.
A security screening is usually the last stage in the processing of an application. As we mentioned above, usually you will have already passed a criminal check as well as a medical check when the security screening process begins, although strictly speaking both medical and criminal checks are part of any background review.
Chapter 4: What Factors Might Trigger a Security Screening?
When an IRCC official suspects that an applicant may be inadmissible, due to concerns with the following sections of the Immigration & Refugee Protection Act (IRPA):
Section 34 of IRPA: lists the security reasons for inadmissibility we give above. Here's the actual text of section 34:
Security
34 (1) A permanent resident or a foreign national is inadmissible on security grounds for
(a) engaging in an act of espionage that is against Canada or that is contrary to Canada's interests;
(b) engaging in or instigating the subversion by force of any government;
(b.1) engaging in an act of subversion against a democratic government, institution or process as they are understood in Canada;
(c) engaging in terrorism;
(d) being a danger to the security of Canada;
(e) engaging in acts of violence that would or might endanger the lives or safety of persons in Canada; or
(f) being a member of an organization that there are reasonable grounds to believe engages, has engaged or will engage in acts referred to in paragraph (a), (b), (b.1) or (c).
Section 35 of IRPA: deals with Human rights and International rights violations. Here's the text from IRPA:
Human or international rights violations
35 (1) A permanent resident or a foreign national is inadmissible on grounds of violating human or international rights for
(a) committing an act outside Canada that constitutes an offence referred to in sections 4 to 7 of the Crimes Against Humanity and War Crimes Act;
(b) being a prescribed senior official in the service of a government that, in the opinion of the Minister, engages or has engaged in terrorism, systematic or gross human rights violations, or genocide, a war crime or a crime against humanity within the meaning of subsections 6(3) to (5) of the Crimes Against Humanity and War Crimes Act;
(c) being a person, other than a permanent resident, whose entry into or stay in Canada is restricted pursuant to a decision, resolution or measure of an international organization of states or association of states, of which Canada is a member, that imposes sanctions on a country against which Canada has imposed or has agreed to impose sanctions in concert with that organization or association;
(d) being a person, other than a permanent resident, who is currently the subject of an order or regulation made under section 4 of the Special Economic Measures Act on the grounds that any of the circumstances described in paragraph 4(1.1)(c) or (d) of that Act has occurred; or
(e) being a person, other than a permanent resident, who is currently the subject of an order or regulation made under section 4 of the Justice for Victims of Corrupt Foreign Officials Act (Sergei Magnitsky Law).
Marginal note: Clarification
(2) For greater certainty, despite section 33, a person who ceases being the subject of an order or regulation referred to in paragraph (1)(d) or (e) is no longer inadmissible under that paragraph.
Section 37 of IRPA: deals with Organized Criminality. (Section 36, which we skip over here, deals with Criminality which as we mention has presumably already been checked as part of the criminal check which generally comes before the security screening and usually involves law enforcement rather than intelligence agencies.) Here's the text from IRPA:
Organized criminality
37 (1) A permanent resident or a foreign national is inadmissible on grounds of organized criminality for
(a) being a member of an organization that is believed on reasonable grounds to be or to have been engaged in activity that is part of a pattern of criminal activity planned and organized by a number of persons acting in concert in furtherance of the commission of an offence punishable under an Act of Parliament by way of indictment, or in furtherance of the commission of an offence outside Canada that, if committed in Canada, would constitute such an offence, or engaging in activity that is part of such a pattern; or
(b) engaging, in the context of transnational crime, in activities such as people smuggling, trafficking in persons or laundering of money or other proceeds of crime.
Marginal note: Application
(2) Paragraph (1)(a) does not lead to a determination of inadmissibility by reason only of the fact that the permanent resident or foreign national entered Canada with the assistance of a person who is involved in organized criminal activity.
and the IRCC official requires further information to clarify any suspicions they may have, then the official sends a screening request to:
the Canadian Border Services Agency (CBSA),
CSIS and
other screening partners – especially intelligence agencies at the so-called other Five Eyes nations – Canada, USA, UK, Australia, & New Zealand as well as law enforcement organizations around the world.
This will be done through IRCC's Global Case Management System or GCMS – their secure online system for processing, tracking, and analyzing applications and other data from around the globe.
An officer will choose a tab (just like you do with an operating system like Chrome) that shows the area of concern over inadmissibility (like Security – Section 34 for terrorism, for example)
Any case notes or supporting documents will be electronically filed under GCMS Notes section under the relevant screening tab:
Security
HIRV (Human and International Rights Violations)
Organized Crime
This will make the case notes available to all partners involved in the background check. As we mentioned at the start, information sharing is a key part of any background check.
Chapter 5: Record Check vs. Comprehensive Check
When a case officer has a security concern under Section 34 (see above but essentially terrorism and subversion) they then have to make the following choice:
Send the application for a security screening via a Record Check, OR
Send the application for a security screening via a Comprehensive Check
A Record Check for Canada
A record check is a standard security screening done by CSIS for most inland applications for permanent residence – in other words, for PR applications where the principal applicant is already in Canada with legal temporary status.
The IRCC official at the Case Processing Centre (CPC) in Canada is (in most cases) obligated to send inland PR applications to CSIS for a Record Check.
CSIS then screens these applications for current and future threats that may arise exclusively from concerns about:

Section 34 (1) paragraphs (a) (c) (d) & (f) of IRPA (as listed above) and
Section 2 of the CSIS Act
In other words, a Record Check does NOT deal with criminal or medical issues – those will have been dealt with separately by either law enforcement or health authorities in Canada.
A Comprehensive Check for Canada
A comprehensive check is a more thorough security check conducted by all screening partners, especially the CBSA, but also other intelligence agencies.
If the case official at the CPC in Canada (or the Immigration Program Manager when the application originates at a Canadian mission overseas) suspects that the applicant is inadmissible, then they have to request a comprehensive check.
A comprehensive check is also the preferred option when screening applications for permanent resident from overseas, but in some cases a Record check will be deemed sufficient for outland applications.
Because it involves sharing information between agencies it generally takes longer to do a comprehensive check compared with a record check.
In other words, if it has been 2 or more months since your application passed its eligibility review but it is still being screened for security, then the application is most likely undergoing a comprehensive check due to admissibility concerns.
Please note as well that for permanent residence applications originating overseas rather than an IRCC official at a Case Processing Centre (CPC) in Canada initiating the request, it will instead come from an Immigration Program Manager at a Canadian mission (an embassy, consulate, or high commission) overseas.
Chapter 6: How CSIS & CBSA Process a Security Screening Request
The process depends – among other things – on which section of IRPA the case officer or the immigration program manager overseas have concerns with regarding the application. Recall from Chapter 2 that the relevant IRPA sections are:
Section 34 – terrorism and subversion
Section 35 – human and international rights violations
Section 37 – organized crime
Look at the following chart:
Section of IRPA
GCMS Screening Values
Criteria
Case gets sent to
Section 34 – IRPA
Record Check
Most inland PR applications
CSIS
Section 34 – IRPA
Comprehensive Check
Inland or Overseas applications that meet one or more of the following:

Applicant subject to review due to section 34 of IRPA
Applicant meets 1 or more indicators listed in IC 2
Officer suspects applicant inadmissible under Section 34(1) – IRPA

CBSA, CSIS
Section 35 – IRPA
HIRV – (Human & International Rights Violations)

(comprehensive check)

One or more of the following issues are raised:

Applicant subject to review due to section 35 of IRPA
Applicant meets 1 or more indicators listed in IC 2
Officer suspects applicant inadmissible under section 35 of IRPA

CBSA
Section 37 – IRPA
Organized Crime

(comprehensive check)

One or more of the following issues are raised:

Applicant subject to review due to section 37 of IRPA
Applicant meets 1 or more indicators listed in IC 2
Officer suspects applicant inadmissible under section 37 of IRPA

CBSA
There are a few things to understand when looking at this table:
IC 2 refers to a section of the Immigration Control Manual from which this chart was taken.
Although this table lists very specifically to whom the screening request is sent (either CSIS, or CBSA, or both agencies) – information sharing between CSIS & CBSA means the request will almost always be dealt with by both agencies.
The CBSA (and CSIS) will screen all cases for the other two concerns. In other words, all cases will be screened for section 34, section 35, and section 37 concerns (terrorism, subversion, human & international rights violations, and organized crime) regardless of under what concern the screening was initiated.
The actual division of the CBSA that does this screening is the NSSD or National Security Screening Division of the CBSA (Canadian Border Services Agency). Let's take a moment and see the divisions or programs within both the CBSA and CSIS:
Agency
Division or Program
CBSA – Canadian Border Services Agency
NSSD – National Security Screening Division

Handles formal security screenings
NST – National Targeting Centre
Handles open-source security screenings for cases requiring expedited processing
Security Screening Program
Investigates foreign nationals as requested by IRCC visa officials. Includes 15 programs, databases, & divisions

CSIS – Canadian Security Intelligence Service
GSS – Government Security Screening Program

Investigates and provides security assessments to address threats to national security
Government agencies (NOT CSIS) then decide whether to grant, deny, or revoke security clearances
Screens foreign participants in major events in Canada like conferences by working with RCMP
Provides security assessments regarding Canadians seeking jobs abroad that involve sensitive information
All individuals must provide consent to being screened by GSS
Protects sensitive sites from security threats including:

Airports
Marine facilities (ports etc.)
Nuclear facilities

 

ICS – Immigration & Citizenship Screening Program  

Conduct investigations and provide security assessments to CBSA & IRCC regarding persons who might represent a threat to security in Canada
ICS is the program used by CSIS to screen and advise on:

Permanent residence applicants
Citizenship applicants
Persons applying for Temporary Resident Visas
Persons applying for Refugee Status in Canada
The following Flow Chart shows how a case works its way through the Security Screening Process:
As can be clearly seen, the process begins and ends at IRCC. CSIS & CBSA provide the analytical reviews based on their research and make recommendations, but IRCC officers make the final decision on admissibility.
As can be seen from this chart, CSIS tends to handle terrorism & subversion concerns (section 34 of IRPA) while CBSA works with CSIS to handle human and international rights or HIRV concerns (section 35) as well as organized crime (section 37 of IRPA).
Chapter 7: What Types of Recommendations Can a Security Screening have?
The recommendations that CSIS will give to IRCC can usually take one of the following 4 forms:
I. No Reportable Trace or NRT:
An NRT is given to IRCC when no adverse information is found on the applicant/individual being screened.
II. Inadmissible Brief:
This is provided when CSIS has concluded, based on available information, that the applicant/individual meets the criteria of IRPA's section 19, which reads as follows:
Right of entry of citizens and Indians
19 (1) Every Canadian citizen within the meaning of the Citizenship Act and every person registered as an Indian under the Indian Act has the right to enter and remain in Canada in accordance with this Act, and an officer shall allow the person to enter Canada if satisfied following an examination on their entry that the person is a citizen or registered Indian.
Marginal note: Right of entry of permanent residents
(2) An officer shall allow a permanent resident to enter Canada if satisfied following an examination on their entry that they have that status.
In other words, the applicant has the right to enter Canada as a citizen, registered Indian, or permanent resident.
III. Information Brief: (Terror or Subversion)
An information brief is given to IRCC when the applicant/individual is or was involved in activities related to section 34 of IRPA but CSIS believes that they are not inadmissible to Canada. That is, despite their section 34 activities, they are admissible.
Please remember: An information brief DOES NOT guarantee you are admissible to Canada. That final decision remains with IRCC officials. IRCC officials may still decide you are inadmissible despite receiving an Information Brief from CSIS.
Please note that you may take this into consideration if you decide to appeal a decision of inadmissibility.
IV. Incidental Letter: (HIRV or Organized Crime)
An incidental letter is provided when CSIS has information that the applicant/individual is or was involved in activities under section 35, or section 37 of IRPA
CSIS Screening Results
An alternative classification for CSIS screening results is as follows:
Favourable
Non-favourable
Inconclusive – No Findings
CSIS will then send it's screening results to CBSA's Intelligence and Enforcement Branch (IEB) who pass on the results to visa officers. The IEB is a key institution in border security and has various responsibilities including the following:
Provides intelligence in support of:

timely threat identification and
admissibility determination

Identifies high-risk people
Provides advice and recommendations to decision-makers at IRCC & CBSA on admissibility
Investigates and arrests foreign nationals and permanent residents who may be inadmissible
Represents the Government of Canada's interests (IRCC & CBSA) at immigration hearings before the Immigration and Refugee Board (IRB)
Monitors & detains foreign nationals and permanent residents who are suspected of serious inadmissibility, are a risk to the public, or are a flight risk
Removes (deports) foreign nationals who are no longer authorized to stay in Canada
Investigates and pursues anyone – citizen, non-citizen, travellers, exporters, importers, etc. – who violate Canada's border legislation.
There are a couple of key takeaways about the Intelligence and Enforcement Branch (IEB) of the CBSA:
As a permanent resident you are still subject to possible deportation if you raise concerns regarding IRPA 34, 35, 37.
If you appeal your case to the Immigration and Refugee Board (IRB), then the IEB will be the ones who play the role of federal prosecutor against your legal representative.
Chapter 8: What can an Applicant Undergoing a Background Check Do?
In the first place, security screening procedures may not always be made available to the public. This is due to the Access to Information Act – sections 15 & 16 which read in part as follows:
15 (1) The head of a government institution may refuse to disclose any record requested under this Part that contains information the disclosure of which could reasonably be expected to be injurious to the conduct of international affairs, the defence of Canada or any state allied or associated with Canada or the detection, prevention or suppression of subversive or hostile activities, including, without restricting the generality of the foregoing, any such information …
What follows is a long list of possible types of information pertaining to hostile and/or subversive acts against Canada and which the government does NOT have to disclose. Go here to see the full list of types of information under section 15 which the government is NOT required to make public.
16 (1) The head of a government institution may refuse to disclose any record requested under this Part that contains …
Again, section 16 – like section 15 – follows with a long list of types of information that the Government of Canada and it's various agencies are NOT required to disclose. Go here to see a full list of the types of information the government under section 16 does NOT have to make public.
The end result is that an applicant undergoing a security screening may receive a Refusal Letter from IRCC that does NOT detail the reasons why the applicant has been deemed inadmissible to Canada and refused a visa and they will do so under sections 15 and 16 of the Access to Information Act.
I. CSIS Notes & CBSA Notes
One option is to request CSIS or CBSA notes from CSIS or CBSA. You can pay to have this service done but you should understand that it will not speed up your application process. CBSA Notes, for example, will show:
the application status (which will tell you what type of security screening you are undergoing) and
also show when the security screening started and the date it ended if it has ended.
II. Writ of Mandamus
You can also file a Writ of Mandamus if you feel that your application is taking far too long due to a lengthy background check. This is usually recommended when the application has taken over a year and seems to be stuck in a security screening.
A Mandamus is a judicial remedy in the form of an order from a superior court (in our case usually the Federal Court) to a government agency or subordinate court, corporation, or public agency to:
Do or refrain ("forbear" in legalese) from doing a specific act that that government agency, court, etc. is required to do under the law.
In the case of a lengthy security screening, when you file a writ of mandamus, you are requesting the IRCC to come to a decision on admissibility because:
The delay in question has been much longer than the normal process would require, and
The applicant and their legal counsel were NOT responsible for the delay, and
The IRCC or CBSA did NOT provide sufficient justification for the delay.
To prove the first requirement, you must reference typical waiting times for that type of application as given at IRCC's website. Note that the current COVID pandemic makes this a somewhat more difficult point to prove in court.
To prove the second requirement, you must ensure (and then prove in court) that you and your representative (if you have one) have filed a complete application and provided the IRCC with all the required information – forms and supporting documents including photos etc. – in a timely manner.
Finally, it appears that courts in Canada do NOT generally accept reasons like staff shortages or backlogs as reasonable excuses for delays by the IRCC. However, how COVID restrictions play into any court decision on a writ of mandamus remains to be seen.
As well, remember that Federal Court in Canada tends to view each case based on the specifics of that case to see what a reasonable reason for delays in processing by IRCC is, for example, or to assess any other aspect of a writ of mandamus.
Needless to say, filing a writ of mandamus is something you should do with a trained professional and is never a guaranteed outcome.
And remember: A Writ of Mandamus request that proves successful will only compel IRCC to come to a decision on the admissibility of your application. It will not compel IRCC to grant you admissibility. That decision remains with IRCC.
If you wish to challenge a negative decision on admissibility see the next section.
III. Appeals to the Immigration Appeals Division (IAD)
Unfortunately, Sponsorship appeals – which must be done by the Sponsor and NOT the Applicant – are not allowed for persons found inadmissible to Canada due to:
Serious criminality
Organized criminality
Security grounds
Human and international rights violations (HIRV)
Misrepresentation.
You can try asking the Federal Court of Canada for judicial review of the IAD's decision but given that appeals are forbidden for exactly the types of security concerns that result in background checks, your chances of success are not good.
Summing up, both the Access to Information Act and the IAD's rules place security concerns above the normal legal process of appeal and reasonably full disclosure – all in the name of national security concerns. So, any attempt to seek justice through the courts will be a tough process and must be viewed with realistic expectations.
Needless to say, if you choose to contest in court or at the IAD, you should get professional counsel and/or advice.