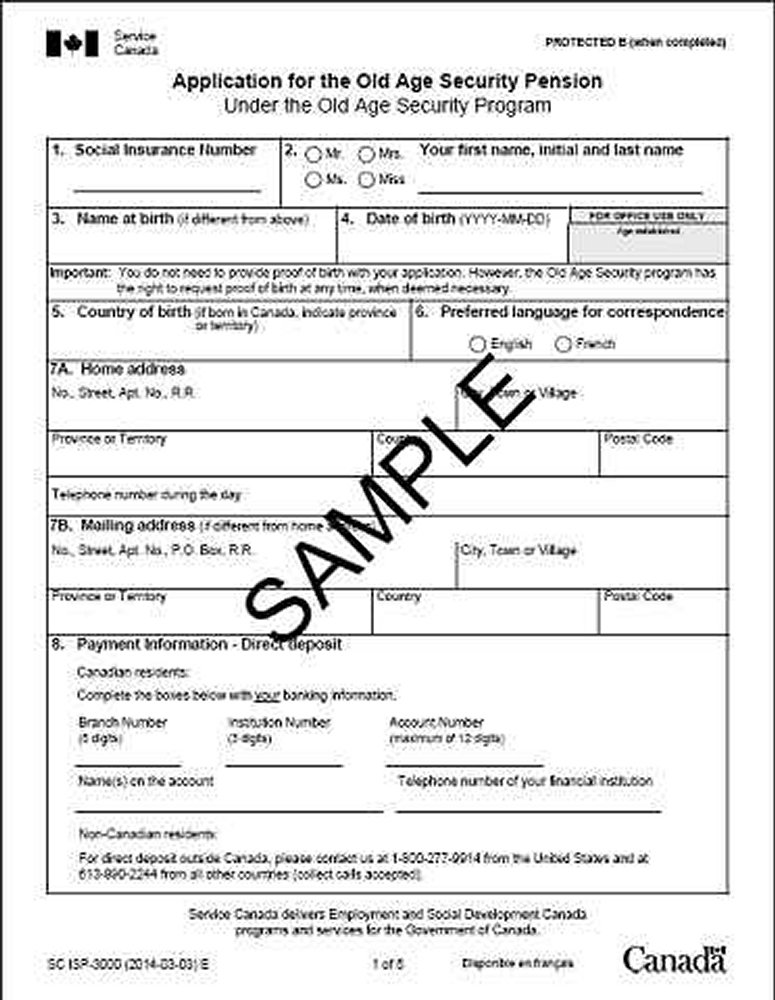 If you are a naturalized Canadian citizen and you are applying for Old Age Security (OAS) then you must now submit further documentation as the Canadian government has implemented a stricter policy in the last few years. This has turned out to be a nightmare for those who arrived in Canada many years ago, usually as young children, who are having difficulty producing the documentation now required by Service Canada to receive their OAS. Take a few minutes to review the new requirements, even if your age of retirement is still a long way off. Keeping records now of your landing in Canada, and any trips out of Canada and back to Canada, is vital if you want a smooth application for your OAS and you were not born in Canada.
In the 2012 budget, the government announced it was increasing the eligibility age for OAS for those born in March 1958 and later up to 67 from 65. The change takes effect in 2023 as those born in March 1958 and later turn 65 and it is, by all standards, a modest change. Alongside this official change, however, a policy that now demands more documentation for those eligible for OAS (Naturalized Canadians and Permanent Residents who have lived in Canada at least 10 years, or 20 years if you are now living abroad and applying for OAS) has also been put in place. And this is where it gets tricky if you don't have copies of plane tickets or older copies of your passport or Landing Documents with entry and exit stamps clearly showing how much time you have spent in Canada. 
Service Canada spokesperson Amelie Maisonneuve stated recently in an email to the media that "an applicant may be asked to provide documents to substantiate the departures from and entries into Canada in order to validate residence in Canada. Old Age Security is completely funded by taxpayers' dollars and it is important that we ensure the integrity of the program, providing benefits only to those who are eligible." In other words, if you are a naturalized Canadian, the burden of proof of residency in Canada is on you, and you have to provide documentation that satisfies Service Canada, although it is not strictly clear what that may be in any given case. Here is a rough guide to documentation you may need to present, to qualify for OAS:
The best document you can present is the Confirmation of Permanent Residence Document or Landing Document that you received at the border when entering Canada as a Permanent Resident. For those who arrived in Canada as young children many years ago finding this document is next to impossible.
Older passports that have a stamp showing your entry as a Permanent Resident into Canada are also valid.
Customs declarations from years past that show your entry into Canada may also be used.
Plane tickets have been requested on occasion from applicants as well.
Another option is to contact CIC and request they provide documentation of your status as a permanent resident of Canada for a $30 fee. You can also authorize Service Canada to contact CIC on your behalf although this will involve a delay of about 6 months, or perhaps even longer.
At some point in the future, perhaps Service Canada will use their own data base of Social Insurance Numbers, or SIN's, to confirm an applicant's residence in Canada. But it seems a get-tough order has come down from above, in line with other tougher policies meant to combat immigration fraud. That means source documents showing your entry into Canada rather than SIN cards or proof of taxes filed. It begs the question of how big a problem OAS fraud is and how reasonable are the measures in place at this point. But rather than wait for a change in policy, it is now up to you to have the documentation necessary to prove to Service Canada that you have been a permanent resident of Canada for at least 10 years from the age of 18 if applying for OAS. If you are applying from overseas, then the residence requirement is 20 years from the age of 18. The moral of the story is that you should keep a big fat file with any documentation that shows your entry and exit into Canada, or any matter related to your entry and exit. That includes plane tickets as well. You will likely need it if you are a naturalized Canadian applying for OAS at some point in the future when you reach retirement age.
More News
Live Outside Canada? Learn how to get your OAS
Maximizing OAS