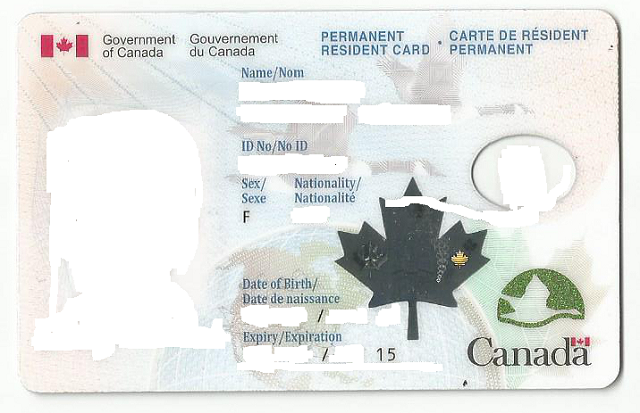 A permanent resident (PR) card is the official proof that you are a permanent resident of Canada. It's a plastic, wallet-sized card that you must show on re-entry to Canada on a commercial carrier. If you are driving in a private vehicle, other documentation is also acceptable. In this case you may use your Record of Landing, (IMM 1000), or your Confirmation of Permanent Residence, (IMM 5292 or IMM 5688), but entry is at the discretion of the officer and we do not recommend it. Your PR card, however, is still the best proof in that case as well, and you should apply for one as soon as possible, if you don't have one already.  It is usually valid for up to 5 years. Immigration, Refugees and Citizenship Canada (IRCC) will mail you your Permanent Resident card once you arrive in Canada as an immigrant who is being granted permanent residence. You should not have to apply for one initially, although you may need to apply if the following applies:
 IRCC did not mail you a card. You should thus apply for your first card.
Your card has expired or will soon expire. You should apply to renew your card.
Your card was lost, damaged, or stolen. You should apply to replace your card.
Once you become a Canadian citizen, you no longer need a permanent resident card, and your Canadian passport will be proof of your eligibility to enter Canada. 
If, when you receive your first PR card, there is a mistake by a IRCC officer that needs to be fixed, then the process for doing so is not the same as applying for a card as outlined above. In the case of a mistake on your first PR card, you must apply for a Request to Reissue a Permanent Resident Card. This can only be done if the incorrect information on your PR card was a result of an error by Immigration, Refugees and Citizenship Canada (IRCC) when you applied to migrate to Canada as permanent resident, or when you applied for a PR card from within Canada. Go here to download this application form, as well as photograph specifications, and an instruction guide.  Please note that you have 60 days from the time you can report the card as lost (4 weeks after the issue date) if the card was lost in the mail or 6 months from after you receive the card to report the error. Please note that any information that has changed: 
after you have received your permanent residence, or
after you receive your PR card, or
that is not due to a mistake by IRCC officials 
cannot be corrected. If this is your situation, you must instead apply for a new PR card using the application kit for Applying for a Permanent Resident Card IMM 5445.
But before you apply for a replacement of your PR card, however, you must first ensure that your Record of Landing and your Confirmation of Permanent Residence are error-free. If either of these documents contain errors made by immigration officials, then you must first submit a Request to Amend the Immigration Record of Landing or Confirmation of Permanent Residence, or Valid Temporary Resident Documents (IMM 1436). Click here to learn more and click here to download the application form and the instructional guide (IMM 5218).
Some important points to remember about this request form are:
Your Record of Landing and Confirmation of Permanent Residence are historical documents and are not personal identity documents themselves.
The only errors  that can be corrected are: family & given names, place & country of birth, date of birth, citizenship, sex, marital status, date of original entry, and the date of landing, and these errors cannot be corrected unless they were made by Canadian immigration officials
The following cannot be corrected: legal name change or change of name after marriage or divorce.
In the case of adoption, with proper supporting documents, your status document will be issued with your new, adopted name.
An urgent application can be made with "urgent" clearly marked on your mailing envelope if the following conditions apply: you face immediate loss of employment, or you cannot receive urgent services from other government departments at the federal, provincial, or municipal level. You must provide proof of your urgent situation with photocopies of relevant government documents, or an original copy of a letter from your employer, as well as a letter explaining your situation.
You must have all necessary documentation when you apply including:

The original application form IMM 1436, signed and dated.
A photocopy of 1 photo ID either federal or provincial or:
A photocopy of a government-issued or internationally-recognized photo ID issued before your entry to Canada.
If you have a Canadian photo ID, you will also need the internationally-recognized photo ID to indicate the errors made by IRCC. Examples include: marriage certificates, birth certificates, or student ID cards.
A photocopy of any legal documents showing changes to your name, sex, or date of birth.
A photocopy of your Record of Landing (IMM 1000) and/or Confirmation of Permanent Residence (IMM 5688).
A photocopy of the death certificate or provincial or territorial vital statistics document, if the application is being made on behalf of a deceased person.
Remember to include an email address where IRCC can communicate with you.

If you have used a representative (that is someone who has advised you and/or helped you submit your application forms) then you must complete and submit a Use of a Representative form (IMM 5476). This means that you are authorising IRCC to share your personal information with your representative. Using a representative does not mean your application will be processed any faster, however. You must inform IRCC if your representative' contact information has changed or if you have cancelled your appointment of a representative. A representative can be compensated (paid by you) or uncompensated (gives you free advice like a family member or friend for example). If your representative is compensated then they must be an authorized representative:

An immigration consultant in good standing with the ICCRC (Immigration Consultants of Canada Regulatory Council).
A lawyer or paralegal in good standing with the relevant provincial or territorial law society.
A notary in good standing with the Chambre des Notaries du Québec.
Once you have your approved Request to Amend the Record of Landing, Confirmation of Permanent Residence, or Valid Temporary Resident Documents (IMM 1436), then you can submit a regular PR Card application, but your application has to be supported by the correct documentation. 
Apply for your replacement PR Card now
How to Fix a Typo on Your PR Card