Canada is a vast nation connected by a heroic network of asphalt. The wide distances between towns and cities mean that we're heavily dependent on our motor vehicles. That means there's a wide array of opinions about the worst roads and highways across the country. Most of these strips of blacktop bisect beautiful landscapes, but you'd best keep your eyes on the road if you want to get to your destination in one piece. We think these are the scariest and most frustrating drives you can take in the Great White North.
7. New Brunswick Route 630
Pity poor New Brunswick, that boring clutch of trees separating go-go Quebec from scenic Nova Scotia. Rivaling only Northern Ontario for bush-to-anything-else ratio, a drive across NB is a fact of life for anyone trying to get from the Atlantic to the country's centre. But there's a road in central Nouveau-Brunswick that tops the Trans Canada for fearfulness: the 630, the route that connects St. Stephen at the Maine border to the highway at Meductic. This famously pitted and moose-haunted stretch of bush eats suspensions and endangers locals and travellers alike. Our suggestion? Cross the border and take Maine State Road 1. Face it, Americans care more about their cars than you.
6. Louis Riel Trail/Saskatchewan Highway 11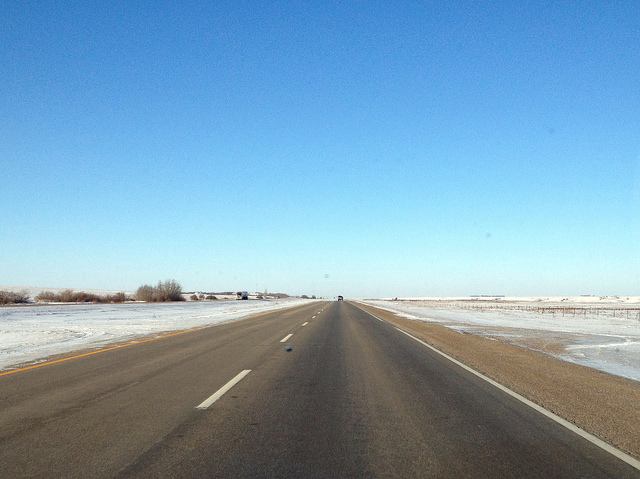 by Daryl Mitchell / Flickr / CC BY-SA 2.0
Speaking of parts of Canada you wish you could bypass on an American highway, we submit to you the case of the Louis Riel Trail, the highway that connects Prince Albert to Regina across the soul-crushingly dull expanse of the Canadian bread basket. This guy is nice and busy, and features an honest-to-goodness Prairie median, but it still claims victims from the dangerous boredom it creates.
5. Wreckhouse
by Ken McMillan / Flickr / CC BY 2.0
This stretch of road was named after wind so strong that it routinely blew trains off their tracks (when trains still ran across Newfoundland). It has "wreck" right there in the name. Need we say more? We'll add the ever-present specter of moose-car accidents in Newfoundland, a problem bad enough that the government has built expensive fencing in several places, and that seals the deal. Tie everything down securely and gun it.
4. Ontario Highway 401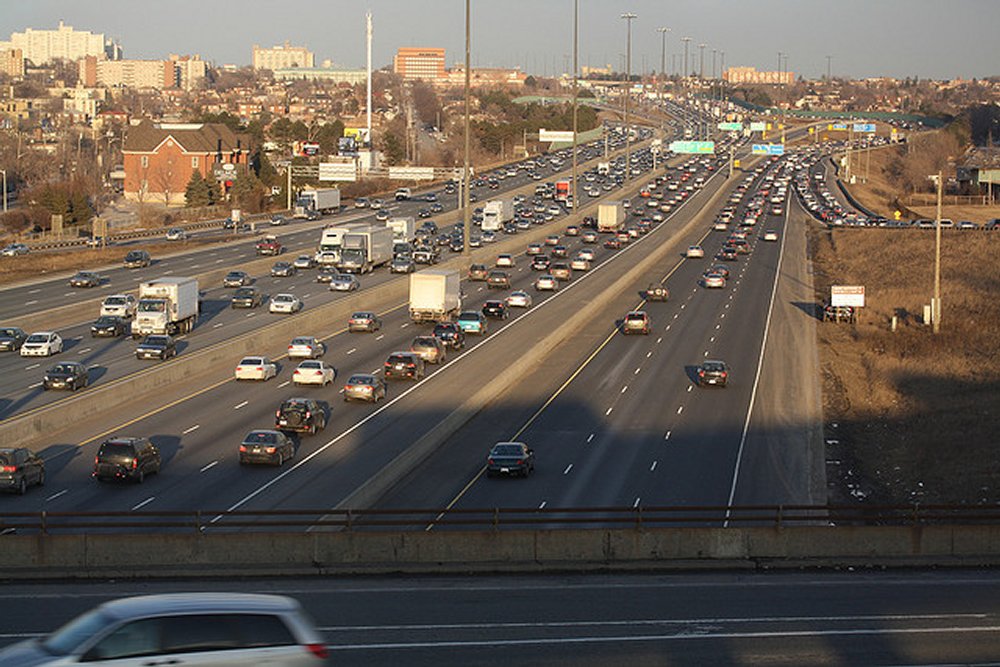 by Danielle Scott / Flickr / CC BY-SA 2.0
The weird thing about the 401 is that it's such a bogeyman for Canadians who rarely drive on it, and it's just another gridlocked GTA road for the people who use it the most. But that doesn't mean that it isn't an awful, transport-truck-choked death trap. It's an obvious choice, yes, but it's earned its reputation.
3. Tibbitt to Contwoyto Winter Road, Northwest Territories/Nunavut
by Nonac_Digi / Flickr / CC BY 2.0
Only one road on this list has a TV show all about how dangerous it is, but the low volume of traffic on this stretch of isolated terrain pushes it out of our top two spots. Yeah you might crash through the surface of the road and freeze, or you might whack a polar bear, but you sign up for that sort of thing if you're trucking on an ice road.
2. Coquilhalla Highway, BC
by Colin Keigher / Flickr / CC BY-SA 2.0
This route through BC is absolutely stunning. One of the gravest risks you accept driving it is the threat of flying off the side of a mountain because you're so awestruck you can't keep your eyes on the road. Then there're the mountain goats, elk, and bears, and the harsh and sudden winter storms. You're in the Rockies, so embrace your inner mountain man and show no fear.
1. Ville Marie Expressway (Quebec Autoroute 720)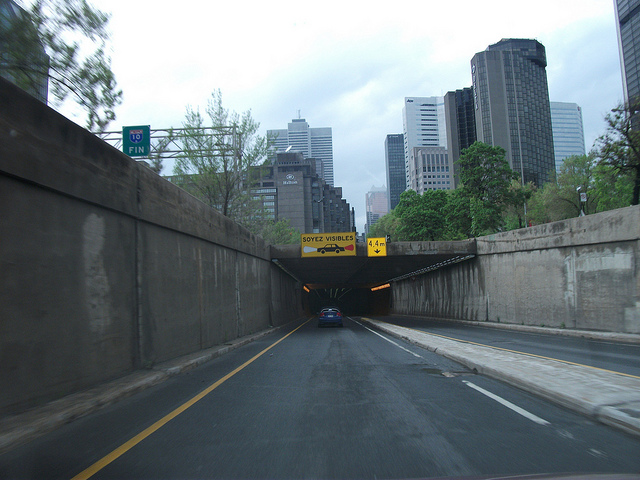 by Doug Kerr / Flickr / CC BY-SA 2.0
The champion in our race to the bottom of the barrel of Canadian roads is arguably not even in Canada—it's in Quebec. Although, come to think of it, lots of people in Montreal think they're as different from Quebec as Quebec is from Canada. Whatever the allegiance of its inhabitants, one of the costs of living in the sexiest anarchist enclave this side of the Atlantic is the threat that a huge chunk of concrete could fall out of the sky and crush your flamboyantly artistic spirit. Maybe try taking the subway, or, if you're just passing through, we hear there are some great roads in Maine.
What is your candidate for the worst road in Canada?
This article was commissed by George Laczko