Citizenship Application (Become a Canadian)
Canada has the highest rate of naturalization in the world. 85% of eligible permanent residents become Canadian citizens.
After you've immigrated to Canada and been a permanent resident for a bare minimum of three years, and you meet the language and residence requirements, you can apply to become a Canadian citizen.
Urgent processing of your citizenship application is now available 
To apply for urgent processing, you must be eligible. You must have one of the following reasons to require urgent processing:
You need your citizenship to apply for a job
You need citizenship to avoid Losing your job
You need citizenshi to attend a Canadian school, college or university
You need citizenship because you need your Canadian passport because you need to Travel because of death or illness
Please contact Immigroup today for more information.
Total Price to Expedite your application:
$350 + taxes if you have already filed
$800 + taxes & government fee if you have not filed your application
As a Canadian citizen, you're entitled to:
Carry a Canadian passport
Receive Canadian government healthcare
Live outside of Canada indefinitely, with the ability to return to Canada at any time
Never be deported from Canada
Pass on Canadian citizenship to your children
Work for the federal government
Vote in Canadian elections
Run for political office in Canada
INDEX
Canadian citizenship cost and processing time
The processing time for Canadian citizenship applications has been around 24 months since 2011. This means that 80% of routine applications are processed within this time. However, with upcoming changes to the citizenship application process, the application processing time is expected to reduce to around 6 – 12 months.
Canadian Citizenship Fees

| Adult | Child | review |
| --- | --- | --- |
| $1168.50 | $525.50 | $337.87 |
Please note that a child applying on their saves most of the government fee.
Documents to become a Canadian citizen
When you apply to become a Canadian citizen, you have to provide photocopies of certain documents with your application:
ID page of all passports you have used in the past 5 years (you can even provide copies of all pages in the passports, but it is only mandatory to provide the ID page)
valid or expired permanent resident card, if you have one
IMM1000 Record of Landing document
two provincial IDs such as driver's license or health card (one must have a photo)
for minors, proof that at least one parent is a Canadian citizen
for minors, copy of the applicant's long-form birth certificate
If you are missing either your PR card or your IMM1000 document, you can still apply for citizenship as long as you have one of them. But, you have to include a letter explaining why you do not have the document.
All Canadian citizenship applications need to include two photos.
Canadian Citizenship Application Photo Requirements
Applicants for replacement of a Canadian citizenship card must provide two photos with their application that meet these requirements:
photos must be identical
printed on photo paper – matte or glossy
the name and address of the photography studio where the pictures were taken must be on the back of the photo
the date the photo was taken should be written on the back of the photo
the name of the applicant should be written on the back of the photo
taken within 6 months
clear and taken against a white or light coloured background
must not be altered digitally (photoshopped)
facing the camera with neutral expression (no smiling) with both eyes open and clearly visible
eyes cannot be obscured in any way, including by hair or frames of glasses
photo size: 50x70mm
head size in photo: 31 – 36mm from chin to top of hair
Canadian citizenship residence requirement
To apply for Canadian citizenship, an applicant must have been physically present in Canada for at least 1,095 days out of the last 5 years.
Additionally, all applicants must have filed income tax returns and complied with all requirements thereof for3 years out of the 5 prior to applying.
As part of the application, you have to declare the dates that you have spent inside Canada either on the Online Residence Calculator or How to Calculate Residence form.
The residence requirement for Canadian citizenship does not apply to minors under age 18 who apply for citizenship at the same time as their parents.
Use the calculator in a new window
Canadian citizenship residence questionnaire
If IRCC determines that there may be doubt whether you have met the residence requirement for Canadian citizenship, they may give you a Residence Questionnaire. In the RQ, the applicant is expected to provide evidence that they have met the residence requirement by proving that they have been physically present in Canada for three out of the past five years.
If you receive an RQ, this is now part of your application for Canadian citizenship and the application will not be finished until you submit the RQ. If you do not submit the Residence Questionnaire, your application for Canadian citizenship will be abandoned. Receiving an RQ will add a minimum of 6 months of processing time to your citizenship application.
There are lots of reasons that IRCC determines to send out an RQ in conjunction with a citizenship application, including:
frequent travel outside Canada
holding multiple passports
you've applied for Canadian citizenship before and been refused on residency grounds
your employer or business is located outside Canada
frequent periods of unemployment
your citizenship application looks like it was completed outside Canada (photos taken outside Canada, printed on A4 paper, etc)
When you respond to the residence questionnaire, you have to provide evidence that you have been in Canada, including:
bank statements
mortgage/lease documents
insurance documents
copies of your full passport
membership cards
tax and income documents
For more information about the RQ, see our Residence Questionnaire page, and our article, Reasons You May Receive a Residence Questionnaire.
Canadian Citizenship Language Requirement
As of October 2012, IRCC has required that applicants for Canadian citizenship demonstrate that they can speak English or French proficiently enough to function in Canadian society.
All applications for adults ages 18 – 54 must include proof that the applicant has command of either official language. This proof can be in the form of
a high school diploma from inside Canada
a high school diploma from outside Canada with proof that the classes were in English or French
a college or university degree from inside Canada
a college or university degree from outside Canada with proof that the classes were in English or French
official test results from a IRCC-approved testing body showing a minimum proficiency in either language
For more information about the language requirement, see our article Canadian Citizenship Language Requirement.
Canadian Citizenship Test
Applicants for Canadian citizenship who are 14 to 54 years old must all take a test to demonstrate that they have knowledge of Canadian culture, laws, and government. The citizenship test is multiple choice with 20 questions, and you have to answer 15 our of 20 questions correctly.
All of the questions on the citizenship test are based on the study booklet called Discover Canada, which is mailed to applicants for Canadian citizenship when their application is received by IRCC. You can download a copy of the Canadian citizenship study booklet here: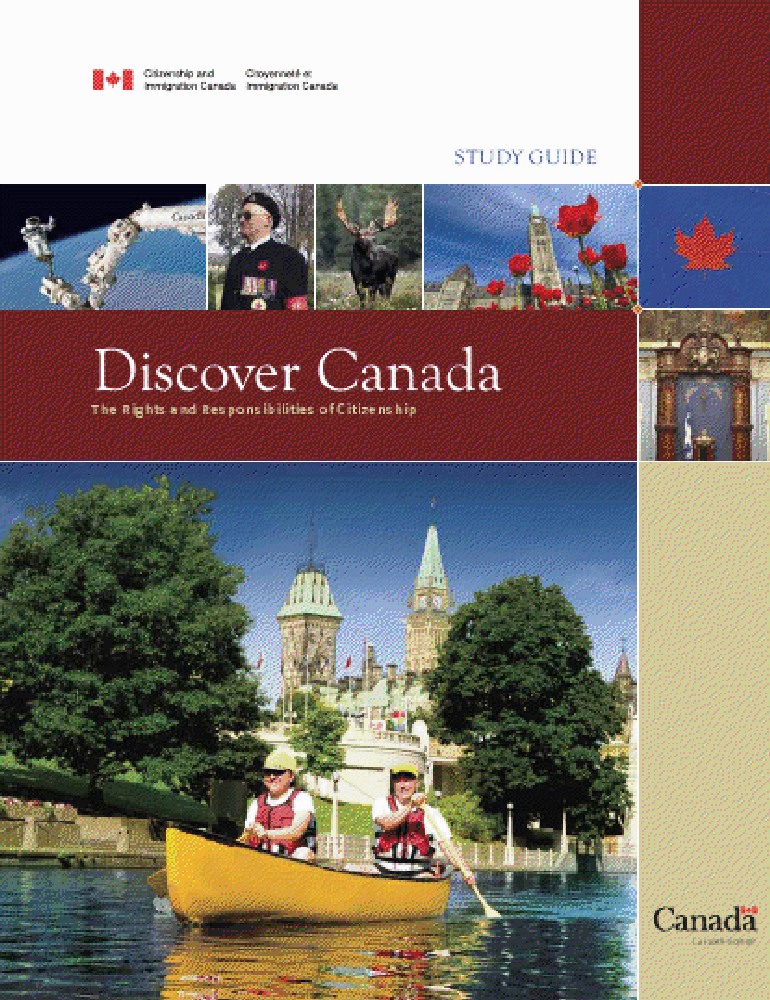 You will be told if you have passed or failed the citizenship test immediately after you turn in your answer sheet. If you failed the test, you will be scheduled to retake the test within the next six months. If you pass the test, you will be scheduled to take the oath of citizenship within the next few months. If you fail the test again, you will be scheduled to meet with a citizenship judge who will determine if you should receive Canadian citizenship at this time. It currently takes around two years to get a meeting with a citizenship judge.
An example of the kind of questions that are on the Canadian citizenship test is:
What is the meaning of the Remembrance Day poppy?
a) To remember our Sovereign, Queen Elizabeth II
b) To celebrate Confederation
c) To honour prime ministers who have died
d) To remember the sacrifice of Canadians who have served or died in wars up to the present day
Other information that the questions on the citizenship test discuss includes
the founding peoples of Canada
the documents that guarantee our rights and freedoms
the rights that Canadians enjoy
the meaning of responsible government
the contributions of key people in Canadian history
the current government leaders including the Prime Minister and your Member of Parliament
Canadian citizenship application process
All applications for Canadian citizenship are submitted to the IRCC office in Sydney, NS. After your application is checked to make sure it is complete for processing, it is then forwarded to the IRCC office closest to where you live. From here, background checks are conducted on the applicant. Then, the applicant is scheduled for their Canadian citizenship test at this local office, unless they are exempt from the test due to age or medical reasons. Finally, the applicant is scheduled to take the oath of Canadian citizenship at this local IRCC office.
If the applicant receives a residence questionnaire, this documentation will be reviewed at the local office where their file is held.
Taking the oath of Canadian citizenship
When your Canadian citizenship application has been approved, you are then scheduled to take the oath of Canadian citizenship at your local IRCC office. Most offices have three or four citizenship ceremonies per day. Before the ceremony, you have to relinquish your PR card if you have one to IRCC staff and show them your IMM1000 Record of Landing, because you cannot hold a PR card when you are a Canadian citizen. However, you do keep your Record of Landing as proof of when you first immigrated to Canada.
Each applicant is allowed to have one family member or friend watch them take the oath. If there is room, additional guests will be allowed to watch the ceremony.
During the ceremony, each applicant must recite the oath of Canadian citizenship in both English and French, repeating each phrase after the citizenship judge or IRCC official. Then, everyone sings the Canadian national anthem, O Canada, together. Finally, each applicant is called individually to the front of the room to receive their Canadian citizenship certificate from the judge. When the applicant has received his or her certificate, they then sign a declaration stating that they have not received Canadian citizenship under false pretences by lying on their application (misrepresentation), and that they are not currently under any criminal charges or convictions which would prevent them from becoming a Canadian citizen.
Canadian citizenship application for minors
Apply for a MINOR to Become a Canadian Citizen
When an application is filed for a child to become a Canadian citizen, several additional requirements must be met.
One of the child's parents must be a Canadian citizen at the time the application is filed, or must also be applying for Canadian citizenship at the same time. This is to prevent a child from becoming a Canadian citizen while neither of their parents is. If one of the child's parents is a Canadian citizen already, a copy of the front and back of this parent's Canadian citizenship certificate should be included with the application.
A copy of the child's long-form birth certificate should also be included which shows the parents' names.
School records for the past five years for the applicant also have to be included with the application.
A child under 18 years old also does not need to take the oath of Canadian citizenship, meet the language requirement, or take the Canadian citizenship test.
Finally, a minor applicant does not need to meet the residence requirement of living three out of the past five years in Canada – they are exempt from this rule.
How to Request Urgent Processing of Your Citizenship Application
A step by step guide
I never thought I would see the day that Right of Citizenship would get urgent processing; this is great news. Here at Immigroup we have created a simplified guide. Just follow the steps carefully and remember regular processing takes a year to a year and a half!
Also, remember we here at Immigroup have a full paid option for people that have a lot to lose if they don't get citizenship quickly. Our process is even simpler than what you see below. Just download our Simplified Guide and let us worry about the details.
Download Citizenship Application Here
Step by Step Guide to Applying for Urgent Processing of Your Citizenship Application
Do any of these questions apply to you?
Do you have an application for Canadian citizenship in progress?
Are you about to apply for citizenship?
In either case, do you need Canadian citizenship urgently due to some sort of emergency or urgent situation?
Then you may be able to apply for urgent processing of your application. Let's see how.
What does IRCC define as an urgent situation or as an emergency for a citizenship application?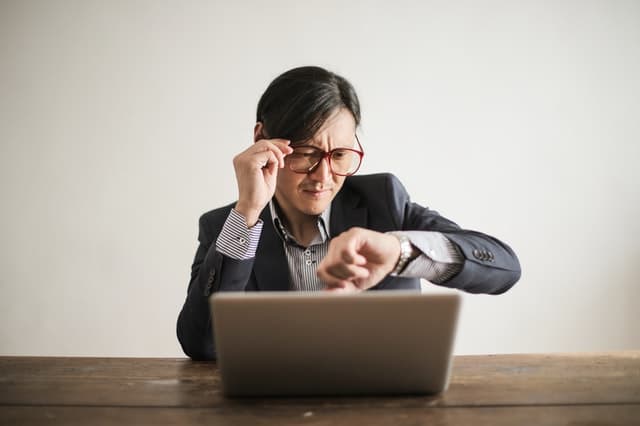 Each individual request is considered separately and on its own merits, but the main reasons for allowing urgent processing of a citizenship application are:
You must be facing some kind of emergency such as:

Needing Canadian citizenship to apply for a job
Needing Canadian citizenship to avoid losing your job
Needing Canadian citizenship to go to a Canadian school, college, or university
Needing to travel due to a death or serious illness in your family and not being able to travel on your current passport
Receiving a successful Federal Court decision on an appeal on a previous application for Canadian citizenship.
What to do if you've already applied for Canadian citizenship and a sudden emergency or urgent situation has arisen
Step 1: Go here to see the progress of your application and get an estimate of when your application will be processed.
Depending on the nature of your urgent situation or emergency (for example any deadlines or specific dates involved), you may have to request urgent processing for your application.
Step 2: Go here to fill out a webform requesting urgent processing. Scroll down to the drop-down menu and choose Citizenship. You will need to provide the following:
Proof of travel like an official itinerary or airline ticket with your name, dates, and destination.
Proof of payment for the travel with name, dates, and amount paid.
A letter explaining the urgency of your travel.
A proof of the urgency you have outlined such as:

A doctor's note
A death certificate
A letter from your employer.
The documents you include must be in the following formats:
PDF, JPEG, TIFF, DOC, or DOCX
Each individual file must be 2 MB or smaller
Your total application size including all supporting docs, must be 3.5 MB or smaller.
Go here to see how to reduce file sizes to meet the above maximum sizes permitted.
Include your full name, date of birth, email address, telephone numbers.
Include your application number or your UCI (Unique Client Identifier) from your citizenship application.
Did you already send in your application and would like to know what is the status of your application? Read our tips and tricks article about how to check your status here.
Tip: It is important you don't rush and you send in a completed application. Missing just one thing can slow everything down dramatically.
Remember to keep copies of what you are sending the government; it's a good idea to pay for tracking when sending in your application.
If you have a date of birth or name that contradicts your Landing Paper (Record of Landing/COPR), seek professional help before sending in your application. This is the time to fix the problem, it will be a lot more difficult later on. We at Immigroup can help you with this.
Tip: We have a FREE Citizenship Practice Test tool here!
What to do if you haven't yet sent in application for Canadian citizenship:
Step 1: Go here to download an application form for citizenship. Choose your category from the list.
Make sure your form's version is dated October 2017 or later. To see what version your application form is look at the bottom left corner of the form. If your application form is a version earlier than October 2017, it will be sent back to you and you will be asked to use an updated version.
Step 2: Print out the application form and complete all the questions
Step 3: Write and include a letter explaining why you need urgent processing.
Include any documents that support your urgent situation, including:
Travel itineraries or tickets with names, dates, destinations, and amounts paid
Copies of death certificates
Letters from employers.
Step 4: Include the following in your envelope:
Your printed, completed, dated, and signed application form
Your letter of explanation outlining your urgency
Your citizenship photographs
Your receipt for your fee payment
Any supporting documents required.
Step 5: Write Request Urgent Processing – Grant of Citizenship on the front of your envelope in large dark letters clearly visible.
Step 6: Mail the application to one of the following addresses depending on whether you are sending your application by mail or by courier:
By Mail
by Courier
Case Processing Centre
Sydney
P.O. Box 7000
SYDNEY, NS
B1P 6V6
Case Processing Centre
Sydney
49 Dorchester Street
Sydney, Nova Scotia
B1P 5Z2