Amend your Record of Landing (IMM1000) even if there was a mistake on your passport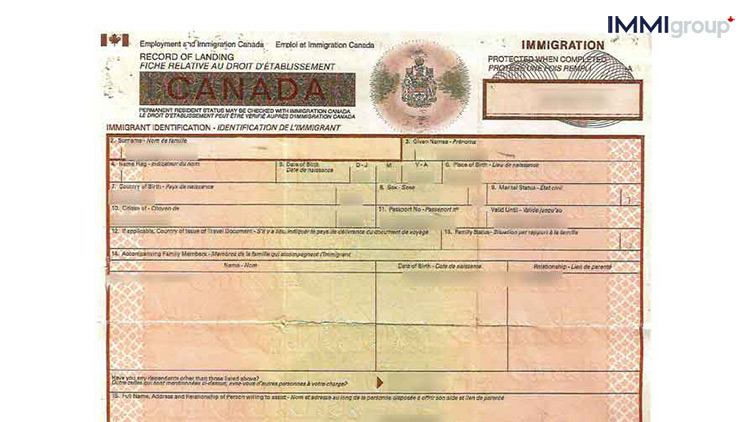 Every person who came to Canada as a landed immigrant or permanent resident should have received a piece of paper to document their arrival known as a Record of Landing (IMM1000) or Confirmation of Permanent Residence (IMM 5292 or IMM 5688). The format of this document has undergone many changes over the years, but the reason it is important is that you must provide it to government agencies to receive certain services. Service Canada requires that you provide a copy of it to receive your pension from the Canadian government and Immigration, Refugees and Citizenship Canada (IRCC) requires it to apply for Canadian citizenship or to renew your PR card.
But what happens if your Record of Landing has incorrect information about you?
You can apply to amend your Record of Landing to correct any inaccurate information such as your date of birth, name, or country of birth.
IRCC official stance is that you may not amend a Record of Landing if the mistake was present on the documents you used to enter Canada. For example, if you want to fix your date of birth, but the incorrect date of birth was printed on the passport you used to enter Canada when you landed, IRCC says they will not issue the amendment. In other words, IRCC will only correct the document if a mistake was made by immigration when producing the document, but not if the mistake was contained within your passport.
However, whether or not the amendment is issued depends heavily on the discretion of the officer reviewing the application. Many people who did have erroneous information on their passport have had their application for an amendment approved, contrary to what IRCC officially says.
How can you amend your Record of Landing even if your documents contained the mistake? Here are some tips:
Submit as much supporting documentation as possible. IRCC requires that you submit documents to support your application such as a copy of the passport you used at the time of your landing and ID documents issued before you came to Canada. The chances that your application will be approved are much higher the more documentation you submit. If you don't have these documents, IRCC does not have much information to work with to allow them to see why your document should be corrected. So, if the original passport is missing, submit copies of all the other passports you have had since.
 Submit certified translations. IRCC requires that all documents that are not in French or English be accompanied by a certified translation. This includes birth certificates, hospital records, and ID documents. Do not submit translations that you or a family member has done as this will reflect poorly on your application, or they could not be accepted at all.
Submit a complete application. All applicants have to include a copy of a current photo ID and a copy of their Record of Landing containing the mistake. Make sure to include these documents. If your original Record of Landing is missing, apply for a replacement before you apply for the amendment. If you don't have a photo ID, go get one. Incomplete applications are much less likely to be approved, and IRCC may return the application to you without processing it until you can provide the information.
Click here to read: Replacing your Record of Landing – a step-by-step guide
The information that is on your Record of Landing is your official information in Canada. This means that if your true date of birth is November 1, 1950 but your Record of Landing says that your date of birth is November 1, 1960, the Canadian government will recognize your date of birth as November 1, 1960. This could cause you to lose out on valuable benefits such as your pension.
You owe it to yourself to make sure that your information on file with the government is accurate. If you're still not sure about how to apply for an amendment to your landing document, take a look at this page about the application process.