Acknowledgment of Receipt for Immigration (AOR)
Look up definitions, please click here
What is an Acknowledgment of Receipt letter IRCC (AOR)?
An Acknowledgment of Receipt (AOR) is an official letter that IRCC sends you confirming they have received your application and will start processing it.
When can you expect to receive your Acknowledgment of Receipt?  
Please note, all timelines are just an approximation.
Why would you need an Acknowledgement of Receipt?
You will need an AOR to communicate with the government about your application.
The most important point of an AOR is it's an Acknowledgement of Receipt of receipt of your application. This means that it gives the date that IRCC (former CIC) opens up (or looks at in the case of online applications) and begins to process your application. This date is key because it impacts on several issues:
The age of any dependent children is taken as the age on the date of the AOR, not on the date you sent the application, especially in the case of paper applications. This means that if your child is 21 and they turn 22 between the date you sent off your application and the date of the AOR, they will no longer be considered dependent children (unless they qualify beyond the age of 21 due to reasons like disabilities, etc.).

Even with online applications the date of the AOR can sometimes be a day or two later than the date you electronically submitted the application.

The date of expiry of the validity of supporting documents like your language test results, medical exams, or professional certifications, for example, must be after the date of the AOR. If not, you will have to retake and resubmit these tests or certifications.
Often – for economic immigration programs in Express Entry for example – you will need a certain number of years of eligible work experience during the last 5 years, or sometimes 10 years. Say your eligible work experience began nearly 5 years ago and your application gets lost for a while in the shuffle and is opened months later. This means that you may no longer have sufficient work experience because IRCC will start counting from 5 years from the date of your AOR, not the date you sent in your application.
In other words, make sure you have a cushion of up to several months of extra time in the case of the validity period of exams or test or certification results. Apply sufficiently early (or retake the exams, tests, or certifications) to avoid having your application set back by months. If the validity period for your work experience is about to run out, apply as soon as possible or try to obtain more work abroad in that occupation before applying to Express Entry.
"There may be a delay between the date we receive your application and the date we open it." IRCC
In the case of a paper application, it's best to use a courier that requires a signature when they deliver your application package so you can track when the package arrives at IRCC. Once you get your AOR, you can also link your paper application to your online account at IRCC (go here to see how to do this). This will enable you to check your progress by tracking your application status online. However, remember that the date on your AOR may be later than the date your courier service delivers your application package to IRCC. As IRCC says at their website:
In the case of an online application, you'll see a confirmation page after you hit the submit button. Then within a short while (although there may occasionally be a few hours delay) you should receive a confirmation message/email with a confirmation number in your online account.
When applying through a Visa Application Centre (VAC), make sure to ask about their tracking service which tells you when your application has been received at the IRCC office that will be processing your application.
Urgent applications or renewals of a Canadian Passport: If you have lost your citizenship certificate and need a Canadian Passport urgently, Passport Canada may make an exception and accept an Acknowledgement of Receipt of your citizenship certificate. This is based on our experience at Immigroup but it depends on your specific situation and an AOR may often not be accepted.
Furthermore, it's always helpful to have documentation showing you have made every effort possible to obtain your replacement citizenship certificate as quickly as possible and that you still have not been able to replace it in time to get your urgently needed Canadian passport.
Citizenship Certificate: An AOR with a citizenship certificate application generally means that IRCC has deemed that your application in complete.
Study Permit: As with most applications, an AOR does not necessarily suggest you won't be contacted for additional supporting documents. It just means IRCC has opened up and begun to process your application.
Work Permit: As with study permits, it means they have begun to process your application, as is also the case for the following applications:
How to get an Acknowledgement of Receipt for Immigration?
IRCC mails or emails you your AOR when they open up your application. You do not apply for an AOR; it's something the government sends to you after they receive and open up your application. Remember however, that an AOR doesn't necessarily mean that you will not have to provide additional documents. As the sample letter below indicates, after they have sent you your AOR, IRCC may contact you later for further information and/or additional supporting documents.
Further, once you have gotten your AOR, there may be delays in processing and you may have to wait for months for IRCC to finish processing your application.
Sample of Acknowledgement of Receipt
What is on your AOR?
Date your application was started
Application number
UCI number
AOR date
IRCC secure account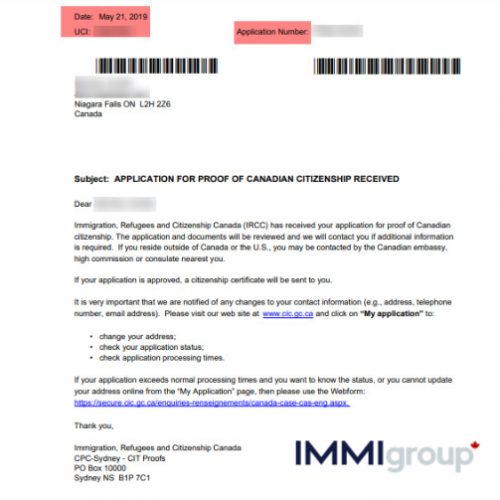 Acknowledgment of Receipt Email Sample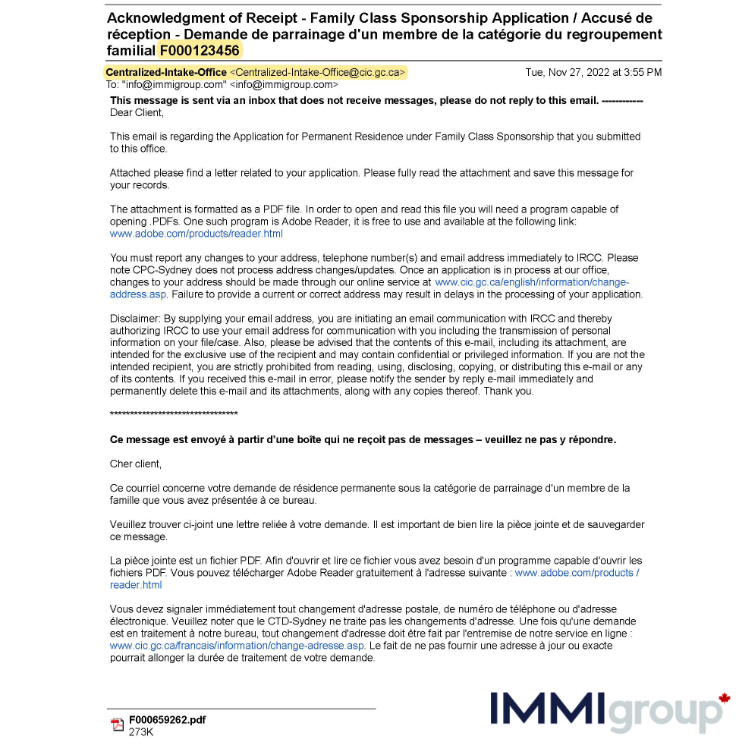 "Please note that your AOR will arrive sometimes months after IRCC has received your application. That's because it sits in a mail room with other backlogged applications until an IRCC case officer has time to open up and review the application, after which they then send you your AOR."
FAQs
How many months does it take to get AOR for spousal sponsorship?
Similar to PR applications, you can wait for several months before getting your AOR with a spousal sponsorship. Remember, these are involved applications with lots of supporting documents involving both the sponsor and those being sponsored, so IRCC tends to be a little slower with these.
How to fix a mistake on my AOR?
This depends on what the mistake is. An AOR – as we show above – is a sort of receipt stating that IRCC has received and started to look at your package. It includes the date your application was opened and, normally, began to be processed; your Unique Client Identifier (UCI); your application number; and other information. There is no personal information of yours aside from these data points which are generated by IRCC.
If, however, if there's a problem using your UCI or application number, you should go to IRCC's website and fill in their webform to let them know of the problem.
What email address does the Canadian government use when sending me my AOR? 
Email used to get your AOR: Centralized-Intake-Office @cic.gc.ca or @international.gc.ca. The email example below came from [email protected]
When can I check my application's status?
You can only check your application's status after you have received an Acknowledgment of Receipt letter from IRCC.
How long does it take to get your Acknowledgment of Receipt?
It can take up to several months before you receive an AOR from the date you submit your application. See our estimate timelines above.
How do I know whether my application has been received by IRCC?
There are 2 main ways.
The first is to have a tracking service with your courier delivery service or through a Visa Application Centre which also offers tracking services.
The second way is when you receive your AOR from IRCC. Please note that your AOR will arrive sometimes months after IRCC has received your application. That's because it sits in a mail room with other backlogged applications until an IRCC case officer has time to open up and review the application, after which they then send you your AOR.
Does AOR mean my application is complete?
Not necessarily. If you are applying through Express Entry you're automatically generated AOR does not guarantee you won't be asked for further documentation. In the case of citizenship certificate applications, on the other hand, it does generally tend to indicate that your application is complete. With other immigration applications, you may sometimes be asked to provide further supporting documents, even after getting an AOR.
What is AOR in PR process?
An AOR is the same format regardless of your application. What does change is the time it may take to receive an AOR from IRCC.
How long it takes to get PR after AOR?
With Permanent Resident applications, AORs tend to take several months and sometimes longer, before IRCC sends one to you.
How long does it take to get my citizenship certificate after I have received my AOR?
As of September 2022, it takes the IRCC around 26 months to process a citizenship application. You should receive your AOR within a month or two (sometimes it may be several months) of submitting your application. That means that it can take around 20 months between receiving your AOR and getting your certificate. Click here to check IRCC application timelines.
Definitions:
Application Number: This is an alphanumeric – usually involving 1 letter and 9 numbers – identifying the specific application involved. Unlike a UCI (see the definition below) a single person may have several application numbers if they have submitted more than one immigration application to IRCC. You'll find it in the top corner of any document or official correspondence from IRCC.
AOR Date: Located at the top of your AOR, it is crucial as to determining the age of your dependents and the validity of any tests, exams, or other certificates required by IRCC for your specific application.
IRCC Secure Account: An online account you use to receives messages and check your application's status. Go here for more information on how to register for your online account at IRCC.
UCI: Unique Client Identifier (also known as Client ID). It's an 8 or 10-digit number (usually with a hyphen in the middle) that's given to you by IRCC once you have already dealt with them through a previous application. You'll find it in the top RH corner usually on official documents or correspondence from IRCC. If it's your first time applying to IRCC you won't yet have a UCI. You will have the same UCI no matter how many applications you submit to IRCC.
[ays_poll id=5]
Need paid support with your immigration application? Send us a message and we will look after you.