Everything You Need to Know About the LMIA for Express Entry
To hire a foreigner you need a Labour Market Impact Assessment (LMIA): How do I apply for an LMIA? LMIA Advertising Requirements. LMIA Requirements. Wages, Working Conditions, and Occupations. Applying for an LMIA. What is TFW Program Compliance?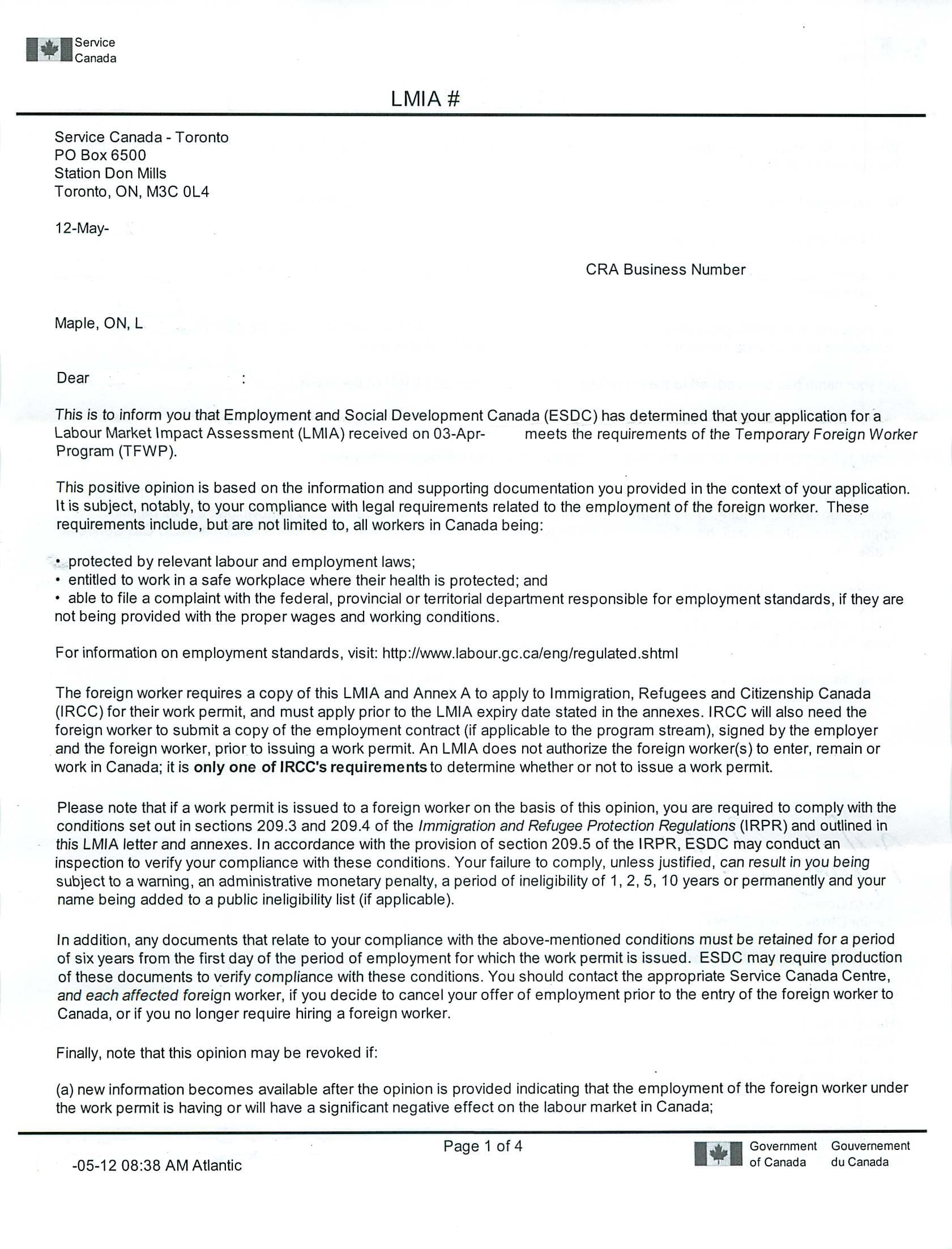 An LMIA (Labour Market Impact Assessment) might seem like a bureaucratic maze that employers and foreign workers have to navigate for a work permit. And, to an extent, it can be a detailed and demanding process to comply with for something that would seem straight forward. But an LMIA is also essentially a protectionist measure that has been put in place to defend the labour rights of Canadian citizens and permanent residents of Canada from foreign competition that could:
Undercut the wages citizens and permanent residents earn in any given occupation;
Allow worse working conditions in any given occupation's workplace;
Undercut employment opportunities for citizens and permanent residents;
through the use of temporary foreign workers on work permits. That is to say, it's important to understand the political aspect of an LMIA because you, as an employer, may be subject to several kinds of inspections after you have received a positive LMIA. In other words, you have to take care of the details and ensure you're following the rules to avoid having the ability to hire skilled foreign workers taken away from you by Canadian authorities as a result of an inspection.
Remember, the LMIA program is run by ESDC (Employment & Social Development Canada) which is NOT part of IRCC and is not directly involved with immigration or work permits. Their concern is making sure you as an employer are not bypassing Canadians and permanent residents when you offer a job to a foreign worker so they can apply for a work permit.
The onus is on you, the employer, to show ESDC that you are in compliance or are taking corrective measures. So, it's time to find out how you as an employer can navigate the LMIA application process and be prepared for any possible inspections by authorities after you have been granted a positive LMIA.
Express Entry Historical ITAs by Draw
Express Entry Historical Cutoffs by Draw
How do I apply for an LMIA?
The first step depends on what type of program you as an employer are using to bring a foreign worker to Canada under. This will depend on what type of job you are offering.
Express Entry: hiring a skilled worker to support their application for permanent residency
You have 3 principal programs that your foreign worker can chose from on the Express Entry portal:
Foreign Skilled Worker Program (FSW):
The employer should be offering a job that is:
an occupation listed as NOC skill type 0 (management) or skill levels A (professional or scientific with university education) or B (trades and technical with post-secondary education and/or apprenticeship/training)
a full-time job (minimum of 30 hours per week)
a job with at least 1 year of duration
a non-seasonal occupation.
Foreign Skilled Trades Program (FST):
The employer should be offering a job that is:
an occupation listed as NOC skill level B (trades and technical)
a full-time job (minimum 30 hours per week)
of a duration of at least 1 year.
(Up to 2 employers can make the job offer under FTSP.)
Canadian Experience Class (CEC):
The employer must be offering a job that is:
an occupation with the same skill as FSWP (skill type 0, skill levels A, B)
a full-time job (minimum 30 hours a week)
of a duration of at least 1 year
of a non-seasonal nature
for a foreign worker with at least 12 months of full-time skilled work experience in Canada during the previous 36 months.
For the above 3 programs, an employer:
Can NOT be an embassy or consulate or diplomatic mission of any kind;
Must NOT be on IRCC's list of ineligible employers (see below);
Must have been in business for at least 1 year;
Can NOT be hiring workers who intend to live and work in the province of Quebec (for those foreign workers who wish to work in Quebec see the Quebec Skilled Worker Program).
As well, please note that as an employer you are allowed to hire a worker on a temporary basis while their application for permanent residency is processed (something that may take a number of months). To do this, you will have to file what is called a Dual Intent LMIA which involves an additional processing fee as well, and supports:
a permanent residence visa, and
a temporary work permit.
LMIA Advertising Requirements
As an employer you must ensure you advertise for qualified Canadian citizens and/or permanent residents to see if you can fill the job before you hire a foreign skilled worker. The advertising must comply with the following rules:
Unless the job you are seeking to fill is LMIA-exempt you must advertise for that job in Canada for at least 30 days before applying for an LMIA for a foreign worker.
You have to place an ad in Canada's Job Bank using the Job Match service:
You may also wish to place ads for the job in local and national media to ensure you have done a thorough job trying to find Canadian citizens and/or permanent residents that fit your needs as an employer.
You must offer the prevailing wage in Canada (or in the province/territory) for that occupation and you must include the wage in your advertising
LMIA Application and Job Offer Requirements
Each job offer must meet specific requirements to be granted an LMIA.
LMIA Application Fees
Employers must pay a $1,000 processing fee for every position under an LMIA. Refunds of the fee are only made in case of error on the part of ESDC, NOT in the case of a negative LMIA decision. Some occupations exempt the employer from having to pay this fee:
A person hiring a foreign caregiver for help with medical needs is exempt.
A family with a combined income of $150,000 (annual) or less that is hiring a foreign caregiver for homecare of a child younger than 13 is exempt.
Employers using an LMIA to support a permanent resident visa are exempt.
Employers hiring high-skilled foreign workers for on-farm agricultural occupations are exempt. Specifically:

NOC 0821 – Managers in agriculture (horse breeder, chicken farmer, dairy farmer, fruit farmer, hog breeder, seed grower, vineyard manager, apple grower, etc.)
NOC 0822 – Managers in horticulture (Christmas tree farm operator, flower grower, greenhouse manager, nursery manager, etc.)
NOC 8252 – Agriculture service contractors, farm supervisors, specialized livestock workers (artificial inseminator, dairy herdsperson, crop dusting contractor, horse trainer, ranch foreman, etc.)
NOC 8255 – Contractors and Supervisors; landscaping, grounds maintenance, and horticultural (landscaping contractor, lawncare contractor, landscaping foreman, tree service contractor, etc.)
Job Offer Language Requirements
These have been changed in the last few years and now only English and/or French can be listed as required languages in any advertising and job requirements for the LMIA. It is up to employers to demonstrate that another language is essential for the job.
Job Offer General Requirement
Employers must ensure that the foreign worker has all the following in order to perform the job in Canada:

Job and other training
Qualifications
Job experience.

Employers hiring a foreign worker for a regulated occupation in Canada must contact the appropriate regulatory bodies to ensure that the foreign worker has the necessary:

Certification,
Registration, or
Licensing.

Employers must prove that the both the job and the business offering the job are legitimate and stable (i.e. not short-term and intended only for immigration purposes).
For unionized jobs it is suggested that employers first work closely with unions to try and find a Canadian citizen or permanent resident to fill the post, although this is NOT a mandatory requirement and only a suggestion.

Please note that ESDC may contact the union about any foreign worker hired in a unionized job.
The foreign worker should not cause any labour disputes between the employer and the union.
Job Offer Wage, Working Conditions and Occupation Requirements
There are a number of requirements regarding the wage you pay the foreign worker and the employer is required to ensure that the wage is a prevailing wage by following a number of steps.
For non-unionized jobs, employers should use Job Bank to calculate the median wage and use that as the prevailing wage
Employers can also use the wages paid to current employees performing similar jobs at the company.
For unionized jobs, employers should use the appropriate collective agreement to determine the prevailing wage.
For working conditions, employers must ensure that:
All work is paid, including overtime.
The workplace is safe.
They allow break-time and days off.
As for occupations, the duties of the foreign worker cannot be ones unrelated to the occupation for which they were hired.
Applying for an LMIA From ESDC
The application form is sent to Service Canada. (Service Canada is the public-facing part of ESDC and a single point of access for a wide range of government services.) The following needs to be included in the LMIA application:
LMIA application form EMP5593: Fill out the form completely and be sure to provide the full name of the foreign worker for whom you are submitting an LMIA.

Go here for a copy of the application form.
Remember to find out if you are exempt or not from paying the processing fee.

Schedule D – Skilled Trades Job Offer – form EMP5595: This is used when 2 employers hire/share the same skilled foreign worker.

This form should be signed by the second employer while the first employer should fill out and sign form EMP5593 listed just above.
Go here for a copy of this form.

A Job Offer letter signed by both the employer and the foreign worker
Proof of business legitimacy: this requirement does not apply to all employers, only those employers who answer "NO" to the following questions:

I have received a positive LMIA decision in the past 2 years.
My most recent LMIA decision was positive.

If you answer "YES" to these questions you do NOT have to provide documentation asserting your business legitimacy. If you answer "NO" and therefore do have to provide documentation, this should include documents that prove that your business:

Has had no compliance issues in the past;
"Can fulfill all the terms of the job offer" – includes documents like:

T2 schedule 100 Balance sheet information
T2 Schedule 125 Income Statement information
T2042 Statement of Farming Activities
T2125 Statement of Professional or Business Activities
T3010 Registered Charity information return
T4a or payroll records for minimum of 6 weeks prior to submission of LMIA
Your latest CRA Notice of Assessment (NOA)
An attestation that your business is in good financial standing.

"Is providing a good or a service within the Canadian marketplace" – should include at least ONE of the following:

Municipal/Provincial/Territorial business license
T4 summary
PD7A Statement of Account
Attestation you are engaged in a legal business
Contract or invoice for goods/services providing in Canada if you are a foreign employer
Coasting Trade Letter of Authority (copy) if foreign vessel undertaking coastal trade in Canadian waters (and job is on the vessel)
Proof of address if you are a private household

"Is offering employment to the foreign worker that is consistent with your businesses needs" (and is not made-up work in order to provide an immigration opportunity).
Your business is subject to possible inspections by ESDC/Service Canada which may be of several types:
An inspection with or without prior notice;
An Employer Compliance Review (ECR);
A review under Ministerial Instruction.
You will be informed of
what type of review will be held;
how and where the inspection will proceed, including the period under review;
the specific conditions that need to show compliance;
the specific actions you need to take;
the consequences of non-compliance and/or non-response.
Please note that any LMIA application underway on your behalf may be delayed if an inspection is deemed necessary. LMIAs that have been approved may also be suspended as a result of the inspection taking place. There are two possible outcomes for any review:
Satisfactory: compliance is demonstrated OR non-compliance is justified;
Non-compliant: the employer has been unable to demonstrate compliance, or unable to justify non-compliance.
There are 3 main reasons why your business has been selected for a review:
There are reasons to suspect non-compliance (usually due to a tip being received);
You have a history of previous non-compliance;
You have been randomly selected.
There are around 20 factors that inspectors from ESDC/Service Canada will be looking at during a review, including:
Wages are appropriate for the occupations;
Working conditions are in line with Canadian and local standards;
Job creation for Canadian citizens and permanent residents that is often part of an LMIA has been complied with;
Training is appropriate;
Transfer of skills/knowledge to Canadian workers has occurred.
If you are found non-compliant the consequences depend upon when the non-compliance occurred:
If it occurred before December 1, 2015 then you the employer:

Could be banned for 2 years from using the TFW program as well as the International Mobility program (IMP);
Could have your name, address, and period of ineligibility published on IRCC's website;
Could have a negative result on any pending LMIA applications;
Could have previously approved LMIAs revoked or suspended.

If it occurred after December 1, 2015 then you:

Could be subject to warnings;
Could be given administrative financial penalties from $500 up to $100,000 depending on the nature and size of your business;
Could be banned for 1,2,5, or 10 years from TFW and IMP;
Could have your name and address published on IRCC's website;
Could have previously approved LMIAs revoked or suspended.
As you can see, ESDC/Service Canada have the authority to exclude you for a number of years from using foreign workers as well as penalizing you with substantial fines. It is essential that you as an employer undergo a careful and systematic process (i.e. keeping all records and documents mentioned above) to first look for Canadian citizens and/or permanent residents and then to ensure that the foreign skilled workers you file an LMIA for are qualified and that your business is up to the standards required.
It can be a time-consuming process, but given the potential consequences, is clearly worth the effort.
PNP Draw Points Cut-Offs
Some of the PNP streams for the provinces of Ontario, Alberta and Manitoba use the same scoring system as Express Entry. Here are the cut-offs for 2021:
PNP Invitations
British Columbia PNP Points Cut-Offs
British Columbia uses its own scoring system:
British Columbia PNP Notifiations
BC Entrepreneur PNP Points Cut-Offs
BC Entrepreneur PNP Notifications
Saskatchewan Immigrant Nominee Program Points Cut-Offs
Saskatchewan uses its own scoring system?
Saskatchewan Immigrant Nominee Program Notifications
If you would like information about other PNPs not listed here, please let us know by emailing us or posting in our forum.