A History of Toronto Immigration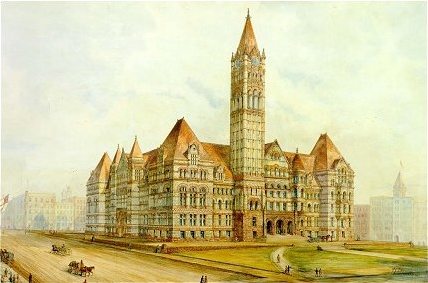 Never mind the archaeological remains of Roman ships found in the harbours of Caracas and Rio de Janeiro. Never mind the Vikings in Labrador and Newfoundland. Never mind that Basque whalers fished in the Gulf of St. Lawrence a couple of centuries before Jacques Cartier planted his cross in the Gaspe. We'll let the official historians deal with this sort of uncomfortable evidence. Let's talk about who really got things going in what would become Canada: the Portuguese.
Taking Possession for England [Public Domain]
It was Portuguese navigators in the late 1400's who kept pushing back the frontiers of maritime navigation. The Corte-Real family, for example, followed in John Cabot's (Giovanni Caboto to his Italian compatriots) wake to claim territory in the name of the Portuguese monarch. It is very much an issue to try and determine who exactly financed John Cabot's voyages although his charter from Henry VII suggests that his claims were in fact in that sovereign's name. After Cabot's trips in 1497 and 1498, Joao Fernandes Lavrador, a Portuguese navigator, explored the Northeast in 1499 and 1500. Yes, that's where Labrador gets its name. The Corte-Real brothers, Gaspar and Miguel, followed Lavrador in 1501 and 1502, and explored Newfoundland and Labrador, only to disappear in the untamed wilds of North America. But their claims had been made in the name of the Portuguese Empire. By 1506 King Manuel VI of Portugal was taxing cod-fisheries in the waters off Newfoundland. And by 1521, fishing colonies had been established in Newfoundland and Nova Scotia. France finally got into the act 3 years later with another Italian navigator, Giovanni Verrazano, sent by Francis I to explore the east coast in search of the mythical passage to the Pacific. And ten years later in 1534, Cartier finally planted the cross in Gaspe.
Voyageurs in a canoe by Frances Anne Hopkins [Public Domain]
In other words, long before the first coureur de bois ventured along the northern shores of Lake Ontario where Toronto now sits, Portuguese, Venetians, Florentines, British and French were competing with each other to lay claim over what would become Canada. This kind of pissed off those who already had permanent residence, especially the Iroquois who were a well-organized and ambitious nation who were already conquering and plundering, like any good European explorer, before the first pale faces arrived and settled in the Northeast. They fought a series of wars – named the Beaver Wars – against the French and their Huron allies throughout much of the 1600's, in part for control of the lucrative fur trade that had emerged in the early 17th century.
Tkaronto
Iroquois Confederacy [Public Domain]
That would be an Iroquois word meaning "place where trees stand in the water" and probably referred to the Huron's method of corralling fish by planting saplings near the water's edge of Lake Simcoe. The Toronto Carrying Place Trail was a portage (think one big mutha of a canoe and lots of supplies being lugged on the voyageurs shoulders) trail from Lake Ontario to Lake Huron. Around 1660 the Iroquois founded a couple of villages on the banks of the Humber and Rouge rivers but abandoned them after the Beaver Wars ended. Next came the Mississauga who moved in around 1700 and were followed by a French settlement, Fort Rouille, just about where the CNE sits. It was abandoned in 1759 as the English began to gain the upper hand back East in Acadia.
The English Are Coming!
Fort York in 1804 [Public Domain]
Ok, everyone knows who won the Revolutionary War. What some people forget are the local losers, the United Empire Loyalists, who fled the 13 colonies and headed north into the newly acquired British colony. Some went for the land but most went because they didn't feel very republican. In their hearts they yearned for a country where the local currency would have a monarch's face on it. So we get the Toronto Purchase, circa 1787, where the British took – sorry negotiated an arrangement with the locals – the land from the Mississauga people. It was renegotiated in 1805 and a few details took a while to clear up in the courts – the final agreement was reached in 2010.
After incorporation in 1793 and sacking and looting by US forces in 1812, the city reverted to its historical name in 1834, the same year slavery was banned from British North America. The Underground Railroad was already in place and some of the early population of 9,000 souls were escaped slaves.
The Scottish too!
Battle of Montgomery's Tavern [Public Domain]
According to Norse sagas, the Viking Thorfinn had a couple of Scottish slaves do a look-see along the coast of Vinland (likely Newfoundland) and when they survived, he decided it was safe to come ashore. So the Scottish have been in Canada – off and on – a long, long time. A few Highlanders settled in Atlantic Canada in the early 1700's prior to 1759 and the conquest of New France. As far as Toronto goes, Scottish Loyalists arrived in Glengarry (Eastern Ontario) in 1783. But rather than just settlers, the Scottish in Upper Canada were a force for change. Think William Lyon Mackenzie or Robert Fleming Gourlay, both reformers that weren't beyond a little rebellion to achieve their ambitions for growth for the tiny incipient colony.
The Irish Are Leaving!
Ireland Park Monument
You would too if your main source of food, the humble Peruvian Potato, was being destroyed by blight, and you were basically starving to death in the absence of British aid. So the Irish abandoned their homeland and some of them arrived in Upper Canada in the mid-19th century. Thing is, those other Protestant Irish arrived as well and the Orangemen soon were a formidable political presence in Upper Canada and Toronto, even if their numbers were less. The Orangemen were, of course, warmly welcomed by the Scottish and English elites. Their Irish Catholic brethren lived in far more squalid conditions. Things could get tense as a result. The Jubilee Riots of 1875 occurred in Toronto, having started during a peaceful pilgrimage march by Catholics that degenerated into stone throwing and violent confrontations. You've seen Gangs of New York, you know what I'm talking about.
How About a Little Diversity?
Toronto in 1901 [Public Domain]
Toronto grew, catching up bit by bit to its older rival, Montreal, and by the late 19th century, immigrants from all over Europe began arriving. Irish Catholics welcomed and encouraged French and German Catholics to migrate to Toronto in the late 19th century and they were followed by Italians and Jewish immigrants from Eastern Europe. As well, the Irish Catholics began to move out of their ghettos and up the social scale by the early 20th century.
The Italian community was relatively small with about 2,000 in all of Canada around 1880, many working in railway construction or as craftsmen or in the hotel business. By 1901, they had increased five-fold to about 11,000. A curious scandal erupted in 1904 when it was revealed that padroni, (labour agents), working at the behest of Canadian Pacific Railways, were recruiting compatriots only to send them off to labour camps in Northern Ontario. This resulted in stricter licensing of labour bureaus, and many established Italians began to sponsor relatives rather than rely on untrustworthy intermediaries. Three quarters of Italian immigrants to Canada came from Italy's rural south from regions like Calabria, Abruzzi, Molise, and Sicily. After World War II, Friuli in the northeast contributed a large number of immigrants fleeing the devastation and hunger of WWII and the loss of territory in the northeast to Yugoslavia.
How about a little more diversity?
Alexander Schomber by William Hogarth [Public Domain]
Large-scale Jewish immigration began late in the 19th century, but the first Jewish settlers in fact arrived in the 1750's when Canada was still New France. They often had to conceal their faith and identity in order to assimilate. For example, when the British were battling the French for control of New France, Alexander Shomberg was a commander in the British fleet, while the Gradis family  ran supplies into the besieged French colony, of which they were members, on their own fleet of ships. A small community of middle class traders migrated from what was still the 13 Colonies to Montreal around 1760. The community only numbered a few hundred in the early 1800's, but from 1850 to 1900 around 15,000 Jewish immigrants arrived, mostly from Europe. From 1900 to 1920 the numbers soared to 120,000 and then fell back to 60,000 between the wars. From the end of World War II to the 80's, 135,000 Jews arrived. A large number settled in Toronto and Montreal. A tragic and shameful chapter in this largely successful history was the voyage of the MS St. Louis in 1939, which carried 937 Jewish refugees and was turned away from Canada after being refused to land in Cuba and Florida. The MS St. Louis had to return to Europe and it is estimated that a quarter of the passengers later died in concentration camps.
Chinatown by (WT-shared) at wts wikivoyage / Wikimedia Commons / CC BY-SA 1.0
The first Chinese arrived on the west coast as ship builders in the late 18th century. In the mid and late 1800's, Gold Rushes and Railway construction would draw thousands of workers and miners. Some came from California but many more were brought from Guandong in Southern China as well as Taiwan. After the railways were built, Chinese immigrants faced discriminatory policies, including escalating head taxes (worth thousands of current dollars) and an outright ban from 1923 to 1947. Chinese Canadians were strong supporters of Canada during WW II, buying war bonds and encouraging the war against Japan but were not allowed to enlist. A token force of Chinese Canadians entered the war in 1944 as spies against the Japanese. Post war tensions after the 1949 Communist victory in mainland China brought a renewed wave of hostility and it was only with the elimination of race and place of origin in immigration forms in 1967, as well as the establishment of multiculturalism as official policy in 1971, that the Chinese community could finally feel welcome in their adopted homeland. They began to move out into the suburbs and integrate, mostly in Vancouver and Toronto. A curious phenomena occurred in the 80's and 90's when due to explosive growth in Hong Kong and opening opportunities in China, one or both parents returned to Hong Kong to work and left their teenage children with the keys to the house and the car in cities like Toronto and Vancouver, creating the "astronaut family."
The Caribbean is not Africa
In Canada, and especially in Toronto, unlike in the USA, the term African Canadian is rejected by a significant portion of the Black Canadian community who trace their heritage to their Caribbean origins and culture. Black Canadian is used as an umbrella term but Caribbean Canadian is just as likely, if not more likely, to be used. Jamaica is a major source of immigrants but other islands like Trinidad and Tobago, as well as Haiti, are also important. The first black migrants were part of the French Colony like Mathieu de Costa, a translator and free man who arrived with Champlain in the early 1600's. Later Black Loyalists in Nova Scotia encountered discrimination, often violent, from the British and some migrated back to Africa becoming the first settlers of Freetown in current Sierra Leone. In Upper Canada, the majority of Black Canadians were escaped slaves and numbered about 30,000 by 1852. Key events like the abolition of slavery throughout the British Empire in 1834 and the right to vote in Upper Canada in 1837 encouraged this exodus, known as the Underground Railroad. This co-existed with an unofficial policy of discrimination during the 19th century that culminated in a formal restriction, if not outright prohibition, enacted in 1911. Despite this, some Black Canadians managed to prosper. William Peyton Hubbard was the first black politician in Canada and was a City of Toronto Alderman at the turn of the 20th century, who was a persistent promoter of publicly owned electrical utilities for the city. Toronto Hydro, and especially its predecessor the Toronto Hydroelectric Commission, owes its existence in no small measure to his efforts. Other notable figures are Lincoln Alexander, born in Toronto to Caribbean immigrants. He fought in WWII as a member of the RCAF and after obtaining his economics degree and graduating from Osgoode Hall, he practiced law before entering politics in 1968 for the Progressive Conservative Party. He is perhaps best known as Ontario's Lieutenant Governor from 1985 to 1991.
Caribana by Loozrboy / Wikimedia Commons / CC BY-SA 2.0
When the policy of discrimination in immigration was ended, migrants from the Caribbean surged. Today in Toronto and surrounding centres like Ajax and Brampton, sizable Caribbean communities exist.
South Asian
Gerard India Bazaar by SimonP / Wikimedia Commons / CC BY-SA 3.0
The first waves of immigrants from South Asia were made up by Sikh immigrants to British Columbia and it was no love affair. Accused of providing cheap labour, they faced harsh discrimination from local authorities at the start of the 20th century. In the 60's and 70's Indian expats who had lived in East Africa, fled persecution by regimes like Uganda under Idi Amin and arrived in Canada, to the tune of about 20,000. In the 80's immigrants began arriving directly from the subcontinent and as language skill requirements began to become stricter, the profile of the South Asian immigrant began to change towards university-educated, skilled labour. Today South Asians are the largest visible minority in Canada and are an important community in the greater Toronto Area; notably in Mississauga, Brampton, Scarborough, and Markham. South Asian Canadians are involved in just about every aspect of Canadian life from politics and business to academics and the arts, and sports and the media as well.
Oh yes, the Portuguese
Little Portugal by Andrevuas / Wikimedia Commons / CC BY-SA 3.0
After having literally charted the way for Europeans to arrive in Canada – leaving aside those Vikings and Basque fishermen – Portuguese began arriving again in large numbers in the 1950's, primarily from the Azores and Madeira, fleeing from Salazar's repressive regime. Many settled in Toronto, (as well as Montreal), in Alexandra Park and Kensington Market, but have since spread out across the city. Nowadays their community includes politicians, artists, and ice hockey stars. They are firmly integrated into the fabric of Canadian life and are a large contributor to one of the most diverse cities in the world, along with communities from South America, Lebanon and just about anywhere you can name. Makes sense, seeing they kind of started it all.
Learn about the Ontario Provincial Nominee Program