How to Complete the IMM 1294 Application for a Study Permit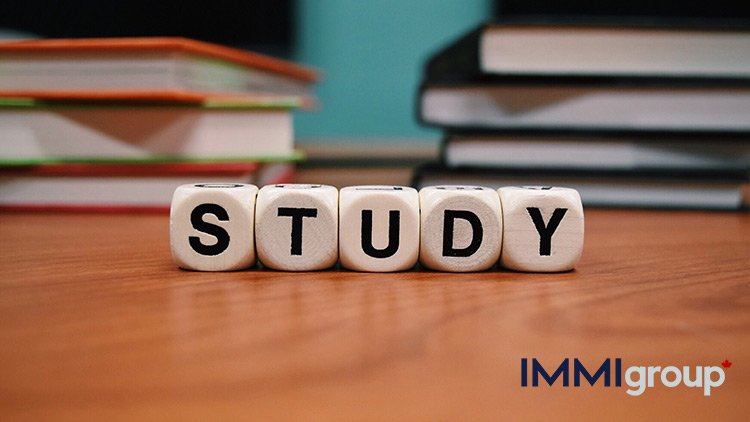 To apply for a study permit (i.e. student visa) from outside Canada – form IMM 1294 – you must first have an acceptance letter from a Designated Learning Institution, which is a post-secondary school that has been approved by the government.
You also have to have financial proof that you can pay for your first year of studies in Canada. This can be things like bank statements or investment statements.
You may have to provide a Police Clearance Certificate from the police in your home country and/or country of residence.
You may have to provide a Medical Examination depending on what country you are a resident of and where you have travelled, depending on what length of time you will be studying in Canada for. If you will be studying for 6 months or less, then you usually will not need to submit a medical exam.
As well you have to produce any other documents you may be asked to provide to prove you are admissible to Canada.
You will also need to give biometrics.
Any documents not in English and/or French will need to be translated by a certified translator or by a person who provides an affidavit sworn in the presence of a notary or commissioner.
Photocopied documents must de certified by a notary public.
To fill out form IMM 1294 you should download the form to your computer and then fill it out.
Use the IMM Guide 5269 to help you fill out the form. The guide can be found by typing "Guide 5269 -Applying for Study Permit Outside Canada" in Google. Have this web page open while you fill in the form and refer to it to guide you. Scroll down the page until you see the red symbol "Note" next to "Fill Out the Form" and you will find a question by question guide to help you.
First, you should download the Document Check list.
You will first need to download Adobe Acrobat to your pc in order to access these forms.
If you can`t open the link for the Document Checklist (IMM5483); right-click on the link and choose "save link as" and save the link to your computer.
Then open up IMM5483 from your desktop. Make sure you fill in and submit all the documents in that list that apply to your situation.
To start completing your Application for Study Permit Made Outside Canada:
If this is the first time you have applied to IRCC then leave Question 1 blank. If you have applied previously to IRCC you will have a Universal Client Identification Number or UCI. Write down this number in question 1 if you have a UCI.
Remember to write your name exactly as it appears in your passport. If you choose Female (F) or Male (M) for gender, it must be the same gender that appears on your passport. If there is part of your birth date that is unknown, use an asterisk to fill those parts of your birth date that are unknown – if the day or the month is unknown – for example – place an asterisk (*) in those slots.
Remember to answer question 8 if, over the past 5 years, you have lived in a country that is NOT your country of citizenship.
If you are applying from a different country to the one you are a resident of, then tick "No" in question 9 and fill in all the required information.
When declaring your current marital status in question 10, if you are currently in a common-law union you must also complete and submit a Statutory Declaration of Common-Law Union form (IMM5409).
For question 1 in the Passport section of the Application, make sure you write your Passport Number exactly as it appears on your passport with NO space between each letter and number.
Question 5 is for citizens of Taiwan who should indicate if their passport was issued by the Ministry of Foreign Affairs in Taiwan and has a personal identification number.
Question 6 is to indicate if you are using a National Israeli passport.
In the National Identity Document section, indicate whether you have a National Identity Document and answer questions 2 through 5 about your national identity document.
The US PR Card section is for lawful permanent residents of the United States.
In the Contact Information section remember to fill in all the questions and to ensure both your current mailing address and residential address (if they are different) are included. Information about your phone numbers and fax (if applicable) should be filled in.
Unless you give an email address in question 6 in this section, all your correspondence will be sent to your current mailing address in question 1 in this section.
If you give an email address, remember to check regularly for emails from the government of Canada. They will end in one of the following ways:
@cic.gc.ca
@canada.ca
@international.gc.ca.
In the Details of Intended Study in Canada section, remember to give the full official name and address of the Designated Learning Institution (the school) you will be attending in Canada. It is vital you answer questions 4 through 6 as they deal with the costs of your studies and who will be paying for them.
In the Education section, make sure you check the box that indicates what (if any) level of post-secondary education or training you have. If you have checked the box make sure that you fill in all the required details about the institution in your home country (or elsewhere) where you previously received your post-secondary education or training.
In the Work section, make sure you fill in information about all the jobs you've had in the last 10 years.
The following section – the Background Information section – is very important. Let's go through it question by question.
Question 1 deals with whether you or any family member has had:
Tuberculosis or been in close contact with someone who has over the past 2 years, or
Mental or physical disorders of any kind that would require medication.
Question 2 deals with several issues:
Whether you have overstayed your visa in Canada, or
Whether you have studied or worked in Canada without a permit (without authorization)
Whether you have been refused a visa and denied entry into Canada or any other country
Whether you previously applied to enter and/or remain in Canada.
Question 3 deals with whether you have a criminal record of any offence or charge in any country or territory.
Question 4 deals with whether you have ever served in any:
Military force,
Militia,
Civil Defence unit,
Security force, OR
Police force.
Question 5 deals with whether you have been part of any political party or other groups or organizations advocating violence
Question 6 asks if you have ever participated or been a witness to the ill-treatment of political prisoners or other groups of people.
Now that you have answered all the questions, it is very important that once you have completed the form, you click on the "Validate" button at the bottom or top of the page.
This will generate a Barcode Page that once you have printed the completed form, you should place at the top of your application package.
If you are 18 years or older, sign and date the form.
If you are under 18 years old, a parent or guardian should sign and date the form
Do-it-yourself Study Permit Course