How to Get Your NEXUS Card in 3 Steps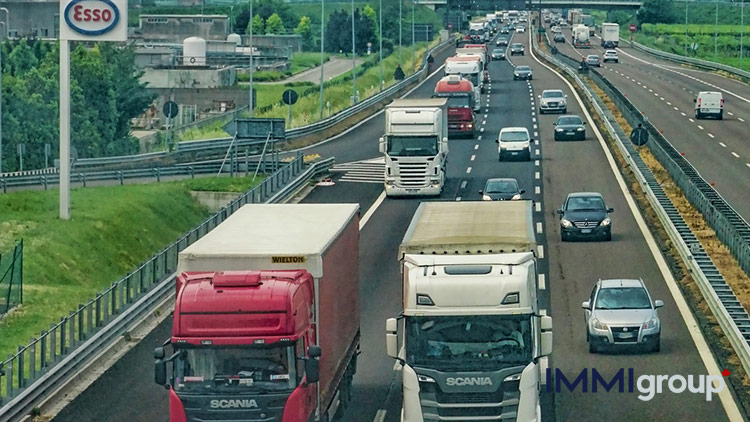 Get Help Now – Let us help you get your NEXUS card
Who Needs a NEXUS Card and Why?
Enrolment in the Nexus Trusted Traveller Program is available to citizens and permanent residents of Canada and the US. Having a NEXUS card will enable you to clear customs more quickly as well as offering additional benefits.
NEXUS Card holders can
Use designated self-serve kiosks when exiting certain international airports;
Get pre-cleared by phone for arrival at a marine port of entry;
Use designated security lines at domestic airports;
Use Global Entry kiosks in US airports.
Average processing time for NEXUS Card: 3 months
Mistakes made by Immigroup per 100 applications: 0%
Mistakes by general public per 100 applications: %
Missing information or incorrectly completed applications are denied.
We have a qualified team of border crossing specialists
6 month – card replacement guarantee
Eligibility
You must be a citizen or a permanent resident of either Canada or the US.
You must pass all criminal background checks. Very few applicants with past criminal activity are approved for enrollment in the Nexus program.
The program is open only to permanent residents who have resided in the US or Canada for the past three years. Permanent residents may be eligible to waive this requirement under certain circumstances.
Meeting all of the above requirements does not guarantee you will be issued a Nexus card. You must go to an interview and be approved by both the Canadian Border Services Agency and the US Customs and Border Patrol (CBSA and CBP).
The process of obtaining a NEXUS Card:
Please note that this process takes anywhere between 6-12 months, involves preparing your application, collecting all supporting documentation, obtaining an interview date with the nearest enrollment centre and attending that interview. There are three stages:
Step 1: Applying for Your NEXUS Card
Note: You can no longer apply for your NEXUS Card by paper. All applications are now done online.
Step 1.2: Applying Online for Your NEXUS Card
Please Note: The process for applying for your NEXUS Card online has recently changed.
Step 1.2.1: Creating a login.gov Profile
Regardless of citizenship or residence, all applicants for NEXUS Cards now need to create a login.gov profile. To do so, you must do the following. Be sure to have an email address that is accessible and a cell phone.
Go to login.gov
Enter your email address
In your email inbox, open the confirmation email and confirm your email address
Input your cell phone number
Once you have received the access code, enter it
Copy your unique code, preferably to a text editor or word document
Paste the code into the field
You now have access to your login.gov profile.
You need this profile to access the new Trusted Traveler Programs (TTP) website.
Step 1.2.2: Completing Your NEXUS Card Application
The online NEXUS Card application is now submitted through the Trusted Traveler Programs (TTP) website. Once you have your login.gov profile, it is a multiple step process to complete the application:
Step 1.2.2.1:  Go to ttp.cbp.dhs.gov
At the homepage, you will need to select your situation: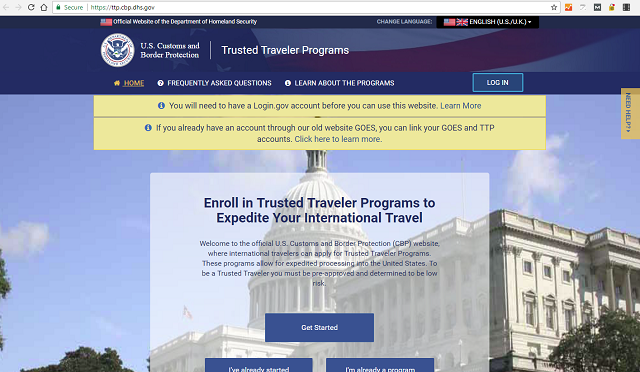 If this is your first NEXUS Card application, choose "Get Started"
If you are coming back to complete your application, choose "I've already started"
Step 1.2.2.2: Give Your Consent:
In order to use the TTP website, you must consent to the sharing of your information with various government agencies of both the Canadian and the US governments.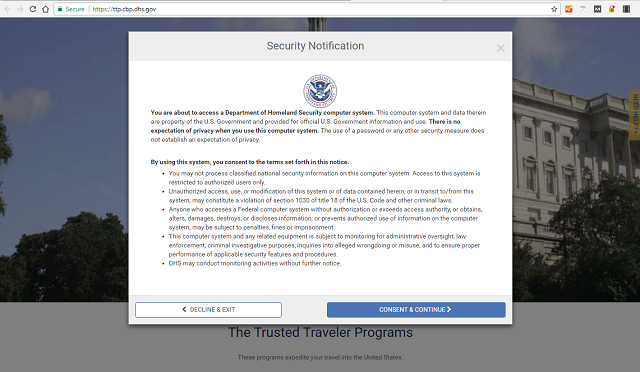 Step 1.2.2.3 Review the Steps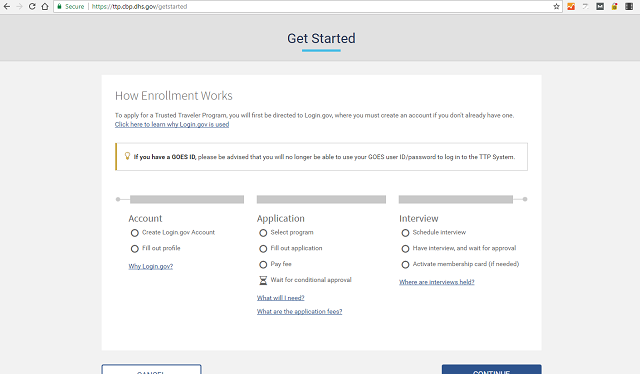 The new TTP system is much better at giving you an idea of the entire process than the old Global Online Enrolment System.
Step 1.2.2.4: Enter Your Personal Information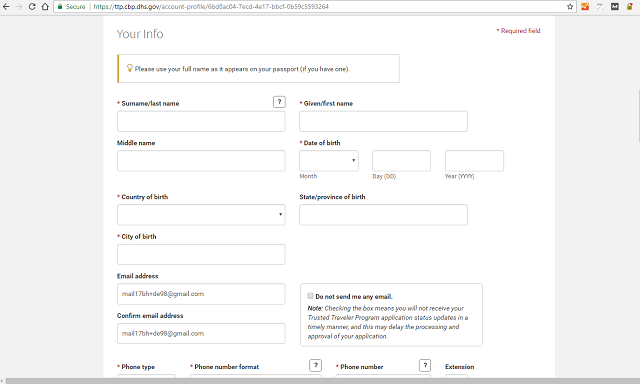 Step 1.2.2.5: Declare Your Previous Application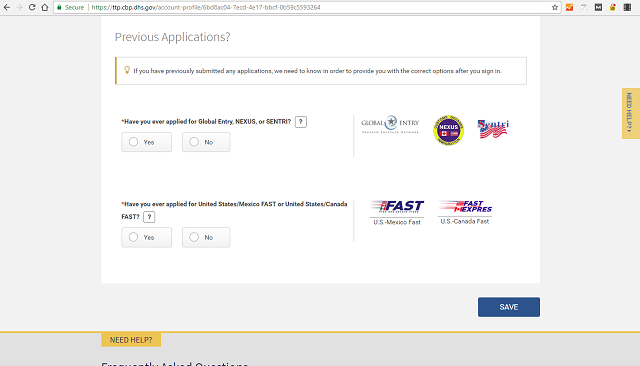 If you were using the Global Online Enrolment System but haven't yet received your NEXUS Card, this is where, you can try to find your previous application here.
Step 1.2.2.6: Confirm Your Information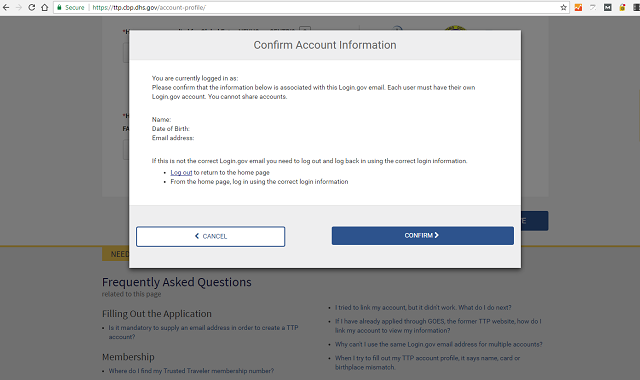 Step 1.2.2.7: Next Steps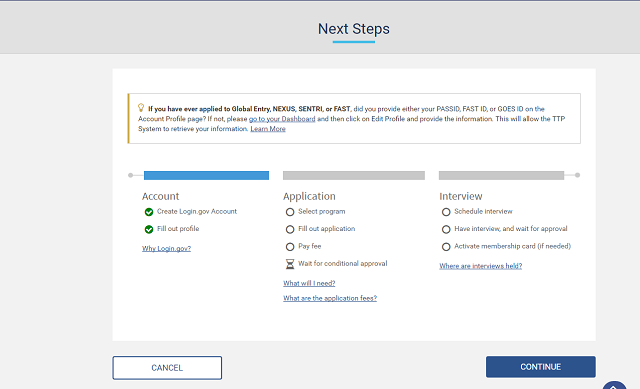 Step 1.2.2.8 Are You a US Citizen?
Next, inform the system whether you are a citizen or permanent resident of the United States or neither: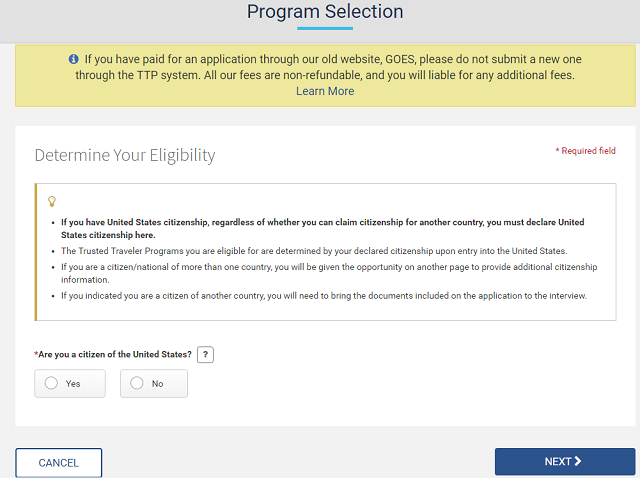 If you say you are not a citizen, the system asks you if you're a permanent resident: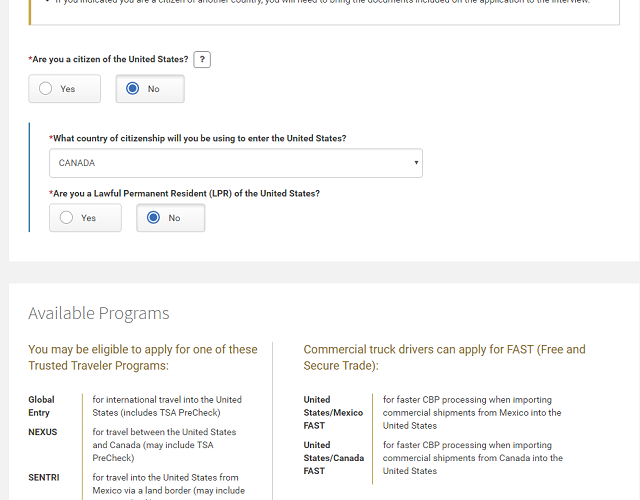 If you are neither a citizen nor a permanent resident, you will have to prove that you are otherwise admissible to the United States.
Step 1.2.2.9: Available Programs
Once you have indicated citizenship, the system will suggest programs to you. Canadians are allowed to apply for NEXUS and FAST.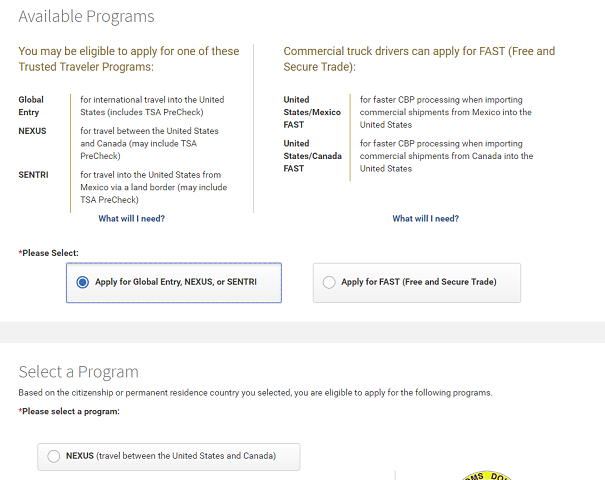 Step 1.2.2.10: Background Check Acknowledgement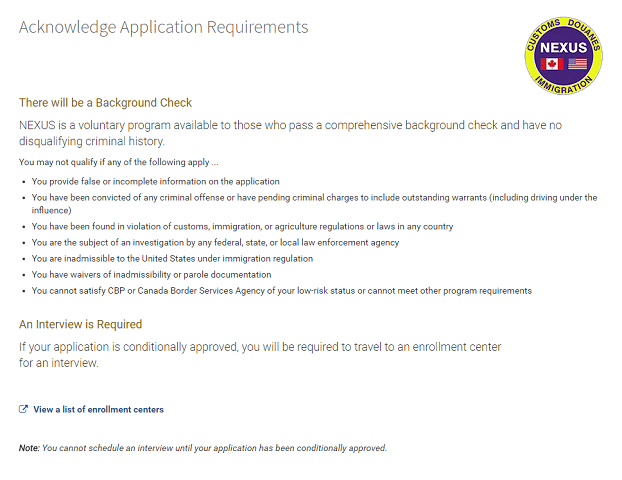 Before proceeding any further, you must acknowledge that there will be a background check which will look into your personal history. Also, you must acknowledge that you will be required to attend an interview.
Step 2: Attending Your NEXUS Card Interview
First time applicants must attend a NEXUS program interview. Renewal applicants usually can skip this step.
Why Do I Have To Attend An Interview?!?! I'm Renewing!
If you are renewing your NEXUS Card membership, you may still be asked to attend an interview. There are two likely explanations for this:
Your Situation Has Changed
You will most likely be required to attend an interview if something in your life has changed between your last NEXUS application and your current one. The following life events could cause an interview:
you got married and changed your name (though you should inform NEXUS in person once you change your other IDs so your card can reflect the name change)
you changed your name for other reasons (again, you should inform the NEXUS the program in person once you have changed your other IDs)
you changed jobs or retired (or you lost your job)
you graduated from school and started a new job
you moved provinces or states.
Any of these changes could lead to you having to attend an interview for your renewal application.
: You are obligated to inform NEXUS if a change in your situation means that you are no longer eligible for membership (i.e. you moved out of North America> or you now have a criminal record>) before you renew. If you violate the conditions of the program, your card and membership may be revoked.
CBSA/CBP Requests An Interview
Either US Customs and Border Protection (US CBP) or the Canada Border Services Agency (CBSA) can review your application and decide you need to attend an interview and they can do so for any reason whatsoever. Even if absolutely nothing has changed in your life since the last time you applied for a NEXUS Card. They might request an interview at random interview or because they might have a question they want to ask you. Having the interview waived for a renewal application is a privilege not a right.
Step 2.1: Book Your Nexus Interview
Whether you apply for your NEXUS Card online or you apply by submitting your application through the mail, you have to book your appointment through the TTP website.
Don't want to use the TTP website? Call 1-855-760-0888 and get help!
Step 2.1.1 Book Your Appointment via The Government Website
Once you are condtionally approved, you should login your to your TTP account using your login.gov profile.
First you must confirm that you are Condtionally Approved. (You will not be allowed to book an appointment if you are not yet Conditionally Approved, so make sure you are Conditionally Approved first.) If you are renewing your NEXUS Card, you may be allowed to skip the interview. If this is the case, you will receive a notification that you are Approved – your new card will be shipped shortly.
In order to attend your interview, you need to choose the enrolment centre you want to attend. The more willing you are to travel to different enrolment centres, the more likely you will be able to find an appointment that is quite soon.
With your location selected, you be presented with a calendar with available dates and times. These timeslots are only available during opening hours. What is available to you are the times when there are no appointments yet booked. If you log out and log back in, the calendar should change.
Please note the date and time of your appointment, as the government will not remind you.
Step 2.1.1.1 Urgent Appointments
You can try calling the enrolment centre to see if they will book you an urgent appointment, but most enrolment centres do not book appointments over the phone in most cases. Some centres will allow you to combine two or more family interviews into one, but not book the initial appointments.
The best way to try to book an urgent appointment is to continually login to the TTP website using your login.gov profile to see if any new appointments become available, as cancellations lead to appointment slots opening up and sometimes an enrolment centre will open up more spots as well. This can be really frustrating if you have never done it before so you might want to hire a private company to do it for you. Immigroup no longer handles NEXUS Card applications however we can recommend a company to help you.
Step 2.1.1.2 Interview Together (as a couple or a family)
If you and your spouse/partner are applying for your NEXUS Cards at the same time, or you are applying with your children, it's possible that you may be able to be interviewed together. Your children will need one of your present during the interview anyway, if they are under 18. If you want to combine interviews, you must do two things:
Book Your Interviews as Close Together as Possible
First, when booking your interviews online, schedule them as close together as possible. You are not allowed to combine interviews using the system on the TTP website, but you can book interview slots which are back to back, if they are available. Booking the same day likely isn't good enough, so you should try to book your appointments within an hour of each other. Better yet, if they can be one after the other (i.e. one per 15 minute period). You do this for two reasons. One is that the Enrolment Centre is more likely to let you combine interviews if yours are back to back. Two, if they don't let you combine interviews, you still only need to make one trip, and you'll be in and out in no time.
In order to do book your appointments as close together as possible you should book the first appointment on a day at a time that has a lot of open appointments before and after it. Once you have booked the appointment, write down the time and date, and have the rest of your family members log in to their TTP accounts and book appointments as close in time to yours as possible. If you have multiple devices in your household, you can all try to book around the same time, but you cannot all book the same slot at once; once someone claims it, the appointment slot will no longer be available.
Second, not all enrolment centres will allow you to attend an interview together as a couple or a family (unless a child is under 18 and needs a parent with them). The only way to find out whether or not the enrolment centre will allow everyone to attend the interview together, you should call the enrolment centre before travelling to it. Some enrolment centre staff will accommodate your request if you ask them in person, right before the first appointment takes place, but most will not be thrilled if you ask last minute so you should always call ahead.
If you cannot attend your interview together, you will have to attend the interviews separately, at the times you booked through the Trusted Traveller Programs website.
Step 2.1.2 Changing Your Interview Appointment
How you change your appointment depends upon when you change it.
If your appointment is in less than 24 hours, you must call the enrolment centre.
If your appointment is more than 24 hours away, you should change your appointment through the TTP website the same way you booked it. You can change the date, time or even the enrolment centre if you are changing your appointment through the TTP website.
Step 2.1.3 Attending Your Interview
In order successfully pass the interview, you must bring a few things with you to present to the CBSA and CBP office. Forgetting this information will not necessarily lead to your application getting rejected but it certainly won't help your case.
Interview Appointment Information
When booking your interviw appointment timeslot, print off the information and don't forget to keep the Appointment Confirmation in a place where you will be able to find it the day of the interview. Your Appointment Confirmation is just for your reference and you will not be asked to produce it. But you don't want to show up for the wrong timeslot and be turned away only to have to come back later. Bring the Appointment Confirmation with you to the interview just in case there is any confusion as to whether or not you have an appointment at the enrolment centre.
What you do need to bring with you is your Conditional Approval notification; that is a mandatory requirement. Interviews are not granted to anyone who hasn't been Conditionally Approved. You can find your The Conditional Approval notification your TTP Dashboard, which you can access after logging in and agreeing to the Terms and Conditions as per usual.
Original Documents
You must any documents you listed in your NEXUS Card application to the interview appointment. You must bring the originals, not copies. Here are some examples of the kinds of documents you can use to get your NEXUS Card
If you forget one of the documents listed in your application, your application may be refused because they cannot confirm the document's existence and therefore cannot confirm your identity or citizenship.
Additional Documentation
In our experience it's better to be overprepared than underprepared. The following documentation is not required of everyone but would be useful to have on hand. And if you have a unique situation that could disqualify you from getting a NEXUS Card, be sure to bring documentation related to how you qualify, too.
Vehicle Information
Have your vehicle's license plate number, make and model, and colour on your person, especially if you are not getting an irish scan (i.e. you only plan to use your NEXUS Card to drive across the border).
Proof of Residence
Proving your residence isn't an option. You must provide proof you live in Canada or the USA. A driver's license is the most common proof of residence. If you do not have a valid driver's license (with your current address on it), you must bring one of these items:
Bank statement with your address, OR
Credit Card statement with your address, OR
Utility bill with your address.
It's not a terrible idea to bring a bill in addition to your license if you do have the license.
Name Change Documentation
If your name has ever changed you need to bring proof of that change, such as a marriage certificate or legal name change document.
Documentation for Children
If only one of you is accompanying your child to the child's interview appointment, the other parent will have to provide an original, signed consent letter for the NEXUS application at the time of the interview. We recommend both parents going if you can do it.
Documentation Proving You Are Eligible for a NEXUS Card
If you have a criminal record or if you have ever committed any customs or immigration violations (on either side of the border) you need to bring original documentation showing that these issues are no longer aproblem.
Make sure you arrive a few minutes before your interview appointment, say 10 minutes or so. NEXUS Card Enrolment Centres can be hard to find. Always allow extra time for traveling from your home or office to the Enrolment Centre.
What Questions Are Asked During the NEXUS Program Interview
At the NEXUS program interview, you will be interviewed by both the CBSA and the CBP. They will ask you  questions concerning the information you provided you on your NEXUS Card application. These interviews will be conducted separately, so you'll actually have two briefer interviews, often in two different rooms.
The order of the interview – Canada first or US first will depend upon which enrolment centre you choose. If you visit a NEXUS enrolment centre in Canada, you will be interviewed by a CBSA officer first and a CBP officer second. So if you attend a NEXUS enrolment centre in the United States, you will be seen by a CBP officer first and then a CBSA officer second.
As part of the interview process you are required to provide the originals of the identity documents listed on your application. You will also be fingerprinted as part of the process. Finally, if you wish to use your NEXUS Card at airports, you will need to get your irises scanned. However, you can only have does done at select locations./
"What Do You Need the NEXUS Card For?
When asked this question, you do not have to tell them about exact trips or anything like that. All they want to know is if you are using it for business or for tourism.
How Often Do You Plan to Use Your NEXUS Card
To answer this question, you do not need to be specific. For example, if you travel across the border once a week or so for business, say that's how often you plan to use your card. If you're a snowbird and you go to Arizona every winter and that's the only time you go to the USA, tell them that. They are not going to hold you to whatever you say.
How many times have you changed your address in the last X years?
The officer will pick a time period and asked you if you've moved a lot. It could be one year, it could be five. It could be some other number. Answer truthfully.
Are you taking any drugs?
Be honest when answering these questions but especially this one. If you are taking prescription drugs, you should mention them and explain what they are for.
Are You Known by Other Names?
If you have ever used an alias, you need to disclose this. However, normally this question is for people who have changed their name due to marriage.
What is the purpose of your business in the USA/Canada?
If you are using the NEXUS Card for business (and say so), most likely you will be asked about why you have to regularly travel to the other country (be it the US or Canada). Give as much detail as possible.
Have You Been Convicted of a Crime?
If you have a criminal record and you are trying to get a NEXUS Card, this question is the most important. You need to be honest and discuss why you believe you should still be eligible for the program.
If you have never been convicted of a crime, don't be surprised if you are asked this question anyway. It's standard.
These questions are just examples. You may be asked different questions, more questions or fewer questions. A good guide to how many questions you will be asked is how much your life has changed in the last 5 years: if you have not changed jobs or travelled outside of North America within the last five years you will likely be asked only a few questions. (Also, if you have a criminal record or immigration/customs violations, but you still want to apply for the program, you will face way more questions if you get this far in the process.)
Step 3: Activating Your NEXUS Card
Once you have successfully attended your interview, your NEXUS Card will be mailed to you. This usually takes about 10 calendar days so if it's been more than 2 weeks, please contact the enrolment centre where you had your interview to report the Card lost.
To activate your NEXUS Card, log into your TTP account as you would normally.
Agree to the Terms and Conditions, as usual.
Click the "Activate Membership Card" button which should appear below the Program Membership blurb. This button will only be active once your card has been mailed to you so if you don't have your card you won't be able to activate it. If you are having trouble finding the button, use your browser's "Find" feature to search for "Activate".
Flip your NEXUS Card over and input the required information from the back of your Card into the approriate field.
Conratulations, your NEXUS Card is now active and you can go ahead and use it.
Benefits of NEXUS Card
| NEXUS Program Feature | Benefits |
| --- | --- |
| NEXUS Card | Faster crossing through all Canadian and US ports of entry |
| NEXUS-only lanes at border and NEXUS-only bridge at Niagara Falls | Much faster border crossing times |
| Self-serve customs kiosks at international airports | Ability to proceed through customs much faster |
| Special security lines at domestic airports | Faster clearance through airport security |
| Global Entry kiosks at US airports | Faster clearance through customs and security using your machine readable passport |
| Pre-clearance by phone at marine ports of entry | Faster clearance at ports |
If your NEXUS card has been lost or stolen, you should make a report to a CBSA or CBP NEXUS Enrolment Centre immediately. You can apply for a replacement NEXUS by completing the application process in the same way you applied for the first card – you must complete the full application and attend an in-person interview. There is a USD$25 government fee to replace the card. If you use a representative the cost will be more.
NEXUS Card Holder Obligations
Follow all immigration and customs laws, regulations and rules, as well as any other rules that are enforced by Canadian Border Services and / or U.S. Customs and Border Patrol. This includes:
Abiding by all customs restrictions: You must make sure you are under the duty-free limits.
Abiding by all security restrictions: You must make sure you do not attempt to bring anything across the border or onto a plane that is not allowed.
You cannot lend your Card to other people
If travelling by car, your vehicle must also be registered with NEXUS to go through the NEXUS lane
Understand that your NEXUS Card is actually the property of the governments of Canada and the United States, and not your property. They may confiscate it at any time, for any reason, without prior notice.

If your application is rejected, you have the following options to appeal:

If you are an American citizen or permanent resident, you have the option to contact the program's Ombudsperson. however because this position only exists within US Customs and Border Patrol, this recourse is only available to American citizens and permanent residents

If your NEXUS card has been confiscated

You should receive a letter stating the reasons for the revocation of NEXUS program membership. You may follow any instructions for appeal included in the letter. Below are general guidelines for appeal procedures. Please note these are subject to change and may differ from case to case.
For Canadians:

Please note there is no formal legislation allowing for appeals to the confiscation of NEXUS Cards. The appeal process is informal and at the discretion of enrollment centre supervisors.
If your NEXUS Card is confiscated by the CBSA (Canadian Border Services Agency) because you violated the rules of the program, you have the right to appeal within 30 days of the confiscation of your card or the receipt of the letter instructing you to relinquish your card: (This is for our reference only: Fh)
If your NEXUS Card is taken away because CBSA seized some of your property for a customs violation, you must file two separate appeals:
You have 90 days to appeal thecustoms seizure (see your receipt)
You must then appeal to have your NEXUS membership reinstated
If your NEXUS card is taken away by US CBP, you may have to follow the appeal process for Americans.

For Americans: You should appeal to the CBP's Ombudsperson for rejections or confiscations, though you can also contact the Enrollment Center first to see if you can get your NEXUS Card back without appealing to the Ombudsperson. You can also contact CBP to access their records on you if you are unsure as to why your card has been confiscated.Before contacting the Ombudsperson, you should always research the details of your case and evidenceto back up your claim. if you do not know why your card was confiscated, you should first follow the procedure to retrieve CBP records on you before contacting the Ombudsperson.