How To Apply Online for a Student Permit and Document Checklist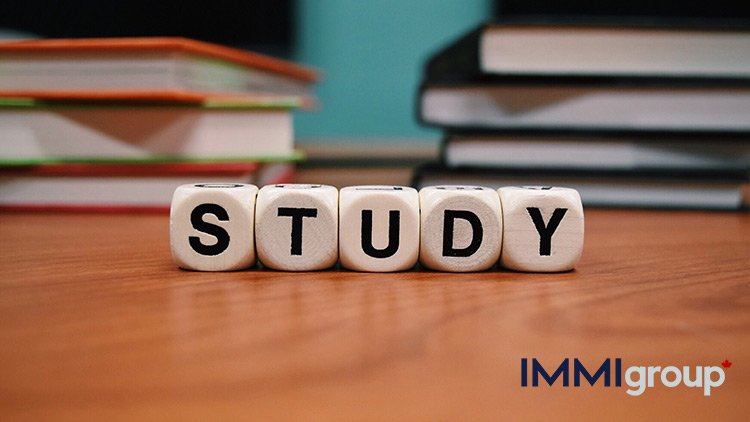 HOW TO APPLY ONLINE
As we explain just below, as of August 2019, study permit applicants are strongly encouraged to apply online. There are some exceptions where you can still apply by mail and we list them below, but let's dive into how to apply online as you will likely have to use this method when applying.
STEP 1:
Go here to IRCC's page on Study Permits and click on box 4: How to Apply. Scroll down till you see the following: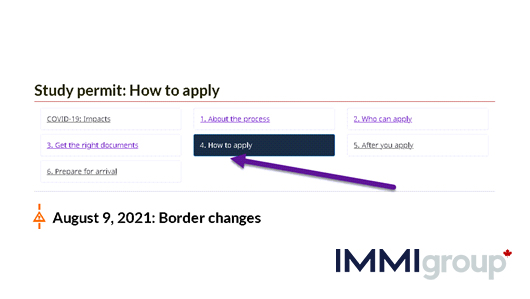 Now at the bottom of the page answer the two questions shown below.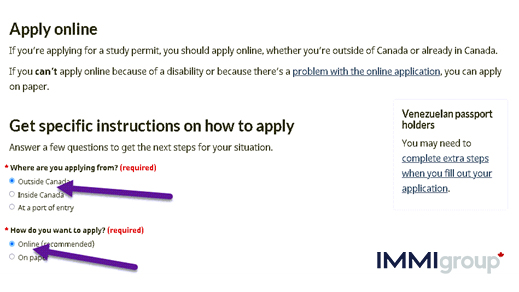 In this case we've clicked on Outside Canada and Online in the two questions which you must answer in order to begin to apply online. What follows is a list of the main steps you will take when applying online: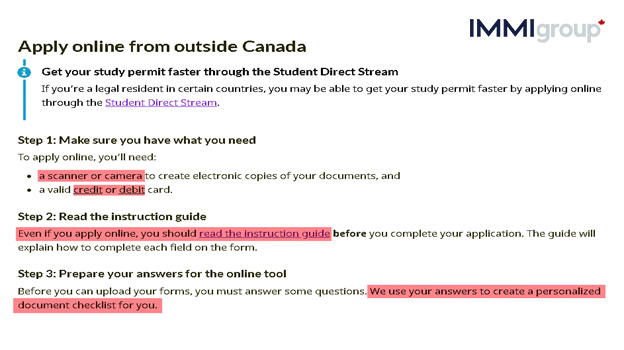 Please note that you you'll have to answer some questions to ensure you're eligible and to create a personalized document checklist for you. Put bluntly, if you're applying from an economically and/or politically unstable country you will probably have to provide more documentation to convince immigration officials of your eligibility.
As you can see, you'll need to upload your supporting documents electronically, so you'll need a camera or scanner. This would also be a good time to take a look at our blog on Supporting Documents for a Study Permit to ensure you gather all the documents you need before beginning the process of applying online.
Here are the following steps sketched out for you at the IRCC page: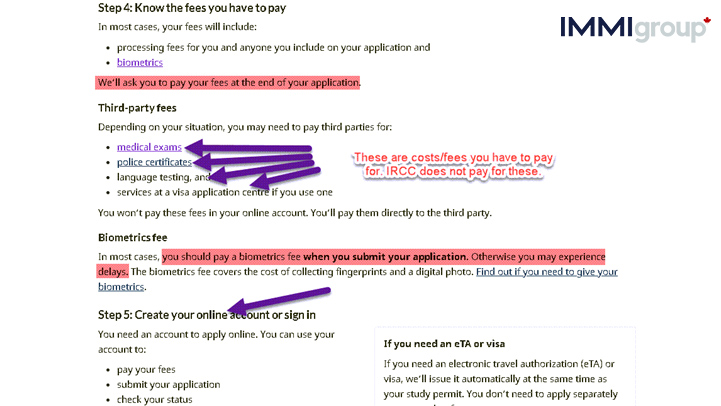 Aside from paying your biometrics fees when you apply in order to save time, you need to create an online account with IRCC in order to apply online and send messages and additional documents back and forth with IRCC officials handling your application.
Let's take the next step by clicking the blue Create an account or sign-in button: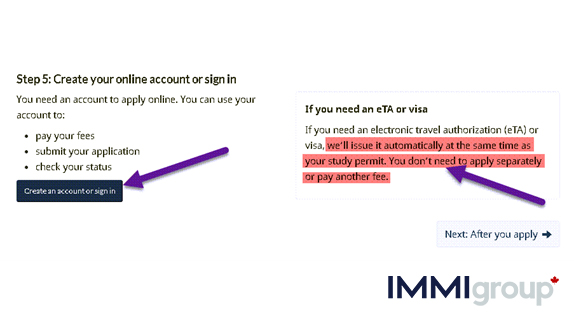 PLEASE NOTE: You DO NOT have to apply separately for an eTA or Visitor Visa. If your Study Permit application is accpeted you will automatically be given your visistor visa or eTA.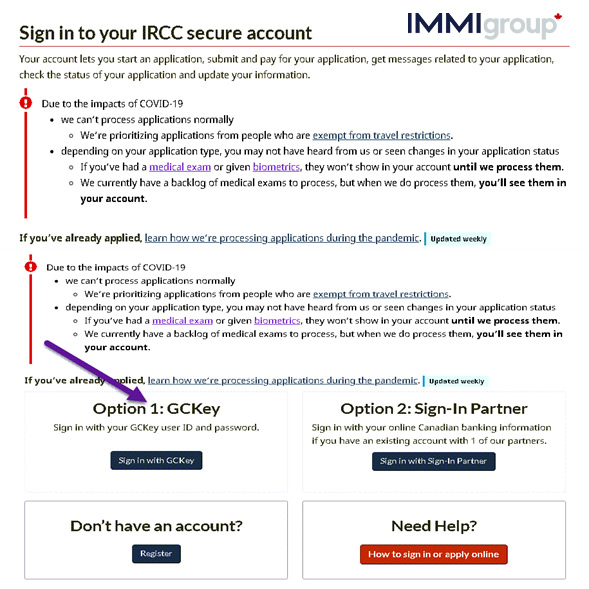 This will take you here to this page. We've covered how to set up your IRCC Secure Account in our Visitor Visa complete tutorial. Go to Chapter 8 to see how to set up your online account with IRCC. We suggest using GCKey to sign up: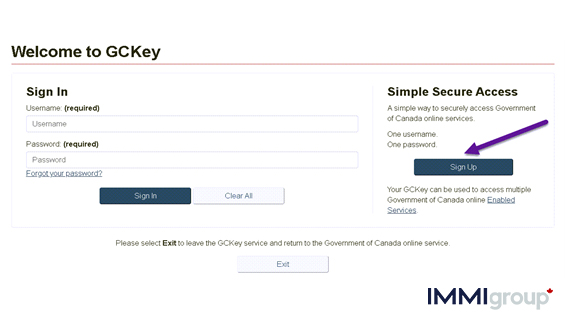 Remember to see Chapter 8 in our Visitor Visa tutorial to see how to set up your GCKey account and your IRCC Secure Online Account.
Document Checklist IMM 5483
Once you've created your IRCC Secure Online Account, you will then have to answer a series of questions after which you will receive a personalized Document Checklist. Print this Document Checklist and use it as your guide while you assemble your documents and fill out the required forms.
Go through each item in your personalized Document Checklist and make sure each document is accurate and complete and gives the required information.
Make sure the forms you have to fill out are done completely and accurately.
Let's take a look at an example of a Document Checklist for someone applying for a Study Permit from outside Canada. Remember that your Document Checklist may include slightly different items depending on your personal situation.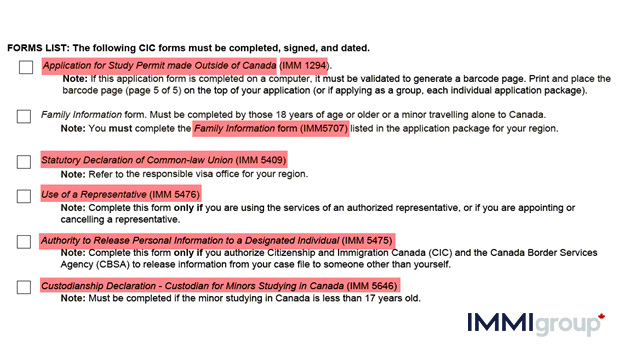 As you can see, there are up to 6 forms (and your situation may require you to fill out additional forms in some cases) that you have to fill out. For example, if you are a single student of Age of Majority (the legal adult age in Canada which is either 18 or 19 years of age, depending on which province you are in) and you won't be using a representative then most likely you will only have to fill out the first two forms: Application for Study Permit made Outside Canada (IMM 1294) and Family information form (IMM 5707).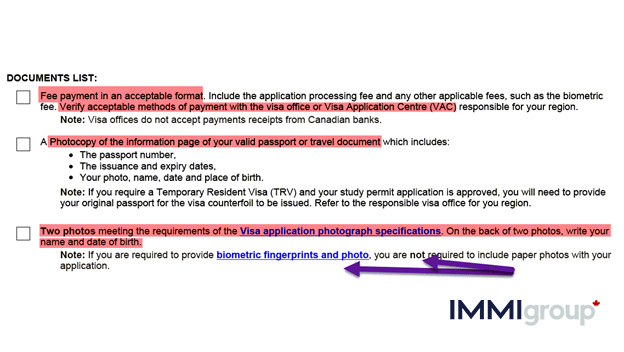 Check with your Visa Office or VAC to see how to pay your fees. Also note that if you have to give biometrics (which most travellers to Canada do) then you do NOT have to inlcude the 2 passport photos.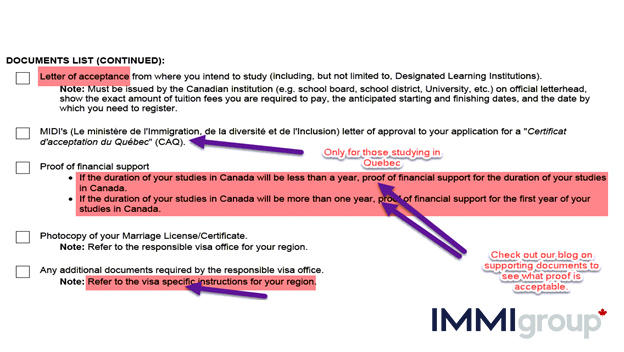 As we've mentioned above, your specific instructions for your region and the questions you respond to will determine if you have any other documents you must submit.
Do-it-yourself Study Permit Course