How to move to USA as a Canadian truck driver?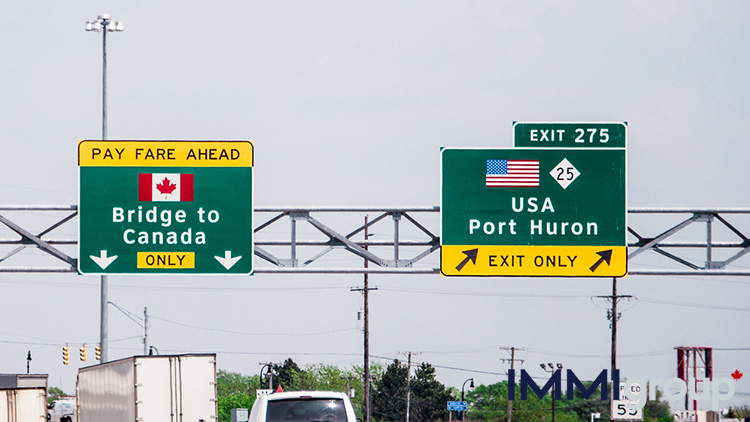 This article mainly deals with Truck Drivers in Canada. However, let's instead assume your end goal, once you are working in Canada, is to transfer down to the USA. Let's explore how your Canadian Trucking experience can be transferred down to the United States.
How to get a job for people living in Canada?
As we mention in our first FAQ below, if you're going to move to the US, you're going to have to retake the written and on-road exams to get your commercial driver's license (CDL) in the US. Remember, each state – like each province/territory in Canada – is in charge of transport licensing, so the rules may vary from state to state in the US. Basically, you'll have to start from scratch again, but with the advantage of your experience, having taken similar exams in Canada and having worked as a truck driver.
Here are the steps you'll need to take:
If you're still in Canada, you're going to need a visa to live and work in the US as a commercial truck driver. You can try an H2B non-immigrant visa which some consultants/lawyers suggest, but that's a temporary work visa and only allows you to work for usually less than a year at a time, although it can sometimes be extended up to 3 years. It's meant for seasonal or temporary non-agricultural work and for where there's a shortage of workers (as is the case in trucking nowadays in both the US and Canada).

First, get an employer who wants to give you a job in the US to apply for temporary labor certification from the US Department of Labor.
The employer then files form I-129 (Petition for non-immigrant worker) with USCIS showing the work is temporary, and no US workers were available to do the job.
If the employer's Petition for Nonimmigrant Worker is approved, you'll be invited to apply for an H2B visa, and you'll also be interviewed at the nearest US consulate/embassy. However, it has been reported by Forbes magazine that Canadian truck drivers can skip this step and head to the border.
Once your H2B visa stay is over, you'll have to return to Canada for at least 3 months and repeat the process if you wish to return.

Once you've got your visa and moved to the US, you'll have to:

enroll in a truck driver training course;
apply online for a CDL Learners Permit Application;
Take the CDL General Knowledge Test
Do up to 300 hours of classroom training and on-road training
Pass the Final CDL Test (Vehicle Inspection; Basic Controls Test; Road Test; Endorsements for example for airbrakes)
Get your CDL
Get a job or start the job you've already been offered.
Frankly, it's often easier to remain a resident of Canada and try to obtain some more cross-border jobs if they pay well. Otherwise, you have to deal both with getting a visa (you can try obtaining a Green Card which is like a PR Card in Canada, but that's much less likely to succeed) and with getting your US CDL.
There's one more option: the EB-3 Employment-Based Permanent Resident Option, but it's expensive and time-consuming. See just below for more details.
How to get a job in the US as a foreigners?
It's the same as above. You can try an H2B Visa, or you can try to get a Green Card as a truck driver, but it won't be easy. There is the possibility of applying for what is called an EB-3 Employment-Based Permanent Resident Option for foreign unskilled truck drivers to work in the US. It will take you longer than an H2B visa and will cost you more, according to Forbes, but you'll end up with permanent resident status, which is much preferable to the temporary status of an H2B.
FAQ
How to transfer a truck driver's license between Canada and the US
Since 1989, the USA and Canada have agreed to mutually recognize Canadian and American commercial driver's licenses in their jurisdictions. However, if you are prohibited from obtaining a commercial driver's license in the other country. That means that you'd have to move to the US or to Canada and reside there and apply for a new commercial driver's license. As the US Federal Motor Carrier Safety Administration states:
Accordingly, a commercial driver's license issued by a Canadian jurisdiction in conformity with the Canadian National Safety Code will be considered to be the single commercial driver's license for operation in the United States by Canadian drivers. Also, a Canadian driver holding a commercial driver's license issued under the Canadian National Safety Code will be prohibited from obtaining any driver's license from a State or other licensing jurisdiction of the United States.
In other words, if you move to the US from Canada or vice versa, you'll have to take the written and on-road tests (and any other tests like vehicle inspection) required in order to get a commercial driver0s license for that jurisdiction. If you're just travelling on a job to the US or vice versa, then your Canadian or American CDL will be accepted – as long as it's valid for the vehicle and payload you're carrying.
USMCA (US Mexico-Canada Trade Agreement signed in 2020 that replaced NAFTA) does not change this requirement. The only difference is that Canadian and American standards are very similar, so you should have a leg up on someone taking the test for the first time. Still, play it safe and carefully review the material and take a training course to make sure you pass the exams. Some schools will offer a Transfer Training Program tailored to a trucker with experience in one country who is moving to the other country and needs to retake the tests.
Truck Drivers in Canada – Table of Contents