Truck Driver with Criminal Record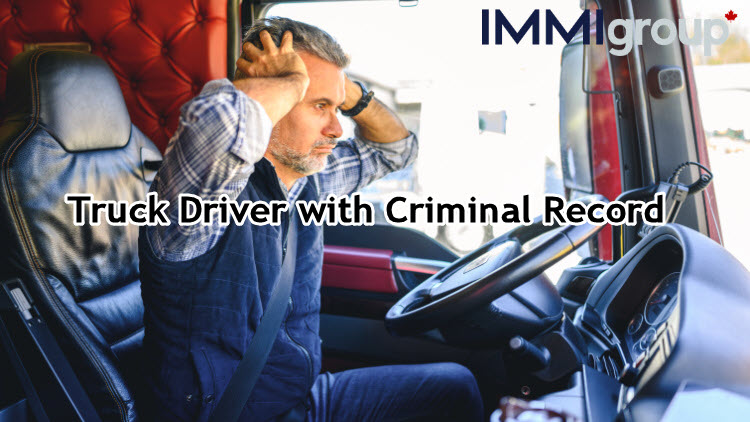 If you have any sort of a criminal record, you're going to have to take some steps to help ensure you can work as a truck driver, including being able to cross the border on a job. They generally involve going back to the legal system to clean up your record. How effective these measures will be depends on the nature of your criminal record, but if you're serious about driving a truck, you'll need to try these steps in order to give yourself a reasonable chance to work as a truck operator. Read through our answers to the questions below to get an idea of what's involved in cleaning up your criminal record.
I have a criminal record; can I still get a job as a Truck Driver?
Yes, it is possible, but it's highly recommended you do two things:
Get a Record of Suspension (essentially a pardon) which takes time and involves the Canadian Parole Board and can take up to 10 years from the time your offence was committed.
Get an Entry Waiver in order to be able to cross the border and drive your truck in the USA.
As well, these will help avoid failing a background check that some driving schools and trucking companies will demand.
However, you need to understand that some transportation companies will still not hire you because of the higher insurance rates a serious offence like a DUI will bring. Your Driver Abstract is basically a record of your driving history, and any offence will show up there. Even a Record of Suspension only actually seals and sets aside your DUI but does not erase it. That means if you're ever convicted of another DUI, you will be charged as a repeat offender, even if you have a Record of Suspension.
Truck driver with DUI
In December of 2018, driving under the influence (DUI) in Canada became a serious crime carrying a maximum of 10 years prison time. This complicated matters for temporary visitors and permanent residents in Canada and made DUI a more incriminating offense for someone looking to work as a truck driver. That means anyone with a DUI should think seriously about getting both a Record of Suspension and an Entry Waiver if you're truly interested in driving a truck for a living.
Less serious charges
Yes, you can work as a truck driver if you have a couple of speeding tickets. However, if you want to apply for a FAST Card, you should think about getting a Record of Suspension in Canada, or a Pardon in the US, as any criminal record could make you ineligible. See our FAQ below on FAST Cards.
More serious charges
Depending on how serious the charge is, you may have a hard time obtaining work driving a truck. You would likely have to hire a good defense lawyer to get you some sort of a pardon or record of suspension and even then, you wouldn't be guaranteed a successful outcome.
Can I get into the US if I have a DUI as a truck driver?
Only if you get what is called an Entry Waiver, and even then, you may encounter problems when trying to cross the border. DUI is now a serious matter and will make your voyage towards becoming a truck driver much more difficult.
Can I get into Canada if I have a DUI as a truck driver?
Yes you can but you'll need to do one of 2 things:
Apply for a Temporary Residence Permit from Canadian immigration authorities (IRCC) which involves providing proof you have to cross the border for work purposes. The proof can be a letter from your employer or a delivery contract, for example. This is a short-term solution that has to done every time you want to enter Canada for a job.
Apply for Criminal Rehabilitation which usually means your sentence and probation must have finished at least 5 years ago. This takes around a year to do, but is a permanent solution.
I'm a foreigner with a criminal record – will I get a job as a trucker?
The first question is whether you'll be admissible to Canada as an immigrant, and that will depend on the specifics of your criminal record. If your crime committed overseas qualifies as a federal crime in Canada, it will be tougher for you to get into Canada, never mind get work. You have 2 options as mentioned directly above: apply for a Temporary Residence Permit, or apply for Criminal Rehabilitation. Because you want to work as a trucker in Canada, you need permanent resident status, so applying for Criminal Rehabilitation would be the better choice.
Can I get a FAST Card with a criminal record?
A criminal record of almost any kind is generally grounds for ineligibility when it comes to the FAST Card program. However, if you can get a Record of Suspension in Canada, or a Pardon in the US, you can then apply for a FAST Card. Keep in mind, however, that the odds of being rejected will still be fairly high. The burden of proof is on you to convince both the CBSA in Canada and USCBP that you have completely reformed and are no longer a risk.
Just to make this clear, here is the USCBP's official page on FAST Card eligibility:
You may not be eligible for participation in the FAST program if you:
Provide false or incomplete information on the application;
Have been convicted of any criminal offense or have pending criminal charges or outstanding warrants (to include driving under the influence);
Have a criminal conviction for which you received a pardon from any country;
Have been found in violation of any customs, immigration or agriculture regulations or laws in any country;
Are subjects of an ongoing investigation by any federal, state or local law enforcement agency;
Have been denied for the purchase of a firearm;
Are inadmissible to the United States under immigration regulation, including applicants with approved waivers of inadmissibility or parole documentation; or
Fail to meet other requirements of the FAST Commercial Driver Program.
My FAST Card doesn't work at the border lane – what do I do?
You'll have to contact your nearest FAST Enrollment Center to report that your card isn't working. They should replace your FAST Card with a new one at no cost.
What to do when your FAST Card is taken away at the border?
You'll have to contact the FAST enrollment center nearest to the border crossing where your card was confiscated. There you'll have to ask if your FAST membership was suspended or revoked. If it was suspended ask whether you can get your card back what steps you should take. If it was revoked, ask what steps you have to take to get your membership back again.
Truck Drivers in Canada – Table of Contents
Need help? Contact us today..