How To Transport a Deceased Relative Home to Canada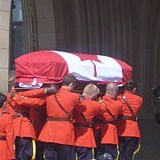 The death of a relative or friend is traumatic, emotional and stressful. If the death happens in another country it is even worse. The details of how to get a body home are not widely known, but knowing what to do could be a big stress reliever if the worst happens.
What happens if a relative or friend passes away overseas and you have to bring the body home?
There are many strict regulations/laws when transporting remains back home to Canada. The official term when transporting a deceased national back to their home and country of nationality is called "repatriation". The first thing you should do is to contact your local Canadian embassy or consulate. They will be able to assist you in this difficult time and help you with the complicated process of repatriating the body.
When transporting remains through a Canadian Point of entry (POE) whether it is an airport, port or land border, you will be required to produce the death certificate of the deceased national you are transporting. The Death certificate should be in English or French, preferably, but this is not mandatory.
If you are transporting remains in any context that are not cremated you must provide the border officials with the death certificate. The body must be in a hermetically sealed casket, coffin or container. A "hermetically sealed container" means a container sealed air tight.
It is also recommended that you bring a letter from the funeral director, coroner or mortician confirming the identity of the deceased and contents of the container.
If the deceased died from a communicable disease, the customs/border officer may call a quarantine officer to inspect the container and determine if it poses a risk to public health. A communicable disease is a disease that is infectious and contagious for example SARS, Influenza, hemorrhagic fever. Visit the CBSA website for a full list of communicable diseases.
If you are transporting cremated remains into Canada you must declare them at the border you are not required by law to produce the death certificate, though is highly recommended that you bring the death certificate to avoid complication and/or delays. The cremated remains must be in a sealed container that is composed of wood, plastic or cloth and is wrapped in a protective fabric so that the inside contents may be  scanned by security. If the cremated remains are in a metal or stone container it may not pass security or customs and you will be unable to transport the remains into Canada.
While most countries have strict laws, it is important to know that airlines also have strict regulations on the transportation of a deceased person. Again you must check the guidelines of your preferred airline. However these are general guidelines:
You must provide the airline with all of the necessary documentation.(example: death certificate, letter from funeral director)
The deceased must be in a hermetically sealed casket, coffin or container. Most airlines will require the coffin to be wrapped in protective fabric and place on a air-tray. An air tray is a wooden slab that has handles attached to it.
It is strongly advised that you do not book your own airline ticket before you have the coffin transportation confirmation as it is not guaranteed that the coffin will go on the next available flight. Also most airlines require that you arrive 6 hours before the scheduled flight.
Most major airlines will be able to accommodate your transportation needs depending on where you are in the world. For example, Air Canada offers their AC compassionate service for customers who need to transport their deceased relative back home to Canada.
There is a lot of information and planning when you find yourself in this situation. And with this being a traumatic and stressful time for anyone, we strongly recommend that you contact the nearest Canadian embassy or consulate. Their are also international funeral homes who provide their services for transporting remains internationally.They have the needed experience with these matters and will offer you invaluable assistance in this difficult time.