Immigration to Quebec
So, you're considering migrating to Canada. And you think Montreal is a great Port of Entry. But why is it that new arrivals to Quebec like yourself are moving on to other parts of Canada? Often before they're even fully settled in the province where they first arrived.

Should You Immigrate to Quebec?
Bonjour. Welcome to Quebec. Bienvenue. We love to have you here as a new Canadian or better yet, Quebecois! Now will you learn French, please! Ah, but Montreal is such a European city. And Quebec City is so clean! Especially when it's buried under half a metre of snow. You like snow don't you? You really, really like snow, right? And you can skate, right? And ski, right?
No?? Hors du Quebec, maudit etranger!
So, you're considering migrating to Canada. And you think Montreal is a great Port of Entry. But why is it that new arrivals to Quebec like yourself are moving on to other parts of Canada? Often before they're even fully settled in the province where they first arrived.
Quebec Really Is Different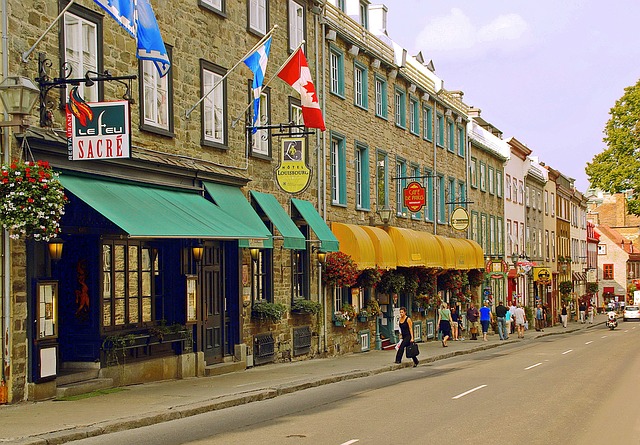 [
Public Domain
]
In the first place, the province of Quebec runs its own immigration program in conjunction with Canada's immigration authorities. That means that Quebec has far more control over deciding who to accept. And the standards to be accepted as an immigrant are seen by some as lower than in other in-demand provinces such as B.C. or Alberta or Ontario. Lately, however, quotas for permanent resident applications in Quebec have been filling up quickly. Just like elsewhere in Canada.
Of course, there's the QIIP – Quebec Immigrant Investor Program – which has turned out to be a main way for multi-millionaires from East Asia to end up living in Vancouver and adding a continuing stream of cash that is sending house prices beyond belief in the Vancouver area. Here's how it works:
If accepted into QIIP, you the applicant states their intent to reside in Quebec at the Port of Entry. Usually Montreal airport. To the tune of nearly 1,500 millionaires per year.
Then they hand the provincial government of Quebec CAD$800,000. Basically the immigrant investor invests CAD$800,000 through an authorized financial intermediary. Basically, they loan Quebec $800,000. Interest-free. Ca c'est fantastique!
They might even keep an address in Quebec, but they move to Vancouver! Or Toronto. And buy a house. Or two.
Real estate prices in Vancouver become even more ridiculous.
Real estate prices in Toronto become ever more expensive as well, if not as bad as Vancouver.
So if you're in China, for example, and looking to settle in Vancouver or Toronto, you might think it's easier to beat the line up by applying through Quebec's immigration program – especially QIIP if you have net assets of at least CAD$1,600,000 – and entering Canada through Montreal. Maybe polish up on your French and do a post-grad at McGill and then head west. Sounds great, right?
Well, no. Here's why: it's a violation of Canada's Immigration and Refugee Protection Act to state your intent to reside in a province that you have no intention of residing in. If you are caught violating the Act, you could lose your permanent residence (or your citizenship, if you are caught after you have naturalized) and also you could be deported.
The Canadian Charter of Rights and Freedoms' Section 6 gives Canadian citizens and permanent residents the right to live and work wherever in Canada they choose to. The problem is this: until you have your PR status, you do not have that right. So when a provincial nominee program, or Quebec's immigration program, asks you to declare your intention to reside in the province, you have to do so. And do so in good faith. If you though your plan was to head west as soon as you have your PR status, this is a problem. In other words:
If the CBSA agent feels you are not being forthcoming, immigration authorities could file an allegation of misrepresentation (basically accusing you of lying on your application to the Quebec government) under the Immigration and Refugee Protection Regulations (IRPR).
Once, as a new arrival, you have been admitted to the province, and have been granted permanent resident status; you are now legally free to live anywhere in Canada you choose to.
Quebec immigration authorities understand this subtle contradiction between IRPR rules and the Charter of Rights and Freedoms. But if you never become a permanent resident in the first place, you cannot take advantage of Charter rights. It is always good advice to follow the letter of the law and to declare your intent to reside in Quebec. And to do so in good faith. (That means you have to mean it.) If you intend to live in Quebec, you should live in Quebec.
Again, it is a violation of Canadian laws to state an intention to live in Quebec and not to so.
The better option for all concerned it to immigrate to the part of Canada you actually want to live in. This is not just because you need to truly intend to live in Quebec, but because Quebec isn't the socialist paradise that it's sometimes made out to be. For example:
Health care: While Quebec may think of itself as Canada's progressive province, it seems Quebec is moving firmly towards the right compared to most of Canada in a key area: provincial health care. With Bill 20 now law, what once was part of Canada's universal health care system, is now quickly becoming a two-tier healthcare system. Yes, how much money you make now decides what quality of care you receive in Quebec. Private clinics are an increasing feature in the province, and little by little, services that were once entirely paid for the by the Quebec government are now being charged to you, the patient.
Language skills: Want a job in Quebec? Of course you do! But it's often not enough just to learn French. No, you also need to be functional in English. That means you need to be bilingual if not multilingual – depending on your home country – to be considered for most jobs in Quebec. Imagine trying to learn French as you also try to get your English up to scratch. All the while trying to convince employers that you can function in a bilingual Francophone-centric society. Not easy. You will be overlooked for the good jobs, and your overseas work experience will not be valued the same as Canadian, and especially, Quebec work experience.
Unions: Quebec's unions are the most powerful, and the most corrupt, in Canada. The ongoing trial of construction magnate Tony Accurso and his relationship to former Montreal Mafia kingpin Vito Rizzuto and his son Nick Rizzuto Jr. reads like a Martin Scorsese script. Fortunately for Accurso, Rizzuto died of cancer in a U.S. jail where he was serving time after being convicted of a 1981 triple murder. And Nick Jr. was shot to death on the streets of Montreal in 2009. Like to work in construction in Quebec? Talk to the man in the expensive suite over there. Be polite, for god's sake. Like the Charbonneau commission lawyer, Sonia LeBel, who hasn't grilled Accurso over his mob ties, but rather has focused on corruption in public contracts. Just saying, it's not easy to work in the trades in Quebec.
All in all, Quebec is a unique, wonderful province. To visit, say during Quebec's Carnival. But it is not necessarily always the best province to live and work in. This is not to disparage the people of Quebec. It's merely stating a fact that is attested to by New Canadians voting with their feet, and leaving Quebec to move to the rest of Canada. As a New Canadian, you may decide to stay and live in Quebec – especially if you're already francophone. But many New Canadians will choose to work, live, and raise their families in another province. And if that's your choice, you should immigrate to the province you really want to live in.